Bluetooth technology has revolutionized the way we enjoy music wirelessly. Today, most new-release speakers and headphones ditch the wire in favor for a simpler and tether-free experience. By utilizing the latest lithium-ion technology, the rechargeable batteries within them are now quite impressive, with more efficiency and charging capacity than ever before.
It seems like every week, there's a whole slew of new release Bluetooth speakers and headphones, but never a combination of the two. Until now, that is. Motorola recently released a hybrid of both – the Motorola Sphere+. It's a two-in-one Bluetooth speaker with over-ear headphones built right into the design. At first glance, it seems like something quite unique, but we wanted to learn more about it and test it out for ourselves. Today we're going to look more into the Sphere+ with a hands-on point of view and an unbiased approach.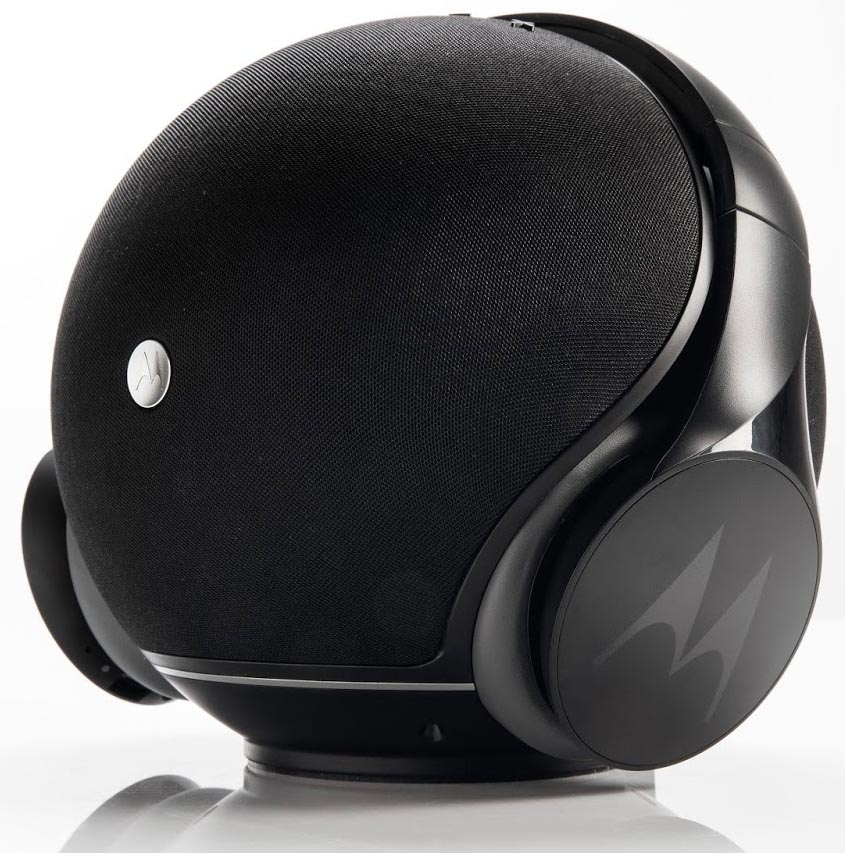 First Look
By taking one quick look at the Motorola Sphere+, you'll see what we mean by unique. It's a spherical speaker with a docking port for the over-ear headphones to rest in. Designed for those who want to enjoy a high quality Bluetooth speaker, but have the option to immediately grab the headphones and walk out the door.
This two-in-one system brings together the headphones and speaker in a modern and stylish design with a premium finish. Weighing in at just over five pounds, the speaker-base isn't exactly something you'll be taking with you, but the headphones are. Think of the speaker as a docking station that allows the headphones to charge up and be ready at a moments notice. We think it's a pretty cool integration – something we've never seen before. In addition, the overall build quality seems top-notch without any finicky parts, cheap plastic, etc.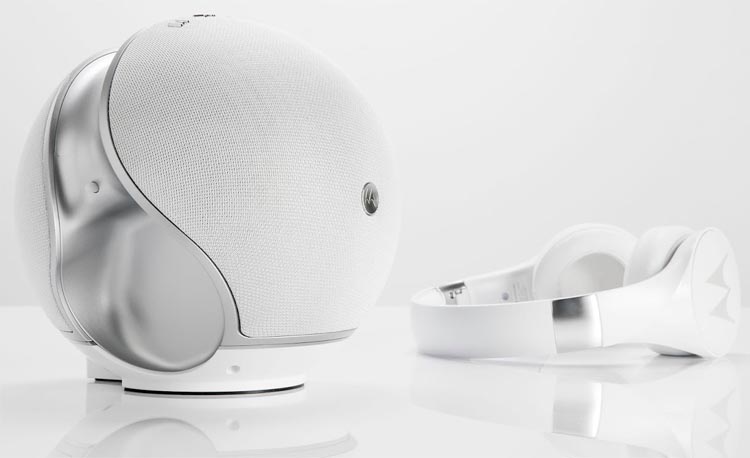 Speaker
To start things off, let's take a look at the speaker first. As we mentioned, it's basically the charging dock for the headphones, but that doesn't seem to take away the fact that it's powerful in itself. Equipped with two 8 watt speakers, we knew we were in for a treat.
One thing you'll notice is that the speaker can output sound in all directions. The 360 degree nature of it works well in a variety of environments, but excels indoors placed in a centralized location. Powering it up for the first time, you'll notice that you're required to plug the power adapter into the DC port on the back. The speaker isn't the unit that's designed to be taken with you on-the-go, so this shouldn't be a big issue to a lot of individuals. It isn't the most portable design either, so don't expect to bring it with you, wherever you go.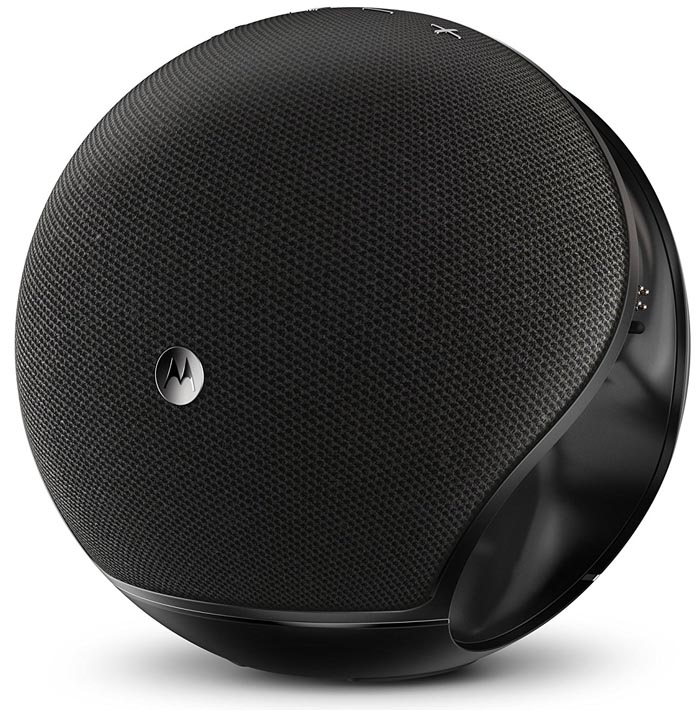 Before use, enable the Bluetooth connection on your smartphone or tablet and get ready to pair. You'll do this by selecting the controls on the top of the speaker and pressing/holding the play button. At this time, look for the connection on your list of nearby Bluetooth devices and select the Sphere+. Easy as that!
Playing a song for the first time, you'll likely be impressed. Although a total of 16 watts doesn't sound like a lot, it seems to be plenty enough in our opinion. We experienced quite a bit of enjoyment no matter what kind of tunes we played. The speaker is capable of producing true-to-life effects with a healthy balance of mids, lows and highs. In addition, our favorite part has to be the bass. Located on the back is a small hole – the bass port reflex system that allows deep tones to shine through with a rumble-like effect when cranked up all the way.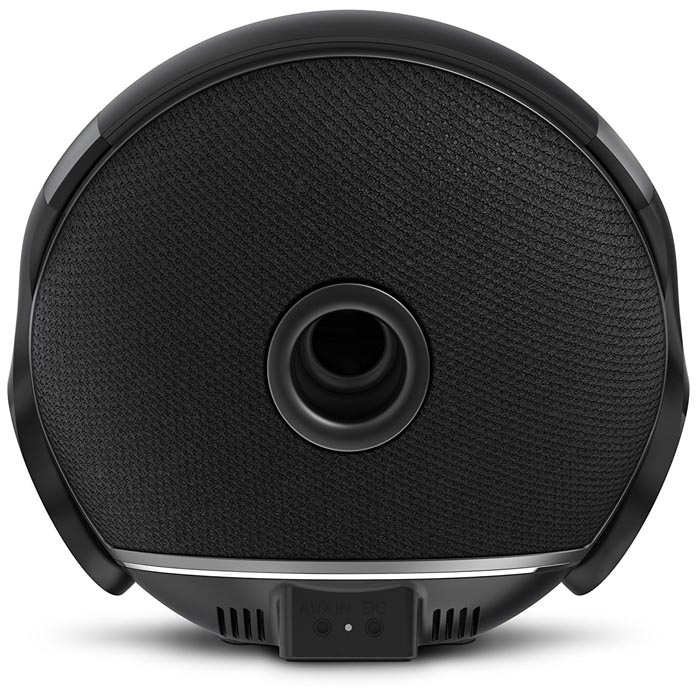 Both the bass and treble seem to be right where you need it most. Neither one overshadows the other and it's clearly apparent that Motorola spent some time configuring the layout to work so well together. Our favorite music to play seemed to be anything with a deep bass to it – we couldn't get enough. However, the clarity of a lyric-rich song or an acoustic-driven track was downright impressive too. Distortion never seemed like an issue, even with outdated music that wasn't recorded all that well.
Headphones
The speaker is just half of the fun, with the headphones being a huge determining factor on whether or not the Sphere+ is a good investment. Moving on, we were very excited to try the headphones out and see how they truly worked.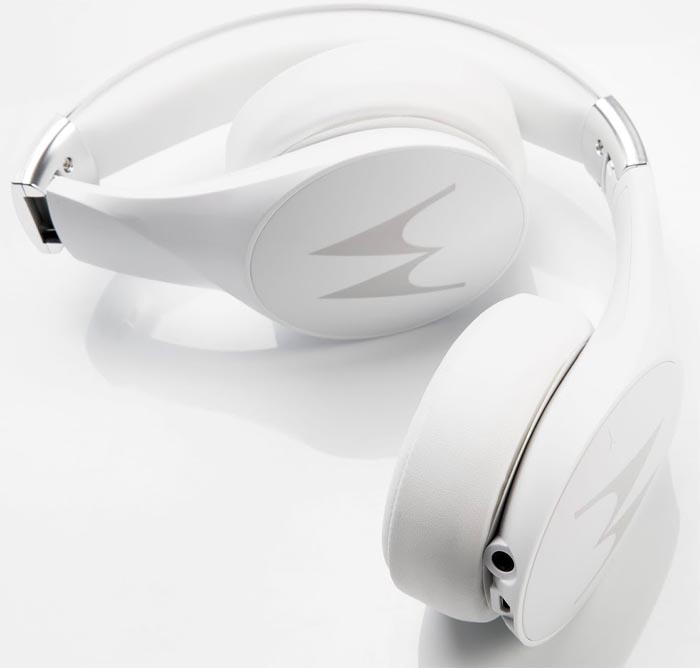 Easily removable from the speaker-base with a quick grab, the over-ear headphones are a little larger than your typical design, but we don't find that to be a bad thing. Each earcup is over-padded in order to provide a soft, plush listening experience when you're on the move. In addition, their oversized layout provides plenty of passive noise isolation, blocking out surrounding distractions just by the nature of their design.
Wearing them, you'll notice that the headband is slightly adjustable, offering a good fit for all head shapes and sizes. But they're definitely not the most discreet design. For those that prefer a smaller or more lightweight feel, these may not be the absolute best choice. Although they fold up to a more-compact size, they're likely going to take up a bit of room in your bag than some other models.
Equipped with dual 40mm drivers, listening to the headphones was a real treat. Just like the speaker, the clarity and overall sound quality was top-notch. We played a wide variety of music and experienced true-to-life sound with a nice balance of highs, mids and lows.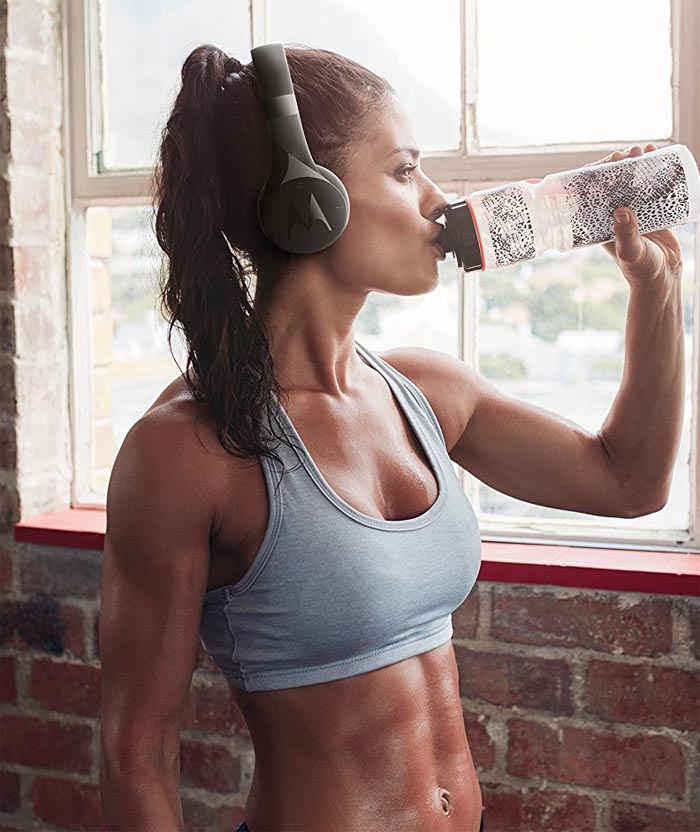 While the bass didn't seem quite as powerful as the speaker itself, the headphones provided their own surreal experience with the right tracks. Music that was heavy in bass and deep tones really seemed to shine through, quite possibly because of the large earcups and passive noise isolation. Providing a soft and cozy contact with your head, they're much more oversized than we initially expected them to be.
What impressed us the most was how well-rounded the headphones seemed to be. Each different genre or style of music seemed to sound phenomenal whether it was a grunge track from the 90's or a modern-day classic. Rap, hip hop, country, classical, rock and roll and even heavy metal sounded great!
Battery Life & Wireless Range
As we mentioned earlier, the speaker-base isn't designed for wireless use, but the headphones are. Because of this, there's a lithium-ion battery within them that's capable of an advertised 20 hours lifespan. But we didn't just want to take Motorola's word for it, we wanted to see if the battery life was truly up to par.
Throughout the course of a few days, we used the headphones quite heavily. Taking them off the speaker-base and experimenting just how efficient the battery life actually was. After the first 12 hours of use, we never experienced any low-battery issues. The next day, after 6 hours of use, the low-battery warning came on and they were ready for a charge-up.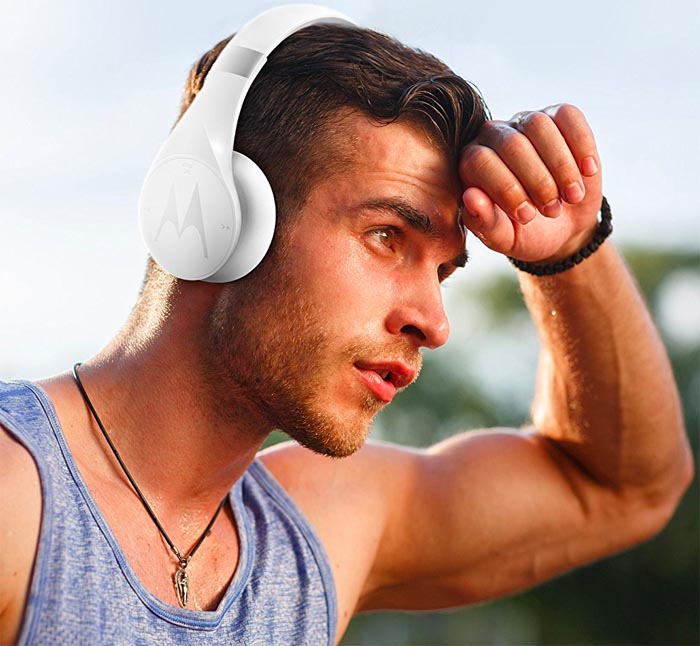 All in all, we're looking at roughly 18 hours of semi-continuous use. We never were more than a few feet away from our paired device (smartphone), and the volume was always at a moderate level. While this isn't quite the advertised 20 hour playtime that Motorola claims, it's very close and multiple factors could cause less or more efficiency (eg. volume level, specific tracks played, wireless distance, environment conditions, etc.).
As far as the range, Motorola claims 40 feet between the base station or headphones and your paired device. We think the 40 feet estimate is a bit deceiving, since you'll need perfect line-of-sight to achieve such a distance. In most real-world scenarios, you're going to have some sort of obstructions in the way that may lessen the signal and bump down the maximum range to a more-realistic 20-30 feet maximum. Yes, you could experience more range than this, but 40 feet doesn't seem too realistic to us. It always seemed like after about 30 feet (even with perfect line-of-sight) there was some transmission loss, which equates to distortion, lag or choppiness.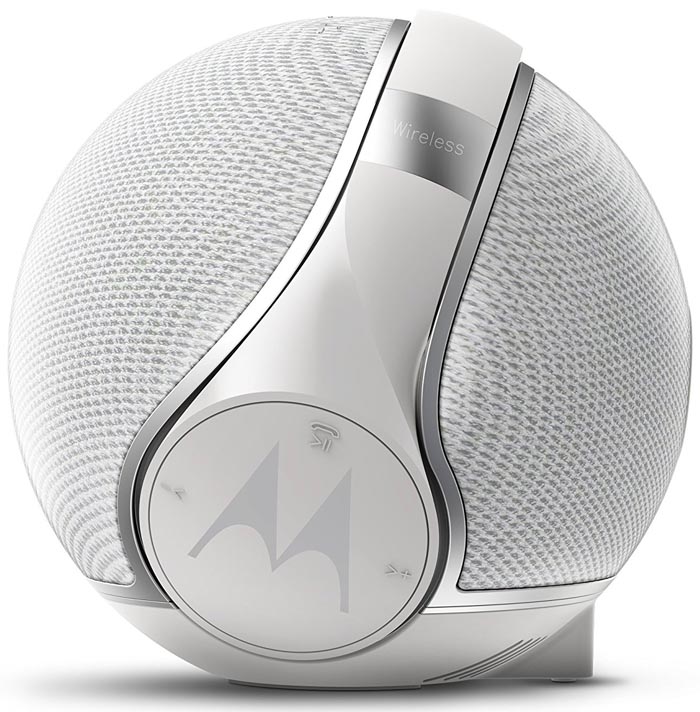 Durability
To our surprise, the Sphere+ seems very durable in all regards. While the speaker isn't designed for outdoor use, it's made quite well – a solid and high-end feeling device. The headphones take it one step further. They too feel well-built, but it's their IP54 certification that really impress us. What does this exactly mean? Known as the International Protection Rating, it gives us a clear indication as to what they're up against.
The first digit, 5, indicates dust protection. Although dust may not be entirely prevented, the headphones are designed to be readily sealed against dirt and dust – good news for those who want to bring them along throughout the day.
The second digit, 4, means that the headphones are protected against water – but not in large amounts. 4 indicates that they're protected from "splashing water" in any direction, just be sure not to submerge them or expose them to high-pressured water.
With the IP54 rating in mind, it helps put your mind at ease when you take your new, expensive headphones out for the day. A rainy or windy day won't have any effect on them, so it's added peace of mind when you take them into any questionable conditions.
Potential Downsides
Although most aspects of the Sphere+ seem really well thought out, the headphones may be a bit large for smaller heads. Here at NerdTechy, we all have big heads, so this never seemed to pose an issue. But if you're young or small-figured, it may be something to consider.
Another qualm we had was the lack of manual charging. What we mean by this is the lack of a charging port on the headphones. In order to top-off the battery, you have to place them on the speaker. If you're going somewhere for an extended period of time, it's not like you want to take the Sphere+ with you too. It's awkwardly shaped, not exactly lightweight, and not the kind of thing that you'd want to lug around.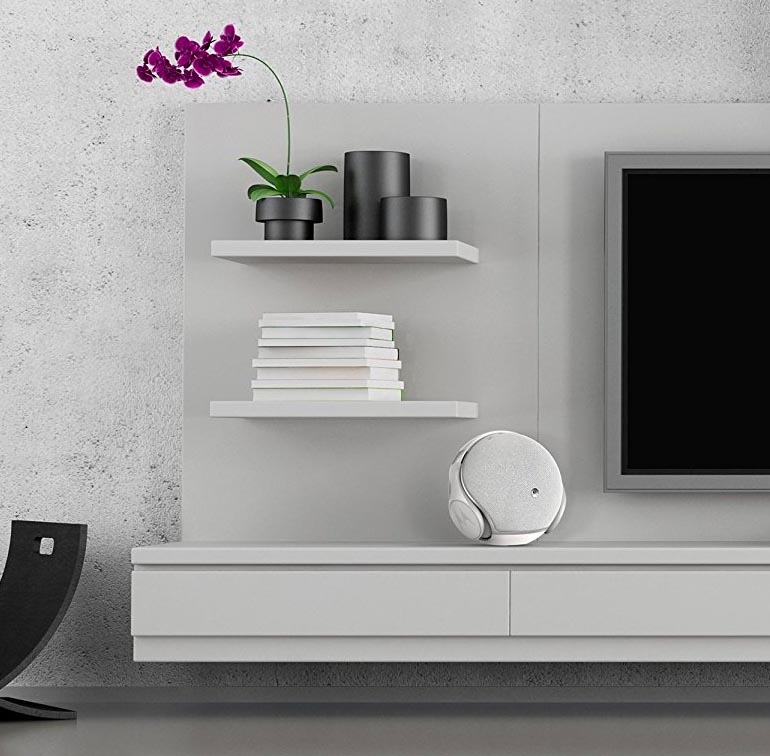 Final Thoughts
With the inclusion of a speaker and set of headphones into a single device, the Motorola Sphere+ offers a really enjoyable pair of the two. We feel that the combo works exactly as advertised and provides plenty of enjoyment for any average to high-end music listener.
Both the speaker and headphones emit clear, vibrant tones with a heavy amount of bass, but never too-overpowering. The unique way that the speaker acts as a dock is a really cool integration that ditches the cord completely. No longer will you need to manually plug-in a cable to charge the internal battery. Simply place them on the speaker and they're always readily available. What's more is the continuous play from speaker to headphones feature. This lets you continue listening from the speaker, immediately through the headphones, right when you pick them up. A really well conceived combination of the two – good job Motorola!