Whether you work out on a regular or random basis, having the ability to listen to your favorite music is nearly a requirement. Even if you're not an athletic person, having a pair of in-ear wireless headphones is a great idea if you're always on the go. Whatever your reason may be, well fitting, great sounding, high quality earbuds are definitely nice to have.
However, if you've taken a look at which ones to buy, you may have already become overwhelmed or quite confused. There's literally thousands of different pairs to choose from, all from popular brands to no-name knock-offs. Sony, Beats, Bose and other high-end manufacturers have them available, but prepare to pay an arm and a leg – upwards of $100-$200+ for even some of their introductory models. Mid-range, less-expensive brands like SoundPEATS, Phaiser and Anker have their versions, but not all are created equal.
Today we're going to look at a budget-friendly option for listeners who want great quality, but don't want to empty their wallet. Recently released from Anker, the SoundBuds Curve Bluetooth Headphones have gained quite a bit of popularity over the past few weeks. So far, they've been getting rave-reviews from customers, but we wanted to hold them in our hands and give them a thorough, in-depth review.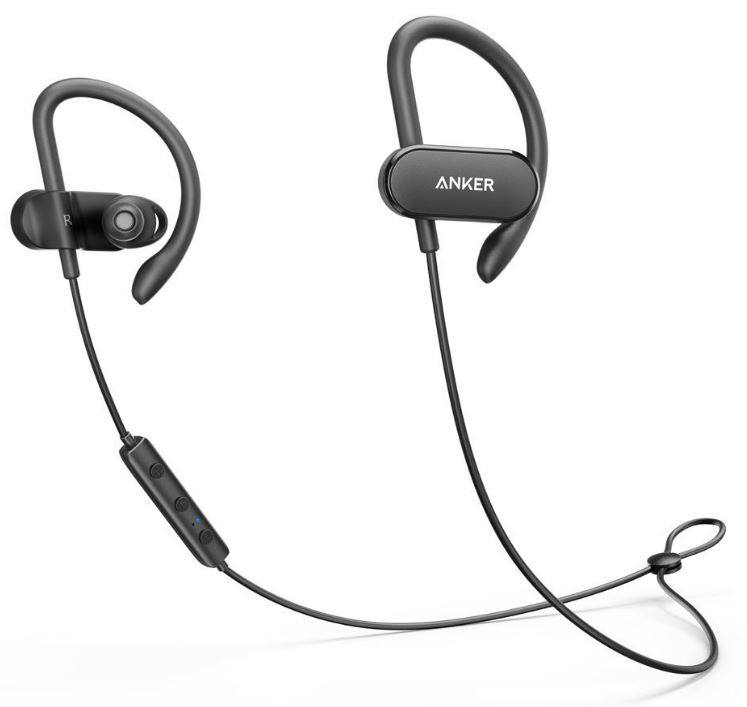 First Look
Upon placing our order for the Anker SoundBuds Curve Wireless Headphones, they only took one day to arrive, thanks to Amazon Prime's free shipping option. The box that they come in is quite small, but there's actually quite a bit of accessories included. Along with the earbuds you get multiple ear tips, ear wings, a cord management clip, shirt clip, micro USB cable and a small, protective carrying case. In addition, there's a bit of paperwork; the instruction manual and an 18-month warranty card (which is a pretty awesome warranty – more on this later).
After you take them out of the packaging, the first step is to pair them with your smartphone. Whether you use iOS or Android, the pairing process is the exact same. Simply press and hold the "play" button and you'll see the small LED blink. At this time, view your nearby Bluetooth connections on your smartphone and select "Anker SoundBuds". They'll take a second to establish a connection and then you're pretty much set. After you hear "connected" through the earbuds, you'll know that the pairing process was a success. Pretty simple and best of all, you'll only need to do this one time per device – no need to manually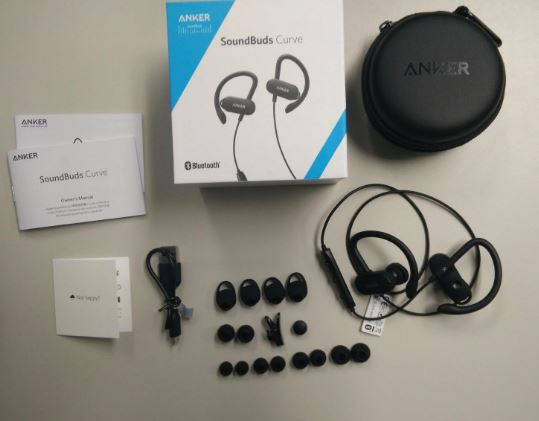 Comfort
Holding the headphones for the first time, we immediately noticed their lightweight and minimalist design. They lack any over-sized components and it's quite obvious that they're built with exercise and portability in mind. Anker took on this design by keeping them built to the basics while maintaining a typical in-ear design that we've seen before. Although not entirely unique, we think that it's a good approach to release a tried-and-true design. The ear tips fit within your ear, the hook goes around your ear and the wings wedge within your ear – keeping them snug and sturdy at all times.
Best of all, Anker included a wide range of different sized ear tips and wings. Although the default ones may work just fine for you, it may be a good idea to interchange a few different sizes of these in order to achieve your ideal fit. You'll want no movement and no pressure points. The earbuds should feel snug but not too tight that they create discomfort.
Overall, we think that the comfort is right where you want it. They're quite cozy as both the hooks, wings and tips are all made from a very soft, rubber-like material with a lot of flexibility. The tips don't fit too deep within your ear and both the hooks and wings haven't caused us any discomfort. In addition, Anker took cable-management into consideration to manage the single cable that's worn behind your neck by including the cord management and shirt clip. They allow you to keep the cord tidy and stabilized. Ideal for rigorous activities or movements that may jar or bump the earbuds into an unfavorable position.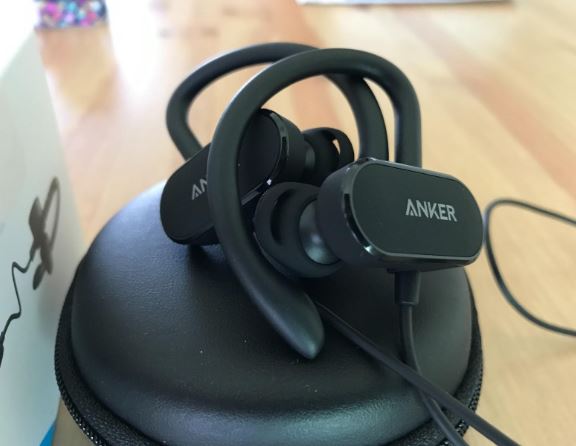 Technologies
Built with both aptX and CVC noise cancellation, they carry a healthy amount of vibrancy while emitting clear, realistic and resonating sound. What are these technologies that Anker included? AptX is a digital audio data reduction technology that assists with lossy stereo sound that can occur with any Bluetooth connection. It dramatically reduces transmission loss which may equate to poor sounds, choppiness, lag or distortion – all things unwanted.
CVC noise cancellation is a technology that assists with keeping out unwanted background noises or distractions. It keeps ambient noise to a minimum while you're listening, which in-turn means that you won't need to crank the volume up to a ridiculous level just to drown out the environment around you. While this is excellent for listening to music, it's also excellent for taking a phone call with the integrated microphone.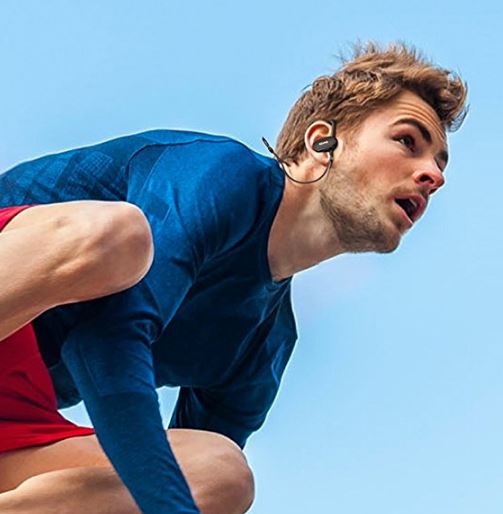 Sound Quality
Likely the most important aspect to any set of quality wireless earbuds is the sound quality. After all, who wants to have a nice fitting set of headphones if they're not going to even sound good? We've been using the SoundBuds Curve for roughly two weeks now, and in that time, we've been thoroughly impressed with the richness of sound that they're capable of producing.
With aptX and CVC noise cancellation in mind, you can see why a proper fit is essential. So make sure you dial-in your comfort before fully testing out the sound quality. In our opinion, the sound quality excels to a prestigious level, producing beautiful highs, mids and lows without much sacrifice. Similar headphones in the same budget-range don't seem to compete – we would put the SoundBuds Curve in the same class as those that cost over double – near $100 or so. The bass is OK, but doesn't seem to be overly powerful or annoyingly loud. Although it isn't adjustable, the bass seems quite low than over-ear headphones – but that's too be expected. If you're a bass-nut, we don't think any earbuds are really the smartest way to go.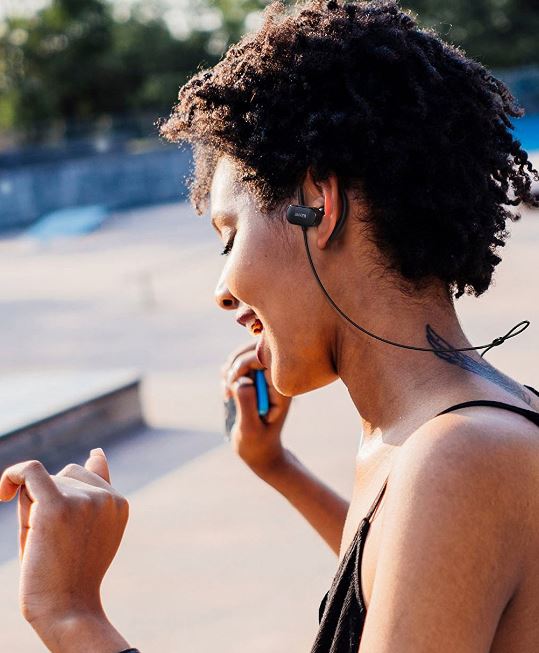 Battery Life
What caught our eye the most with the Anker SoundBuds Curve was their advertised battery life. They state that a 12.5 hour battery life is what you can achieve, so we had to test the actually battery life to see if this was an accurate estimate. When you first receive them, they'll have a charge, but not a full charge. Because of this, we recommend plugging in the micro USB cable to the inline remote and waiting a couple hours for the battery to be topped-off.
Once we charged them up, we were ready to see what the battery was truly capable of. From day one, we timed 5 hours of continuous use before turning them off and putting them away. The next day, we used them for another 5 hours. That night, we pulled them out and listened for another hour before the battery died. All in all, we're looking at roughly 11 hours of battery life off of a single, full charge. Decent enough, but not quite the 12.5 hours that Anker advertised. Although we didn't achieve a true 12.5 hour playtime, the 11 hours we experienced was pretty close! Keep in mind though that a few factors may effect the actual battery duration. These include the volume, wireless distance and environmental conditions.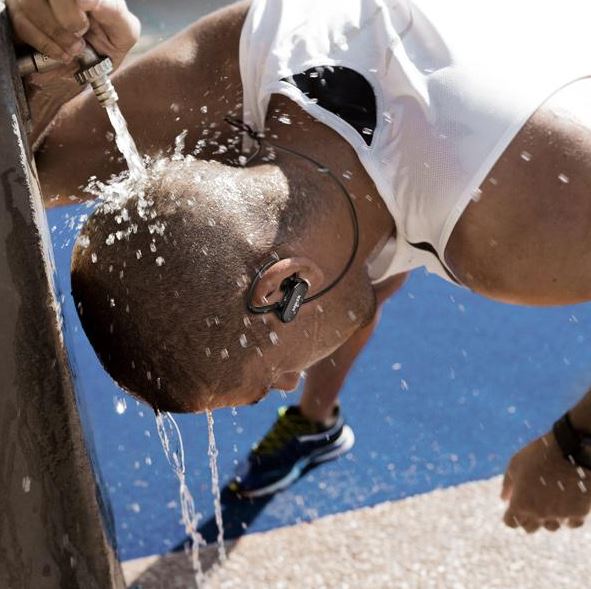 Wireless Range
Another important factor that a lot of individuals may consider is the wireless range. That is, the distance between your paired device (smartphone, tablet, etc.) and the headphones themselves. Although we hardly found it to be a problem, we would experience a loss in the connection after about 25 feet of distance. Most Bluetooth headphones max-out around this distance, so we weren't too surprised with this range. It's a bigger-deal with speakers, but usually when one is listening to in-ear headphones, they're never more than an arms reach from their paired device.
However, it's crucial to remember that some factors may ultimately effect the range. Things like obstructions in the way are most notably the cause of transmission loss at distances under 25 feet. A clear line-of-sight between the two is your best bet if you want to maximize the achievable wireless range.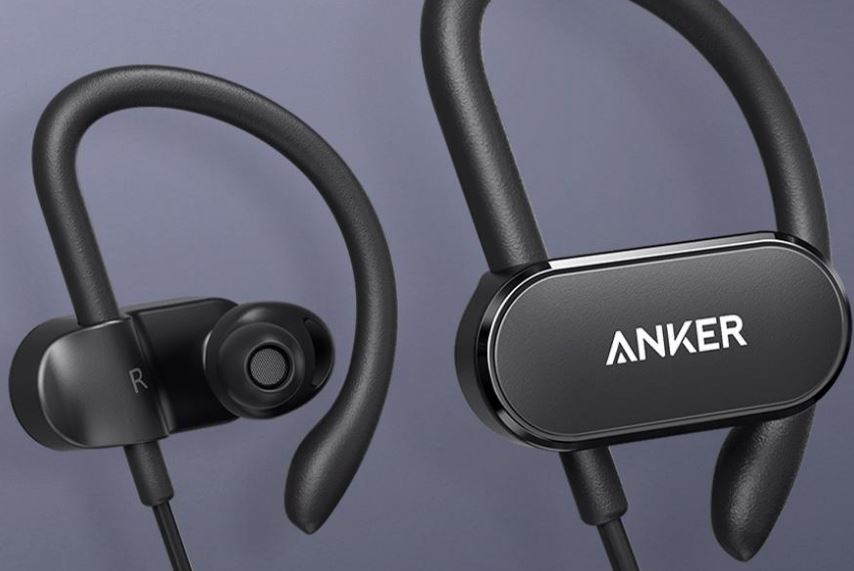 Durability
How well do the SoundBuds Curve seem to hold up to constant use? Quite well in our opinion. The durability is right where we needed it to be. They're not exactly rugged and meant for all conditions, but being that they're water-resistant is definitely a favorable feature. Whether you're trying to protect them from a massive amount of sweat or a constant drizzle of rain, you can rest assured knowing that they're fully designed for moist conditions like these.
The earbuds have a internal hydrophobic nano-coating that naturally repels any sort of moisture. While this isn't going to protect against total submersion in water, they're going to hold up better than any set of headphones that don't include this kind of added protection.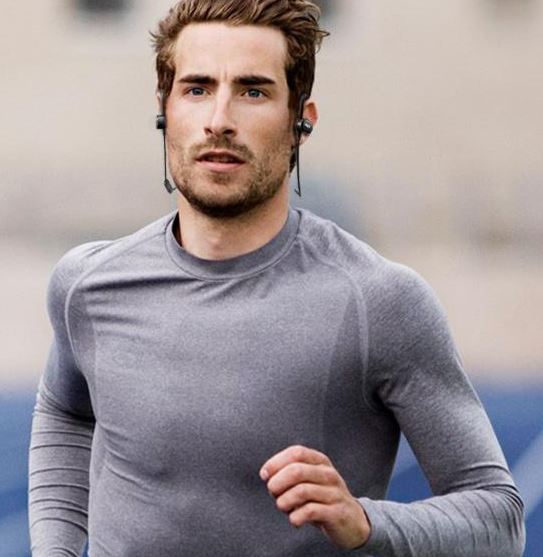 Potential Downsides
Although the sound quality seems to be pretty good, we're not all that impressed with the bass. The bass is lacking a bit in most cases, and it's a shame that you aren't able to adjust the level of it. If bass is an important factor for you, we recommend looking at over-ear headphones rather than in-ear headphones. The nature of over-ear keeps sound well-contained and allows manufacturers a lot more space to include large drivers that are more-capable than the small ones inside the SoundBuds Curve. If you're on a budget, we highly recommend taking a look at the Venstar S209 over-ear headphones. If you have a higher budget, take a look at the Sony WH-1000XM2 – but be expected to pay over $300 for these.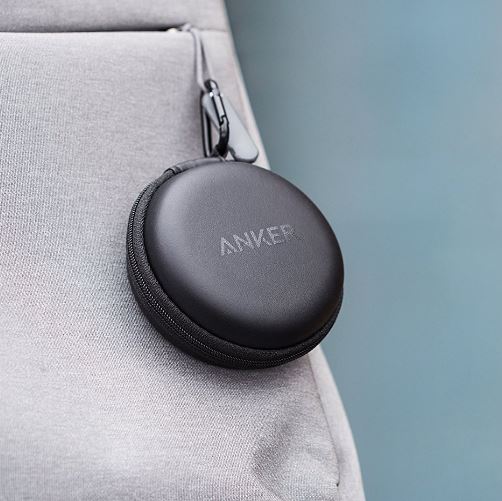 Final Thoughts
Although the Anker SoundBuds Curve come in at a fairly low price-point, they seem like a great choice for those who want great sounding music with all of the comfort you need for maintaining an enjoyable workout. Ideal for the gym or on-the-go use, we're a big fan of how compact and minimalist these earbuds are. While they may not have the most exciting bass that we've seen before, they do an adequate job at emitting true-to-life sound with no unnecessary frills.
While Anker may not be in the same class as household names like Sony or Panasonic, they hit the sweet-spot between affordability and quality. Best of all, Anker includes an impressive 18-month warranty period and readily available customer service if you have any issues with them.
If you're looking for a bit more quality, be prepared to pay an arm and a leg for a pair of earbuds that are in a whole other class. We'd recommend taking a look at the Beoplay E8 or the AKG N40 if you want to take your portable listening to the next-level. If price is an issue and you want another option that slightly exceeds the SoundBuds Curve, but doesn't cost much more, take a look towards the Treblab XR500.