Although they're not one of the most prominent brands in the audio industry, AKG has consistently produced some of the most well respected professional hardware that money can buy. Their studio headphones have been used to produce some of the most prolific albums in history, and their microphones are found in concerts all over the world.
While they've always had a role in consumer grade audio gear, they're often considered a bit of a best-kept secret. With products ranging from affordable to premium, they've got something for almost anyone's taste.
Note: At no extra cost to you, we may earn a commission for purchases using our links. Learn more.
The N40 are their latest top of the line earbuds. With the marketplace dominated by companies like Sure and Sennheiser, can these little earbuds keep up? We decided to find out for ourselves.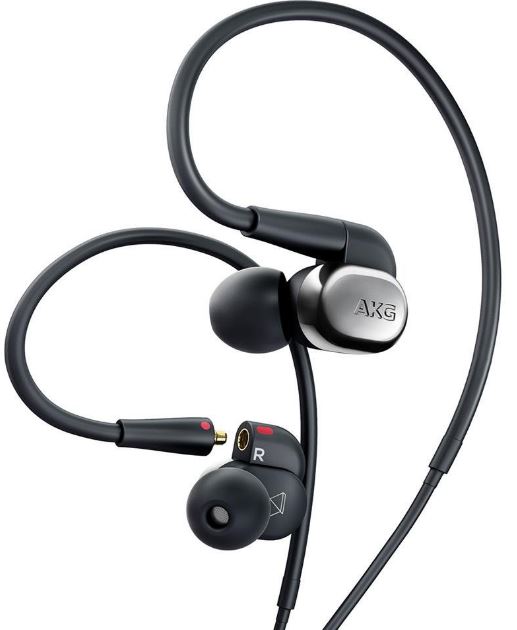 Design
AKG went with a simple design, but still managed to give them a very premium look. The chrome finish on the back of the earbud reminds us of the valve cover on a classic muscle car. When in your ears, the angle, placement, and finish of the headphones can be as much of a fashion accessory as a pair of earrings.
What we like the most about these headphones is that they have a premium feel, but aren't too over the top. They'll stand out, but won't draw unnecessary attention. But most importantly, they do more than just look good. Due to the way they are shaped, they fit quite snugly in your ear. They don't move around and come loose, and they feel comfortable to wear.
The upper part of the cables are fitted into a rigid sleeve. This turns them into hooks that go over top of your year. This prevents the cables from dangling loosely by the side of your head, and helps to keep the headphones in place. Overall, the design of these headphones seems simple, but it's been very well thought out.

Adaptability
When you're shopping for high end headphones, it's not about finding the best. It's about finding something that suits your own individual tastes. The N40s have several ways that you can customize them. The first of which are the filters.
Generally, when we're talking about filters we're referring to a digitally modified sound. But audio purists know that this can induce distortion, which is less than ideal in a high-end piece of audio equipment. Here, we're referring to physical filters. This is a small round metal component that goes over top of the drivers. When in place, they change the acoustic properties of the earbuds. They ship with the reference filters in place. These are designed to change the sound as little as possible, giving you that studio grade sound that AKG is famous for.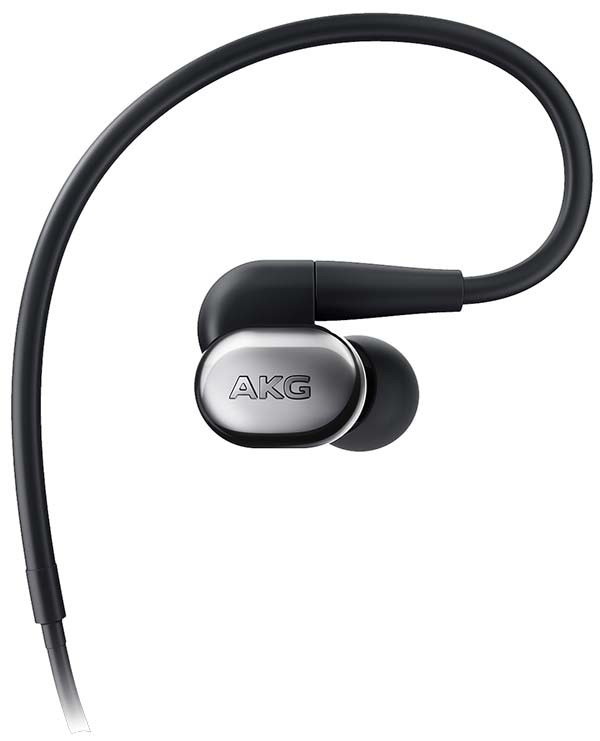 Need a little more kick? Slap in the Bass Boost filters. These have large, wide holes in the grating that allow a lot of air to pass through, making for a deeper, warmer sound. Or, you can use the high boost filters. This is idea for critical listening of acoustic music where you want the fine details to be highlighted.
But it's not just the sound you can change. The headphones included two different types of cables. The ones they ship with are the "straight" cables. This wire is a little thicker, designed to give a richer, more detailed sound. If you're looking for something a little more functional, you can use a cable that includes a microphone and a three-button remote. It's compatible with both Apple and Android phones, with a switch on the back for swapping settings.
Sound Quality
This is where these headphones really shine. We tested them out, to start, with the reference filters installed. We've learned to appreciate the subtle nuances of studio headphones, and these ear buds deliver exactly what we expected. Sound was detailed, warm, and precise. Listening to them was as if we'd put glasses on for the first time. Fine details were highlighted and brought to life, and felt as if they were delicately influencing the sound all around them.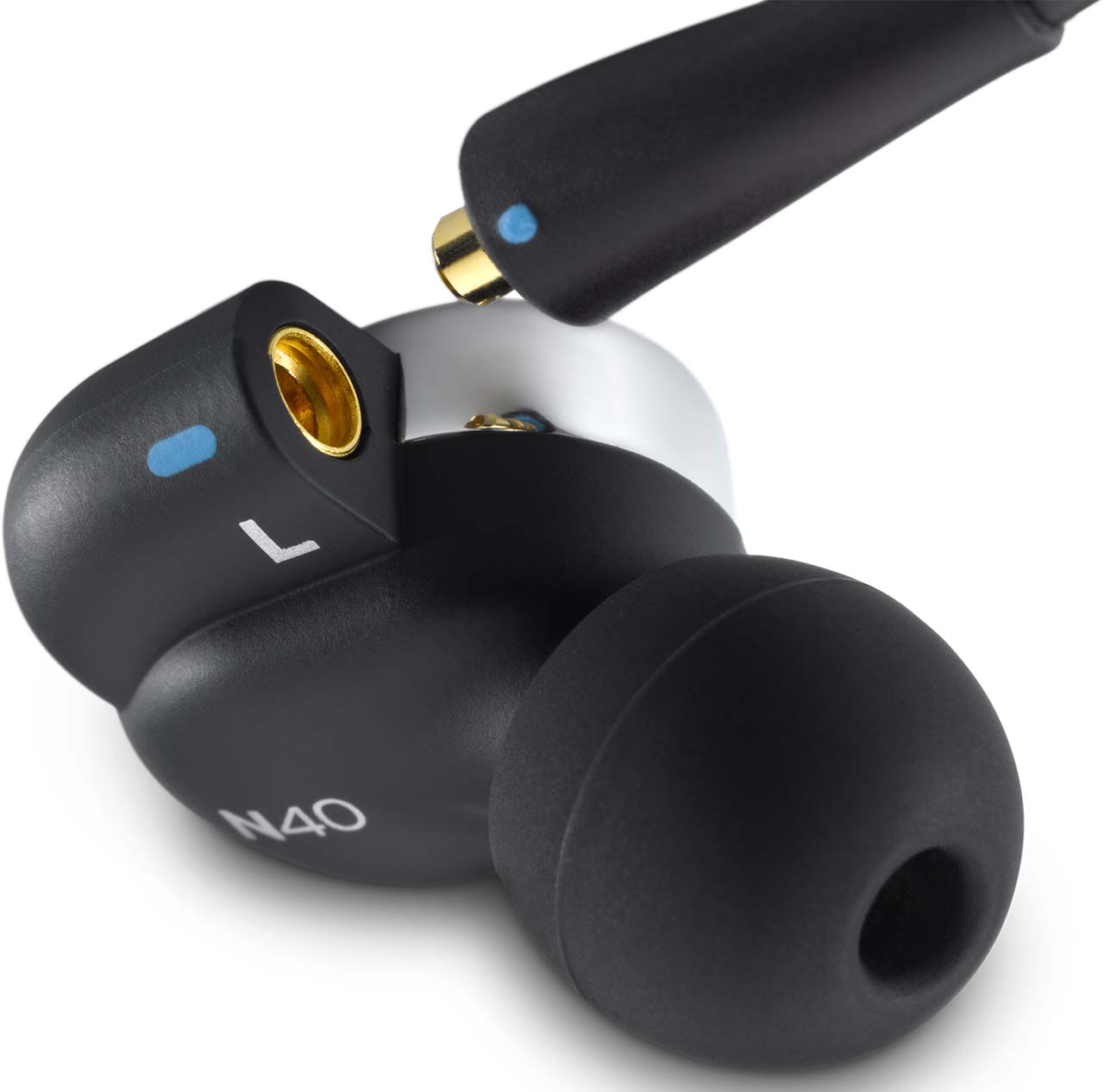 Even without the bass filters, there was still a surprisingly decent low end performance. While there wasn't a lot of kick, the tonality of the bass was better articulated than we're used to hearing.
The best way to describe these headphones would be dynamic. When we're enjoying a fast paced and energetic song, the headphones bring the song to life. When we're listening to something more contemplative, they sound almost reserved and gentle. For music fans, this is the appeal of studio style headphones. They don't attempt to change or modify the song at all. It's up to the music to decide how it wants to be presented.
From a tech perspective, it's not surprising that the headphones sound so good. While most earbuds use a single driver to create the entire range of frequencies, this model uses a dual-driver system. There is still only one diaphragm, driven by a highly efficient bass driver. But attached to this diaphragm is what's called a 'balanced' armature driver. They say balanced because this one moves along with the other driver, with a few small exceptions. Its job is to modify the movement of the bass driver, creating the tiny, precise movements necessary for clear treble. Overall, these drivers work together very well.
With most consumer headphones gravitating towards heavy bass lines, we can certainly see the appeal of using the filters. But if you're not happy with a neutral sound signature, these might not be the best headphones for you.

Durability
Although made from plastic, these headphones are designed to withstand many years of use. Generally, the most common point of failure is the cable. AKG tackles this problem with a two-prong approach. For starters, the cable is much more durable than most. It's got a smooth, rubbery coating that is thicker than we're used to. This helps to prevent it from getting all tangled up, or getting caught in something unexpectedly. In the event that you do damage the cable, you can always swap it out and replace it for another inexpensively.
As for the enclosure, it does feel much more solidly made than most plastic earbuds. Although two separate pieces, we couldn't find any weak spots. These are the kind of headphones that we'd be happy to throw in a bag, but they do include a carrying case if you want to be extra careful.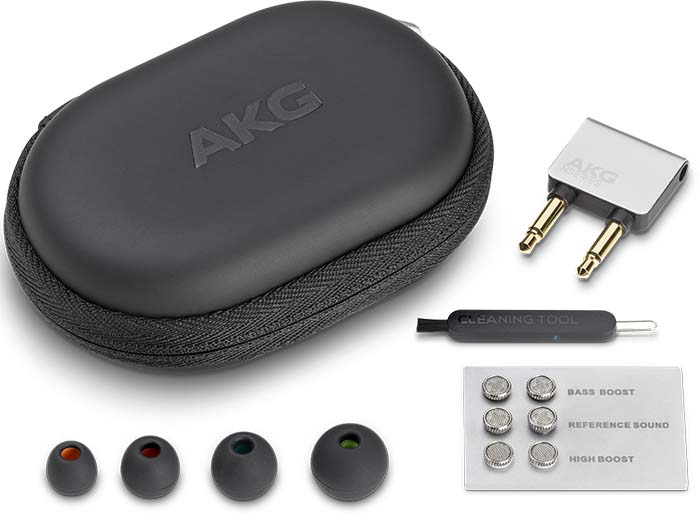 Disadvantages
When it comes to audio, it can be easy to get ahead of yourself. At first, it might make sense to get the best pair you can afford. But high end headphones need a high-end source. Televisions are the same. You can play a DVD on a 4K TV. But you're not really seeing what the TV is capable of.
The AKG N40s are a detailed set of headphones. When we listed to them straight out of our android phone, we noticed a few small details that were less than stellar. The low-end notes lost their detail and felt slightly muddy. The highs lost some of their clarity and felt a little harsh. Don't get us wrong, they still sounded very good. But these headphones are capable of more, and you need a decent source to enjoy them. A dedicated headphone amplifier or a Pono music player would both work fine.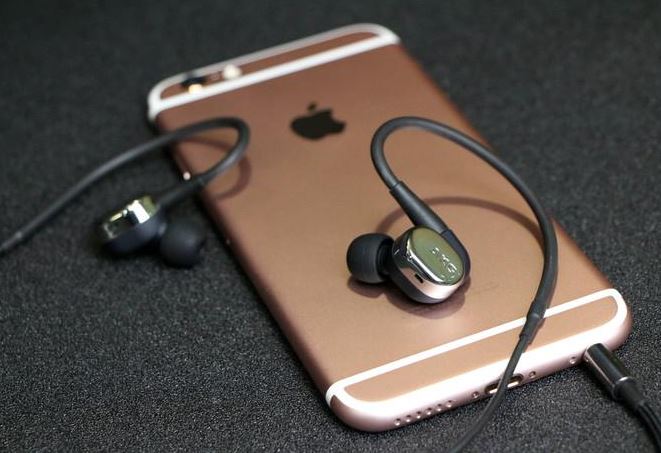 Final Verdict
When paired with the right hardware, the AKG N40s create a sound that is rarely found in the earbud form factor. Even if you don't think that you're the type to listen to studio headphones, you should consider giving them a chance. No earbuds we've heard have been able to recreate the subtle nuances of our music as effectively as they have. While it might not be the acoustic experience you were expecting, you'll probably feel as if you've never properly heard your music before trying out these earbuds.
If you don't like it, you can always throw in the bass filters and give the headphones that kick you've been looking for.
Unfortunately, we probably wouldn't recommend these earbuds for use directly through your cellphone. If you really want to see what they're worth, you should get a dedicated DAC. Our recommendation would be the Optoma NuForce uDAC5. This DAC handles converting your digital audio files into an analog signal, boosting the signal in a way that no phone can.
Not interested in carrying around an external DAC? Find the price a little high for your liking? The N40 is the top of the line entrant in AKGs N-series headphones. If you want to save a few bucks, check out our reviews of the worthy N30 and N20 headphones. They've got a similar sound signature, in a more affordable package.
Please consider sharing:
Note: At no extra cost to you, we may earn a commission for purchases using our links. Learn more.