The Raspberry Pi, a dirt-cheap portable computer, has made waves in the DIY and Modding communities. It's the prime focal point for any embedded system. Unlike many systems that came before it, this isn't just a micro controller. This is a full-blown computer that you can hold in the palm of your hand.
One of the most popular uses for these systems is to build a retro gaming system. For the cost of dinner and a drink, you can finally live out your childhood fantasy of playing every NES game ever made. Although you could just throw some software on your Raspberry Pi, leaving the circuit board exposed, there are several reasons you don't want to do this. Not only does it look a little questionable, but you're leaving your hardware susceptible to damage. We decided to take our portable emulator to the next level by throwing it in this unique Old Skool NES Case. First, we'll take a look at this case and show you why we chose it. After, we'll explain how you can make your own retro gaming system.
First Look
This case is one part old school Nintendo charm, one part "Honey I Shrunk the Kids". The physical layout is almost identical to the console you grew up with. Instead of inserting a cartridge, you open the front door to reveal the Raspberry Pi's USB and Ethernet ports. On the side are three tiny holes, perfectly shaped to accommodate your HDMI port, 3.5mm audio jack, and Micro-USB charging port. There are a few nice visual touches that aid in the illusion. The power and reset buttons are engraved into the case, as are the ridged side. It's not a 1:1 replica, but instead it's been modified to perfectly fit the Raspberry Pi inside.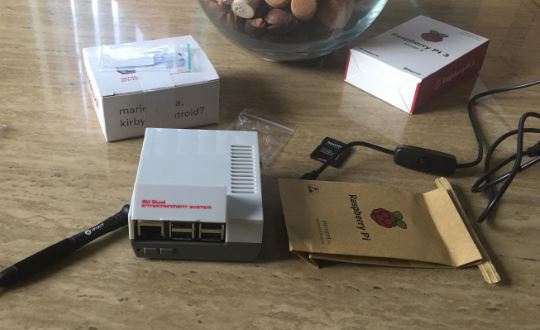 What's in The Box
Opening up the box allowed us to relive Christmas of 1990. This time, we were bigger and the console was smaller. The Old Skool NES case comes in a plain white box. On top, you've got a small image of the case along with the text "Old Skool Entertainment System". The side of the box challenges you to ask the question: "Mario, Zelda, Kirby, or Metroid?" But there are a few steps to go through before you can answer that question.
The included case comes in in two pieces in order to allow you easy assembly. There is a small packet of four bolts included that will keep the case secured, and an aluminum heat sink kit included. This is a very important addition, which we'll get into shortly.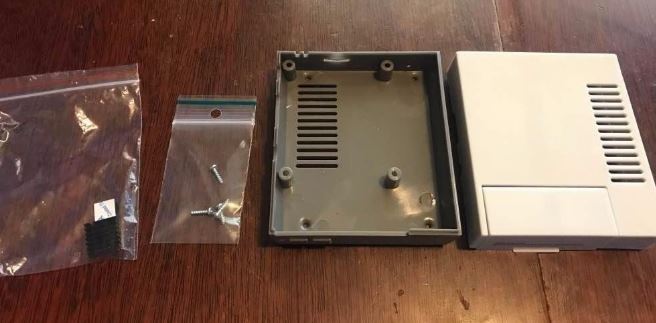 Installing the Case
The two pieces of the case separate easily. You simply take the bottom half of the case and drop your Raspberry Pi inside. Although it's physically compatible with the Raspberry Pi 3, 2, and B+, we'd strongly recommend going with the Pi 2 or higher. This will allow you to play a better range of games, with improved performance.
Once the Raspberry Pi is installed, you can install the aluminum heat sinks. These help to keep your Rapsberry Pi cool when you're asking it to perform demanding tasks. You can just drop them into place, but we'd highly recommend adding a little thermal paste. We took a look at the best thermal paste on the market, but for this application you'll be fine to use the cheapest option.
With the heatsinks installed, you can put the top on the case and install the four bolts into the case to keep it secure. With all of the electronics contained inside, your Raspberry Pi now looks like a NES.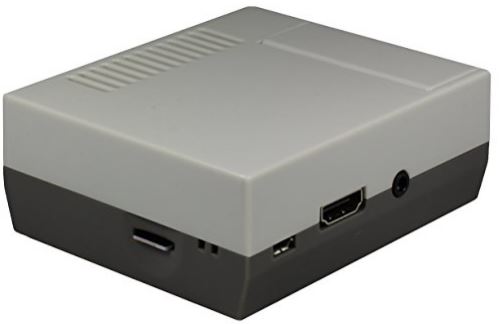 Using the Case
This is one tiny case. It measures just 3.7 x 3.5 x 1.7 inches, which is much smaller than any NES we've ever seen before! Even though it's inexpensive, we were impressed with how well put together the case feels. The mechanism that opens and closes the main door feels nice and solid, and we don't expect to see it snap off like so many cheaper options.
If you want to connect your Raspberry Pi to a USB controller, you just open the door and pop it into the USB port. You'll also want to install an SD card into your Raspberry Pi. With some of the cases we've tried, you're required to remove the Pi from the enclosure to do so. But the Old Skool NES Case has a little slot that is indented in the back, so you can pop the SD card in and out if you like.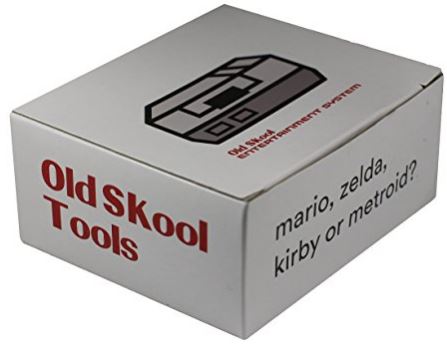 Turning it Into a Real NES
So far, you've got something that looks like a NES and feels like a NES, but it doesn't work like a NES. If you've already got your emulator set up, you can get up and running right away. But if you haven't undertaken this project before, there are couple of things that you'll have to do. At first, this process can seem a little complicated. Fortunately, it's much easier than it looks. This is how we built our very own retro gaming system.
You'll need a few things to get started. If you don't already have one, you'll want to pick up a Raspberry Pi 3. This is the bare board system, which can save you a little money. But you'll also want to pick up a power supply and a cheap micro SD card. If you've already got a USB controller, you can use that. But we wanted the full experience, so we got ourselves a replica NES controller. The software we'll be installing supports Playstation 3 and 4 controllers, as well as Xbox One and 360 controllers, so these are options as well.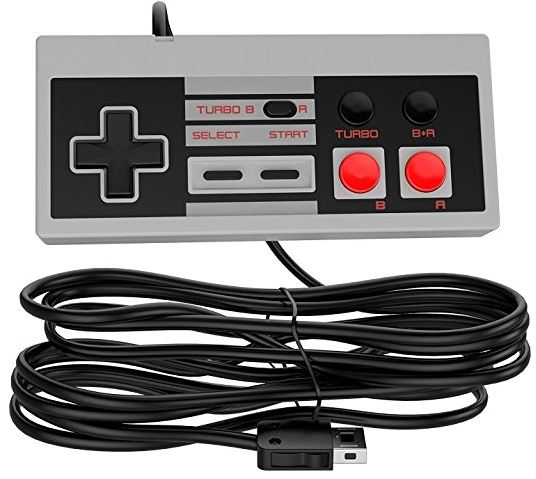 Once you've got everything you need, the installation process is very simple. RetroPie, the program that allows us to play retro games, has recently updated their software to streamline the installation process. You can download RetroPie's SD card image directly from their site. Make sure you get the version that matches the Raspberry Pi you have.
Getting the image onto your SD card is an easy process. If you're on windows, you simply download a program called Win32DiskImager. Mac users have a similar program called RPI-sd Card Builder. With the program open and your SD card in your computer, open the image and select the assigned drive letter for the SD card. The process will take a minute or two.
Once everything is copied over, it's time to slip the SD card into the little slot in the back of the Old Skool NES Case, and power on the Raspberry Pi. Plug in your USB controller, and wait a few seconds for the software to load. You'll be brought to a screen that helps you set up the controller. This process is very easy. It will ask you to push each button one by one. It goes through the directional pad, follows with A, B, X, and Y, and then finishes with the start and select buttons.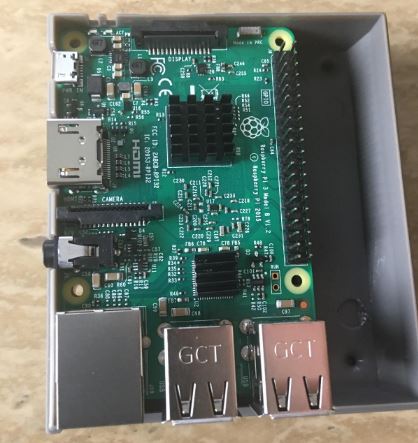 Once this process has completed, you'll be brought back to the main RetroPie screen. The final step is to install your ROMS. These are little digital images of old game cartridges. Legally, you should only have ROM files for games you physically own. For the purpose of demonstration, we'll assume that you've already downloaded them to your computer.
There are two ways you can copy them over. You can set up WiFi from the menu of the Retropie screen by choosing the network and entering your password. With the Raspberry Pi turned on, head over to your computer and type in "\\retropie" into windows explorer, or "smb://retropie" into the Finder on OSX systems. You can simply drag and drop your roms into this screen to use them.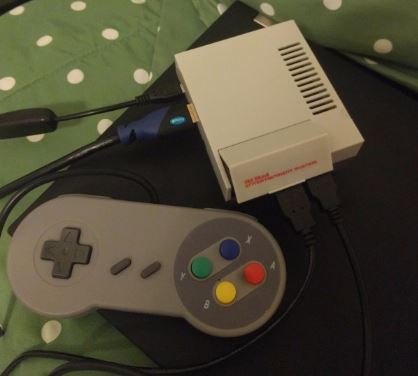 What You've Got
With about five minutes of work, you've now created the ultimate retro gaming system. Even though this is geared towards NES games, you may have noticed Retro Pie supports every console from the Amiga to the ZX Spectrum. We've had this system set up for quite some time, but the Old Skool NES Case is what took it from a fun project to the focal point of our living room. We are often asked about the decorative NES sitting next to our TV, and when we show our guests that it's not just a toy, but a fully functional NES system, they're blown away.
Even though this case is clearly geared towards those who want to play classic NES games, it's still an impressive little case. We've used our Raspberry Pi for a number of different projects, and we find that the Old Skool NES Case continues to be our first choice. It's one of the most compact cases on the market, and adds a little pop culture flair to everyone's favorite micro-computer.