Over the past decade, the average person now owns more portable electronic devices than ever before. Wireless headphones, laptops, tablets, smartphones and other small gadgets all rely on their internal batteries, but every battery eventually runs dry. Of course, you could plug them into the wall when they're out of juice, but a wall-outlet isn't always accessible. This is why more and more individuals are choosing to bring a power bank along with them. Whether it be in your car or backpack, these portable AC chargers typically offer a few different ways to charge – but not all are created equal.
Some are miniature while others are enormous, but each have their own benefits. Smaller power banks typically don't have a large capacity, but they're much more lightweight. Larger power banks typically have a large capacity, but they tend to be a bit over-sized. The freshly released DBPOWER Q100 is somewhere in between, but arguably on the larger-end of the scale. Today we're going to go in-depth and take a look at what this new power bank is truly capable of. We'll take an unbiased approach and justify whether or not it's worth the upfront investment.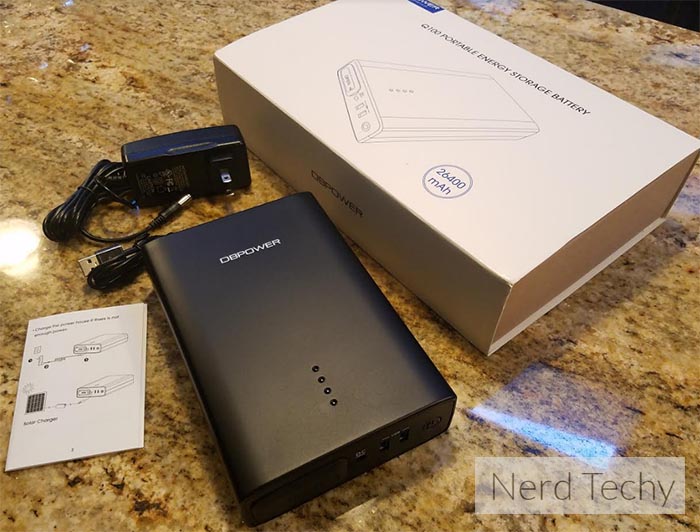 First Look
We were lucky enough to receive the Q100 Power Bank from DBPOWER within a single day. With Amazon's Prime shipping option, it arrived quickly and efficiently – just as expected. Upon its arrive, we opened up the box and were glad to see that the power bank was well-padded and in great condition. In the box you'll receive a user manual, AC adapter, a micro-USB cable and of course – the portable charger itself. Stripped down to the basics, the user manual gives you a good outline of the different parts and accessories included while giving you clear instructions on its basic functionality.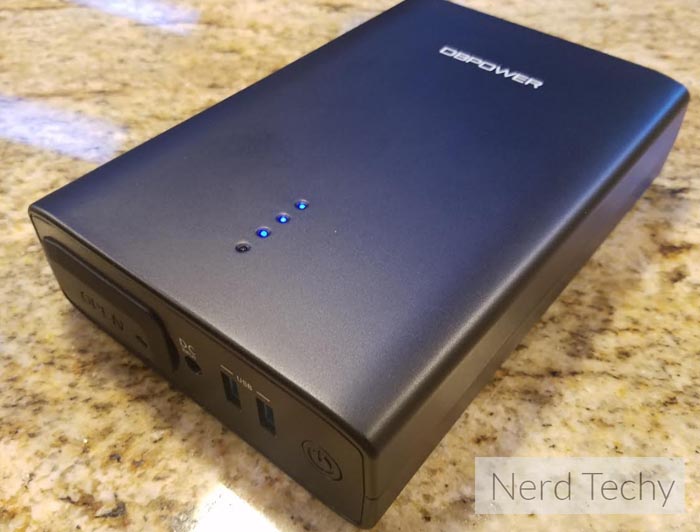 Size and Layout
Our initial impression of the Q100 left us excited to see what else it had to offer. Holding it in your hands for the first time, you'll notice that it may not be as "portable" as you may like, but this is a typical trade-off with any power bank of this capacity. Measuring in at 7.2 inches long, 4.8 inches wide and 1.6 inches tall, it has a similar shape and feel of an external hard drive enclosure. With a weight of over 3 pounds, we wouldn't exactly call it "lightweight" but neither would we refer to it as "miniature".
Comprised of a thick-plastic, matte-black finish, it feels well-built with more of the weight towards the back-end than the front-end. Located on the front is where all of the connections are. Here, you'll find the AC output (with switch), power button, USB output and DC input. On the top, you'll see the "DBPOWER" branding with four small LEDs that indicate the current battery level. On the back is a list of specifications that include the following:
Model: Q100
Capacity: 26,400 mAh (87.68 Wh)
Rated Voltage: 14.8 volts
Charge Input: 16.8 volts (2 amps)
Solar Charger: 16.8 volts (2 amps)
USB Output: 5 volts (4.2 amps)
AC Discharge Output: 110 volts, 60 Hz (80 watts)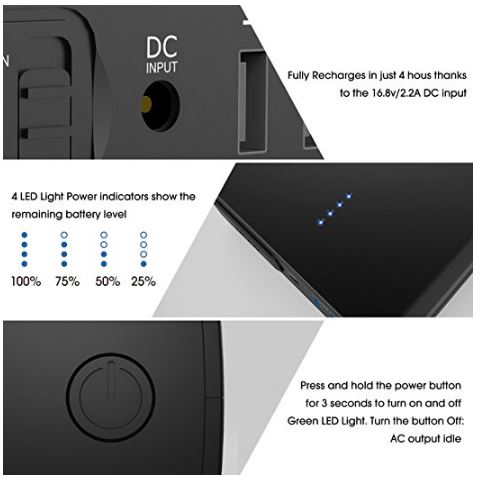 Charging Capacity
Referred to as a "Juggernaut", the DBPOWER Q100 is built with a larger charge-capacity than most similar designs that we've seen in the past. Rated for 26,400 mAh, this will let you achieve quite a bit of re-charge for virtually any device that doesn't exceed 80 watts of power usage. In real-world situations, this means that you're able to charge up your smartphone, tablet, laptop, etc. several times before the power bank needs a recharge.
As advertised, DBPOWER estimates that you're able to charge your iPhone 7 up to 8 times, a Samsung Galaxy S8 up to 5 times and a 12 inch Macbook up to 2 times. But we couldn't just take their word for it. We wanted to see for ourselves how realistic these estimates were.
While the Q100 didn't come with a full-charge, we topped it off in about an hour with the included AC adapter (plugged into the DC input). After the initial charge, the four LEDs lit up and gave us a clear indication of the full-capacity. While we own an iPhone 7 and a 12-inch Macbook, we don't have a Samsung Galaxy S8 – we have the S7 edge instead (earlier model). Throughout our week of thorough testing, the iPhone was able to achieve 7 full charges, the Macbook achieved a full charge and a half and the S7 edge was charged-up 5 times.
Each device we tested it with was on a full Q100 charge. After we were done testing one device, we topped off the Q100 (with a full charge) and restarted our testing with the next one. We were definitely glad to see that the charging capacity and estimated amount of charges was nearly accurate and not too unrealistic.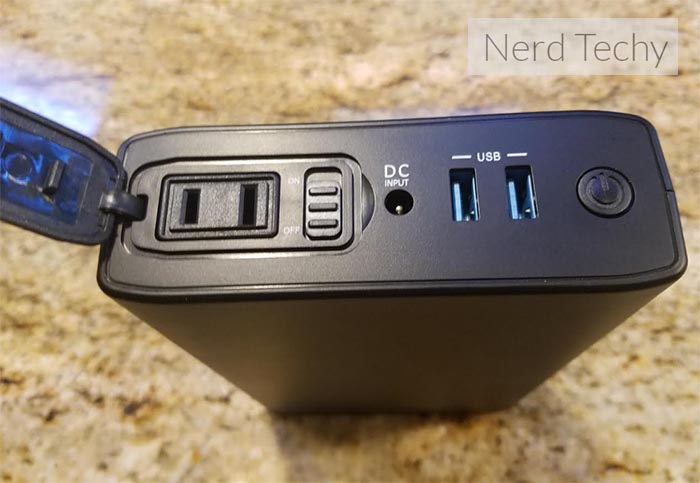 Safety
Whenever you're dealing with high-capacity electronics it's a good idea to make sure that certain safety precautions are taken. Although the Q100 is made in China, we were happy to see that it's safety-certified by the three different logos on the back. Notably, RoHS, FCC and CE approved practices were included to give owners more assurance that it won't have any troubles in the future. The power bank has a few integrated safety features that keep it working error-free. If there are any faults detected or too high of loads, the power bank will shut itself off and no longer function until you rectify the cause of the problem (typically too many devices plugged in at once). You'll notice the four LEDs begin to flash at the same time. This will give you a clear indication that something isn't right.
It's nice to see that safety was an important consideration from DBPOWER. Multiple fail-safe checks are automatically always detected such as overheating, overuse, etc. It should make consumers feel a bit better about investing in such a large-capacity battery without the worry of future issues.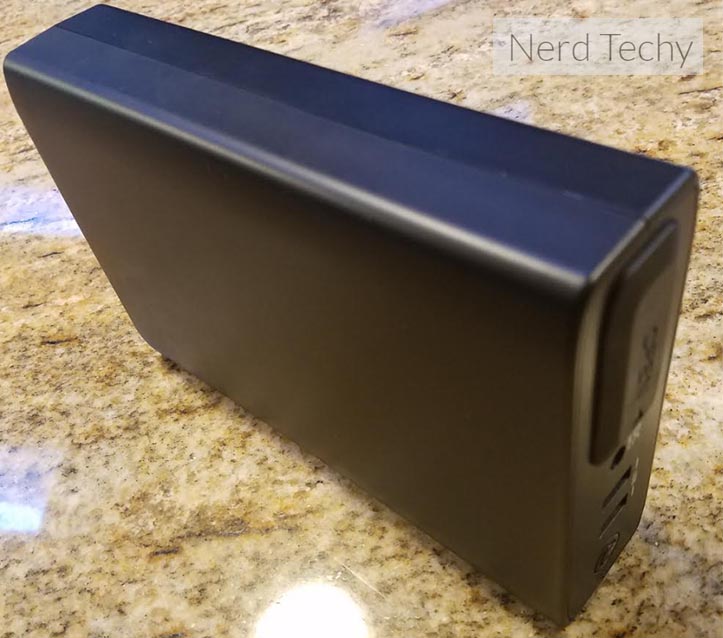 Disadvantages
While you're able to take the Q100 on the go, it may be a bit too bulky for some instances. We were somewhat disappointed with how large and heavy it seemed to be. Our new 12 inch Macbook weighs just 2 pounds whereas the Q100 weighs just over 3 pounds. Easy enough to do the math, it's obviously much larger and bulkier than we're used to lugging around. Our laptop case is quite slim and there's not a whole lot of extra room. This made it difficult to neatly carry the power bank in addition to all of our other necessary accessories. Although it's airline approved, we're not sure if everyone would feel comfortable bringing an accessory of this size with them on the plane.
Although the overall build quality seemed to be quite nice, we noticed that there's no inclusion of ruggedness in the design. It's not drop-proof, not does it have any kind of protective seal against dust or grime. While most power banks don't include this either, we think DBPOWER would win a ton of points for going a bit over the expectations. However, this may just make it bulkier than it needs to be – so there's both aspects to look at.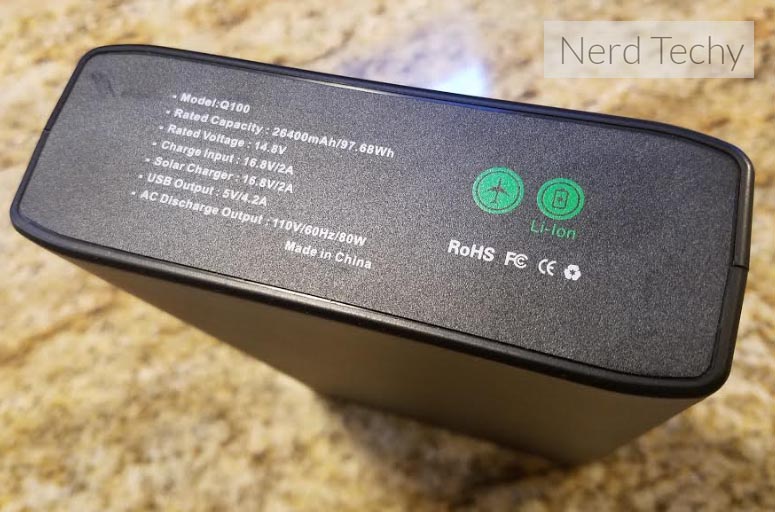 One last issue we had was the lack of a ground for the AC input charging port. The input has two prongs, but not a third one. Some laptop charges have this third prong, so you may not be able to charge every single device the way you'd like to. The Macbook only utilizes two prongs, but many PC-based laptops like Asus, Acer, etc. require a three prong input to charge.
Final Words
While DBPOWER may not be a household name quite yet, they've done a fantastic job at creating a high-quality power bank with all of the necessities required for easy on-the-go charging. With a rating of up to 80 watts and a massive capacity of 26,400 mAh, most individuals will find it over-adequate for their portable charging needs. Two USB inputs and an AC input keep it readily available at all times, and the four LEDs do a great job at keeping you in-check with the current capacity. Overall, we really love the DBPOWER Q100.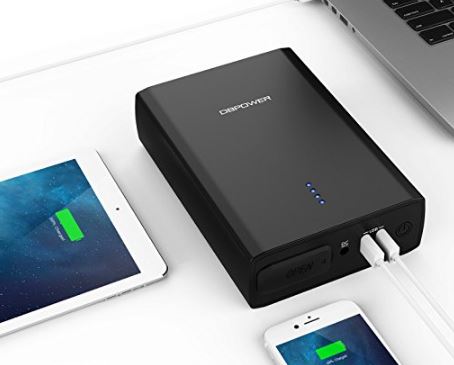 Yes, it may not be the most lightweight or portable design, but we don't feel like that may be a deal-breaker for everyone. Just be sure you account for the added weight and space required to bring it with you, and you'll be good to go.
Best of all, DBPOWER includes a 12 month warranty period should any problematic issues occur during the first year of ownership. In addition, their customer service is always available via email and have been helpful with any questions we've sent them.