Whether you're listening to your favorite music or enjoying your most anticipated television shows or movies, it goes without saying that audio quality goes a long way. Without a proper listening experience, it can be difficult to fully immerse yourself within the moment and truly enjoy your entertainment the way it was meant to be.
Over-ear headphones are known to provide a much higher quality way to listen rather than "in-ear" or "sport" headphones, but not all are created equal. Typically, there's much more attention geared towards comfort, audio quality, bass and overall practicality, but they're often bulkier, heavier and less portable than their counterpart.
Note: At no extra cost to you, we may earn a commission for purchases using our links. Learn more.
The new Venstar S209 Wireless Over-ear Bluetooth Headphones are a great example of this. While they may not be the smallest or lightest in their class, they provide an exceptional amount of value with many features that are specifically designed for superb listening. Priced much less than much of the competition, we had a unique opportunity to try them out for ourselves and review them in full-detail. Venstar sent us a pair in exchange for an honest, thoughtful and in-depth analysis on what they have to offer and how they perform. Without further ado, let's get started.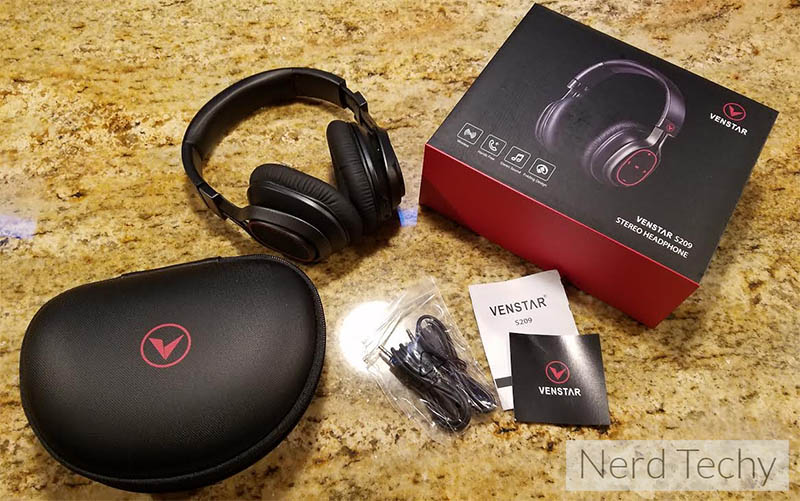 First Impressions and Unboxing
When we opened up the box for the first time, we were glad to see that the headphones came included within a padded hard case that seemed to protect them quite well. We unzipped the case and found them folded up in a compact shape with a "locking bend" on each side of the neckband. Each ear cup then clicks into place and can freely slide an additional couple inches so you can achieve a proper fit, depending on the size and shape of your head. Once you adjust them to your preferred size and place them over your ears, there's a bit of resistance that assures they won't readjust themselves and cinch down to a smaller size when you're using them.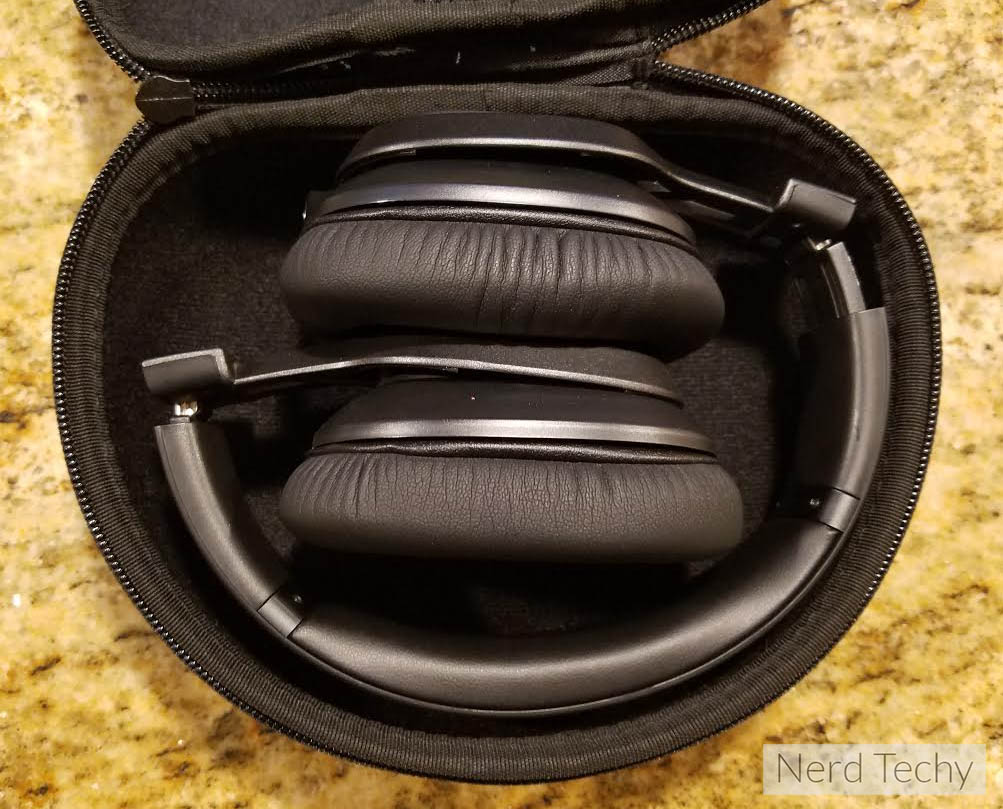 Upon achieving the right fit, you'll immediately notice how cozy, plush and wide each ear cup is. Made out of a soft leather material, they feel supple but they don't apply too much pressure to your head while enclosing your entire ear on each side.
Indicated by an "L" or "R" you'll also want to take note on which ear you place them on. On the right side, the outside of the ear cup is equipped with a variety of functional buttons that include play, pause, skip track, previous track and volume controls. Once you familiarize yourself with these controls, you're ready to pair it to whichever Bluetooth enabled device that you'd like.
Pairing Process
Since the Venstar S209 Over-ear Headphones are completely wireless, you're required to "pair" them to an audio source such as your smartphone, tablet, laptop, etc. To do this, you'll first need to press and hold the play/pause button on the outside of the right earcup. Do this for roughly 5 seconds and you'll notice a small blue and red LED will flash alternately to indicate that they're ready to pair. Next, enabled Bluetooth on your audio source device so you can search for the available connection. You should then see "VENSTAR S209" show up on the list – click it and you're good to go.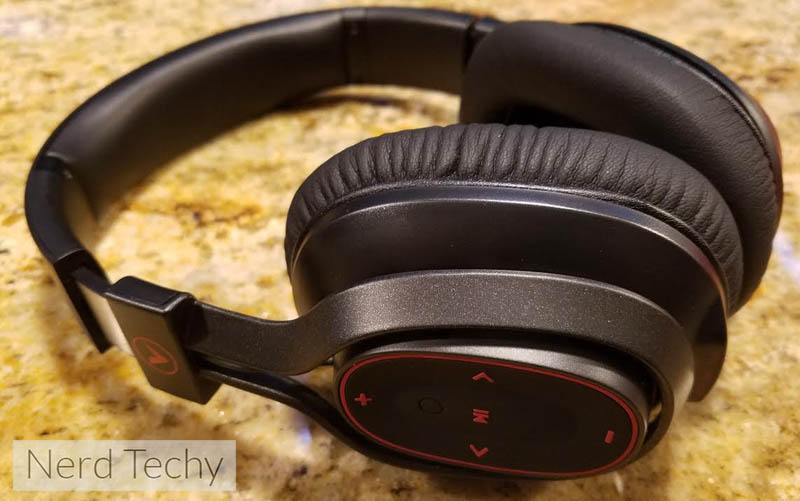 What's cool about these headphones that you won't find in similar models is their ability to pair with two audio sources simultaneously. Known as "Multi-point Connect", it lets you choose music from more than one device without going through much of a hassle. Best of all, you'll only need to complete the pairing process once. Each time you turn the headphones on, it'll automatically sync with the last known device in the area.
Sound Quality
Once we paired them and began listening to music, it was clear that the Venstar S209 Over-ear Headphones offered a healthy amount of quality in many different areas. First and foremost, the sound quality is downright incredible. Although audio quality is quite difficult to describe in text, they truly sound like a set of headphones that you'd expect to cost three to four times as much. Equipped with the latest APTX/A2DP sound technology, you're assured CD-quality sound through a completely wireless connection. They bring out the highs, mids and lows to their full value and really made our favorite songs sound phenomenal.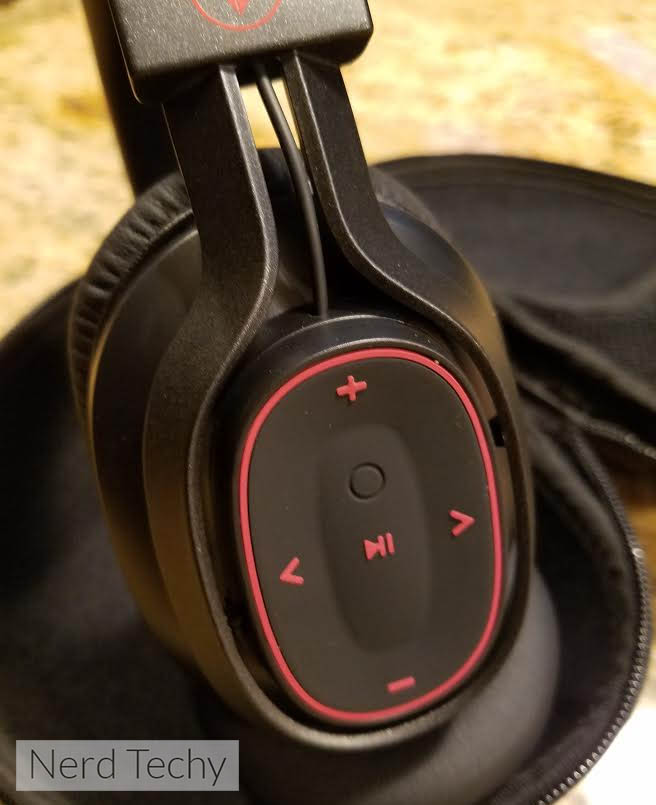 The bass seems to be on-key too. Deep, immense and pleasureful with a rumble-like effect, even when they're not cranked up all of the way. The volume has a decent range – they get very loud and still remain clear and precise sounding without any distortion or unwanted effects that can take away from the experience.
Comfort
One thing that really makes them shine is the comfort that they provide. We've previously discussed a bit about the ear cups and the leather material they're made from, but other than the audio quality, the comfort of the Venstar S209 Over-ear Headphones is truly top-notch. We love how they provide the perfect shape that encapsulates each of your ears. Additionally, there's not too much pressure or force applied over your ears – if there was, they'd probably leave you with a headache after several hours of listening. That's not the case though, it seems that the pressure they apply is ideal although not adjustable.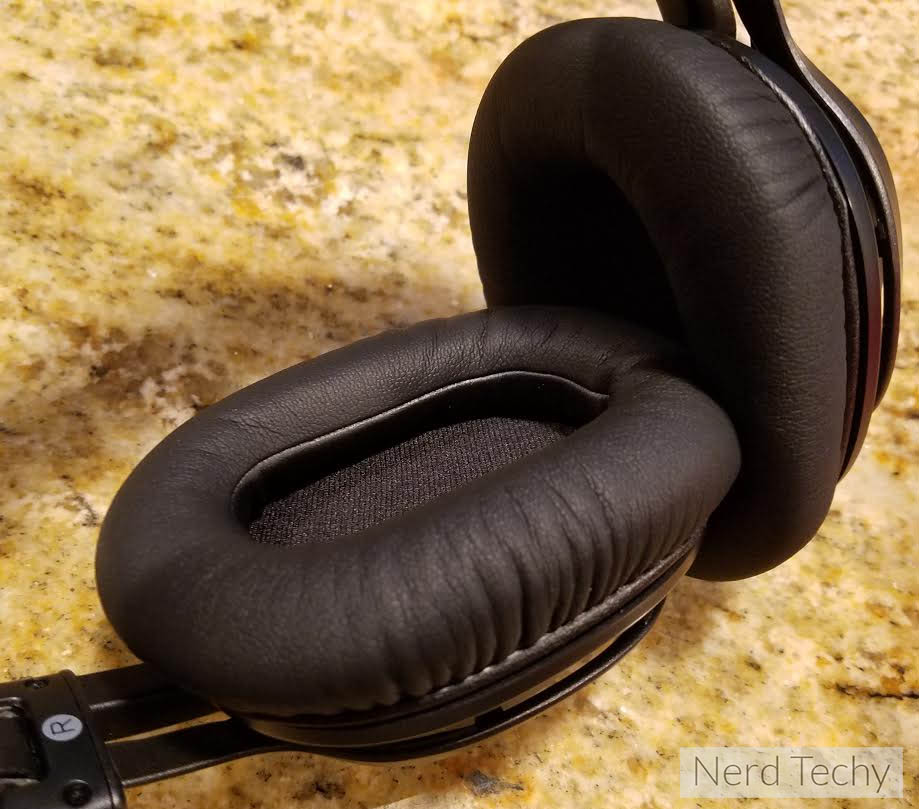 The headband that remains over your ears provides a generous amount of padding right at the top of your head and keeps sturdy even when you rock your head side to side or back and forth.
Wireless Range and Battery Life
With any pair of wireless headphones that are Bluetooth enabled, it's incredibly important to take range and battery life into full consideration. Utilizing the latest 4.1 version of Bluetooth, you can expect around 10 meters or 30 feet of wireless range between you and the source. This is quite standard as the technology really isn't capable of reaching farther, even in ideal conditions. It's really just a matter of fact that all wireless headphones are somewhat limited by. But at the same time, 30 feet of range is completely acceptable and ample for most scenarios.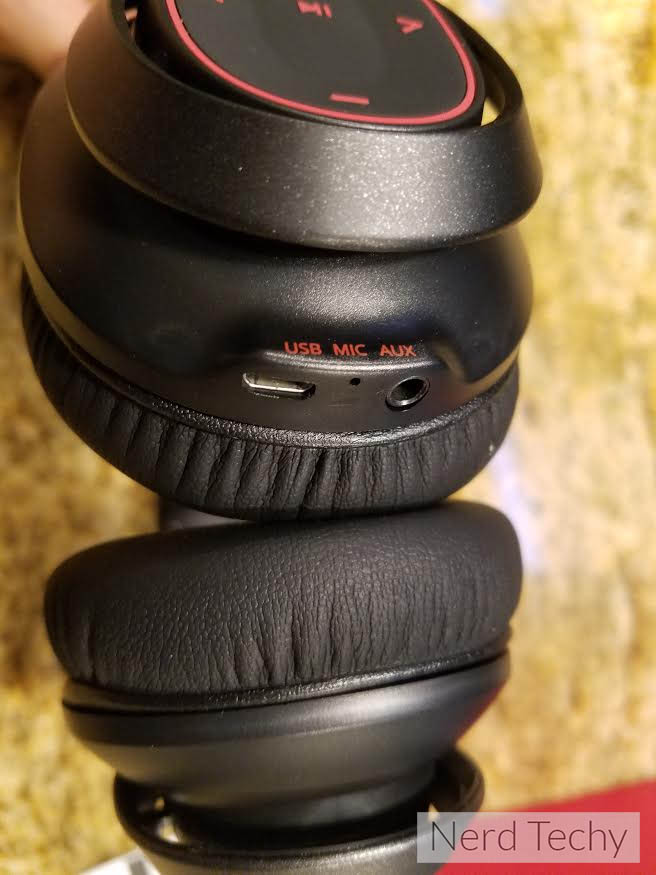 In terms of battery life, this is where the Venstar S209 Over-ear Headphones really shine. On a single charge, you can expect around 23 hours of consistent playtime and an incredible standby time of up to 900 hours. Since a single charge takes just 90 minutes to complete, it's astonishing that they can last for nearly an entire day without seeing the charger more than once. We found the battery life estimates to be right on-par with what's advertised.
Charging is simple. The supplied micro USB cable is to be plugged directly into the small port located underneath the right ear cup and into any USB outlet that you have available. Although you may never need to use it, Venstar also includes an auxiliary cable for making a wired connection to your audio source rather than a paired Bluetooth connection. This lets you conserve the battery life even more and also lets you connect the headphones to virtually any audio source that exists, such as ones that don't support Bluetooth.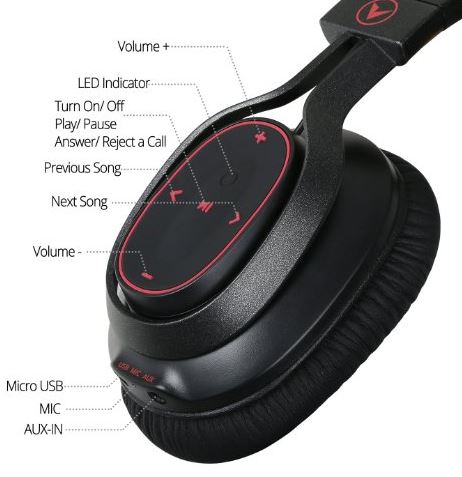 Built-in Microphone
By taking a glance right near the micro USB and auxiliary port on the underside of the right ear cup, you'll notice a small "pin hole" sized dot between the two. This is a small integrated microphone that lets you make and accept phone calls or voice conferences without ever having to remove them. We tested it via Skype, Teamspeak, Ventrillo and also through an iPhone and Samsung Galaxy S7 and found that it worked well. The recipients on the other end were able to hear clearly and without any difficulty.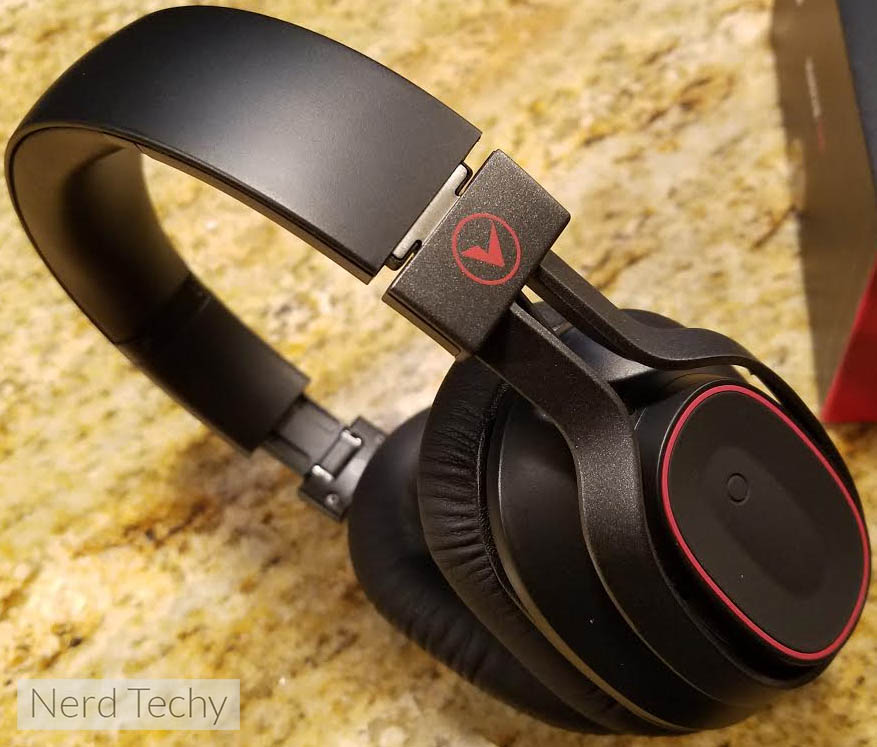 Final Thoughts
From the first time you use them, you'll likely agree that the Venstar S209 Over-ear Headphones provide much more than your typical budget-friendly studio-quality headphones with all they have to offer. Their incredible comfort and superb audio quality go hand in hand with anyone looking for the most out of their listening experience. They feel solid, well-built, and built to last. Best of all, they outperform most of the competition and seem to do it with ease.
Equipped with a 12 month (1 year) warranty period and a 30 day money back guarantee, added peace of mind is included with your investment. We love the case that's included and the convenient size they fold down to for storing while they're not being used. It'll effectively protect them from mishaps that could potentially damage them and also makes them easier to travel with. Although they're not exactly portable, they're much more compact and easy to bring along than your typical over-hear headphones that could cost three times as much.
Overall, we'd give the Venstar S209's a 9.5 out of 10 stars. They truly deliver and have no issues that would hold us back from recommending them to those needing a cost-effective, high quality option for making your audio come to life. If we find anything potentially problematic with them in the future, we'll be sure to give an update.
Note: At no extra cost to you, we may earn a commission for purchases using our links. Learn more.