There was once a time when wireless headphones didn't exist, but nowadays they seem to be the most popular variety available. The over-abundance of different brands, makes and models has brought retail prices drastically lower, but in-turn has made it much more difficult to select the right pair.
If you're someone who's been searching high and low for a quality pair of Bluetooth-enabled, fully-wireless headphones, you may have come across the new Topdon TP550. Priced considerably lower than most, they're made for the audio aficionado who desires high-end sounds, deep bass and a comfortable fit without the need to break the budget.
A few weeks ago we had the opportunity to receive a free pair in exchange for our honest and in-depth opinion of them. We'll be reviewing them thoroughly and discussing their features and specific specifications in a clear and concise manner so you can formulate your own opinion. This'll help you justify whether or not they'll be a good fit and investment for you in the long run.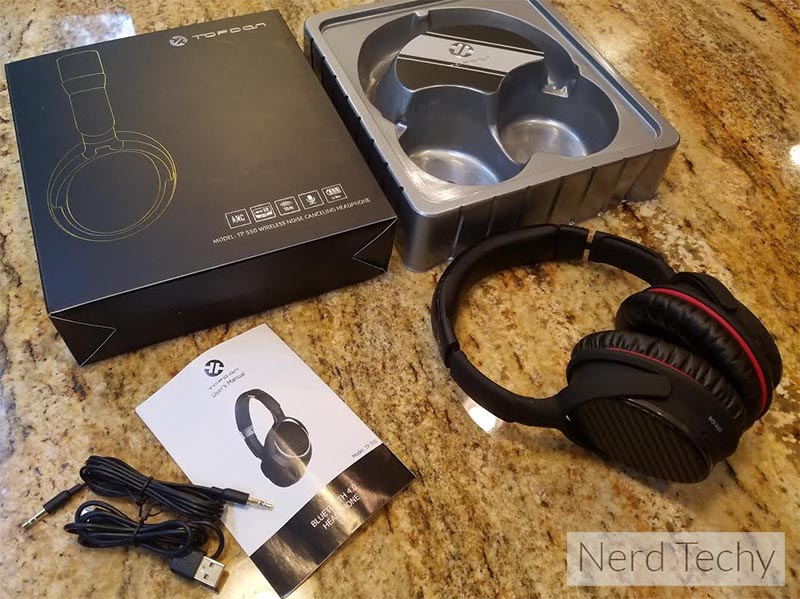 Pairing and Setup
Something that we noticed about the Topdon TP550 Bluetooth Headphones that we really liked was the on/off button was a switch rather than a button you press. In our experience, a switch is more beneficial than a push-button on/off since it has much less tendency to stay off when you need it to. It's less likely to accidently turn on when placed in a bag or small compartment.
As with any pair of Bluetooth headphones, you're required to pair it to a music source or device so you can enjoy your audio wirelessly. To do this, turn the power switch to the on position and you should see a tiny blue LED glow. Next, press and hold the play button until another blue LED on the opposing ear cup begins to blink. At this time, they're ready for pairing. Go to your smartphone, tablet or other Bluetooth-enabled device and make scan for available connections. Within seconds, you should see "TP-550" appear on the list. Select it and you should then hear an audible message read, "your device is connected". From here, you're good to go and ready to begin listening.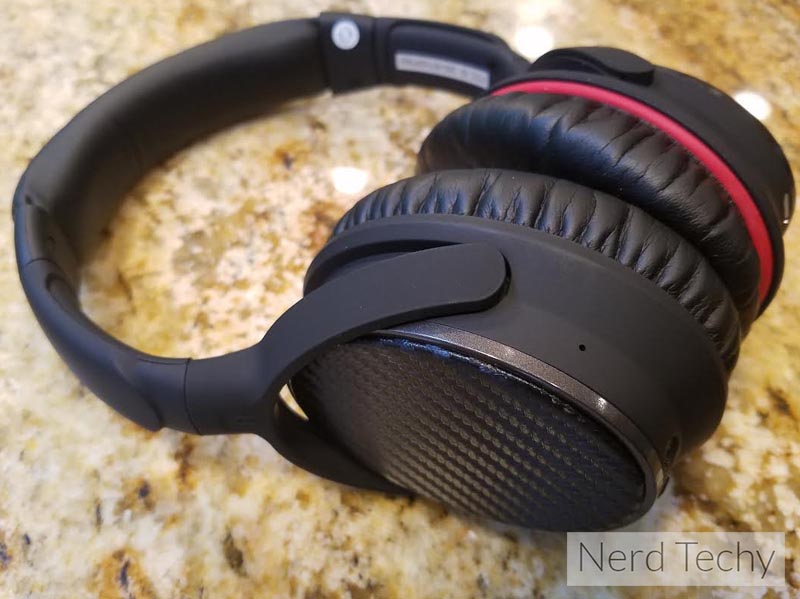 Comfort and Fit
First and foremost, we noticed that the Topdon TP550 Wireless Headphones were built well, felt solid and specifically designed to do well with traveling. While they're definitely not the most lightweight or slim-designed headphones we've ever seen, they boast a fairly slim profile and lightweight frame that's surprisingly rugged feeling. Weighing in at just 215 grams (7.5 ounces), they feel light but not "cheap".
The material they're made from is a hard plastic with a soft velvet/rubber-like coating throughout, giving them a smooth feel, but they're securely reinforced with a solid metal construction in the neckband. Adjustment for a proper fit is simple. Each ear cup slides snugly, retracting from the neckband and securing in-position when placed over your ears.
Each ear cup has an ample amount of padding with a soft leather material in order to provide lasting comfort. It's the same material and padding that's built around the neckband and it seems to do a wonderful job at providing a cozy fit. Although the pressure that they put on your ears isn't adjustable, it seems to be the right amount for a universal fit among different head sizes and shapes.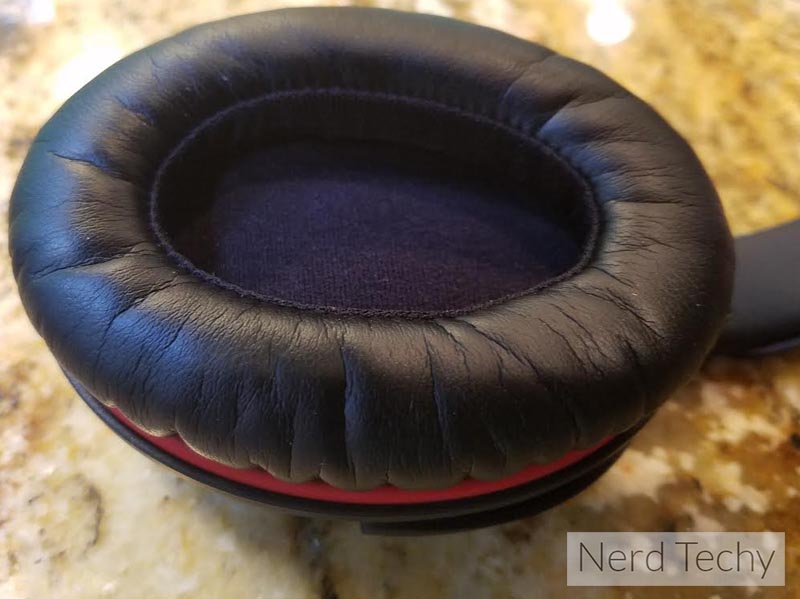 Sound Quality
Once you've achieved a proper fit that you're happy with and gone through the pairing process, you're ready to listen. To our pleasure, we found that the sound quality of the Topdon TP550's was downright incredible – especially considering their budget-friendly price tag. We tested them out with all kinds of genres of music – rock, rap, classical, pop and electronica. Each genre seemed to sound wonderful and right on-key with other pairs of headphones that we've previously tested that cost two times as much.
Although the bass isn't adjustable, it seems to do a great job as well. It's never over-powering and not too weak either. We'll be honest – they don't provide the absolute best bass we've heard, but it's clearly acceptable to most standards.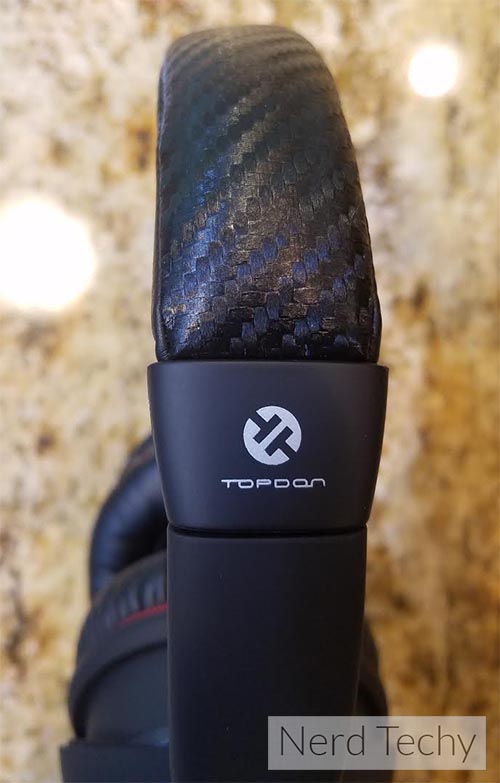 One thing that kind of threw us off a bit was the range of the volume. We'd expect them to be able to be cranked up a bit louder, but even the highest volume setting seemed to be sufficient – we really wouldn't want or need them any louder. We're just saying that some headphones in the same class can be cranked up a bit higher, although sort of pointless since who needs to listen-in that loud?
Overall, for total sound quality, we'd give it a 9 out of 10. It doesn't seem to be noticeably lacking in any regard and provides plenty of enjoyment with great acoustic reproduction and true to life effects that sound clear. Each speaker is 40 millimeters in diameter and has a frequency response range from 20 Hz to 20,000 Hz, an impedance of 32 ohms, and a rated power of 20 mW.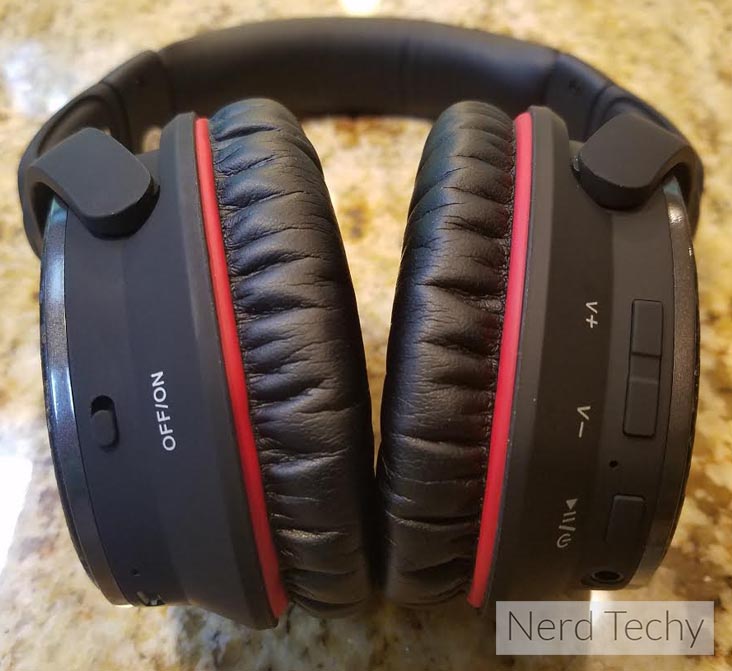 Battery Life
Since the Topdon TP550 Over-ear Headphones are completely wireless, they're independently powered by an internal lithium-ion battery with a capacity of 500 mAh. With an advertised play time of 18 hours, we found this to be fairly accurate. After 16 hours of initial use, the "low-battery" LED indicator began to blink red, letting us know that it was time to charge them up. Although we didn't hit the 18 hour length, 16 hours is quite sufficient and plenty of enough longevity for most every scenario.
Charging is completed with the included micro USB cable. Simply plug in the cable to the input located on the left ear cup and connect it to any USB port. Within two or three hours, charging should be completed as indicated by the red LED turning off. Keep in mind that Topdon highly recommends you give them a lengthier three to four hour charge time upon initial use.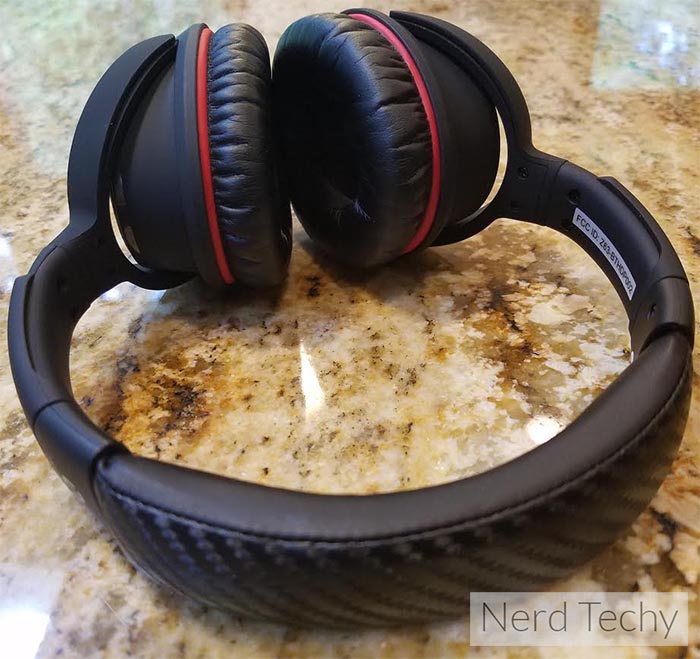 Wireless Range
While they're rated for a 10 meter or 33 feet wireless range between the headphones and your source device, we found this to be quite generous and totally dependent on the surrounding environment. These estimates that Topdon advertises is likely without any obstacles or interference in the way. Once you put a solid wall or a few pieces of furniture in the way, the wireless range can be drastically affected. In an ideal environment you can indeed expect around 30 feet or range, but it'll be dampened depending on the specific scenario at-hand. With a brick wall in the way, we found that the range diminished to around 10 to 15 feet.
Truth be told, it's not often that you'll find any Bluetooth device that can communicate that well through solid walls, but we're here to be honest with our findings.
Microphone
By taking a close look at the right ear cup, you'll likely notice a small pin-hole between the play and volume buttons – this is the integrated microphone. Although quite small and discreet, it seems to pickup voice quite well and very clearly. We tested it on multiple outgoing on incoming phone calls and were fully satisfied with both the audio quality and clarity on the other end of the call. While a microphone may not be an important necessity for everyone, it's a nice feature to have that makes hands-free calling completely possible.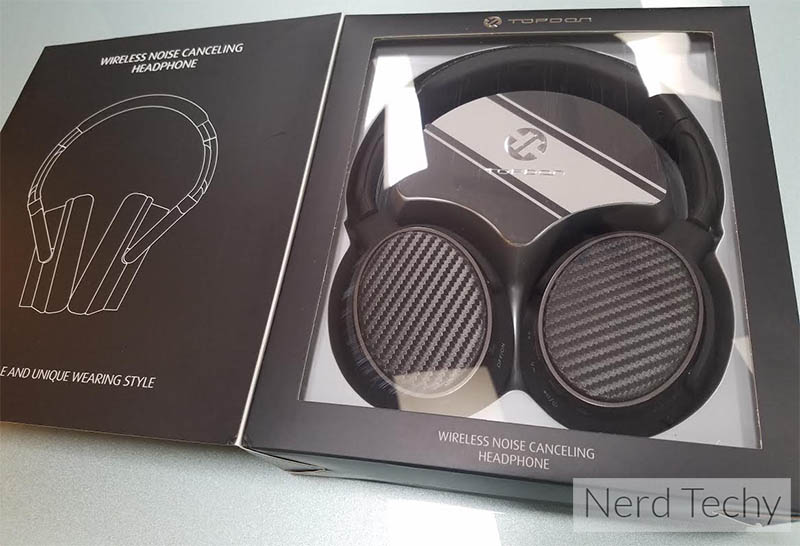 Conclusion
Overall, we're incredibly happy with the Topdon TP550 Wireless Headphones. They provide exceptional audio quality and lasting comfort to keep you cozy for hours of continuous use without any discomfort. They actively cancel out any background noise, thanks to their plush and snug fit, and seem to work equally well for all genres of music.
While the wireless range may be lacking the true 10 meter range, it's totally dependent on the specific environment you're using them in. In a majority of situations, we're confident that they'll provide wonderful enjoyment, even if you don't plan on using them every day of the week.
They're built well, very sturdy and have a solid, high-end feel to them. It'd be nice if there was a case or carrying bag included for travelling, but that's not a huge disappointment in our opinion. All in all, we wouldn't hesitate to recommend them to anyone looking for superb audio quality, excellent comfort and an incredible battery life of 16 to 18 hours on a full, single charge.