Pentax is known for creating DSLR cameras with exclusive attachments, and this lens and its K-mount requirement for use with compatible Pentax cameras is no exception. This makes intuitive sense, as they can provide more accessories that are specifically designed to be compatible with the types of CMOS sensors used. Also, they can provide higher quality options that allow their brand to prosper.
Along with the release of this lens is another k-mount compatible digital camera in the Pentax lineup called the K-70. Although the large CMOS sensors used in these cameras are designed for effective zoom enhancement, the previous lenses have been limited by range and ease of use.
The improvements that the Pentax 55-300mm F4.5-6.3 lens promises to deliver are first and foremost a smaller and lighter design and greater durability. It's also a solution to the burdensome mechanical screw drive auto focus motor, among other advanced features.
Another consideration for any new high end lens attachment is price. We're going to cover exactly what unique value this lens provides in the qualities of performance, durability, comfort and economy.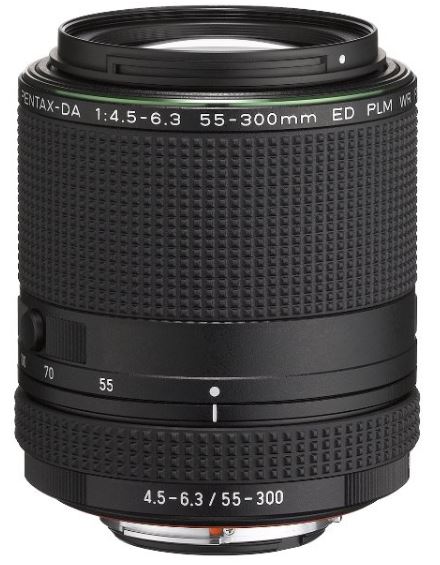 Electromagnetic Control System with Rounded Diaphragm
There's a huge demand on the apertures of digital cameras, especially when shooting videos, to be able to adjust automatically. The traditional type of diaphragm control is to use a mechanical system between the lens and the camera. For several reasons, the majority of digital camera manufacturers have been using electromagnetic systems for decades.
Pentax uses a similar system with this lens, where the entire diaphragm control hardware is housed securely within it, and transfers electronic data back and forth between the connected camera's CMOS sensor. While this isn't a new technology, it's well known that the micro-servo aperture adjustment is faster and more precise, thus responding to rapidly changing light on dynamic objects much more effectively.
Also, because there is no mechanical linkage between the lens and camera, there isn't the resultant damage and distortion caused by inappropriate mounting and precise manual installation requirements.
Lastly, the electromagnetic system newly designed for this lens is much quieter than continuous mechanical operations as well.
Rear Focus System with Pulse Motor and Lead Screw System
There are many kinds of lens focusing elements, each offering their own unique advantages in auto focusing performance. The major distinctions between them are primarily where the focusing lens group is located, either in between the front lens and diaphragm or behind the diaphragm, and which lenses within the focusing lens group actually move.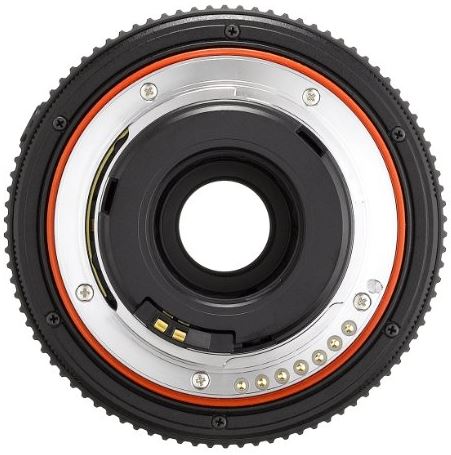 This lens utilizes a rear focus system, which bypasses the power requirements and lens size limitations of an inner focus system that uses large focusing lenses for close up images. It also delivers a faster auto focus process. Because the CMOS sensor on K-compatible cameras like the K-70 don't use a filter and are generally larger in size, putting advanced telephoto floating focusing systems into this lens wouldn't make much sense.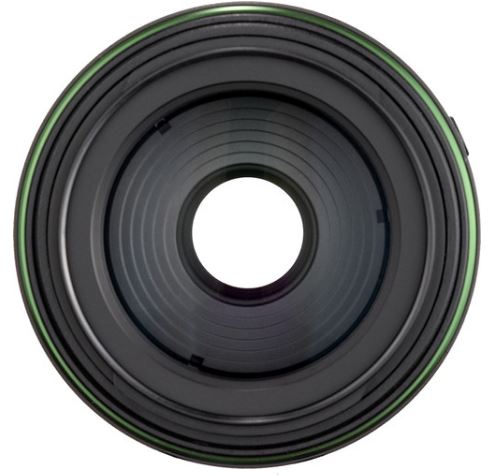 Instead, Pentax has decided to deliver a very low minimum focusing distance of 0.95 meters from the base of the camera, as well as rapid auto focusing with the rear focusing system for images shot at greater distances. When compared to the previous Pentax lens attachment of its class, this one achieves total zoom speeds almost twice as fast with telephoto images and over eight times as fast when taking wide angle shots.
By combining a much lighter focusing lens and pulse motor system connected directly to a lead screw, with finely tuned Pentax auto focusing algorithms, it achieves faster speeds with greater durability.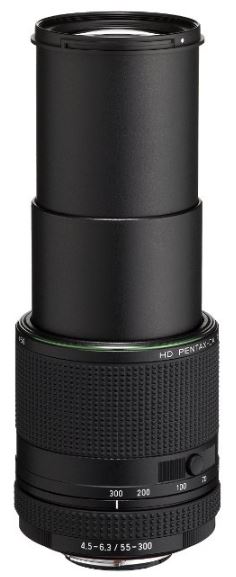 Extra Low Dispersion Glass with HD and SP Lens Coating
Elements such as the reflection and refraction of light as well as water, dust and smudge will make a serious impact on the clarity of images through a lens. In terms of visible light, there are two counter measures that are used in this Pentax lens in addition to a dual lens system to eliminate distortion and inaccurate representation of color.
ED Lenses
The first measure is in the extra low dispersion lenses themselves. They're more capable of correcting the irregularities called a secondary spectrum that regular glass lenses miss, effectively solving this problem by themselves. They also allow for a greater depth of color because they're less susceptible than conventional lenses to the blurred effects caused by secondary spectrum wavelengths.
However, this doesn't ensure it against unbalanced reflections of light that cause flare and beams of light that can ruin your shots. The efficacy depends a lot on the zoom range, the number of lenses used in the focusing group and the aperture rating, all of which this lens rate in quite well.
High Definition and Super Protect Lens Coating
That beings said, the type of coating on the lenses themselves can make a major impact in pushing the accuracy as close to as complete as possible. Although the overall difference is slight, different coating types can vary drastically.
Pentax's High Definition lens coating offers great advantages in reducing lens flare and contrast. It's very effective at reducing blur at short distances, and is otherwise a decently effective solution. It also uses a proprietary Super Protect lens coating to repel water and grease from the lens, and delivers consistent results.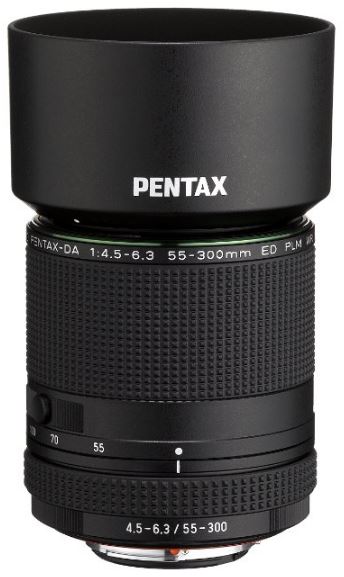 Quick Shift Focus System with Collapsible Construction
While many users are more concerned with zoom ranges and auto focusing speeds, Pentax has given particular attention to this lens's physical size. It provides a zoom range of between 55 and 500 millimeters, and an aperture value of between f/32 to f/4.5. Keeping this in mind, it's worth mentioning the added ease of use and appearance qualities that are provided with the collapsible design.
First and foremost, this lens is made more compact when not in telephoto mode, making it easier to aim and store while delivering equal versatility.While the electromagnetic diaphragm and pulse motor are fully capable of high speed automatic focusing operations, you can also switch it into manual focusing mode by simply twisting the focus ring.
Like driving a manual transmission vehicle, this can provide you with an edge in performance, especially for still telephoto shots, although it's very difficult to achieve impressive results when shooting video with manual focus. The circular shape of the diaphragm also makes it possible to get clear, rounded shapes when intentionally adding blur and specific background/foreground depth for artistic shots, using the bokeh technique.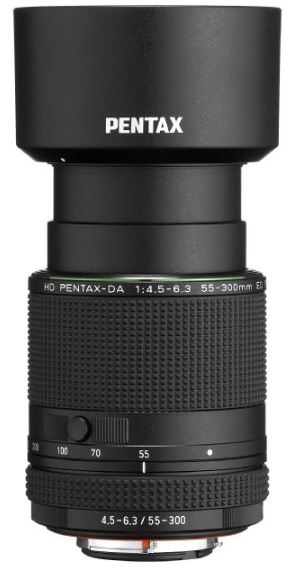 Durability and Included Accessories
With such exclusivity with digital cameras and their compatible accessories, it's a value requirement for this lens to match the weather endurance quality of the K-70. Being released around the same time and given K-mount compatibility, the K-70 has been given a weather and dust proof rating by the manufacturer, thanks to the construction that uses 100 weather seals.
The first area where this lens is congruent with this expectation is the extra low dispersion lenses. They're given Super Protect coating, making them capable of producing effective shots in adverse conditions, like dust storms and rainfall.
Looking at its overall construction, it go beyond a basic weather resistant expectation and is given a weather proof and splash proof rating. While you won't want to submerge this lens in water, it's capable of withstanding rain and dust without sustaining damage. It can also endure a decent range of temperatures.
In order to provide an added level of protection when it's not in use, Pentax has included a set of basic accessories, including a lens cap, lens hood and back cover cap as well. This'll keep dust and moisture from seeping into the mounting end, as well as keep the lens free from scratches and damage from physical impact.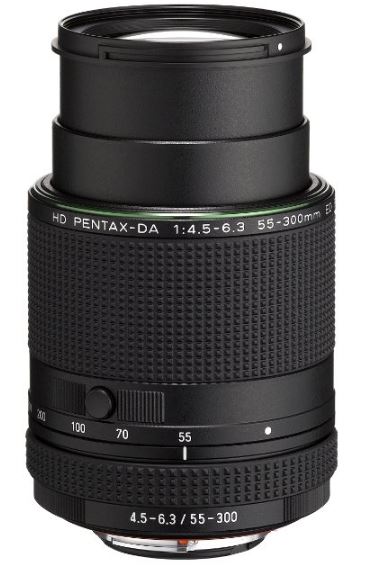 Final Thoughts
By far one of the most important qualities to Pentax digital camera users is economy, as they're looking for an effective solution at a lower price than what they're used to.
The Pentax 55-300mm F4.5-6.3 lens is by no means cheap, actually nearly matching the price of the K-70 camera at the time of its release. However, when compared to other lenses in its class, it delivers greater value through faster auto focus speeds combined with clear image capturing.
It comes included with a one year warranty on all parts and labor by the manufacturer as well, offering a level of security and a guarantee on its effectiveness and structural integrity. Overall, a fine choice that can drastically "up your photography game".