Most people looking for athletic-friendly Bluetooth headphones are trying to find something in the middle. Headphones above cheap junk, and below gross excess. After all, with regular use, even an excellent pair of Bluetooth headphones will ultimately end up with a lifespan of two or three years.
That doesn't quite make Bluetooth headphones disposable, but it does give you a good reason to aim for the middle. Performance per dollar, the best equipment is generally found in the middle as well. Depending on where you're trying to do your listening, you can find great value in simple places.
Mpow D3 Bluetooth Headphones
The Mpow D3 are a good example of aiming for the middle and nailing the target. Their design is a favorite among athletes. They provide deep support for essential features, but relative to their price, they also bring a little more to the table than you might expect. In short, the Mpow D3 has many advantages of modern design.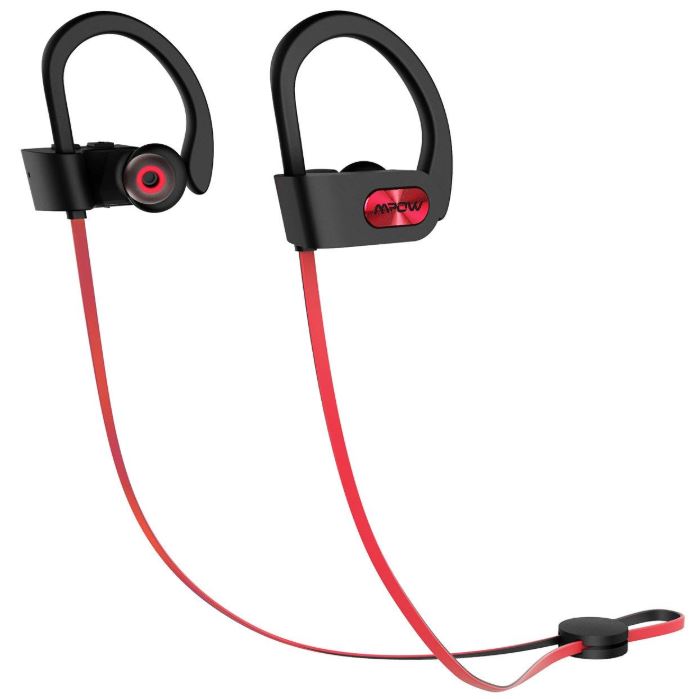 But no headphone is perfect. While the Mpow D3 should be able to please most people, most of the time, that doesn't mean they're right for everyone in all circumstances.
Build & Design
The Mpow D3 make use of a common behind-ear construction, using a soft leading hook to gently wrap around the topside of the ear. Combined with their connecting cord, these ear-buds weigh just short of three ounces. The end of each bud is a standard black build, heavily contrasted by the bright red wiring. And those wires are slightly flattened to make them tangle-resistant.
On the topside of the right earbud, there's a tiny pair of buttons for volume control. They rest upon a chassis that's constructed of PVC and water-resistant materials to help keep your equipment safe from scratches and sweat. That produces an impressive IPX7 waterproofing rating, equipped to handle far more than sweat.
Nevertheless, submersion isn't a good idea because of the specific way in which they've achieved waterproofing. It has less to do with making thick physical barriers, and more to do with hydrophobic coatings. The water-repellant nano-coating helps keep the Mpow D3 dry, but they can't do that under the pressure of submersion.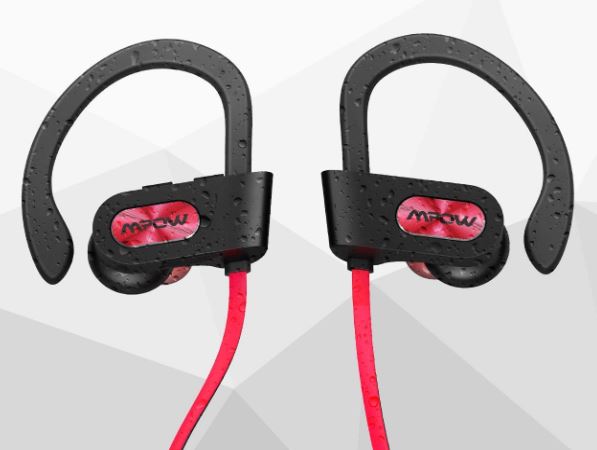 Sound Quality
Everyone has different expectations from audio equipment. That's because we all have different experiences with it, and we listen to different types of music. Some people's music requires more tonal clarity than others. Some people have enjoyed great bass and gotten used to it, making it harder to be objective about what ordinary equipment sounds like.
In other words, when we put on a fresh pair of headphones, different starting points produce different experiences. And that makes these types of judgements tough to make without wearing the equipment yourself. However, it's fair to say that Mpow D3 Bluetooth Headphones generates a soundscape close to average for athletic headphones at this price point.
The bass is slightly boosted to help give it more presence, allowing you to turn the D3 towards cinematic experiences as needed. And the D3 has a soft emphasis on mid-tones, the home of most vocals. That makes them excellent for listening to podcasts and audiobooks, and enjoying most genres of music. But he treble is somewhat lackluster by contrast.
All in all, the D3 provides a reasonably well balanced around for Bluetooth headphones in this price range. Making this type of in-ear equipment sound any good is always an uphill battle, but the Mpow D3 Bluetooth headphones do an admirable job of solving the problem.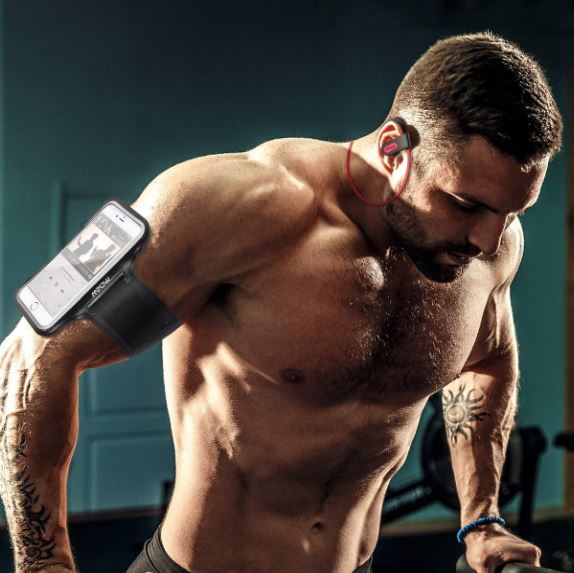 Battery Life
Mpow D3 Bluetooth Headphones provide roughly 8 hours of battery life. Those estimates can change on any variety of factors. If you start making heavy use of the built-in microphone, and crank the volume higher than you should, you can expect that figure to sink closer to 6.5 hours of life. But given their somewhat athletic nature, lasting through more than six hours of consistent use is fairly impressive.
One thing working in favor of the Mpow D3 is their rapid charging battery. You can produce about half-an-hour of music from only ten minutes of charge. And you get a full charge out of roughly 90-minutes. Whether you've forgot to recharge and you want to take a quick jog, or you're only home for a few minute and you want to get some extra power, the D3 can help.
Microphone
The Mpow D3 Bluetooth Headphones use a built-in microphone. It's most significant feature is CVC 6.0 Noise Suppression, a technique to enhance noise cancellation. It's important to note that CVC noise cancellation is not the same as ordinary headphone noise cancellation. It doesn't stop noises from entering your ears, it's software that helps to cancel ambient noise in your microphone.
CVC 6.0 is excellent for helping maintain sound quality under different conditions, with adjustable gain, active equalization, the alteration of the frequencies, and even subtle changes in volume. Speaking into a CVC 6.0 microphone helps separate your voice from the noise around you, providing as much as a 30dB reduction in some environments.
The results aren't quite as compelling as with multiple-microphone setups, which provide business call clarity. But those setups are generally far more expensive, and far less relevant to the athletic circumstances the D3 are designed around. Consequently, this allows the Mpow D3 to have one of the more competitive microphones relative to its price point.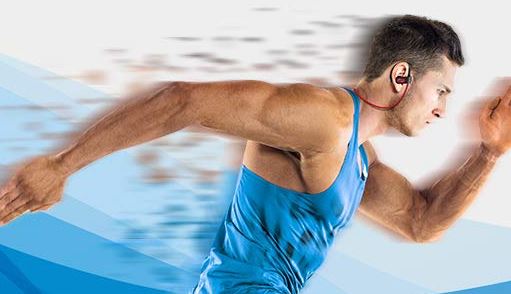 Adjustable Comfort
The Mpow D3 Bluetooth Headphones include six ear-tips in three sizes. Small, medium, and large. As always, this range of adjustability is key to finding comfort for in-ear headphones. The size that comes pre-installed on the Mpow D3 are the medium fit. They're intended to feel comfortably for the average person, but just because it feels okay doesn't mean you've found the right tip.
Trying out all your options can help you find better comfort, better noise isolation, and ultimately a more enjoyable listening experience. Finding the right size is generally no more difficult than taking a few minutes to roam through your options.
With respect to comfort, one limitation facing the Mpow D3 Bluetooth Headphones is how the topside ear loop isn't adjustable. It's made to latch across an average sized adult ear. When worn by younger people, or people with unusually sized ears, the D3's fit isn't quite as snug. They continue to stay in place and allow for effective use, but the tip may wobble as you move.
Additional Armband
In addition to its carrying case, the Mpow D3 includes another fairly useful accessory. It's a highly breathable armband made specifically to be suitable for athletics. The band is a mix of two fabrics, neoprene and Lycra, allowing it to continuously flex without stretching.
It's intended to help you strap your smartphone to your body. And the armband can be adjusted between 10.6-inches and 15.6-inches. That should comfortably fit most arms. But if you skip leg day, you might not be able to make good use of the band. It's also worth noting the band is suitable for phones 5.6" in height, or less. That includes the iPhone 8, the Galaxy S8, and so on. It excludes some of the bigger phones on the market.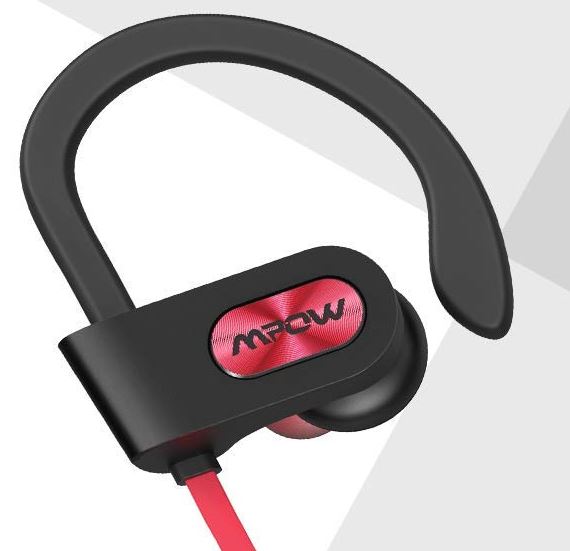 Connectivity
Internally, Bluetooth 4.1 and a CSR chip are what keep the D3's sound quality somewhat high relative to similar athletic earbuds. Their wireless connectivity reaches out to 33-feet. That's somewhat low by modern standards, but it's precisely what you want for athletic headphones.
That's because stronger signals may transfer through thin air, but they're not created out of thin air. A fair part of the battery life of these headphones is wrapped up in creating a Bluetooth signal. And using the modest 33-ft connectivity is no doubt a part of why the D3 has such a competitive battery life. Given the inclusion of the armband, the 33-foot connection becomes less of an issue still.
Other Considerations
Accessories that come with the Mpow D3 include a pair of memory foam ear-tips, a wire clamp, and a round EVA-style carrying case. It's about half the diameter of a CD. And of course, the D3 includes the sports armband, charging cable, and multiple sets of silicone ear tips.
With respect to additional features, the Mpow D3 isn't overflowing, but neither does it disappoint. It provides support for iOS battery capacity display, which is a great inclusion for people who love their Apple devices. The D3 support Siri Activation; you've just got to press either of the volume buttons for two seconds after activating Siri. And the CVC noise cancellation kicks the microphone quality up a notch.
Speaking of voice calls, The Mpow D3's integrated hands-free calling and voice audio control features are fairly convenient. But they've also become somewhat standard modern Bluetooth athletic gear, so it's hard to weigh them heavily in the D3's favor. Nevertheless, they provide informative voice prompts for incoming call numbers, and basic voice alerts for events like a low battery status.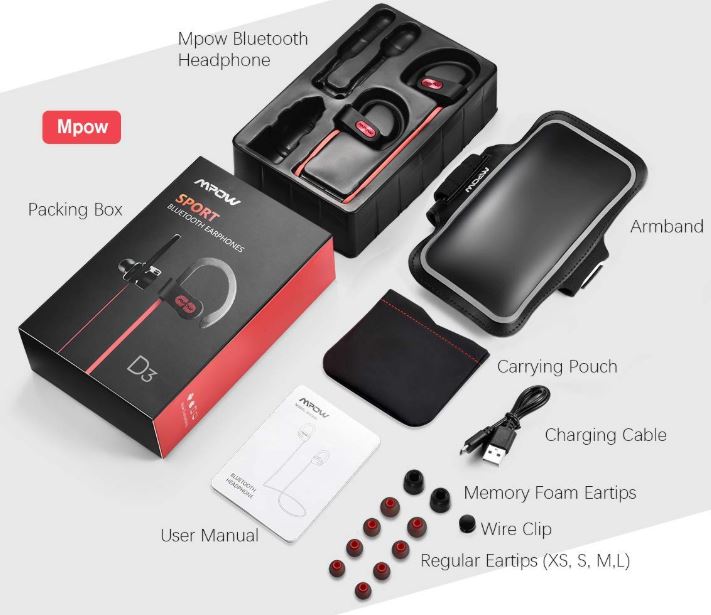 Who Should Choose Mpow D3 Bluetooth Headphones?
All Bluetooth headphones are doomed, sooner or later. For wireless devices, it's their battery that gives out. For wired devices, their wires will short. It's just a matter of how long.
The Mpow D3 has a lot of features intended to help extend their lifespan. The water-resistant design, the tangle-proof wiring even contributes because it reduces the gradual strain your headphones are exposed to with regular use. As a result, the Mpow D3 should be able to provide three or more years of regular use.
And at this price point, you won't feel bad about replacing them when the time comes. Like any good pair of Bluetooth headphones, they're great for being able to carry private sound with you throughout the day. If you can make use of the extras, all the better. But if you can't, what matters is the D3 can still stand on its own merits. That makes the Mpow D3 a fairly smart choice for almost anyone trying to enjoy music while staying active.