When it comes to online games, whether for console or PC, your entire system is only as responsive as your Internet connection. If you wanted to undermine the performance of the best gaming PC machine in the world, all you'd have to do is pair it up with a weak router.
In an increasingly always-connected world, just about any game these days can require a stable Internet connection. But for competitive gamers specifically, finding the right gaming router can be a matter of digital life or death.
NETGEAR Nighthawk XR700 Pro Gaming WiFi Router
Yet another in the long series of Nighthawk routers, the NETGEAR Nighthawk XR700 Pro Gaming WiFi Router is fairly close to the epitome of a gaming router. Nighthawk routers are designed to offering a tier of performance a full step above what you find inside a basic household router.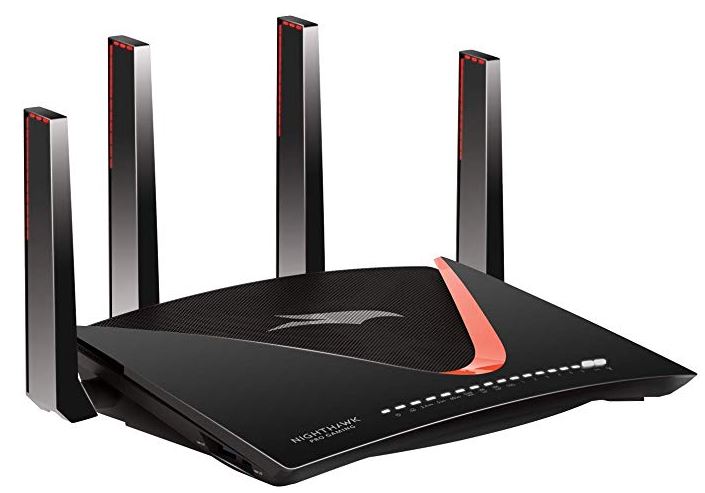 In practice, what that means is you can avoid situations where you're gaming or streaming, and suddenly a download causes you to rubber-band, lag, or endure a death from disconnection. Ignoring the possibility of ISP failure, solving these lag-issues forever is as simple as limiting bandwidth as it's delivered to various in your network.
Build & Design
It might be vanity. But when you buy something high end, you want it to feel high end. And the NETGEAR Nighthawk Pro Gaming Wi-Fi Router is a high end piece of equipment, so it makes sense they put so much work into making this router aesthetically beautiful.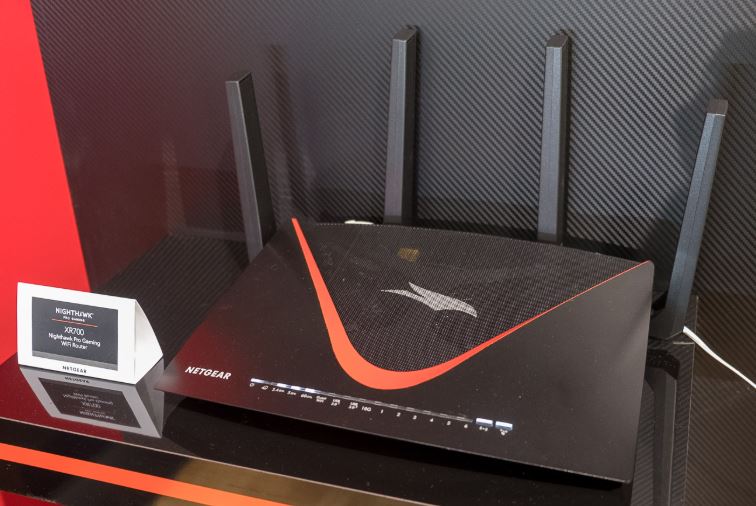 Measuring 15 x 12.5 x 5-inches, the NETGEAR Nighthawk XR700 Pro Gaming WiFi Router is nothing if not unique looking. The somewhat bulky body weighs about four pounds, giving a real heft to the device. Once you look past its antennas, the base of the router itself is somewhat ordinary looking. It's just another elongated black box with connection terminals on its backside. But it's hard to see past those antennas.
Reaching up from each side of the Nighthawk XR700's body are four menacing antennas. Each one is a large square obelisk, highlighted with red LEDs along its edge. Initially this might seem like a fairly low number of antennas for such a high-end router. But the XR700 isn't built to create 10,000 square feet of coverage, it's built for gamers. Though if you did happen to need 10,000 square feet of cover, the XR700 Pro pairs excellently with a variety of mesh routers.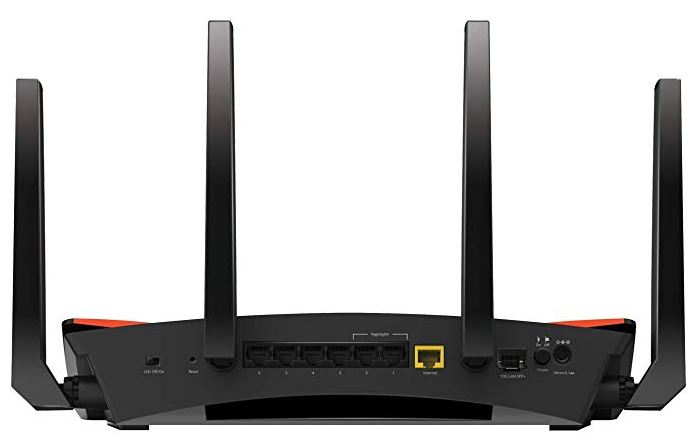 Connection Terminals
Along its face, the NETGEAR Nighthawk XR700 Pro gaming Wi-Fi Router is constructed with about a dozen and a half beautifully well-lit LEDs. That's about three times as many LEDs used on a typical router. The extra lights are actually quite useful after you've had an introduction because each gives you an indication of specific parts of the network. Is the fourth connection switch acting up? You can narrow down the problem by looking at the XR700 for about three seconds.
On its backside, the very first switch can turn on-or-off the antenna LEDs. Next to that, there's a standard reset switch recessed within the chassis. And along the center of the device, six Ethernet ports. The Internet port to connect with your modem has been color-coded a bright yellow, a near foolproof design. Finally, there's a 10G SFP port, the power button, and a single DC power port.
Network Capabilities
Remember that wide set of LAN connection ports from earlier? Those seven Gigabit Ethernet ports, and the additional WAN port? You can aggregate two of them to get even more ports. And the SFP+ Port provides faster access to NAS and ultimately faster streaming and backup.
Internally, the guts of NETGEAR Nighthawk Pro Gaming Wi-Fi Router work to support 802.11ac Wi-Fi through the AD7200 Quad Stream Wave2 platform. That quad core processor keeps network speeds consistent, and allows you to get a reliable connection across every device. And the network efficiency of every device on the network is improved as a consequence.
Plex Media Server
Built-in support for Plex Media Server is another big feature worth keeping in mind. It's essentially a subscription service that allows you to sync your content for constant offline use. It works by incorporating an additional layer of content options and parental controls, helping your network to be just as useful whether you're online or not.
And that allows you to stream all your content, from any of your devices, whether you're online or not. You don't have to worry about transferring a movie or file from one PC to another. You can just stream, record, and share your content effortlessly. Plex Media Server provides support for services like Roku, Chromecast, Amazon Streaming, gaming consoles, and so forth.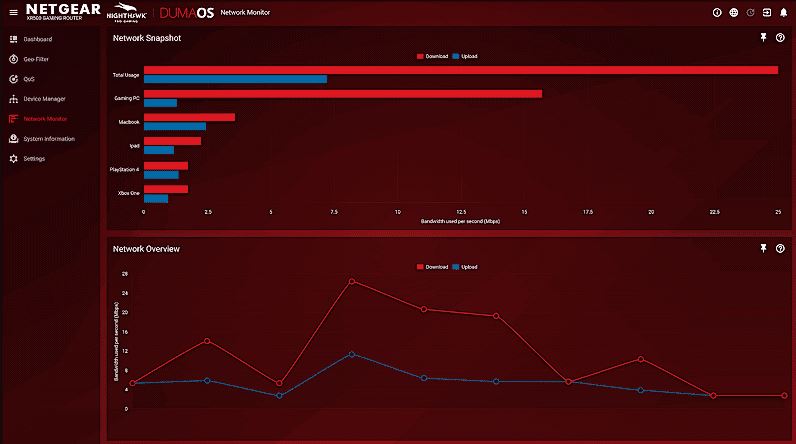 Connection Features
Traditionally speaking, one of the more daunting aspects of setting up a router has been entering into its settings window. Frankly, these windows are intentionally designed to be somewhat intimidating. If they weren't, you'd have more novice users poking around with settings they don't understand. They'd create network problems for themselves that would ultimately spill over into NETGEAR tech support.
For the most part, PC gamers aren't intimidated by the prospect of having to setup a router. But it helps when things are easy. And installing the NETGEAR Nighthawk Pro Gaming Router is about as difficult as plugging it in. One of the ways they've achieved that is with the Nighthawk XR700 Pro Gaming Router making use of its own dashboard software.
Many essential router controls are still inside those daunting networking windows, but the most important game-facing control options have been made accessible through this new interface. It allows you to make real-time changes in bandwidth utilization, and those changes can be ordered by device, response time, and several other accessible network parameters.
Additionally, there's a geo-filter that's helpful for keeping down lag. It works by limiting the distance between yourself and the servers to which you can connect. By whitelisting or blacklisting preferred and allowed or allowable servers, it helps guarantee you get a local connection.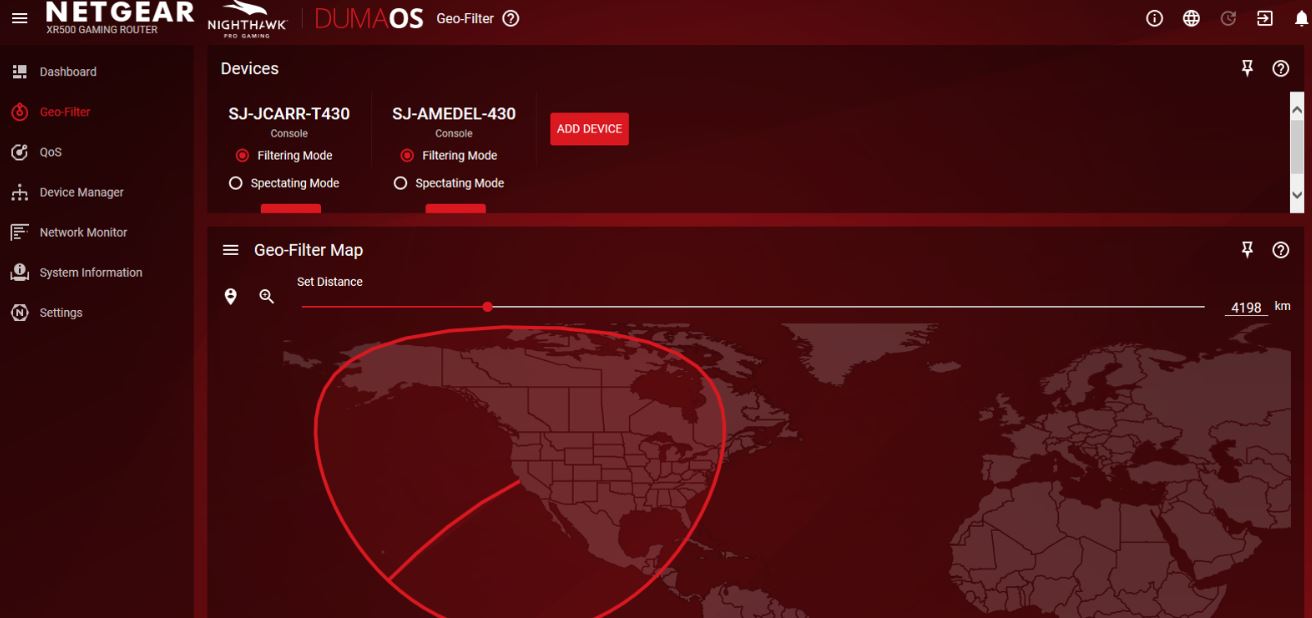 Bandwidth Prioritization & More
If gaming routers do one thing above all else, it's help prioritize bandwidth allocation. And they make it easy to prioritize games. And the NETGEAR Nighthawk XR700 Pro Gaming WiFi Router does that quite well. Their navigational menus make it easy for even novice users to quickly set things up exactly how they want.
You can use QoS (quality of service) to dictate the upload and download speeds which are allowable in the network, to mitigate lag spikes while playing games. You can establish highly specific parameters around your connection, targeting specific machines on the network, or even specific times of day.
Those time-specific settings can be exceptionally useful for anyone using a cable Internet connection because those connections have speeds which are linked to community use. In other words, how many of your neighbors are trying to use the net when you are? In most regions of the US, the highest period of Internet use tends to be around 7-8 pm, as people are coming home from work. Being able to adjust around those times can help patch-over those types of cable-specific issues.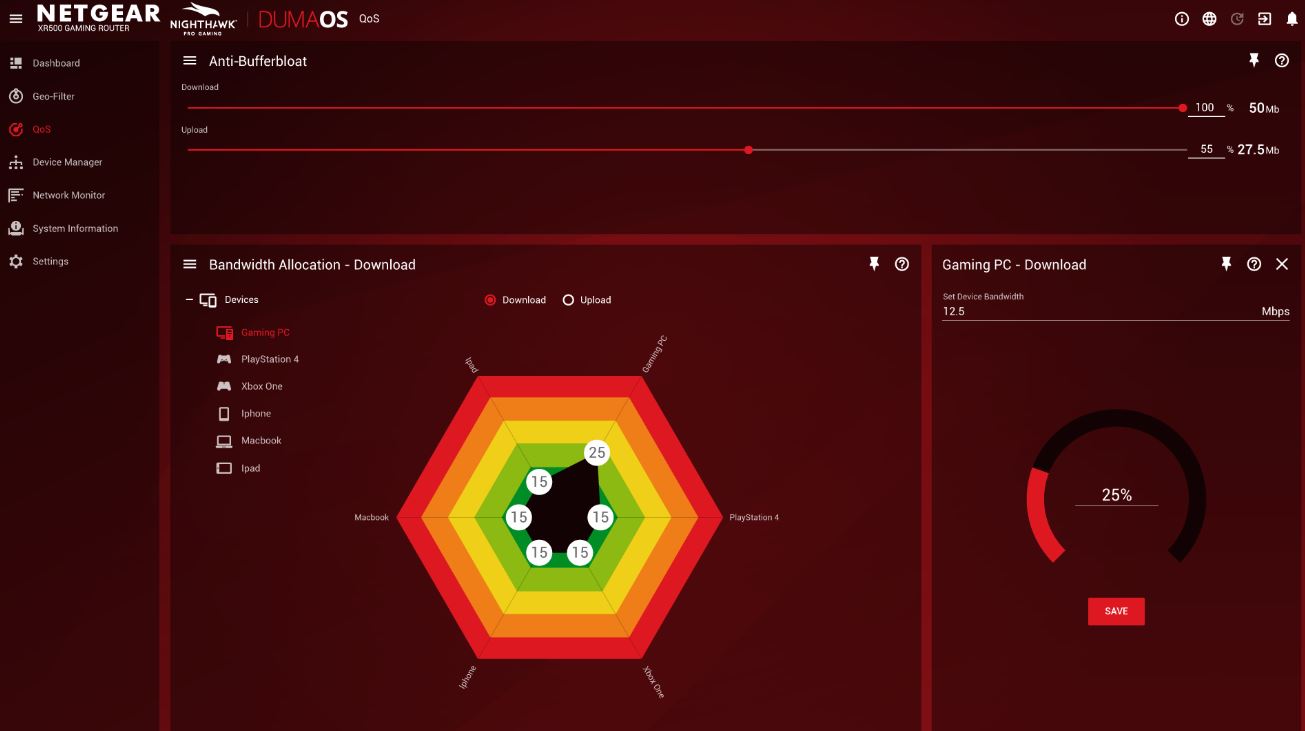 Gamer-Specific Design
What kind of benefits do gamers end up with? A lot of the difference plays out in seemingly small figures, like the difference between 30ms and 5ms. With respect to competitive gaming, this can make a palpable difference. It's huge for players around competitive MOBA titles and the FPS genre, where reaction times can be measured in fractions of a second.
Of course, these advantages are considerably less significant for slow-paced games. But even there, the NETGEAR Nighthawk XR700 delivers reliability. And if you're playing an online-based PVE game, crawling through some dungeon, reliability can be as important as anything.
Plus, games aren't the only thing you can fine-tine with bandwidth prioritization. The XR700 Pro is just as useful for helping to prioritize streaming services. Anytime there's a bandwidth intensive activity, or a latency-sensitive task, equipment like the Nighthawk XR700 is the only way to speed things up.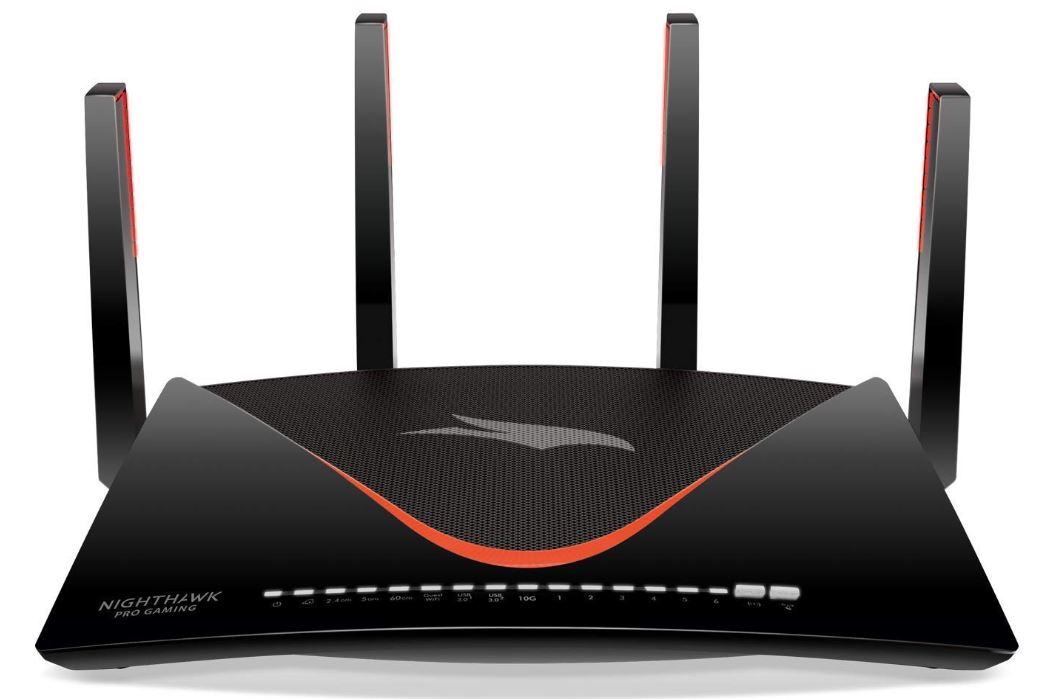 Other Considerations
While this router does have just about every bell and whistle you can name, there are one or two missing.
With respect to security, the Nighthawk XR700 router performs as well as any NETGEAR Nighthawk router. That's because it helps maintain high standards of security across all web interactions. There's an automatic layer of protection for your identity, some simple ways to keep yourself safe from DDoS attacks, and even native support for VPN clients.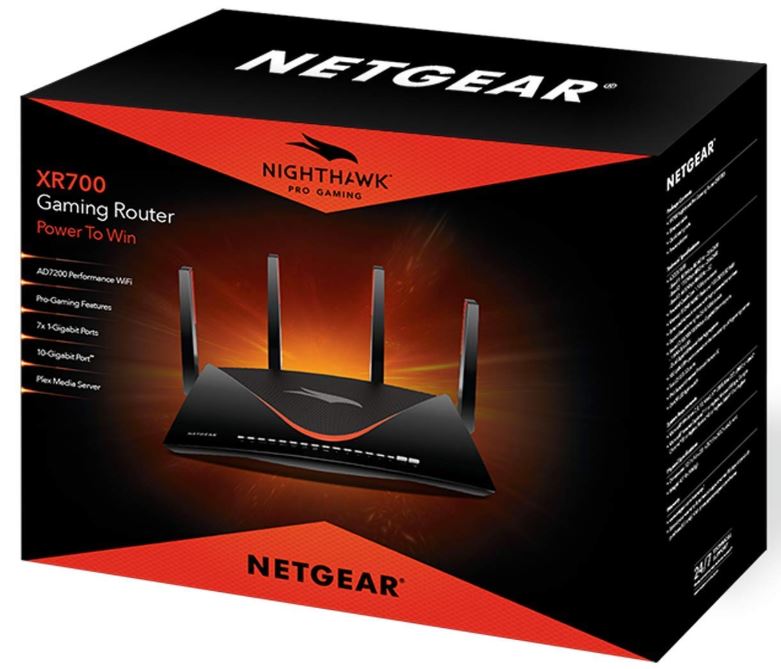 Who Should Choose the NETGEAR Nighthawk Pro XR700 Gaming Router?
You don't need to be a gamer to appreciate the power of this router. Many of its best features perform just as well with a general audience. But the majority of its features and development has been made towards making a gamer's life easier. With bandwidth propitiation, aggregate port-linking, and similar features, this router can deliver gamers a far more powerful Internet connection.
If you're a hands-on network administrator, it allows you to maintain a high degree of network control with minimal knowledge or effort. If you're more of a hands-off user, the Nighthawk Pro XR700can help bring down your latency by simply plugging it in. And streamers will find it to be a particularly excellent choice.
Its wide set of abilities help enable VR gaming, 4K streaming, and virtually any other bandwidth intensive multimedia activity you can throw at it. While this isn't the right choice for a bargain-hunter, it's the right call for someone who's got a powerful Internet connection, someone who wants their router to have room to grow in the future, and someone who really values rapid and reliable connectivity for their gaming.