Athletic headphones come in many shapes and sizes. Most of them are fairly portable, without asking you to give up too much battery power. And they're comfortable, without being at risk of falling out of your ear the moment you start to move. But there are gradients to things like portability, comfort, and battery life. It's the difference between comfortable for 90-minutes, and comfortable for 3-hours.
SoundPEATS Force Bluetooth Headphones
Superficially speaking, the SoundPEATS Force look like just another pair of Bluetooth Headphones. But as is often the case, these headphones go beyond what their appearance lets on. Smart design is about delivering on essential performance, which is precisely what the SoundPEATS Force Bluetooth Headphones brings to the table.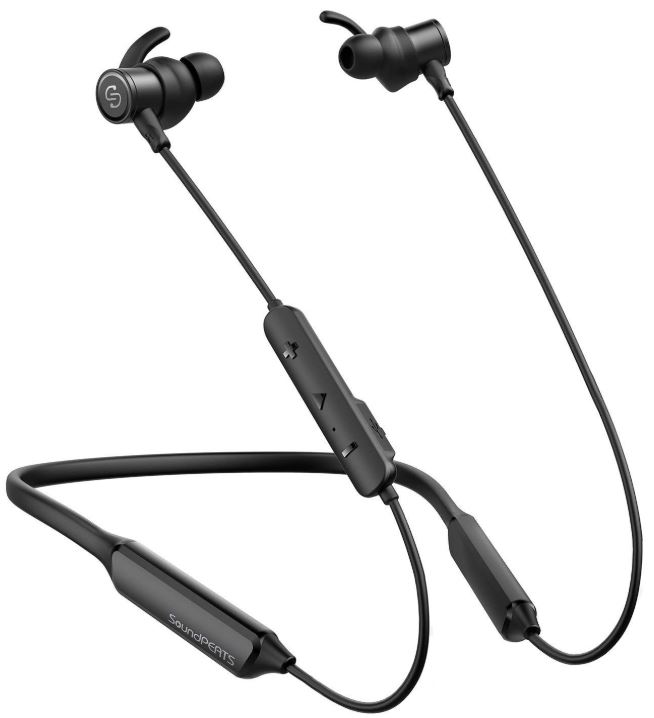 The SoundPEATS Force were made to provide nothing but essential features, delivered at high-average levels of quality. In other words, the SoundPEATS Force Bluetooth Headphones are low hanging fruit when it comes to headphone value. They're apt to be a good choice for most athletes and active people under most circumstances. But it is important to understand whether or not that includes you.
Build & Design
Constructed with a simple black chassis, the SoundPEATS Force are non-distinct in the extreme. The wiring is layered in thick and smooth silicone, protective and tactically-friendly. In spite of their light 4-ounce weight, the overall design of the SoundPEATS Force Bluetooth Headphones is somewhat sturdy.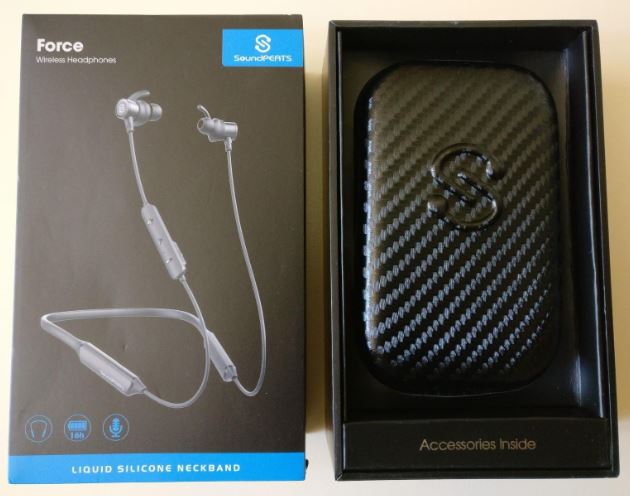 In what has become a standard design decision for athletic headphones, the SoundPEATS Force Bluetooth headphones are built to be worn with each ear-bud resting gently against your ear canal.
The remainder of the body of the device is firmly kept in place by a small plastic flange, which SoundPEATS refers to as an ear-hook. Both buds are connected together with a 12" wire. The wire connecting each bud is intended to be around the neck, another somewhat standard design decision.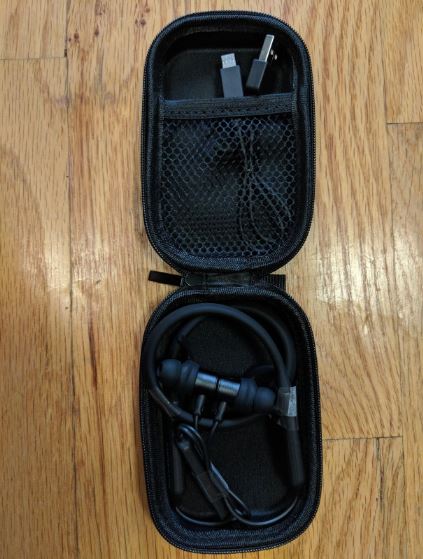 Athletic Waterproofing
One more thing to keep in mind is the SoundPEATS Force Bluetooth Headphones are protected with an IPX5 waterproof rating. It's another essential feature for any decent pair of athletic headphones, but you should keep in mind that the IPX5 rating is on the shallower-end of that particular protective spectrum.
The SoundPEATS Force are adequately protected from sweat and light splashing, but you wouldn't want to wear them into the shower. Essentially, the IPX5 waterproof rating makes them equipped for running, traveling, indoor or outdoor activities. Not so much for kayaking or white-water rafting. For that, you'd want to reach out towards the IPX7 range.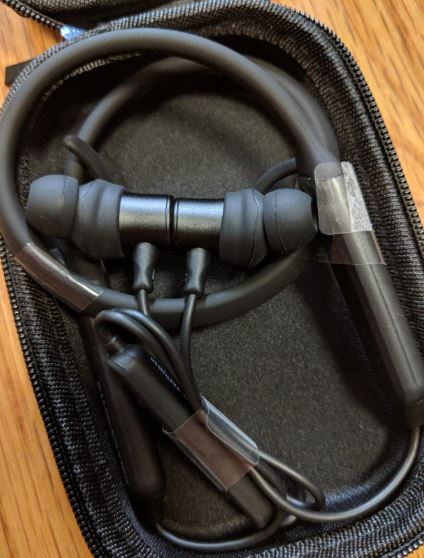 Ease of Use
When you're not using the SoundPEATS Force, storing them around your neck is exceptionally simple, thanks to the use of outward-facing magnets. Each earbud can magnetically lock against the other, effectively turning the SoundPEATS Force into a necklace. This helps keep it around your neck as you move from place to place, and all without having to haul around a carrying case with you.
This design also helps reduce the risk of the cord being violently yanked or tugged on one particular side of the wire. That can prevent shorts in the wire, and consequently extend the lifespan of the SoundPEATS Force Bluetooth Headphones.
Along the right earbud's topside, there's a small command console. It can be used to play, pause, take calls, hang up those calls, and adjust volume. The volume buttons are both analog, but they're placed fair distance away from each other.
Both of these factors can make it somewhat difficult to make adjustments to the SoundPEATS Force Bluetooth Headphones until you've gotten used to the placement of the buttons. But once you get the hang of it, you can operate them without having to look down at the console.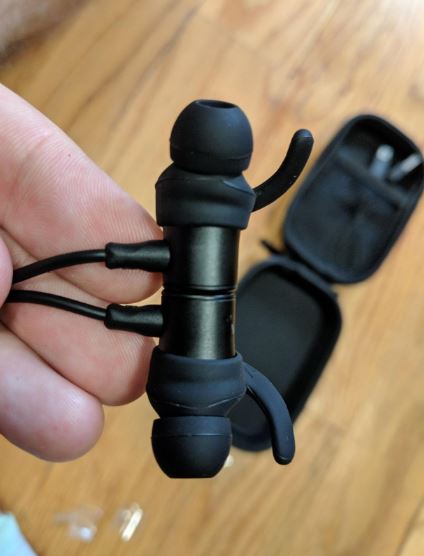 Active Comfort
Even after hours of wear, the headband has a nice ergonomic feel behind the neck. The neckband is constructed with medical grade liquid silicone, and comfort is largely because of that thickly padded silicone. The soft material folds gently around your skin, and enables you to stuff these headphones into their zippered case for transportation, as though the thick silicone was a piece of string.
When it comes to Bluetooth headphones that are worn in-ear, comfort is largely a matter of fit. Just about any pair of Bluetooth headphones will come with a variety of different-sized ear-tips you can swap through to find a good fit.
The SoundPEATS Force Bluetooth Headphones has a wider-than-average selection available, a total set of six ear-hooks and ten ear-tips. Whether you're looking to use a replacement or find the perfect fit, there's a wealth of options. But whether or not they're actually comfortable depends on if you take the time to find a right fit, and if you care for the feel of silicone to begin with.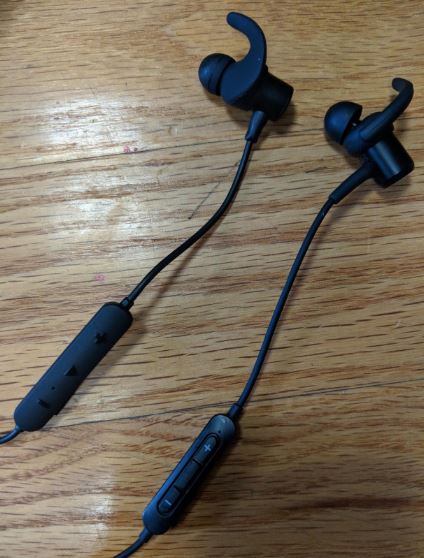 Sound Quality
With respect to audio quality, the SoundPEATS Force sound very similar to any number of athletic headsets in this price range. The mid-tones are smooth, and the bass range has been slightly boosted beyond base levels. Why do all of these athletic headphones seem to sound so similar? It's largely the fault of their dynamic drivers.
Only 10mm large, the dynamic drivers used inside the SoundPEATS Force unavoidably encounter a variety of problems. The most prominent of those problems is problems within the bass range, and with bringing clarity to the treble range. And this is something you can hear on virtually any pair of wireless Bluetooth headphones.
These lapses in sound quality can be patched with design or augmented with software, and typically are adjusted to some degree on headphones of this type. The SoundPEATS Force Bluetooth is no exception. They've gently boosted the bass, and given a little more life to higher pitched tones in the process. The TPU material construction of these headphones helps bolster the bass somewhat further.
Once you've found a decent-quality pair of earbuds, you're far closer to the best sound quality available for portable use than you may realize. SoundPEATS Force doesn't quite have its own near-signature sound. It sounds quite similar to almost any other pair of quality Bluetooth headphones that hasn't been tuned in a drastically different way.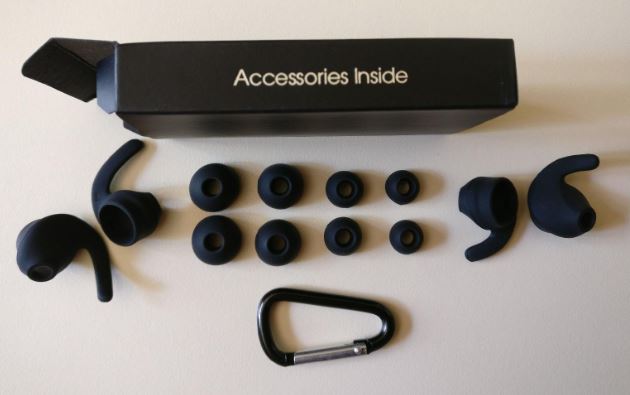 Microphone Quality
Another key area to look at sound quality is the microphone. To its eternal credit, the SoundPEATS Force Bluetooth Headphones has been constructed with an electret condenser microphone. Without getting into the technical details of different types of microphones, suffice to say this microphone is pretty close to being aviation-quality.
The already impressive microphone hardware is further bolstered with software advantages: CVC 6.0 for reduction of ambient noise during calls. It's basically a type of software algorithm that helps to dynamically adjust your sound output to adapt to noise in your environment. Lots of voices overlapping with your own? Simple adjustments to the sound can drastically improve clarity.
Battery Lifespan
Generously endowed with a 300mAh battery, the SoundPEATS Force are equipped with about twice as much power as totally wireless athletic earbuds. Stretched as far as you can, those batteries can amount to as much as 16-hours of play. Whether or not you reach that time really depends on what you're listening to, where you're listening to it, and with what settings?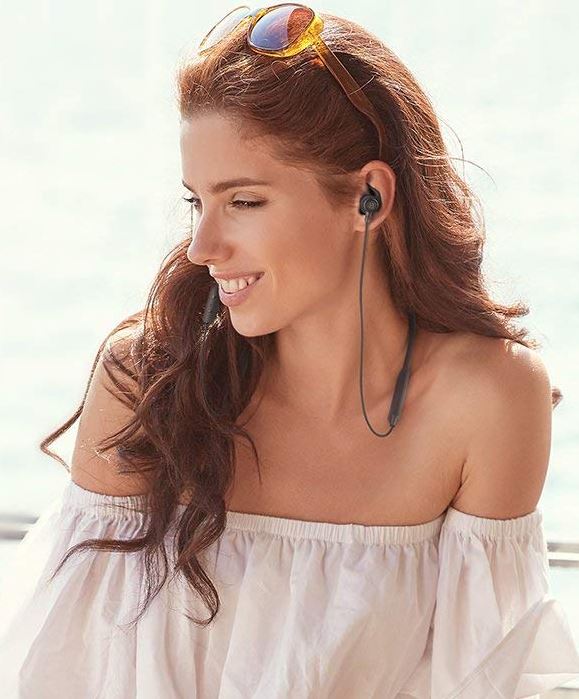 If you start making heavy use of the microphone and crank the volume, then you're going to be looking at closer to 9 hours of battery life. Even for continuous use, that's still roughly enough to get through a full day of activity. For more moderate rates of use, the standby time is 300 hours, just short of two weeks. And it only takes about 90 minutes for a full charge of an empty battery.
Connectivity Options
The SoundPEATS Force Bluetooth Headphones have compatibility for any device that can accept a modern Bluetooth 4.0 connection. That includes connecting tablets, smartphones, game consoles, televisions, stereos, and so forth.
Audio quality for the SoundPEATS Force is largely carried by the strength of Bluetooth, conjoined with aptX and a CSR8645 chip. Their maximum range of operation is about 33-feet, which is low-average. It actually contributes to the somewhat impressive battery lifespan of the SoundPEATS Force Bluetooth Headphones. Of course, there are Bluetooth features which are absent as well, like automatic pairing with your devices.
Other Considerations
The SoundPEATS Force Bluetooth Headphones shouldn't be charged with adapters carrying more than one amperage. In other words, keep your high-speed recharge cables away from it. Use the included USB cable or a similarly common recharging cable instead.
Another somewhat common feature SoundPEATS Force has is support for voice assistants like Siri and Cortana. Taking advantage of them involves holding down the multi-purpose play/pause button for a few seconds. It's a fairly standard way of doing things for modern athletic Bluetooth headphones, but if you're not used to the process, the SoundPEATS Force Bluetooth headphones include a user manual that can help you catch up.
These headphones also include ten interchangeable ear tips. That's among the largest selection of ear tips on the market. They also include six ear hooks, the flange responsible for keeping the earbud in place. The zipper case is somewhat compact, but still provides room for carrying around the included USB charging cable. It also includes a hanging hook and user guide. SoundPEATS also includes a 12-month warranty.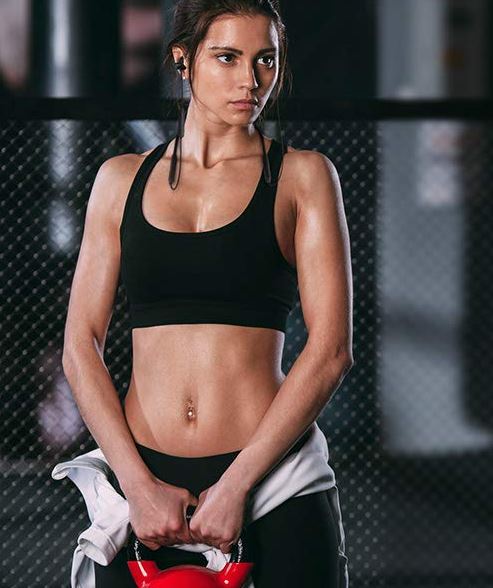 Who Should Choose SoundPEATS Force Bluetooth Headphones?
Many athletic headphones go the route of charging cases. Having a charging case allows you to eliminate the neckband portion of the headset. However, it also leaves you with about half the battery. And then you have to micromanage the charging case, from keeping another battery charged, to carrying it with you.
The SoundPEATS Force Wireless Neckband Headset Earbuds is a sensible choice for people who don't want to have to mess around with charging cases. It's also a cost effective option for someone looking for athletic headphones. In providing more options for comfort than nearly all of its competitors, the SoundPEATS Force Bluetooth Headphones deliver on everything they set out to do.