Imagine you're in the middle of listening to your favorite song, podcast or audiobook. The sound quality of your headphones is pretty good, but something feels like it's missing. The sound isn't as full, and now that you're thinking about it, the headphones don't fit that well either. They feel a little clunky, the earpieces don't quite fit your ears and, in general, you're wondering what made you buy these headphones in the first place.
Most people don't take their time when they buy a pair of headphones, and assume that all personal listening devices are created equal. The truth is that they aren't, not even a little bit. Each pair of headphones has its own design and list of unique features that set them apart from other similar ones on the market. Comfort, sound-quality and capability are all crucial when shopping for audio gear, but sometimes it can be difficult to know what you're getting before you purchase.
In this review we're going to be taking a look at the newly-released Mpow H5 Active Noise Canceling Bluetooth Headphones. We'll be giving you a comprehensive look at their design, their sound quality and as well as any special features they might have so you can decide whether or not the H5 is a piece of audio gear you can depend on.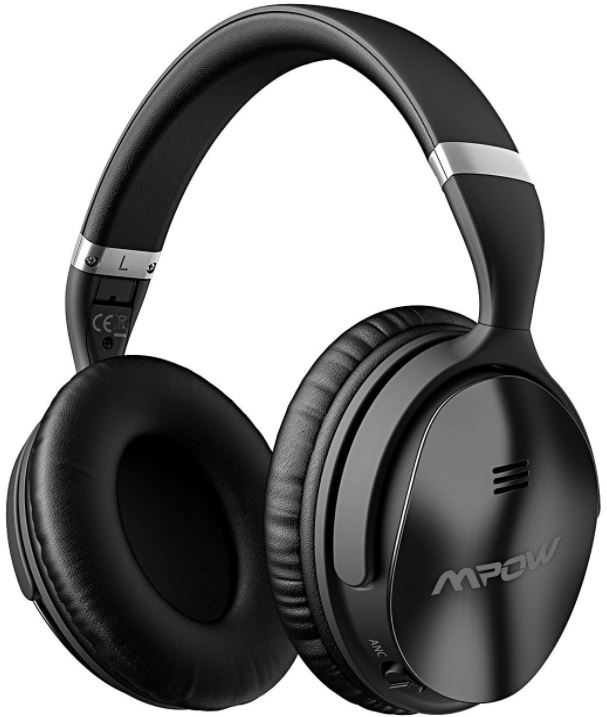 First Impressions
Right away we were very impressed by the Mpow H5 Headphones. They had the look and feel of a pair of Sony or Bose headphones at a much lower price point. The design was sleek, luxurious and the earpieces weren't overloaded with buttons. On the left earpiece, you'll find the Active Noise Canceling Switch, a 3.5mm port as well as the ANC indicator light. On the right earpiece you'll see the USB charging port, an LED indicator light to let you know when you're fully charged, the Bluetooth pairing button and two volume controls. The outside of each earpiece also had a cool, wavy design with the Mpow logo printed on them in a relaxed silver font. The only available color was black and we would have like to see some other color options for style versatility. Still, the design and wavy earpieces were eye-catching enough that more color options didn't feel completely necessary.
The cushions contained inside the earpieces weren't as thick as some other models we've seen, but were still comfortable when we tried the headphones on. They also did a fairly good job of blocking out background noise, even before we activated the ANC switch. The earpieces can also be rotated up to 90 degrees for extra comfort and a more customized fit.
Lastly the headband itself felt strong and durable, and even contained a leather pad on the inside. The band is also made of stainless steel and is fully adjustable. Between the rotating earpieces and the adjustable headband you won't have any trouble getting comfortable with these on.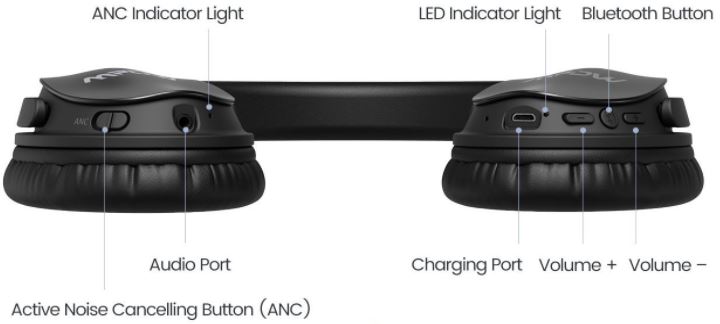 The H5 Headphones are bit heavy, weighing in at one pound, but when we compared them to other models at similar price points, we found that this was about average. It's still a lot to have to support on your head for an extended period of time, but we were hoping the sound quality was good enough to justify their heaviness. They seemed like the kind of headphones that you might want to keep on for a long period of time while traveling or working, so it was definitely a downside, but we were still eager to see what else they could do.
Overall, our initial impression of the H5 Headphones was that they were made with comfort, convenience and durability in mind. We liked the minimalist design, despite the headphones also having some robustness. They were a bit heavy, but this seems to be the norm for a listening device at this level of quality. The earpieces were well-cushioned and the adjustable headband came fully equipped to ensure a snug, enjoyable fit.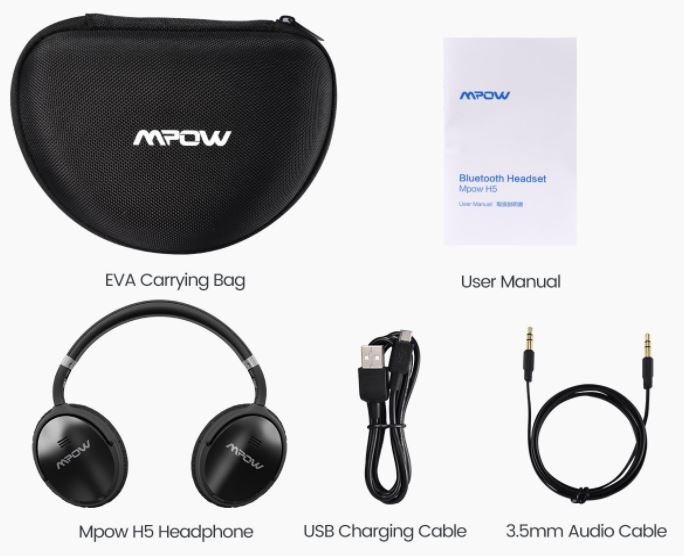 Special Features and Accessories
The Mpow H5 Headphones came with a pretty standard pack of accessories. In the box, you'll find the headphones themselves, the USB charging cable, a 3.5mm auxiliary cable and a manual. However, one accessory we really liked was the included carrying bag. For a pair of headphones that was this heavy-duty and also one that came at a slightly higher price point, including a sturdy carrying bag was essential. It fit the headphones perfectly once the earpieces were folded up and the outer shell was tough enough to keep them safe even from small drops or bumps.
While we don't think these are the best choice for traveling, the case seemed like it was strong enough to protect them in a backpack or in a piece of luggage in case you need them on the go.
The H5 Headphones were also equipped with some pretty awesome features. Of course, they had Bluetooth 4.1 capability up to 33 feet and were compatible with most Bluetooth enabled smartphones and tablets. The pairing was fast and easy. All we had to do was push the pairing button and find the headphones on our device. Once we were connected the signal was crystal clear and held up with no interruptions. The built-in 3.5mm port was also a big positive, because it allows you to use the headphones as a wired device, even after the battery runs dry. For us, this added a level of versatility that we felt made these a solid choice even for people who don't want to use them wirelessly. With the included wire, you can use them with a home stereo system or laptop that may not have Bluetooth built-in.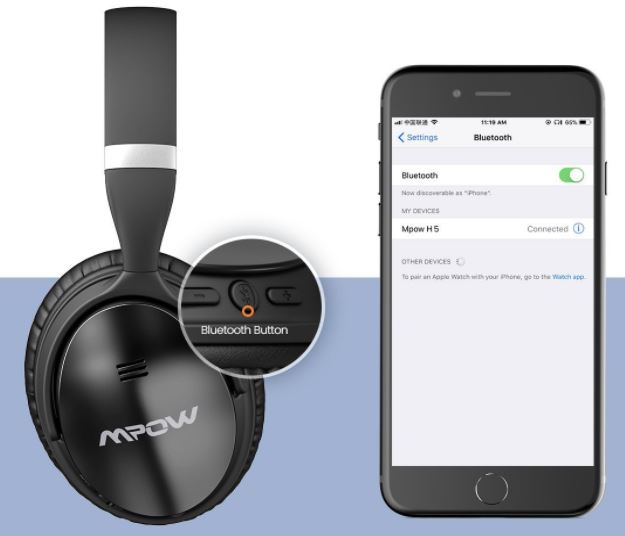 The most impressive part of the H5 Headphones was the ANC feature, which stands for Active Noise Canceling. By flipping the switch on the bottom of the left earpiece you can activate the active noise canceling feature, and experience almost complete blockage of environmental noise. When we tried them out we found that street noise, planes and even passing cars couldn't penetrate the headphones. However, one thing that could still be heard were voices of other people in the room. It seemed strange that voices could be heard, especially with the ear cushions. We would have liked to them have fully blocked out by the ANC feature, but we did notice that blocking out voices was easily remedied by increasing the volume.
From a two hour charge, you'll experience 18 hours of play or talk time, but we found this was slightly reduced when using the headphones in ANC mode. Still, it was an impressive battery life, given the long list of capabilities of the H5. That being said, even if the battery does run out, you can always use the H5 as a wired device with the included cable.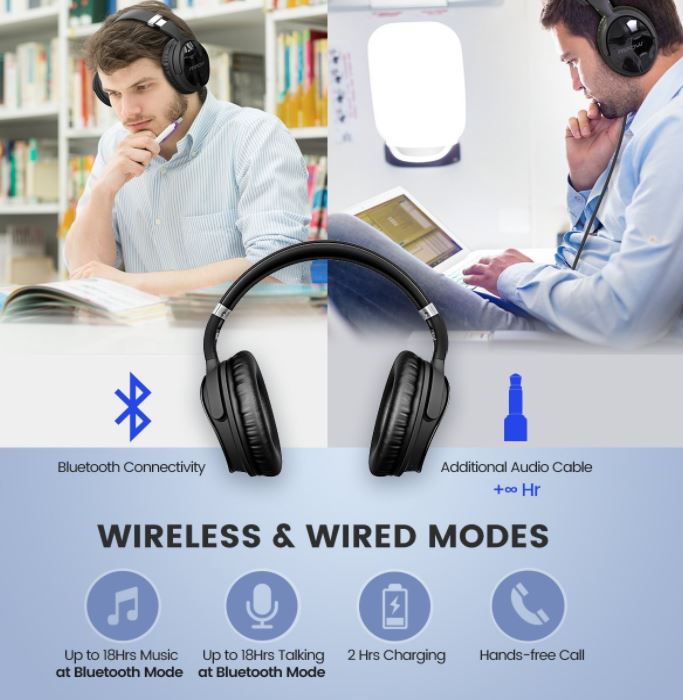 Sound Quality
We were absolutely blown away by the power that the Mpow H5 Headphones was able to deliver. Given their size, we had a feeling we were in for something good, but these headphones really exceeded expectations. They sounded just as good as other models that sell for nearly triple the price. The bass was heavy and created a full, deep sound even at low volumes. The H5 Headphones were also balanced very well between both the right and earpieces so that listening to music had a fully surround-sound feel. The treble was punchy, sharp and crisp, yet somehow still felt like it was blending in seamlessly with the impressive bass. The headphones definitely yielded the kind of experience you might find from a set of larger speakers, but shrunken down into a smaller, portable package. With the ANC turned on, the sound quality was even more immersive.
We could see these being a pair of headphones for both personal use or for the creative professional that needs a reliable listening device for long projects. Podcasts, music as well as audiobooks all sounded very sharp, and there wasn't much we could play that made the H5 struggle. As far as sound quality and listenability, we give the H5 a big thumbs up.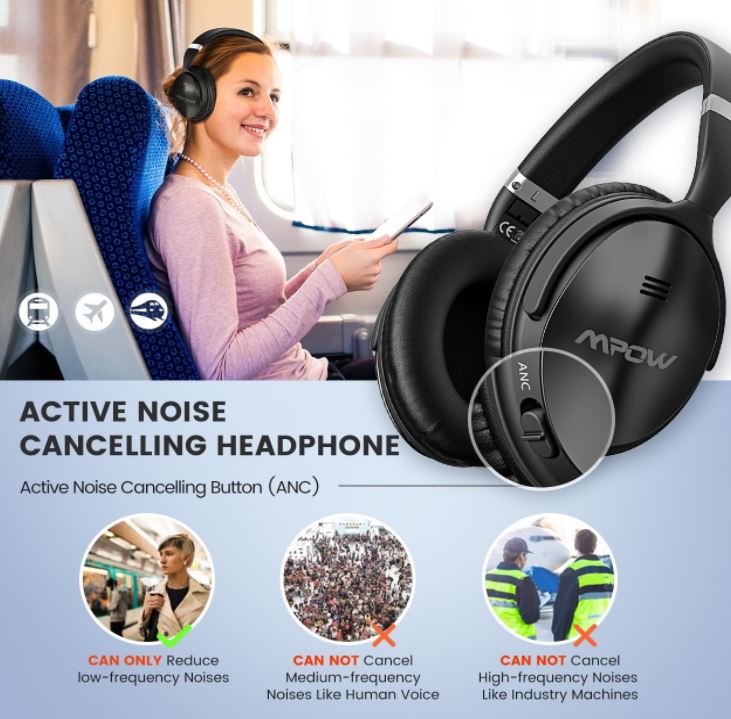 Final Thoughts
Overall, we were very impressed with the Mpow H5 Headphones. From their design, to their features, to their outstanding sound quality we couldn't really find much wrong with them. They could easily contend with a pricier pair of Bose or Sony headphones, and are even more attractive due to their low price point.
They are a little bulky, and may not be the best headphones for traveling, but the included carrying case still made this an option for those that need something to take with them on a trip that is of high-quality. Also, the option to use the included 3.5mm wire to make the headphones a wired device added another element of portability, mainly because it still enables you to use them even if you run out of battery and have no way to charge them. Lastly, the Active Noise Canceling feature was a huge bonus. Not only did it improve sound quality, but you can turn it either on or off if you want to preserve battery life.
If you're looking for high-quality, reliable headphones with a sturdy, robust design, the Mpow H5 Active Noise Canceling Headphones are definitely worth considering.
Meet Derek, "TechGuru," a 34-year-old technology enthusiast with a deep passion for tech innovations. With extensive experience, he specializes in gaming hardware and software, and has expertise in gadgets, custom PCs, and audio.
Besides writing about tech and reviewing new products, Derek enjoys traveling, hiking, and photography. Committed to keeping up with the latest industry trends, he aims to guide readers in making informed tech decisions.