Nelko Thermal Label Printer
Overall Design -

8.5/10

Connectivity -

9/10

Print Speed & Quality -

8.5/10

Build Quality -

7/10
Summary
The Nelko thermal label printer is a well-designing little device. With compatibility for virtually any platform and/or system, it's a great choice for small business owners or budget-conscious individuals looking to get rid of ink/toner forever. It's very small, simple and fun to use!
Pros
Fast and efficient printing.
Very small footprint.
Setup process is minimal.
Doesn't rely on ink/toner.
App works well and doesn't crash.
Cons
Auto-prints a single blank label when cover is closed.
No hopper/feeder included.
Having a reliable shipping label printer can not only save time, but headache as well. Rather than using a standard inkjet or laser printer, a dedicated label printer is essential if you're someone who ships a lot of packages. Whether you're a business owner or just a part-time seller, you probably already know the importance of this.
Since they use thermal technology, there's no need for expensive toner or ink refills. In addition, they tend to print faster and excel at black and white labels.
If you're in the market for a new label printer, you may have come across the Nelko Bluetooth shipping label printer. It's a relatively new-release, currently at a price-point of just under $100.
We're happy to say that we were able to get our hands on a free sample; provided to us directly from the manufacturer. Over the course of the last week, I had the pleasure of testing it out, running it through its paces and ultimately seeing if it's a worthy purchase for individuals and businesses alike.
What is the Nelko thermal printer?
The Nelko Bluetooth thermal label printer is a small little device, measuring just under 8″ wide, 3.25″ deep and 4″ tall. Available in matte black or gray, we received the black version for testing. Both look sleek in appearance and have a minimalist form factor with simplicity in mind.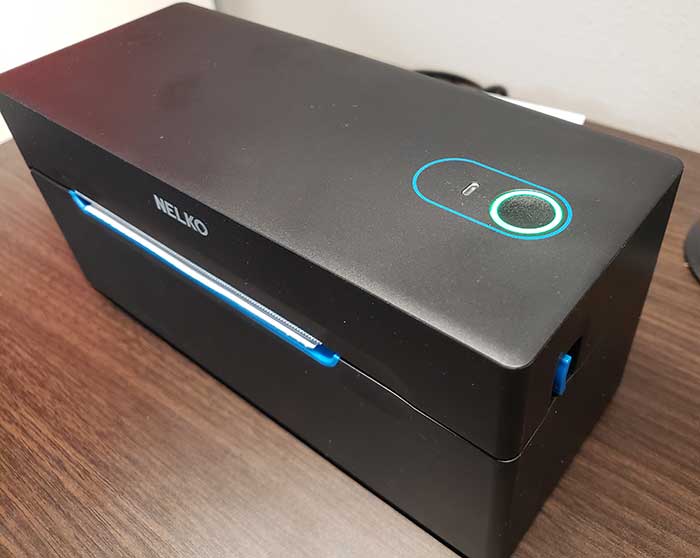 There's a single button on the top with a glowing LED that indicates a range of statuses in a visible manner. On the side, there's a small blue switch that unlatches the top from the base, exposing the internal components to open it up and feed it paper. On the back, you'll see a power input in addition to a USB input and main power switch.
Thankfully, it's fully compatible with virtually any modern day operating system; Windows 7+, Mac OS, Chrome OS or mobile devices.
What sets the Nelko apart from other label printers in the same price-range is its wireless connectivity. Using Bluetooth, the printer can easily pair with your smartphone or tablet, using the "shipping printer pro" app that's available on the Google Play or App store. This way, you don't need to boot up a computer to print anything; control is simple right from your iOS or Android device.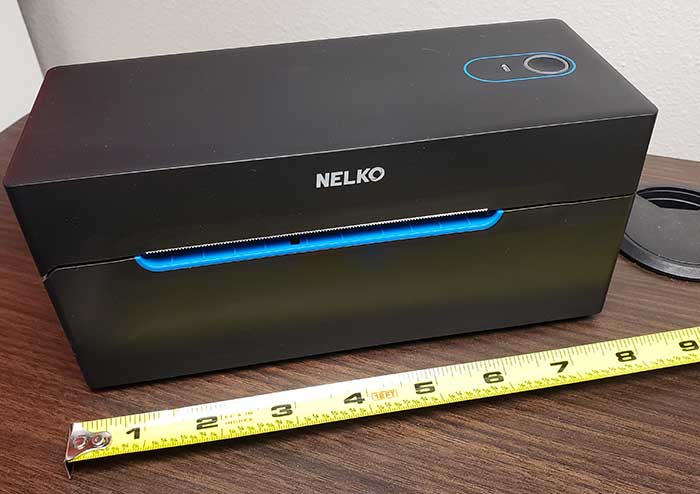 Ideal for virtually any online marketplace or shipping platform, it can print in a wide range of sizes, from 1.54″ to 4.1″ wide. Simply add your own blank labels and adjust the inner paper guide to the appropriate size. The most popular size, 4″ x 6″ is what we primarily plan on using it for. However, it also supports 2″ x 3″, 2-1/4″ x 1-1/4″ and 4.1″ or 1.57″ round labels.
And with a printing speed of 150mm per second at a resolution of 203 DPI, it's meant for quality prints with the ability to be scanned by any barcode scanner.
What's in the Box?
Inside of the box, you get a few things that are worth noting:
Nelko printer itself.
25 4″ x 6″ test labels.
AC adapter with power cable.
USB printing cable.
USB-C to USB-A adapter.
USB flash drive with drivers.
User manual.
Usage tips and mobile install card.
As you can see, Nelko gives you pretty much everything you need, and nothing more. Perfect. Let's get it up and running.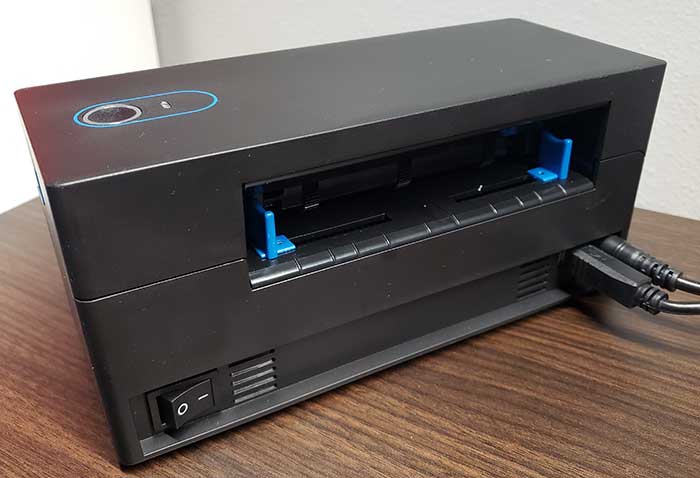 My experience using the Nelko label printer
Getting started with the Nelko thermal printer was very easy. I was glad to find a long-enough USB cable in the box, so first I decided to set it up using a Windows 10 PC. Once the power cable and USB were plugged in, my PC said it was auto-installing. Great! So I gave it a few minutes until the notification confirmed that it successfully installed.
I had a test label to print a sample 4″ x 6″ label. I opened the PDF file and found that the printer wasn't listed as an option. Going into the settings, Windows told me that the driver was missing. At this point, I plugged-in the included USB flash drive and manually installed the driver. This took less than 30 seconds. Although I was a bit bummed it didn't properly auto-install in the first place, the manual install was very quick and easy.
I set the default shipping label size to 4″ x 6″ and proceeding onward with a test print. Within less than a second, the printer shot out the printed label with perfection.
It was aligned properly from the get-go and made for a fantastic shipping label that was clear and professional looking. Upon further inspection, there were no smudges or discrepancies that would cause issues with sticking it to a parcel and shipping something across the country with it. Perfect!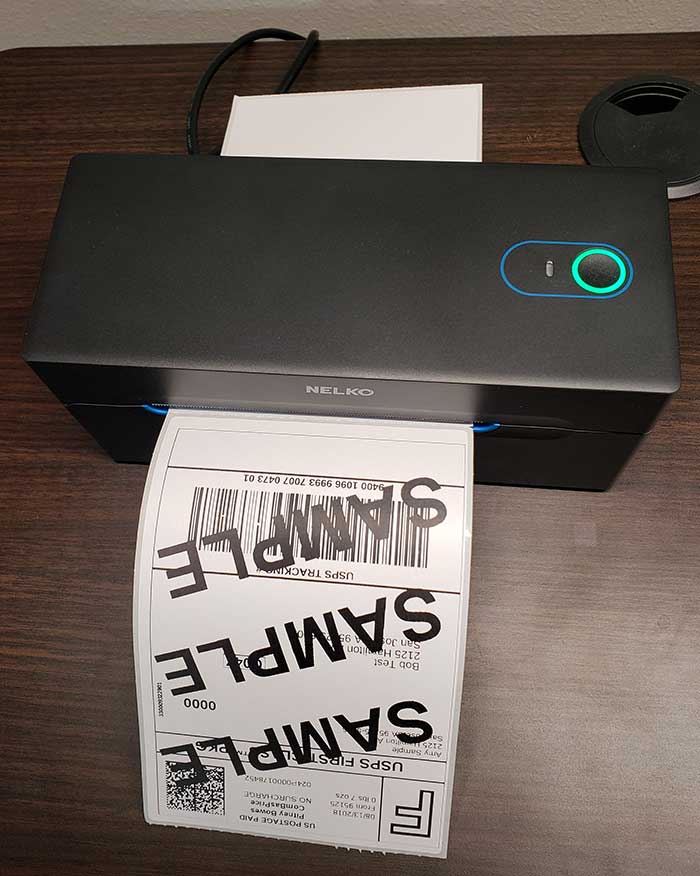 The next test involved using the mobile app. While the printer was still plugged-in and configured for my PC, I moved on over to my Samsmung smartphone and downloaded the "shipping printer pro" app from the Google Play store. Within 2 minutes it was downloaded and ready for action.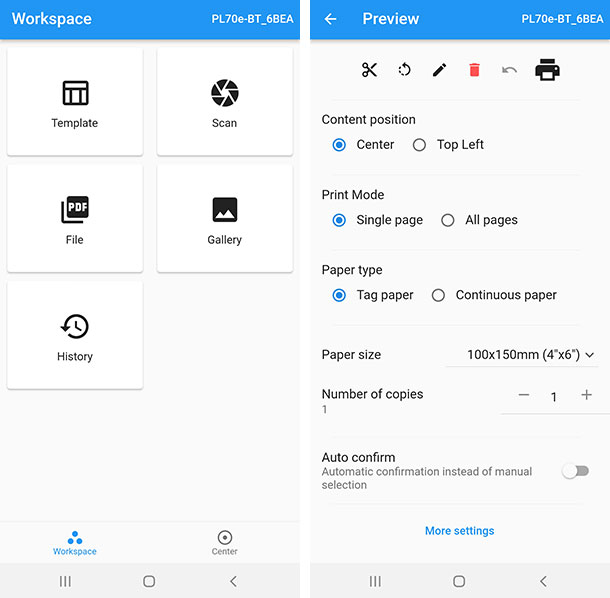 Opening up the app, it brings you right to your "workspace". Here, there's access to a wide range of templates, you can access files, your gallery and printing history. You can even scan things through your phone's camera to be printed. All of the features we tried seemed to work quite well. And best of all, the app never crashed, locked up or caused any headache. It worked exactly as expected.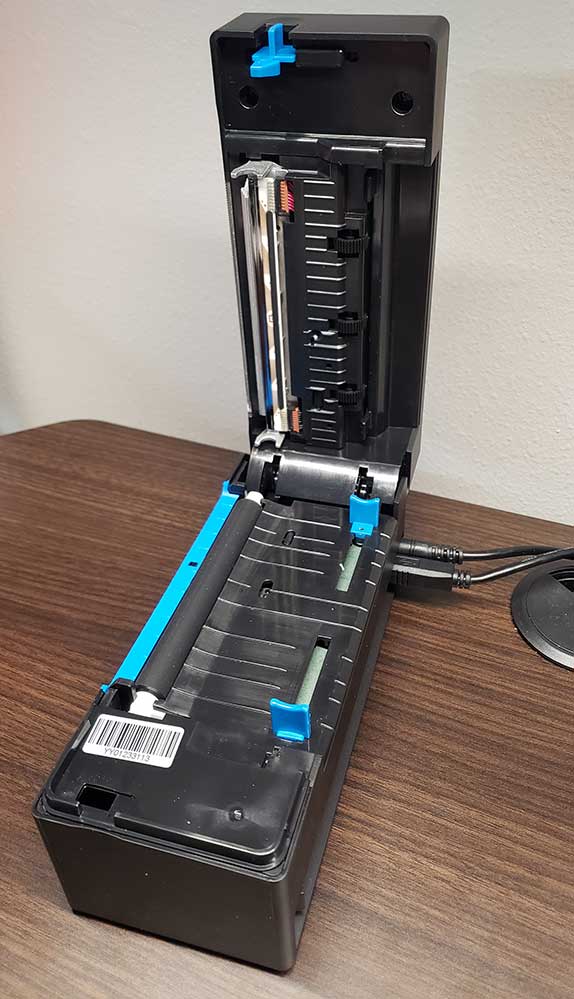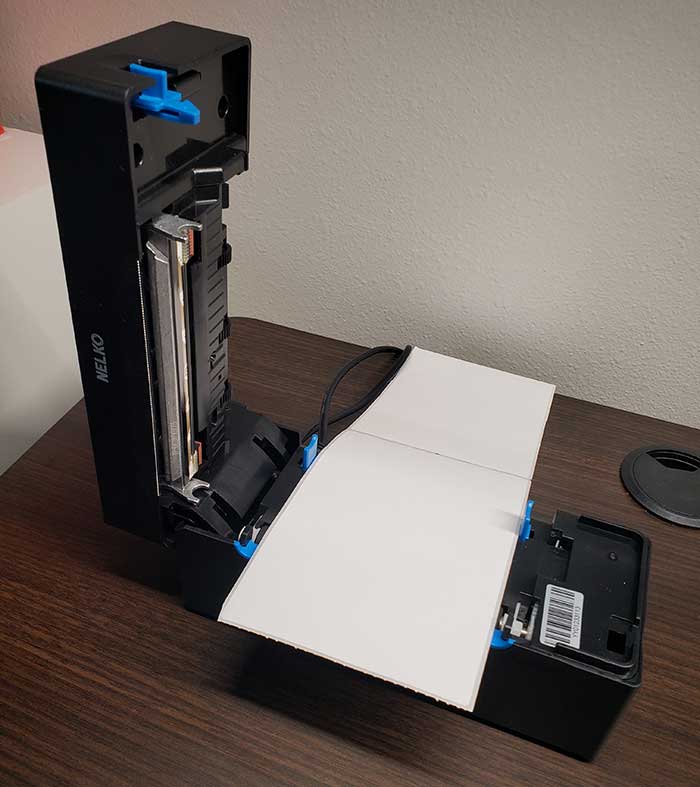 Keep in mind, it almost goes without saying; the Nelko is a black and white "only" printer. You're not going to want to use it for photos, color or anything detailed, besides text. That said, printing from the app is wonderfully fast and efficient. From the time you press the "print" icon, it's less than a second until the printer shoots out a printed label.
The quality of the labels that it prints is wonderful. We primarily used it for 4″ x 6″ labels for shipping and not once did we have a crooked, misaligned, or chopped-up label print. As long as you have it properly configured for your specific paper size, you're good to go.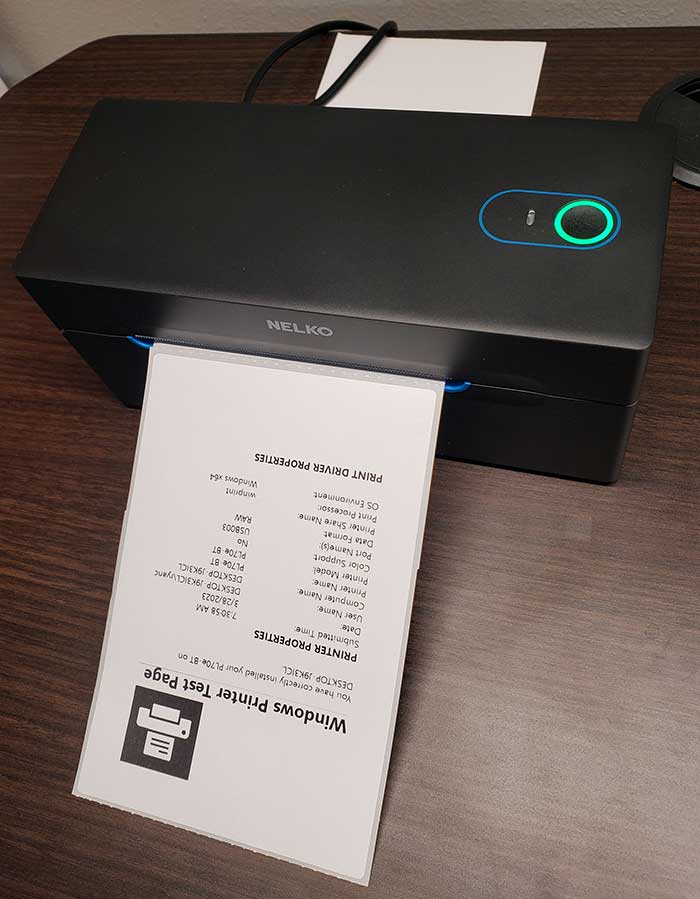 The Nelko is as quick as other thermal label printers we've tested in the past. While printing, it makes a futuristic laser-like sound that shoots out multiple labels incredibly quickly. And although we primarily used fan-fold labels, it also supports roll labels as well.
Unfortunately, however, there's no kind of hopper included. That is, the paper you load up is simply resting on your desk, behind the unit. Not a big deal for most, but it does account for a bit more of a footprint than some people may imagine.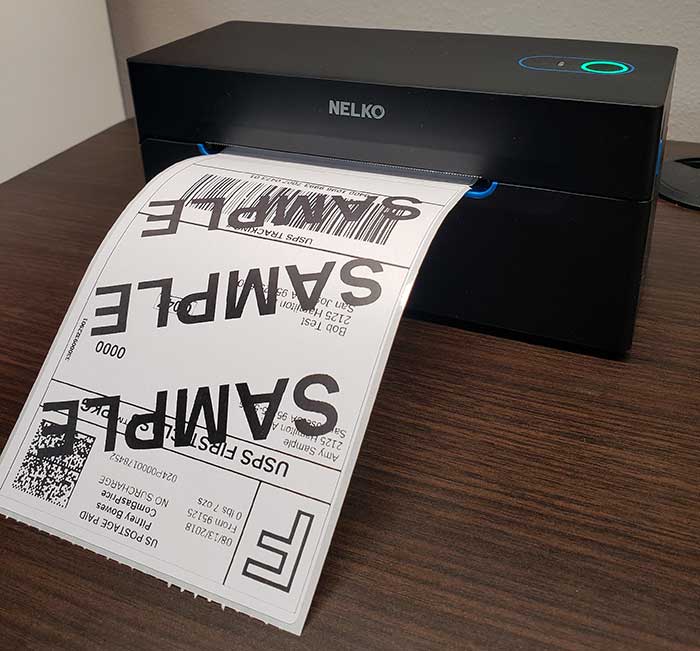 One other small qualm we found was when the top cover is closed. Once you install paper or even just open up the top cover for a second, the moment you latch it shut, the printer will shoot out a blank label. We're not sure if this is for alignment purposes, but either way, it's annoying.
Final thoughts
I really think Nelko knocked it out of the park with their thermal label printer. It looks sleek, performs nicely and doesn't have too many flaws to speak of.
In my time using it, I never had it jam up or mistakenly print where or when it wasn't supposed to. All print jobs ended up perfectly aligned, accurately printed, and with great detail.
Just be aware that this is specifically for labels and monochrome printing. Black and white text is what it excels at. Anything else you try to print with it (photos, color, etc.) won't turn out well.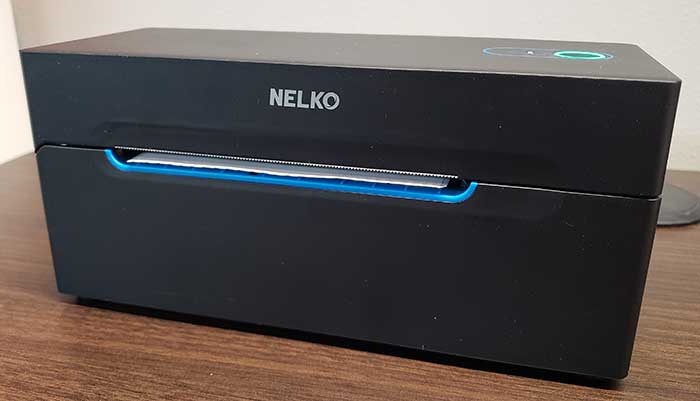 The minor hiccup in regards to auto-installing the drivers was easily bypassed by inserting the provided USB flash drive. And wireless connectivity with my Android smartphone proved to be wonderfully easy and efficient. The app is simple, easy to use and best of all; doesn't crash!
Sure, it may print a blank label every time you open and close the top cover, but it's really not that big of deal for most.
With a minimal installation process and fantastic printing results, it's easy to recommend the Nelko thermal printer. Whether you're a small business owner or just someone looking to stray-away from ink or toner based print jobs, it's a great buy at just under $100.
Meet Derek, "TechGuru," a 34-year-old technology enthusiast with a deep passion for tech innovations. With extensive experience, he specializes in gaming hardware and software, and has expertise in gadgets, custom PCs, and audio.
Besides writing about tech and reviewing new products, Derek enjoys traveling, hiking, and photography. Committed to keeping up with the latest industry trends, he aims to guide readers in making informed tech decisions.