Access to a strong WiFi signal can be difficult to achieve in your home or office, especially with low-end routers, or large homes with hard to reach areas that you'd like to gain a fast connection from.
Gamers and video streamers in particular can often be faced with issues regarding poor speeds, unreliable signals, dropped connections, or lengthy buffering times that make it impossible to enjoy your content the way it's meant to be.
An issue many experience that's quite similar to cell phones, is having full connectivity at the front door, but a very weak signal upstairs, because although the signal on your router may be designed to reach a long range, there may be obstacles, walls or appliances in the way.
In many situations, it's been enough of a headache, that the technology required in order to maximize your WiFi signal has been developed to the point where it's both effective and affordable for just about anybody.
We're going to go in depth to look at the newly released NETGEAR Nighthawk X4 (EX7300) AC2200 Range Extender, to see what it has to offer and how it shapes up among the competition.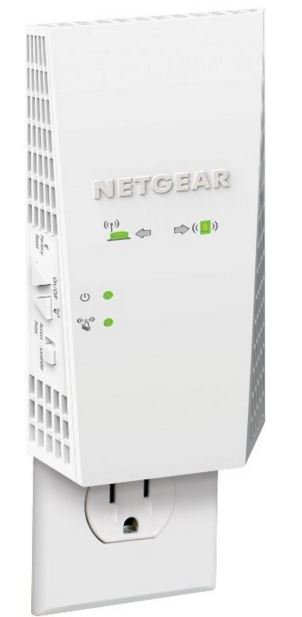 Increase Overall Range and Signal Strength
One of the key features of this WiFi range extender is the ability to increase WiFi range throughout your house, despite walls, electronics and sheer space that can create dead spots.
It's actually quite impressive, in that you can simply plug it into a wall outlet somewhere between your router and your dead zone, and it'll give you a massive boost in range, providing 10,000 square feet of total coverage.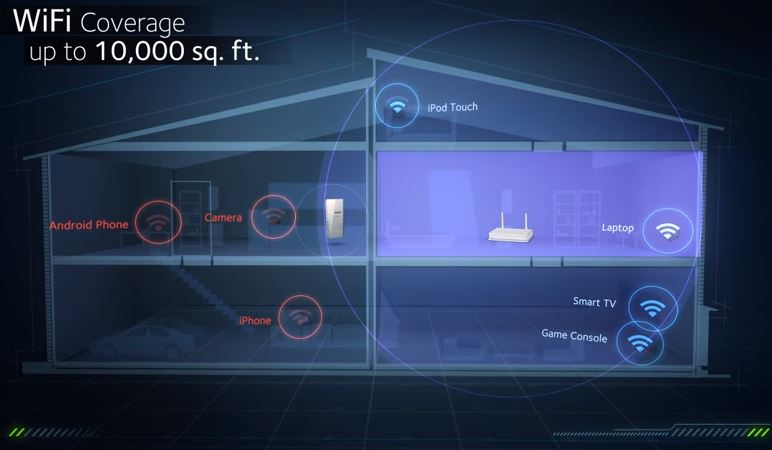 Even in the largest home, or on super large properties, that's quite an expansive area, but it has more surprises for you in terms of the quality of that signal.
It also features a high performance set of antennas that are coordinated to provide maximum range by broadcasting your signal in multiple directions. Combined with the NETGEAR Nighthawk X4's powerful amplifiers and speed features, they really make this an all-in-one WiFi range extender for ultimate speed and range.
Another feature that NETGEAR has done really well in the past although quite expensively, is called beamforming, which creates more of a concentrated straight signal line between devices, rather than dispersing your signal in all directions, thus making it weaker.
While both the range extender and your mobile device must be compatible with this feature, most mobile devices sold today use the same beamforming technology that NETGEAR has been providing, which gives you an advantage over other similar range extenders that are available.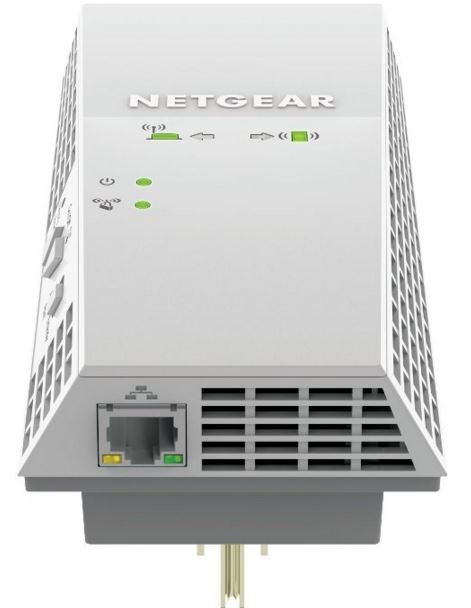 Hyper Fast Speed and Extended Compatibility
By taking advantage of both the 2.4 and 5 gigahertz bands that your wireless router transmits, the NETGEAR Nighthawk X4 creates a super-fast network speed capability of up to 2.2 gigabits per second, which is fast enough to download a full AAA video game in less than a minute.
NETGEAR has also made it compatible with all wireless routers, not just the ones they provide or ones with similar technology, so that you can take advantage of increased range as well as speed, without additional expenses.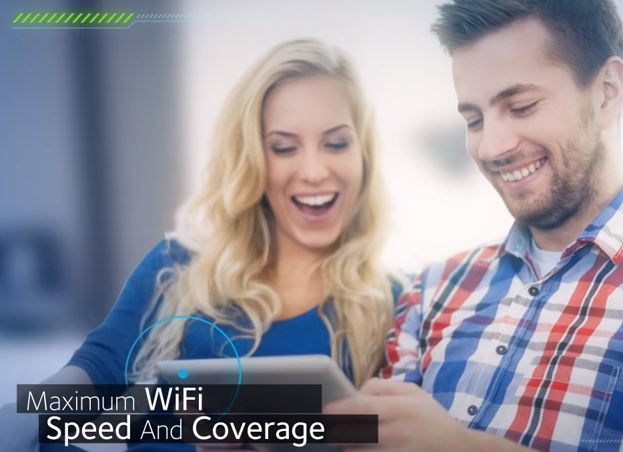 What they've also done is provide an advanced feature called Multiple User MIMO, which basically transmits and receives data to and from multiple devices simultaneously, rather than trying to balance out each connection while multitasking.
This one feature alone is a solid value that'll surely increase wireless internet speeds for multiple devices in your home, without breaking signal or experiencing unnecessary buffering or load times.
Sound Durability and Ease of Use
A WiFi range extender has very few durability concerns, however when you're dealing with the amount of power that the NETGEAR Nighthawk X4 is capable of, it's good to know that it'll continue to operate as intended over continuous long term use, and is very simple to operate.
We discussed the high performance amplifier that helps to increase the range and speed of your WiFi signal, however what's also important is the fact that they're constructed and designed to create very little noise as well.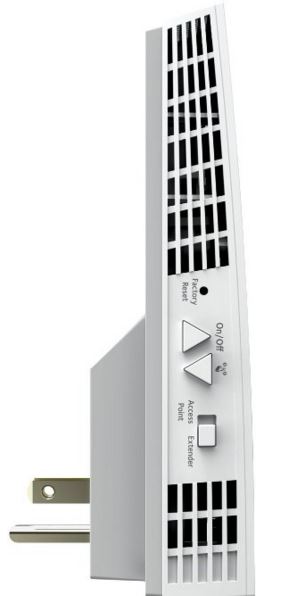 The overall look of this extender is compact yet visually appealing, with a simple on and off power control button as well as a secure connection (WPS) button on the side, making it incredibly easy to power up and operate whenever you need it.
You don't have to unplug it and put it away every day, although you can, and switching between the extended range mode that compliments your existing wireless router, and access point mode to create a WiFi hotspot is just one flick of a switch.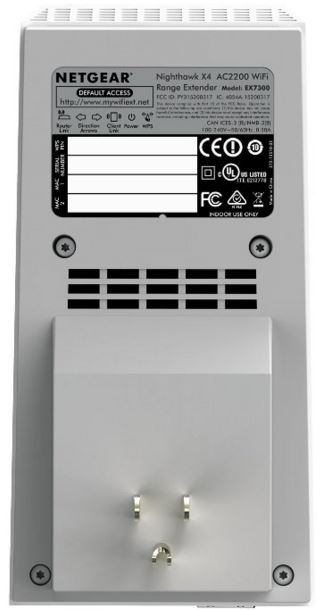 There's also a gigabit Ethernet port located at the bottom of the Nighthawk X4 (EX7300), which you can use to plug video game consoles and other wired devices into for ease of access.
As described in the included quick start guide, it's a plug and play range extender. All you do is plug it in, press the power button, and even if you're using picky wireless printers you can connect as simply as pressing the WPS button for WiFi protected setup.
It doesn't require any CD or drivers for setting up as well, which make it a simple device to use, certainly no more difficult than many other WiFi range extenders in its class.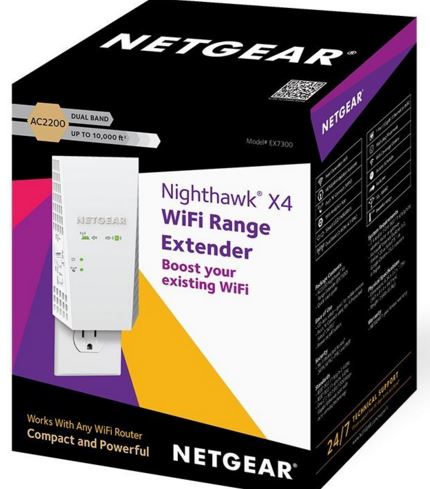 Conclusion
NETGEAR has long been at the forefront of wireless internet connection technology, and has continue to improve the performance, compatibility and ease of use that WiFi users have come to expect.
There are definite advantages to owning the Nighthawk X4 (EX7300) AC2200 WiFi Range Extender and its advanced features, which are mainly lightning fast speeds of up to 2.2 Gbps and even greater extended range.
It's designed in such a way that you can rest assured that you'll have a reliable signal no matter where you are in your house, or even in the backyard, as well as enjoy incredibly fast speeds that your existing wireless router likely isn't capable of on its own.
Being able to connect multiple devices via MU MIMO technology also means that you'll likely never experience interruptions of connection or speed due to ineffective management of a single connection.
What's more is that it's elegantly designed to be sleek and easy to use, without requiring software installations or technical expertise, while still being compatible with all of your mobile devices. It won't appear as an eyesore in your home since it can be plugged in to any outlet that you have available.
In terms of durability and overall structural quality, the high powered hardware it uses, from the antenna array and amplifier to its beamforming capabilities, is professionally designed by a company that has been an expert in the field for many years.
Meet Derek, "TechGuru," a 34-year-old technology enthusiast with a deep passion for tech innovations. With extensive experience, he specializes in gaming hardware and software, and has expertise in gadgets, custom PCs, and audio.
Besides writing about tech and reviewing new products, Derek enjoys traveling, hiking, and photography. Committed to keeping up with the latest industry trends, he aims to guide readers in making informed tech decisions.