Cameras are becoming adaptable, they might as well be custom fit. You can get cameras that instantly print your photos, just like the classic Polaroid. You can get cameras that shoot in 4K video, and ones that fit right in your pocket. Most consumers have at least one camera on them, everywhere they go. But that doesn't mean that you can take your camera with you everywhere. Durability and the ability to expose your camera to the great outdoors is a significant concern. While those waterproof disposable cameras are still quite popular, their terrible image quality and high cost per image is a barrier for most people.
Nikon is one of the most respected brands in the camera industry, and their COOLPIX W100 is designed to survive anything. To top it off, it's available for a very low price. But can this camera hold it's own against the readily available smartphone cameras and high end point and shoots? We decided to put it to the test to find out.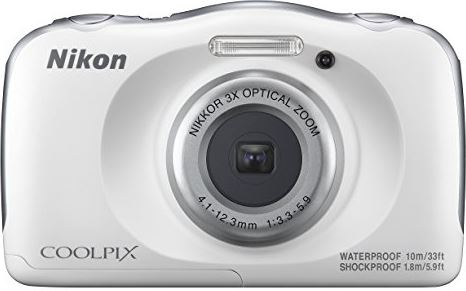 First Look
The Nikon COOLPIX W100 has a peppy, youthful look about it. But despite being made from plastic, it's surprisingly durable. The camera can withstand drops, and is fully waterproof. While most cameras advertised as waterproof are really just built to withstand a little rain, this one is designed to be fully submerged, so you can capture those great underwater shots.
Design
The W100 is available in several different colors, white, pink, yellow and blue. When they say blue, they aren't joking around. It's very vibrant looking with an electric blue enclosure, which is sure to make it stand out from the crowd. All models are partially wrapped in a silver colored band, which highlights the ports and the primary controls along the top. As a point and shoot, it's fairly compact. At 2.6 x 4.3 inches, it's very compact. Since it's only 1.5 inches thick, you can easily slip it in your pocket, even when you're wearing your vacation shorts. At 6.25 points, it does have a little weight to it. But when in your hands, the weight gives it a substantial, high quality feel. We actually found that the weight helped us hold the camera steady when taking pictures, so it's surely an asset.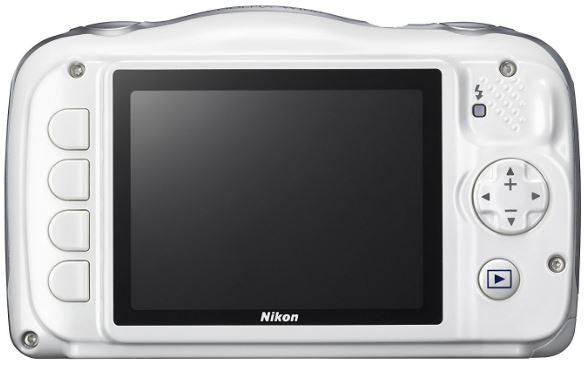 One of our favorite things about the camera was its slim profile. Although the optical zoom lens sticks out a little, Nikon has recessed it into the camera body with a ripple effect on the face. This means that there won't be anything jabbing into your leg if you choose to keep it in your pocket. Although the lens isn't completely recessed, it's compressed enough to not be an issue.
Controls & Layout
The controls on the W100 are surprisingly comprehensive when compared with most point and shoots. There are two shutter buttons along the top. The right button operates as a standard shutter, while the left one starts and stops video recording. This makes it easy to shoot video, since you don't have to dig through the menus to find the right function. The power button is located in between the two of them, while the advanced controls are located on the rear.

With a large LCD display taking up most of the back, the controls are very adaptable. There are four buttons on the left side of the screen. With all of the options laid out as a list, you simply select the button next to the item you wish to select. Options include image modes, features, and settings.
You can scroll through the menu using the digital control pad on the right of the camera, which rests right near where your thumb sits. Below that is a review button, which allows you to view the photos and videos you've already taken.
Connectivity & Battery Life
One of the most notable features of this camera is the built in WiFi and Bluetooth. This allows you to download your photos completely wirelessly. Although this feature is becoming more commonplace in cameras, it's not often we get to see it in such an affordable camera. What this does is allow you to pair up your phone or laptop to the camera. As shots are taken, you can have them automatically downloaded to the device of your choice. This makes it easy to quickly share them with friends or family, or upload them to your social network of choice.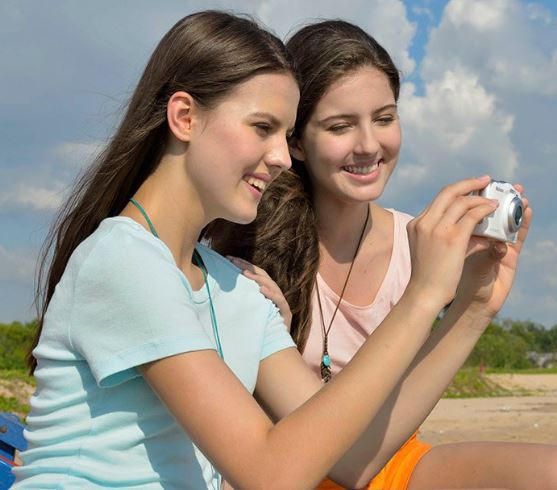 If you're concerned about space, you don't have to download them automatically. You can use Nikon's free application to browse the photos on your camera wirelessly, picking and choosing the ones you'd like to save locally. We found that the app has a much nicer interface than the camera itself, and is our recommended way to view your snaps.
If you like to keep it old school, you can still connect to the camera the standard way. There's a Micro-USB port that you can use to plug into your computer, or a mini-HDMI port you can use to plug it into your TV. HDMI allows you to share slideshows with friends, although you do need a special cable for it.
It takes a standard SD card, so you can use anything you have laying around. Additionally, it uses a very compact lithium ion battery and fully recharges in about an hour and a half. We were able to take 220 shots before needing to charge it up again.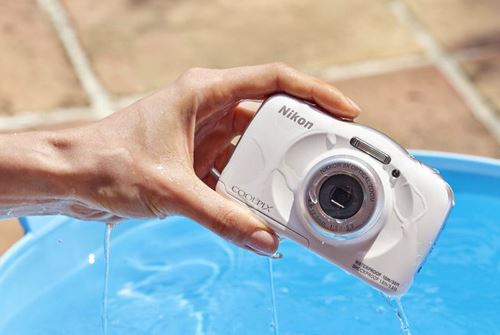 Durability
The main selling point of this camera is it's durability. It can survive a drop (even onto hard concrete) from up to 5.9 feet in the air. Unless you're as tall as a basketball player, you can pretty much drop this from hand level without having to worry about it.
You can also take it with you into the pool. It's completely waterproof down to 10 meters, or 30 feet. For those of you who'll be adventuring out in the winter months, the W100 is also freezeproof down to a temperature of 14 degrees Fahrenheit, or -10 degrees Celsius. This is enough to survive typical winter conditions, but might not cut it in Northern Canada.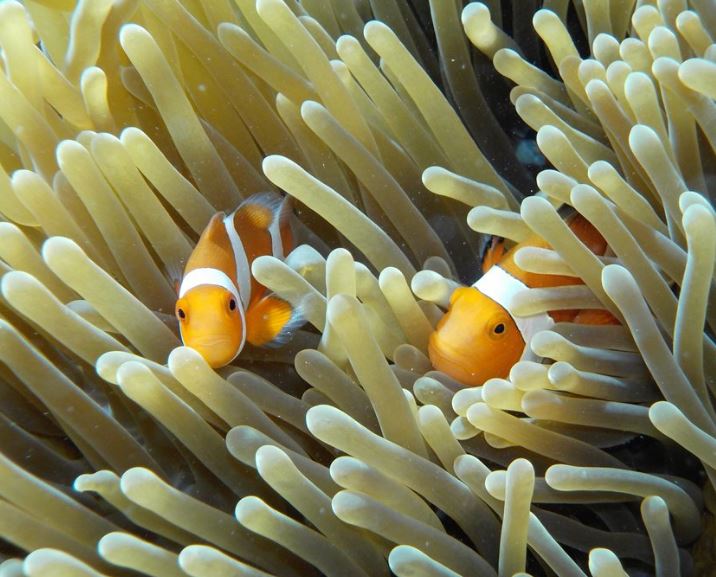 Image Quality
Considering the price of the W100, we were pretty surprised at how good the photos looked. They're razor sharp, with minimal noise in a bright environment. Colors felt natural and well defined, if not a little saturated. For consumers who just want to snap a shot and get a great image, you'll be very happy with the way the camera processes the photos. It bumps up the saturation and contrast, so you always get a professional looking shot.
For the price, the technical specs of the camera are up to date. It's got a 13.2 megapixel CMOS sensor that can support ISO speeds from 100 up to 1600. Images do tend to get a little grainy at high ISO speeds, so you're going to want to take photos in a bright environment for the best results. That being said, the images were still much cleaner than we expected. We'd happily make prints from them, and the high resolution means that you can even crop them a little without losing too much detail.
Video is the same story. The camera shoots at 1080p, so the videos will look great on a typical high definition television. Although the videos are compressed, we noticed very little compression loss or noise in the final videos.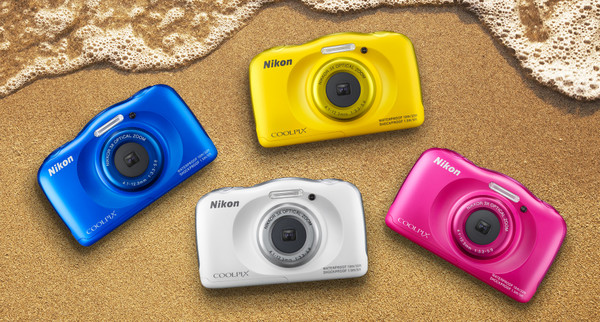 Disadvantages
Our only complaint with this camera was the low light performance. Perhaps we've been spoiled with professional grade cameras, but the days of grainy images and digital noise are starting to fall behind us. This camera works great at low ISO speeds in bright light, but it starts to buckle in low light environments.
Final Verdict
Whether you're currently using a cellphone camera or a high end DSLR, the Nikon COOLPIX W100 is a great addition to your kit. With its extreme durability and excellent image quality in bright light, it's the ultimate outdoors camera. If you're upgrading from a cellphone, you'll notice a significant improvement in the quality of your images. If you're coming from a DSLR, you'll be able to use this camera during times when you wouldn't want to damage your expensive equipment.
Searching for a modest upgrade? The Fujifilm FinePix XP120 may work. It's got a slightly better image sensor, and can withstand twice the depth as the W100. For divers or underwater enthusiasts, this may be worth the premium. But for everyone else, you should be more than satisfied with the Nikon COOLPIX W100.