Portable document scanners are an increasingly popular way for business and home users to digitize their paper documents. These scanners offer a quick and easy way to turn the physical into the digital, allowing you to have a searchable database of all your documents.
But not all portable document scanners are alike. Some simply create a black and white image, and are best suited for archival purposes. Fully featured scanners offer a little more, including optical character recognition and dual sided scanning. The Epson Workforce ES-200 & ES-300W at the latest entrants into this high-end category. These scanners appear to offer more than the current top dogs, so we decided to try them out for ourselves to see if these scanners are a worthwhile investment.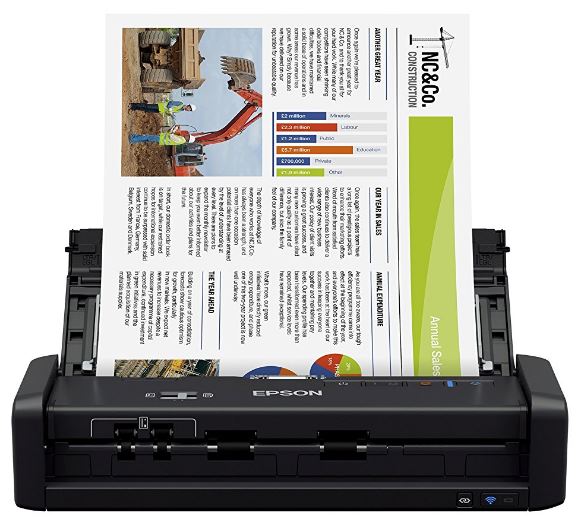 First Look
There are many similarities between the ES-300W and the ES-200. They both offer extremely high scan speeds, dual sided scanning, and come in a very compact form factor. The difference between them is that the ES-300W offers some additional wireless connectivity options, ideal for anyone who doesn't want to be tethered to a computer.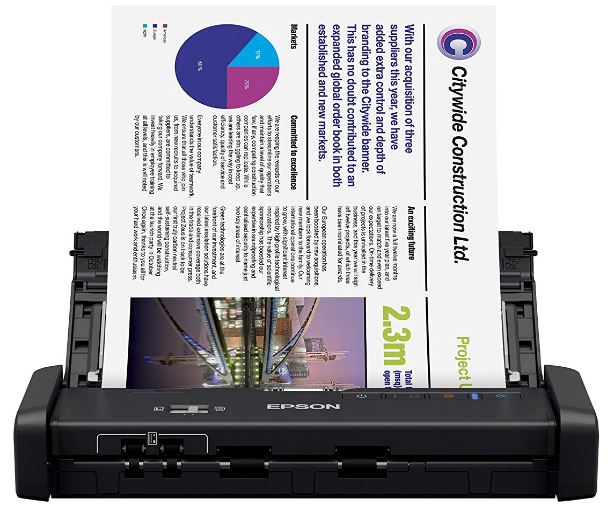 Design & Layout
When closed, the WorkForce scanners have a very sleek, professional appearance about them. Both the tray and the print door fold closed, making it extremely compact and covering all of the controls and lights. It's extremely small when close, measuring only 11.3 x 3.5 x 2 inches. It's comfortable to hold in your hand, and easy to throw in a briefcase or messenger bag without taking up too much space. It does weight about 2.4 pounds, making it feel substantial and durable.

When open, the entire enclosure folds open into a high capacity paper tray. There are four buttons along the top. The power, start, and stop buttons are all pretty self-explanatory. But there is a paper feed button that starts the motors, helping you to get folded or oddly shaped documents started into the feeder.
On the left is a small switch that lets you select between card scanning and document scanning. If you're only scanning paper business cards, either setting will work. The main reason this is used is to improve the way that large plastic cards (such as credit cards or identification) feed into the tray.

Quality
At 600×600 DPI, this scanner is much higher quality than most models in the portable class. 600 DPI is high enough resolution for most photo scanners, and it certainly creates some nice-looking documents. When scanning to PDF, the scanner perfectly recreates everything in the document from graphics to backgrounds to diagrams. Images are razor sharp, and text is very clear.
If you want the most 'true to life' recreation of your documents, scanning to PDF is the way to go. PDF gives the most precise controls over how images and text are placed, so your documents look exactly like they do in real life. But if you're editing, PDF isn't always the easiest format to work with. There is always trouble with alignment, and you often need additional software to work with PDF files. These scanners also support scanning to Microsoft Word or Excel files. These files to come out being slightly modified.
For example, excel documents won't have the exact same spacing as a scanned spreadsheet. But we found that the scanned files have all the correct data in the correct places, allowing us to quickly start editing fields and dropping in formulas. With Word documents, the primary change was spacing. Images will be slightly shifted, and the background wasn't always perfect. But the text was always in the right spot, making it easy to change or copy the content into another file.

Optical Character Recognition
OCR is one of the primary advantages of using this scanner. The included software automatically scans all of the text, turning the images into editable (or searchable in the context of PDF scans) data that can be indexed digitally. After scanning a stack of documents, we were able to enter a search term into windows explorer and quickly have the relevant document highlighted. In a real-world use scenario, it's much quicker to scan a stack of documents and search for the relevant data than it is go plow through the same paper manually.
We found that OCR with this scanner was much more accurate than we're used to seeing. Part of this is due to the high DPI. With other scanners, we found that we were often getting errors such as "o," being read as a "Q" or "1" being read as an "l." We rarely encountered these issues with the Epson Workforce scanners. That being said, it would still be unrealistic to expect this technology to be perfect. We did occasionally get small errors when we were scanning documents that had a dark background, or documents that were creased or damaged. But even then, the occurrence of errors was lower than we've ever encountered.

Media Handling
When we first opened up the scanner, we were impressed with how large the hopper is. It's much more supportive than competing models, allowing you to stack up several heavy documents without them falling over. This is a common issue with portable document scanners, and Epson's 20 page capacity is almost unheard of in a scanner this size, and its ability to handle ID cards is just the icing on the cake.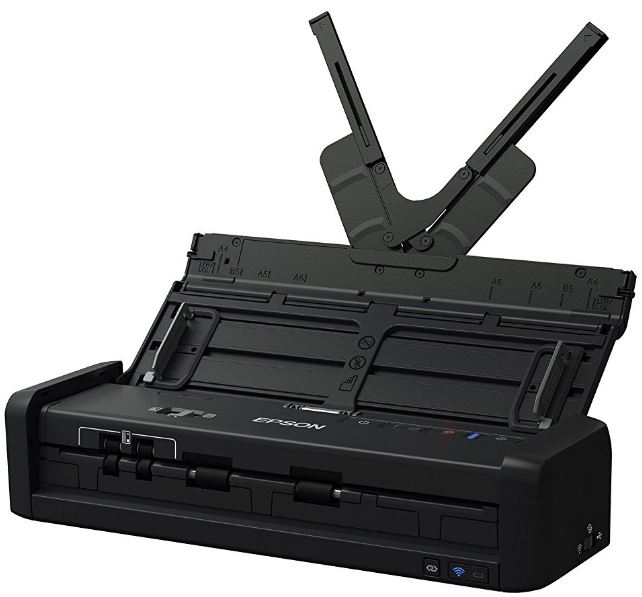 Connectivity
This is the one area where the WorkForce ES-200 & ES-300W differ. Both models can be used with the included USB type B cable by connecting them directly to a PC or a Mac. Using the bundled software, both models can upload your scans directly to Dropbox, SharePoint, Google Drive, Evernote, and several smaller cloud services. If you spring for the ES-300W, you can do everything wirelessly. It connects directly to your WiFi network, and can scan directly to any PC on the network. You can also run it off the built in battery, uploading directly to file sharing sites without having to touch a computer.
Speed
This is one of the areas where the WorkForce ES series really excels. Although they're not the fastest on the market (the ES-400 and 500W hold that position) they are pretty darn close. They can scan 25 standard pages per minute, with the total process of feeding and scanning the documents taking a little over 2 seconds per page. One of the key things to keep in mind is that this scanner does both sides of the page at the same time. Other scanners would require you to run all the documents through on one side, then run them through again on the other. This has effectively doubled the potential scanning speed of the WorkForce series scanners over competitors.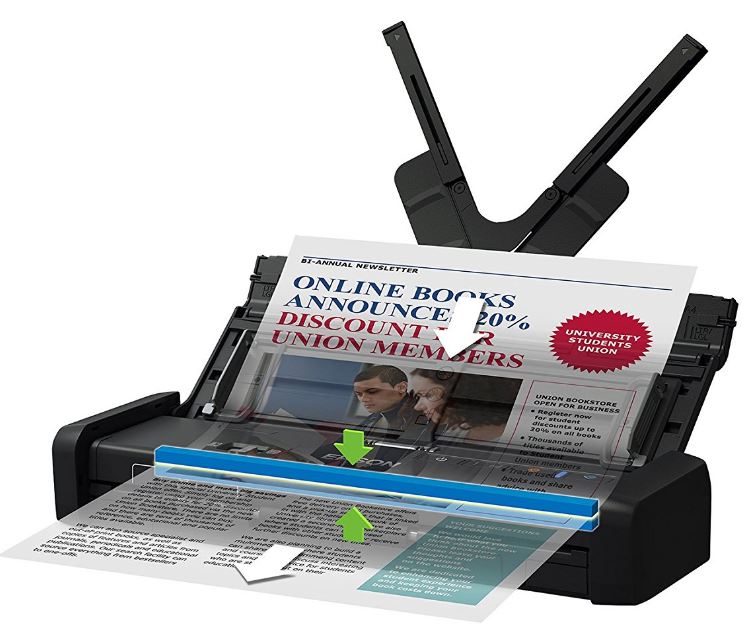 Disadvantages
One of the main advantages of portable scanners over full size models is their ability to go wherever you need them. For this reason, it's hard for us to justify the lack of wireless connectivity in the ES-200. In our eyes, it's well worth the extra cost to pick up the WorkForce ES-300W. Another thing we wouldn't mind seeing is the ability to scan to a local SD card, so hopefully that will be included with future revisions.
Final Verdict
The Epson Workforce ES-300W and the ES-200 are both excellent choices for anyone who wants a portable document scanner. They're the best in their class, capable of extremely high resolutions and very high scan speeds. In our opinion, it's worthwhile to spend a few dollars extra to get the wireless connectivity options of the ES-300W, although users who only intend to use the scanner connected to a single computer can take advantage of the ES-200.
We recommend the Epson Workforce series document scanners to anyone who's looking for superior speed and quality, but there are a few compromises you're making by going for the portable models. If you don't need something that you can carry around, check out the full size Epson ES-400 and ES-500W. These scanners might be a little bigger, but they come with a noticeable boost in performance.
Alternately, you might be looking for something a little more affordable. In that case, we suggest that you check out our guide to the best portable document scanners you can buy today. The Epson ES series scanners hadn't hit the market when we wrote those reviews, but it will give you a pretty good idea of what else is available.
All of the above scanners are designed to scan entire pages. If you're looking to take excepts from existing documents, you might be interested in checking out the Scanmarker Air Digital Highlighter. It's the easiest way to take digital notes and clippings from paper documents, which in a way makes it a handheld document scanner.