Whether you're trying to create an immersive gaming experience or compliment the ultimate audio setup, a decent headset is one of the best purchases you can make. Unfortunately, finding a decent pair isn't always an easy task. Headsets in the sub-$100 range can be a bit of a gamble. There are a few gems in there, but there is also a lot of disappointing models as well. Part of the problem is that headsets are becoming a bit of a fashion item. There are plenty of brands that look great, but the sound quality has always been the afterthought.
If you're thrifty, you know that doing your research is the single most important part of picking out a new set of cans. We've already reviewed the SteelSeries Arctis 7 and Arctis 5, so now it's time to find out if their little brothers can live up to the standard.
Note: At no extra cost to you, we may earn a commission for purchases using our links. Learn more.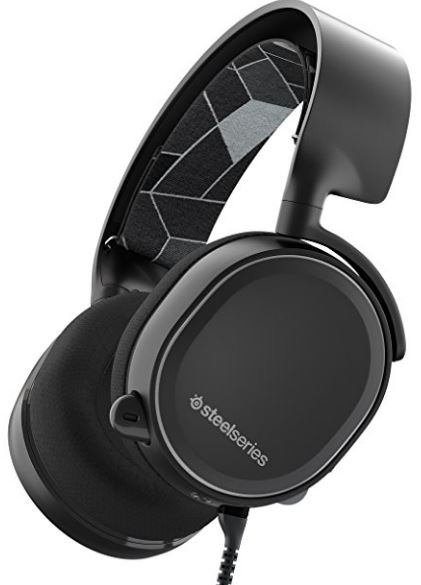 First Look
SteelSeries is an iconic gaming brand trusted by gamers all over the world. While the looks of their products are certainly a factor, it's their consistently impressive performance that's kept them at the top. Followers of the brand will certainly recognize their iconic taste in the design of this headset, as their unique combination of flash and subtlety is sure to stand out. The SteelSeries Arctis 3 are a little larger than some, as their circumaural design allows them to fit over the ear. Their designed as a universal headset, allowing users to enjoy both music and gaming on the same pair of headphones.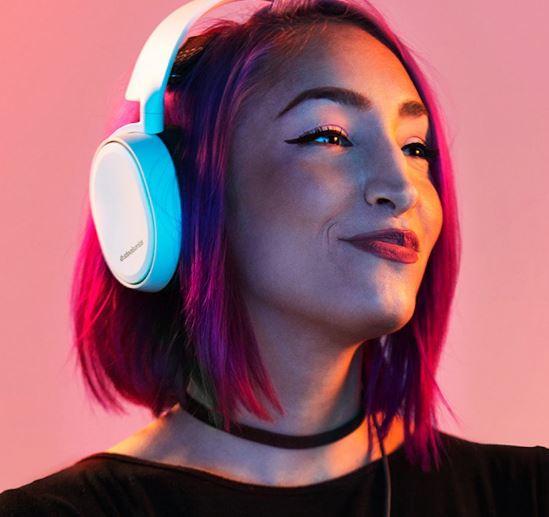 Design
Although fairly minimalist in design, the Arctis 3 has a sleek and professional look about it. There are a few subtle accents that help it stand out a little, the most obvious of which is the high-contrast headband design. Although plain, SteelSeries would like you to treat the Arctis 3 headset as a blank slate, and have included several stylish stickers you can use to decorate them.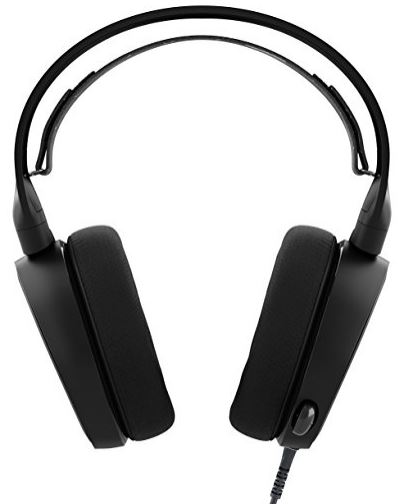 But just as the design is sleek, it's also highly functional. There is a retractable microphone that slips into the right earcup. When it's hidden, you'll barely notice it's there. But when extended, the bendable cable allows you to position it exactly where you'd like.
On the bottom of the earcup, you'll find the controls and ports. There is a 3.5mm plug so you can connect your audio, a volume wheel, and a microphone mute button.
Comfort
Although larger than many headsets on the market, these are some of the most comfortable that we've worn. The headset has the same structural layout that we liked so much on the Arctis 5 & 7. This involves a secondary strap that runs below the headband, distributing the weight across your head. It's a little stretchy, allowing it to fit any head shape and size.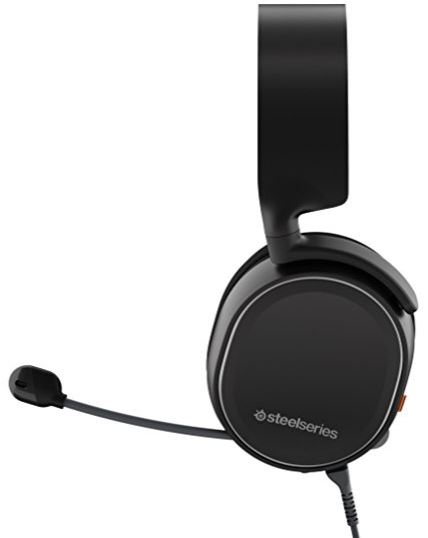 The earcups themselves are covered with a material called airwave. In essence, this is like a hollow memory foam material. This isn't a common headphone construction material, as it's generally used in high end mattresses. That being said, it's extremely soft and airy. It seems to almost immediately adapt to the shape of our head, and we were comfortable wearing this headset for many hours. If you're the type who likes to get wrapped up in extended gaming sessions, you'll surely appreciate this unique material.
Sound Quality
When opening the package, we knew that we couldn't wait to hear what this headset sounded like. The more expensive Arctis 5 and 7 blew us away, but they were also much more expensive. SteelSeries includes an advanced program designed to let you tweak the audio settings, but our first test run was completely stock. What we found was that the headset produces a very clear, airy sound. Everything sounded surprisingly crisp and well defined, and drums still maintained their punchiness without being overblown. It was, however, a little weak in the bass department. As is, this sound would be what we wanted for critical listening of our favorite songs. But if you're trying to rock out, you'll want to fire up the Engine 3 App.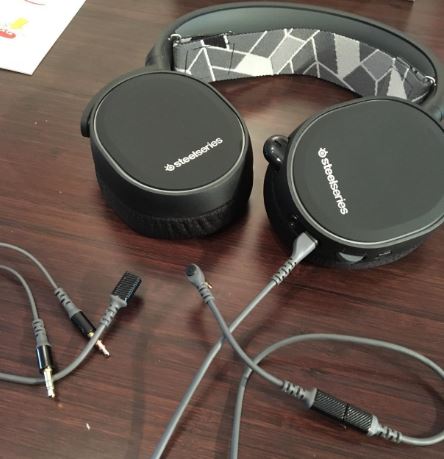 This app runs on Windows and Mac operating systems. It allows you to adjust certain frequencies manually, or choose from a number of premade settings. There is a lot to choose from. Some of the settings are good for movies or gaming, while others are geared towards music. With a few clicks of the mouse, we found the setting we liked. It gave us a peppier sounding bass, with a lot more kick to them. What surprised us was how little distortion there was. Usually, using a software EQ tends to distort the sound a little bit. But it's clear from using this program that SteelSeries designed the headset to be neutral by default, letting users choose how they wanted everything to sound.
While gaming, we experimented a little with the simulated 7.1 surround sound. It's worth noting that this isn't true surround, where there are multiple speakers in the earcups. Instead, this is a software filter that gives the sound a very airy, open feeling to it. We loved the effect for playing games and watching movies, although it's not ideal for music.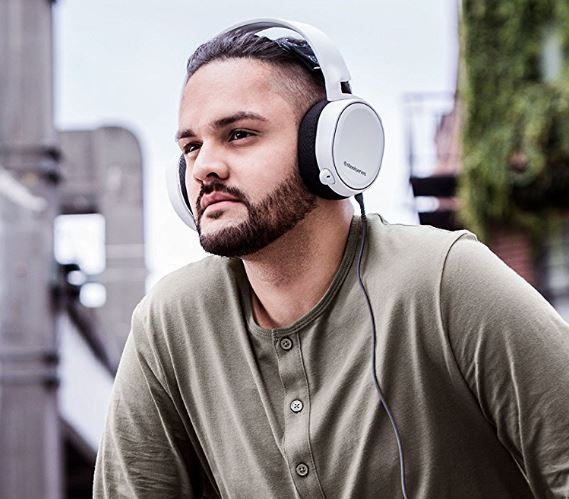 Microphone Quality
One of the primary reasons that gamers choose a headset is so that they can use voice chat during online sessions. It's important to have a high-quality microphone, so your buddies can hear you clearly. In this department, the Arctis 3 did not disappoint. The microphone is bidirectional, and has built in noise cancelling. What this means is that there are actually two microphones inside. One faces your mouth, the other faces away. The sound that is coming from the direction of your mouth is amplified, while sound coming from other parts of the room are cancelled out. This means that you won't accidentally broadcast another conversation, or the sound of the microwave running.
Playing back the sound we recorded over the microphone showed us that it was extremely clear and concise, so it will be easy for your teammates to make out what you're saying. There was very little distortion, and the noise cancelling did an amazing job of removing external noise. As a directional microphone, this does mean that you need to take the time to position it correctly. But with the easy-to-bend cable, this only took a few moments.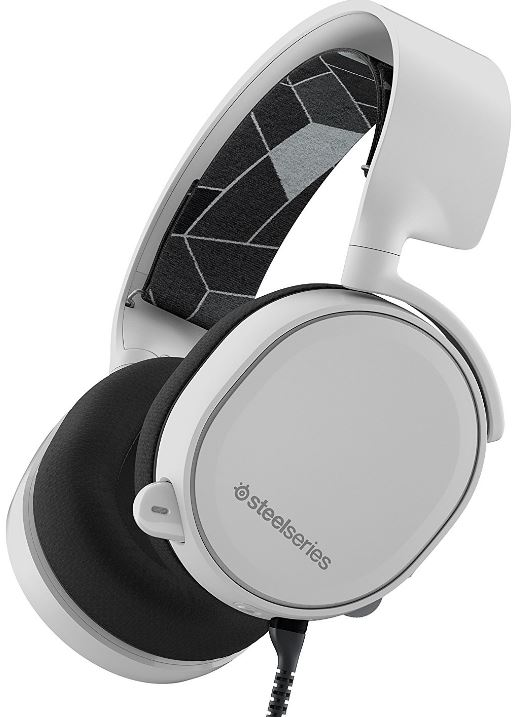 Durability
With most headsets on the market made from plastic, it's surprising what a difference build quality can make. We've tried moderately priced headsets that creaked and bent when under stress, and just felt like they were going to fall apart at any given time. Having had this experience, we were happy to see that SteelSeries stuck to the same high quality build they've used with their other models. The headset, despite being lightweight, feels pretty solid. We'd have no qualms about throwing it in a bag and heading out for a LAN party.
Disadvantage
The one thing that annoyed us about the Arctis 3 is the setup procedure for the included software. If you want to use the simulated surround sound or change the sound profile, this program is essential. But before you can use it, you'll have to go through a registration process. You'll enter your email, click an activation email, then enter a serial number from the box. It's possible that SteelSeries wants to prevent gamers from using their high-end software with other brands headsets, but it seems silly to force users to register just to access the features of their hardware.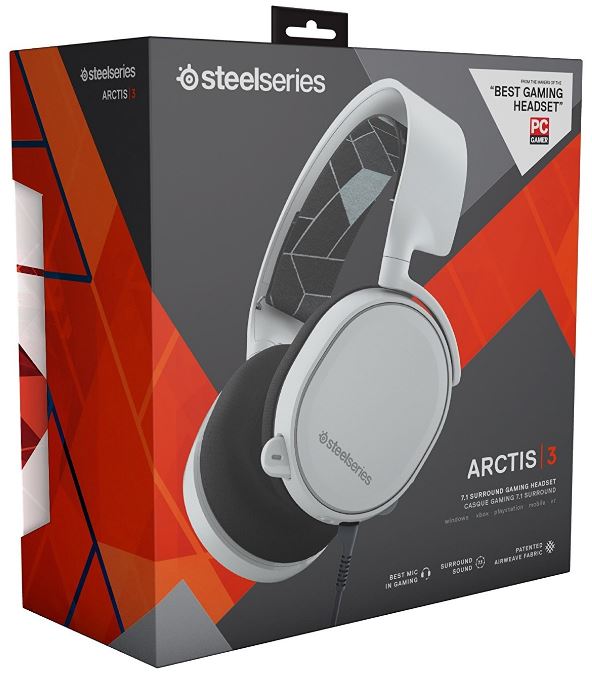 Final Verdict
The SteelSeries Arctis 3 are a very competent gaming headset available for a surprisingly low price. If you're on a tight budget, this headset will likely give you the best bang-for-your-buck performance you can find. The durability, visual appeal, and microphone quality are all just as good as the higher end Arctis models, despite the reduced price.
That being said, SteelSeries had to cut corners somewhere. In our eyes, it might be worth spending a little extra money on the higher end models. The Arctis 3 is among the best in its price class, but the other models simply blew us away with how good they sounded. This upgrade will be worthwhile primarily for users who want to use their headset for music just as much as they do gaming, since this is where the sound quality really shines.
If the Arctis 3 are still a little out of your price bracket, you don't have to fret. There are still some decent gaming headsets available for a lower price. We just took a look at the competent Gamdias HEBE E1 headset, which offered surprisingly good performance for an entry level price.
Want to stick to the SteelSeries brand but upgrade to their more impressive Arctis 5 and Arctis 7 Headsets? We've also taken a closer look at those two models as well.
Note: At no extra cost to you, we may earn a commission for purchases using our links. Learn more.