When smartphones first hit the market, dedicated point and shoot camera sales plummeted. But while you were out filtering your favorite Instagram shots, the camera industry kicked it into high gear and started producing top notch products that blow away anything sold in a smartphone in many areas.
Generally, we're taking a look at cameras that have more powerful image sensors and produce better looking images. Recently, we had the opportunity to take a look at a camera that is designed to be used in conditions that your typical cameras aren't able to go. The FinePix XP120 is sold as a fully waterproof camera that can withstand complete submersion and intense weather conditions. We put it to the test to see how it really performs, so you can decide if this is something that you should add to your own photographic arsenal.
First Look
While most modern technology is moving toward the whitewashed look of modern architecture, it's refreshing to see something directed towards the general consumer marketplace that still has a little edginess to it. The brightly colored frame and rubber surrounds embody how tough the camera is, without making it unnecessarily bulky.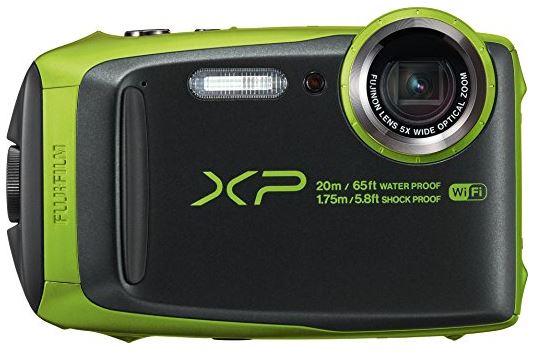 The camera does have a slightly retro edge in the sense that it's done away with the increasingly common touchscreen and replaced it with a set of well laid out buttons. This makes sense, because even the high end multi-touch displays tend to fail when wet – the exact conditions this camera is designed to be used in.
While there are many novel things about this camera, it's design and layout felt almost familiar. This means that it didn't take us long to acclimatize ourselves to it's layout. Within a few moments of opening up the box, we were able to start exploring the cameras features in a more in-depth manner.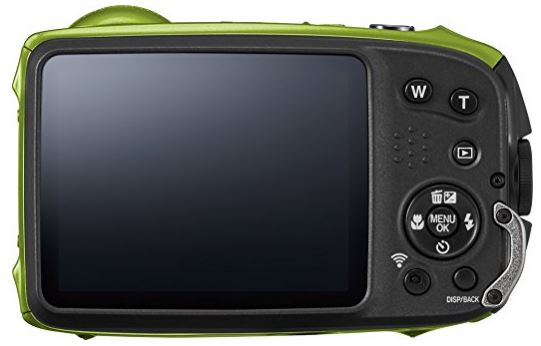 Design & Durability
Everything about this camera screams "rugged." While many parts of the camera are made from plastic, Fujifilm used a very high quality material that is smooth to the touch, but didn't have any give. The front of the camera is, for the most part, decorative. Most of the space is taken up by the high gloss frame which is available in several bright colors. You can choose from stand out colors like blue or yellow, each of which have a small black accent bar that highlights the controls. If you're looking for something a little more reserved, you can opt for the inverted model which is primarily black, but accented with either teal or green. The models with more subdued colors are better for those who want to take the camera travelling. If you're visiting a poor country (or even some areas in the United States) you don't want to be waving around an expensive looking piece of equipment.

The rest of the front is taken up by the flash, optical zoom lens, and some labeling that describes how durable the camera is. If you flip it around, you'll be greeted by a large 3" display, thumb controlled zoom buttons, a review button, and the typical round navigational pad. Overall, it looks like most cameras that have been released in the last few years, but when you inspect it closer you can really appreciate how firm everything feels. The wrist strap is a screw mounted metal bar, which is directly attached to the metal internal frame. All of the bottons, having been waterproofed, have a very firm feel to them. Even when you apply large amounts of pressure, the camera doesn't bend or flex at all.
The end result is something that is completely waterproof down to 65 feet or 20 meters. If you're not going scuba diving, you can happily take this into the water for some memorable underwater shots.
The camera is also shockproof provided you drop it from a height of less than 5.8 feet. While you can't throw it off the top of a mountain, you'd have to try pretty hard to damage it intentionally.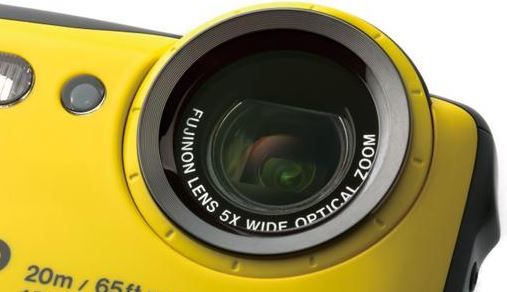 Image Quality
The camera comes equipped with an image sensor that shoots images at a respectable 16.4 megapixel resolution. Even if you're getting large images printed up, you'll still find the images to be as crisp and clear as they look on your computer. Daytime performance is excellent, with very little discernible noise or distortion.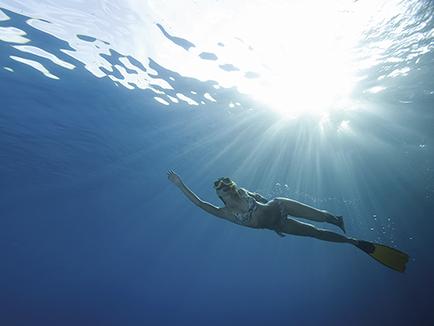 As with most cameras, when you're taking shots in challenging conditions you'll notice these issues a lot more. If you are accustomed to using high end DSLR cameras, zooming in all the way on an image that was taken at night will reveal a slightly grainy texture that is commonly associated with high ISO speeds. But compared to high end cameras found in phones like the iPhone 7, there is a night and day difference. For us, using the FinePix XP120 was a bit of a reminder how far imaging technology has come. Your phones images might look fine on a computer screen, but if we were every planning to do any post processing or get images printed, we wouldn't want to be caught without a camera that was as good as this one.
Colors were a little vibrant and a little heavy on the contrast. This made for images that were much more fun than we're used to seeing. Those of you who shoot RAW and prefer to do all your own editing in a high end program might not like the fact that the camera tries to do it for you, but anyone who wants to be able to point, shoot, and get a great looking photo will be very impressed with the automatic processing.
Video Quality
One of the most impressive features was the quality of video this thing is capable of taking. When you're shooting in full 1080p, the images are just as clear and sharp as the photos. But the kicker is the fact that it takes video in 60 frames per second. If you're watching your clips on a 120-hertz television, you'll notice that the video appears to be very smooth. Once you get used to it, the video you're used to seeing will seem choppy in comparison.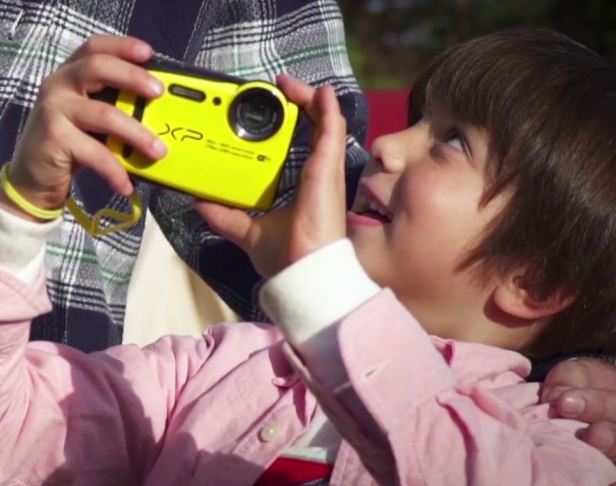 Connectivity
You'll want to pair the camera with a SDHC card of your choice, up to a maximum capacity of 128gb. Generally, we'd recommend picking up a WiFi enabled SD memory card, but with this camera you don't have to! It's got WiFi sharing built right in, so you can automatically have all of your photos sent to your mobile device. In a matter of seconds, you can take a photo and have it posted on Instagram just like you'd taken the picture on your cellphone.
Instax Share
One of the coolest and most exciting features that we discovered was its ability to connect with Fujifilm's Instax Share-SP-2 Photo Printer. Althought probably not a necessity for everyone, this lets you wirelessly transfer the images you shot on the XP120 and instantly print them right on the spot.
Disadvantages
Memory cards are extremely affordable, and at this price point we'd like to see manufacturers include reasonably sized cards with their cameras, or provide some internal storage. If you're don't already have on laying around, remember to pick up an inexpensive 32GB memory card, or higher if you feel it to be necessary.
Final Verdict
We have to say, we were quite impressed with the FujiFilm FinePix XP120. There are many on the market that are sold as waterproof, but very few that we'd actually feel comfortable with intentionally submerging. But this camera is capable of going so deep that you'd likely begin to experience uncomfortable levels of pressure without scuba gear. This means that whether you're going for a quick dip in the pool or exploring some amazing ocean life off the coast of California, this camera can be your companion through the entire journey.
Even If you're planning to stay above ground, it's heavily reassuring to know that dust, accidental drops, or an unplanned rainstorm can't damage your expensive electronics. Even if you don't think that you will need these features, anyone who spends time outdoors should consider if a few extra dollars now could save you the entire replacement cost of a new camera in the future.
Those of you who are looking for something with a little more photographic kick might want to consider something like the Pentax K-70 Weather-Sealed DSLR. You are going to pay a fair bit more for it, but when used properly an SLR camera can produce images that blow anything from a point and shoot out of the water. This one isn't designed to go swimming, but it does have some of the best weatherproofing available on the market.
No matter which was you decide to go, it's hard to beat the price to performance ratio of the FujiFilm FinePix XP120.
Meet Derek, "TechGuru," a 34-year-old technology enthusiast with a deep passion for tech innovations. With extensive experience, he specializes in gaming hardware and software, and has expertise in gadgets, custom PCs, and audio.
Besides writing about tech and reviewing new products, Derek enjoys traveling, hiking, and photography. Committed to keeping up with the latest industry trends, he aims to guide readers in making informed tech decisions.