This console bearing generation has seen several brands make the leap from a solely PC focus to home console focus, most distinctly MMORPGs, for example Final Fantasy 14: A Realm Reborn on PlayStation 4, and Neverwinter on Xbox One. There have been some tough nuts to crack in transitioning to consoles, however, with these games that have traditionally been relegated to PCs.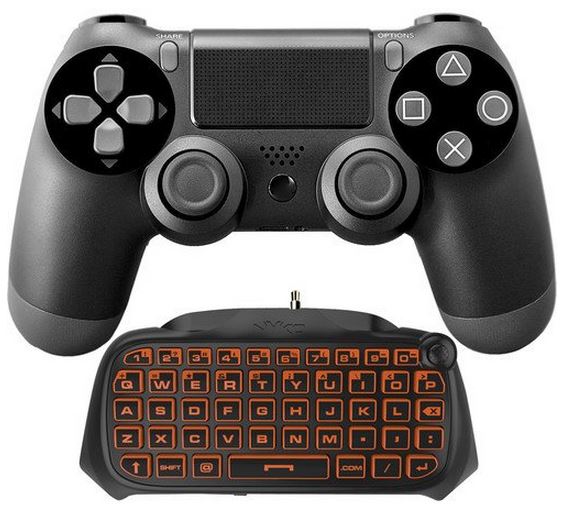 Note: At no extra cost to you, we may earn a commission for purchases using our links. Learn more.
Includes:
Mini analog nub for quick menu navigation.
Full qwerty style keyboard layout including symbols.
Connects to PS4 via Bluetooth compatible with all relevant supported applications.
Headset compatibility is preserved by pass through headphone jack.
Warranty: 90 days
Exclusive Features
Comes with full QWERTY keyboard attachment for the DUALSHOCK®4 controller, making typing on the PlayStation 4 a breeze.
Also a Bluetooth keyboard attachment that connects wirelessly with the PS4.
It is compatible with any application or game that supports keyboards with Bluetooth capability.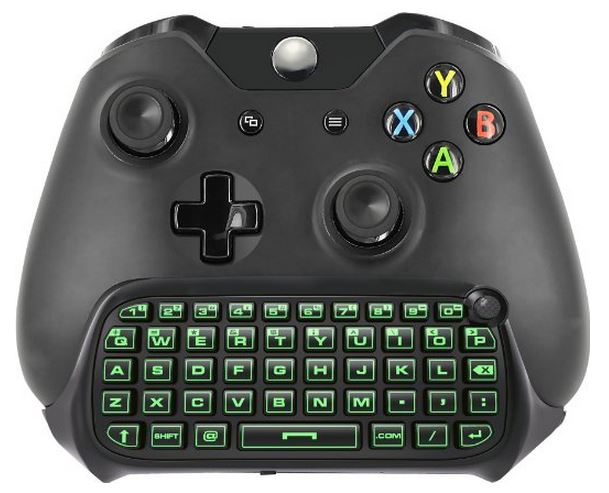 Due to its tiny and compact design, the fitting into the controller's natural design is sleek, allowing for quick and accurate texting with both thumbs during game-play. The Nyko Type Pad features nifty shortcuts for ".com" and "@" as well as a unique analog nub for swift menu navigation. The device is powered by a rechargeable and built-in battery pack which can be recharged via any standard micro-USB cable (not included).
Analog nub for quick swift menu navigation
Full QWERTY keyboard for easy texting and chatting with friends
Dedicated shortcut buttons for ".com" and "@".
Rechargeable, built-in battery fitted with dedicated power button (charge via any micro-USB cable)
Integrated speaker allows the user to hear all chat audio directly from the Type Pad – no need for a headset – which can also easily be disabled via the PS4's settings menu
Preserves full functionality of headphone jack and controller.
No additional software required to run – easily snaps into place.
Pros
One of the stumbling blocks for MMORPGs on consoles is communication. Buying an extra peripheral for typing messages with their keyboards, is a luxury requirement on consoles for those wanting to communicate while playing MMOs.
It's for this reason that several companies have stepped up to solving just this problem in the form of portable keypads. The newest being the Nyko Type Pad for the PlayStation 4.
As may be expected, having an awkward keypad attachment at the bottom of the DualShock 4 might not be glamorous and certainly changes the way the controller feels. Surprisingly, it's not significant enough to be a detractor. A major plus for the device, and even during extremely long playing sessions, it's easily forgotten that the Type Pad is even connected to the controller at all.
While getting the Nyko Type Pad to attach to the bottom of the DualShock 4 takes some force, initial set-up of it is painless enough. Similarly, removing it is also a bit tricky. Not like many other keypads, you cannot simply set-up by plugging in the device. You would need to connect it to the system as its own separate Bluetooth device, which requires going into the PS4's settings.
All that being said and done, the Nyko Type Pad boasts some unique and convenient features that make it very attractive. Firstly, there's a standalone .com user-friendly button as well as a dedicated @ button on the PS4, which obviously makes browsing the internet much easier. Secondly, as we found in our testing, the headphone jack on the bottom of the device has zero-zilch negative effect on the audio quality from the headphones.
While having it's own battery keeps the unit from depleting the DualShock 4's short battery life, some might think that having to charge the Nyko Type Pad separately from the DualShock 4 would be an annoyance. The plus side is that charging the device should be an infrequent practice anyway.
Cons
Unfortunately, using the Nyko Type Pad in the most important area—to type messages—remains inefficient, even though it doesn't majorly affect the feel of the DualShock 4.
Using the on-screen keyboard may still be faster than selecting one letter at a time, the Nyko Type Pad's buttons are simply too close together, which results in plenty of frustrations of two buttons being pressed simultaneously. It's safe to say that the Nyko Type Pad is certainly not for gamers with large fingers.
A solely cosmetic issue, of course, that does not have any effect on the functionality of the Nyko Type Pad, but is certainly worth mentioning, is the color scheme.
One usually associates the sleek blue and black color scheme with PlayStation 4 and its peripherals. But some unimaginable reason, Nyko has decided to go with a stark contrasting black and orange color scheme for the Type Pad. We all know that most people don't buy a device like the Nyko Type Pad for its looks, but needless to say, it stands out like a sore thumb.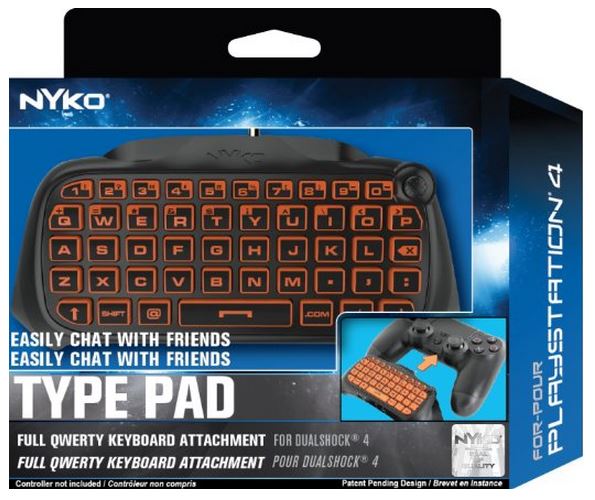 The Verdict
All we can say is, expect plenty of typos! While some of the convenience features are nice, and it will get messages written quicker than using the on-screen keyboard, it is sadly lacking where it matters most, and that's typing out messages. Other than that, the Nyko Type Pad is a fairly competent device in many other areas.
As it comes with a fairly high price tag compared to other keypads available for PS4, it's not easy to recommend the Nyko Type Pad over its competition. Perhaps first check out some other options available should you be in the market for a device like this. Perhaps wait to see if Sony will offer up a first-party keypad, like the upcoming Xbox One Chatpad.
Please consider sharing:
Note: At no extra cost to you, we may earn a commission for purchases using our links. Learn more.