We've all been there: broken down on the side of the road, and AAA has a 2-hour wait. If only you could see under the hood, you'd at least be able to know what's wrong. If only you'd remembered to keep a flashlight in your car. Nowadays, you could always use your smartphone, but that's not a great idea in an emergency. Every minute you use that flashlight is draining your valuable phone battery. A good flashlight can be a huge help when you get into this kind of jam.
If you haven't bought a flashlight in a while, you may have missed out on some recent advancements. For one thing, many flashlights use rechargeable batteries, so you can plug in via USB and top off at will. For another thing, most are adjustable, and offer different light patterns. Brightness is just one part of the equation.
Note: At no extra cost to you, we may earn a commission for purchases using our links. Learn more.
Today, we're going to review the Olight Perun 2 Multi-Functional Illumination Tool. This is a lot more than just a simple flashlight. It's a miniature flashlight that's built for big-time power. It's also designed to be as versatile as possible. You can use it for just about anything, from camping to automotive repair to everyday carry. It can even be used as a headlamp. But how well does it perform in the field? And how well does it compare to the competition? To find out, we'll need to take a closer look. We'll look at the Perun 2's features and benefits, from the battery to the bulb. Once we've given it a thorough review, we'll be ready to render a final verdict. Let's begin!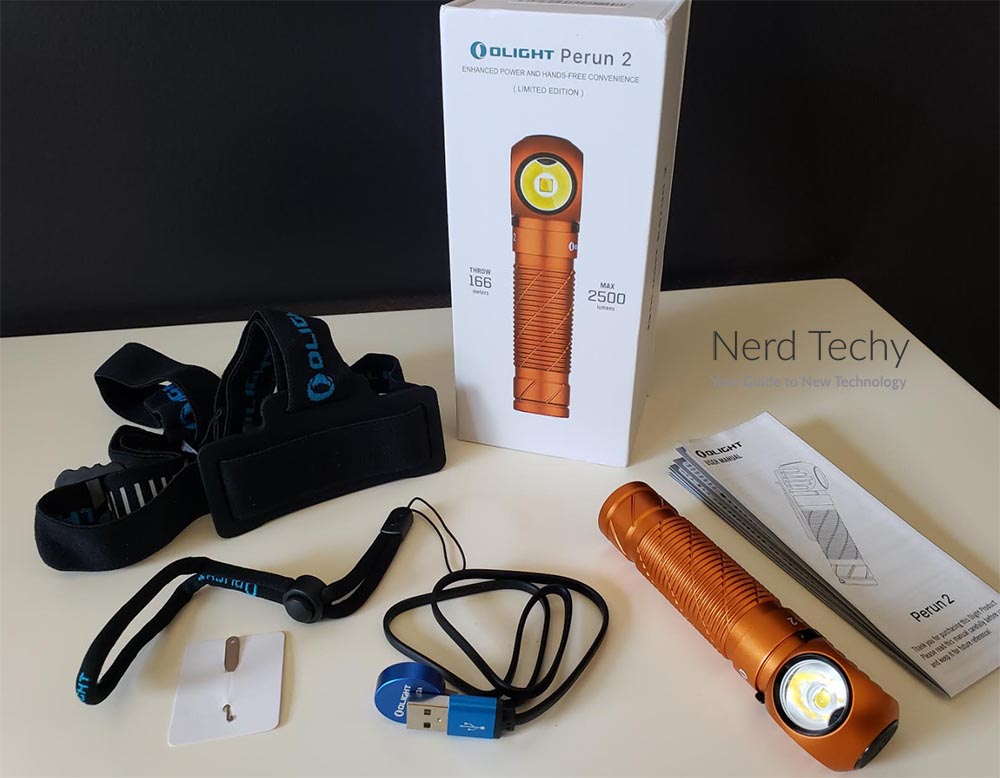 Design & Construction
The Olight Perun 2 falls into the category of "palm-sized" flashlights for everyday use. However, just because it's small doesn't mean it's weak. The case is constructed from anodized aluminum, which can stand up to crushing and corrosion. The case is also drop-proof. It can stand up to a 1.5-meter drop, or about 4 ½ feet. That's not an incredible height, but it's more than most people are liable to drop it while carrying it. It's available in black or electric blue, to fit a variety of tastes. The main barrel has a diamond texture, which makes it easy to grip even when it's wet and slippery.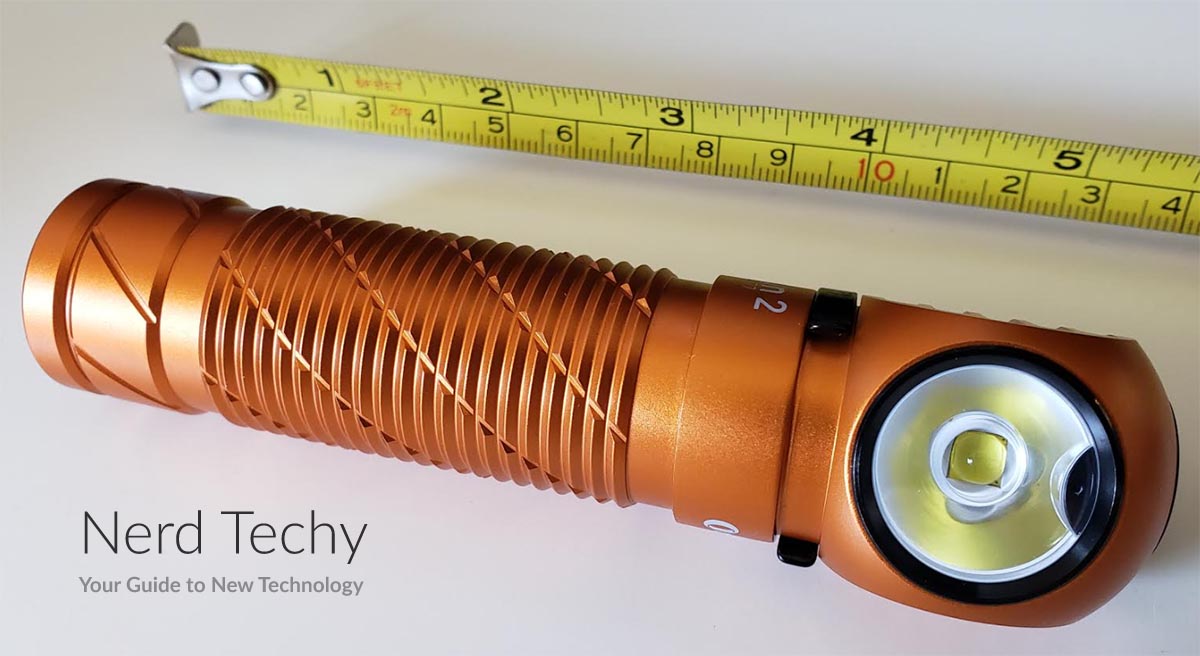 At the top of the barrel, the lens is mounted at a 90-degree angle. This orientation makes the Perun 2 easy to use for shining into a tight space. It's also useful for clipping into a breast pocket for mounted use. The clip is strong and sturdy, and holds the Perun in place in pretty much any orientation. When you wear it on your belt, you don't have to worry about your flashlight falling off. It hangs on like a vice. In addition it can also be used as a headlamp. This requires an optional head strap, which is included.
The base is magnetic, which means it can be mounted on ferrous metal surfaces. The most obvious application is automotive, for looking under the hood of your car. But it can be mounted on any metal surface for any purpose. You could even keep it on your refrigerator if you wanted to!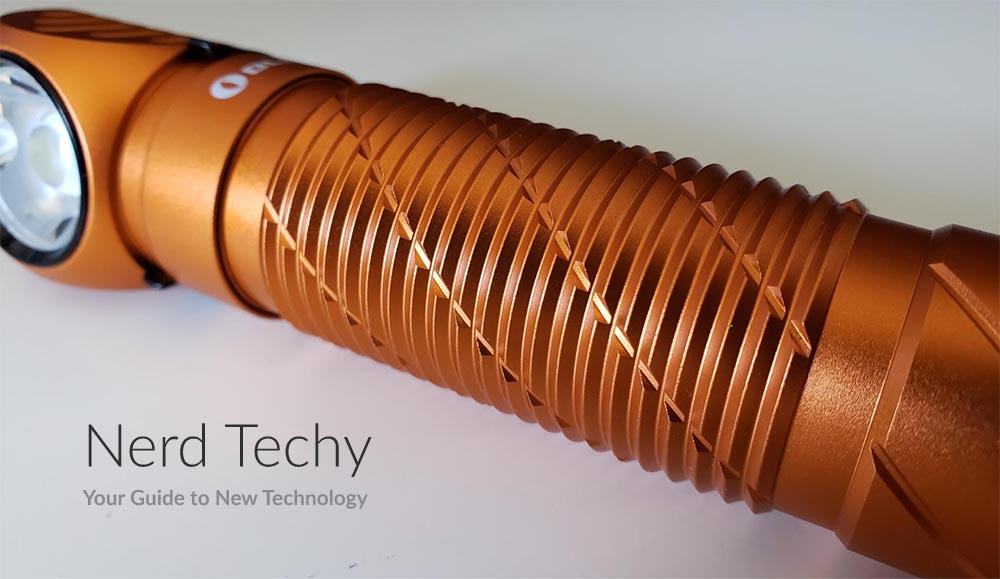 The Olight Perun 2 is IPX8-rated for water-resistance. This means that it can withstand full submersion at more than one meter for longer than half an hour. The exact depth and time is unclear, because it depends on the exact testing performed. Suffice it to say that IPX8 is better than IPX7, and is the highest water-resistance rating on the consumer market. If anything goes wrong, you're protected by a five-year manufacturer's warranty. If there are any issues, simply return it for a full refund. Not only that, but Olight offers a 30-day money back guarantee. During that time, you can send it back for any reason, even if you just decided you don't like it.
Illumination Quality
Before we talk about any of the other features, let's take a look at the quality of the illumination. To begin with, the beam is clean and bright, with the slightly blue cast of an LED bulb. This beam maintains its color consistently, regardless of the brightness setting. That's a major improvement over some flashlights, which change hue as they change brightness.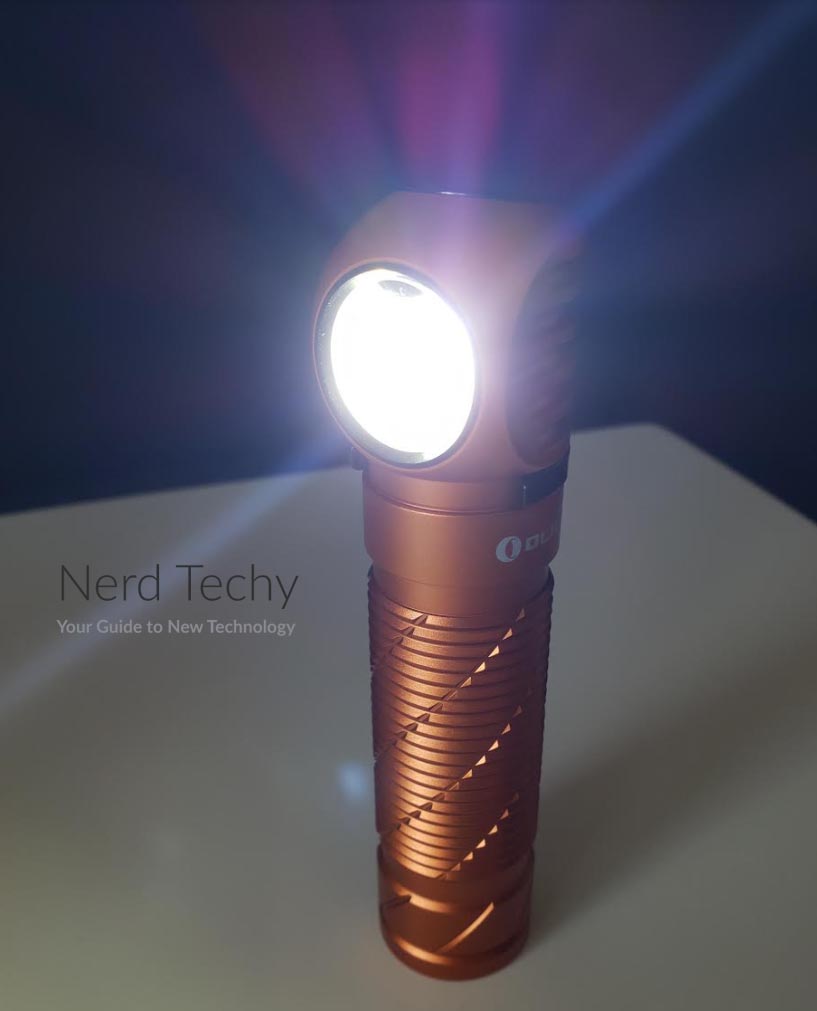 In total, there are five different brightness settings, which can be cycled by pressing the power button. The button is located on top of the light, and it's soft and rubbery. This makes it easy to operate with your thumb while holding the lens on its target. Here's a quick overview of the brightness levels, as well as what they're useful for:
2,500 lumens: This is the brightest setting, and is more than you'll need for most purposes. That said, it can cast a beam as far as 166 meters (544 feet). If you're searching a large area, you won't have any trouble with visibility.
500 lumens: This setting is similar to the "bright" setting on most adjustable flashlights. It's suitable for walking in pitch darkness or looking for your dog in the backyard. That said, it will drain your battery faster than lower settings.
120 lumens: This is a nice steady medium. It's perfect for looking under your hood, or for using around the house when the power is out. For most everyday purposes, 120 lumens is going to be your go-to setting.
30 lumens: 30 lumens is a little bit brighter than a night light. It's useful for reading in the darkness, or for providing a pleasant glow inside a tent. It's bright enough to walk with if you move slowly, and the dim light won't spoil your night vision.
5 lumens: 5 lumens is dimmer than your average home night light. You can use it for searching your immediate area in the dark without ruining your night vision. Beyond that limited purpose, it doesn't really serve many functions.
The Olight Perun 2 also has an SOS mode for emergency signaling. It does not have a strobe mode, which was an odd omission. Still, there's not much you can do with a strobe that you can't do with an SOS. They both allow you to signal for help. And at maximum brightness, it's hard to miss, even at a distance.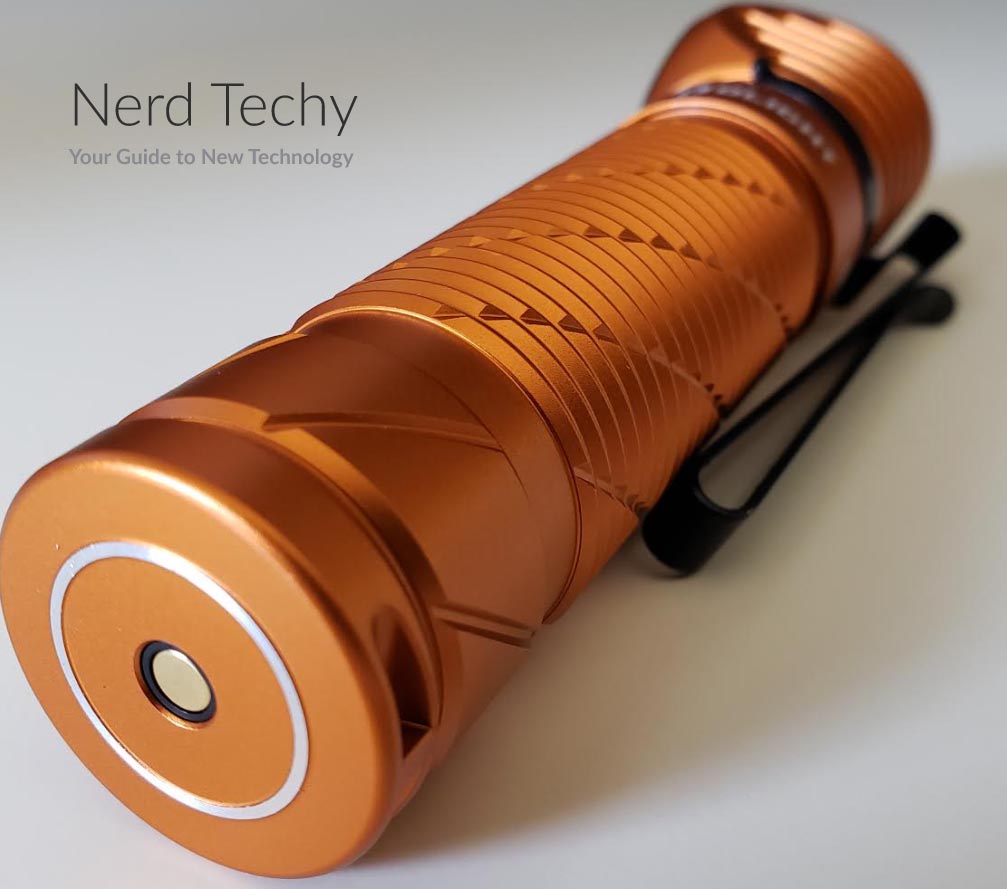 Battery & Charging
In their advertising for the Perun 2, Olight claims a battery life of up to 10 days. This is technically true, but it's a bit misleading. 10 days is the rated performance at the lowest brightness setting of five lumens. That's not a terribly useful measure of performance. At the other end of the scale, the brightest, 2,000-lumen setting will drain your battery in under three hours. Again, that's not an entirely fair measure. You're not likely to need that much light for more than a few minutes.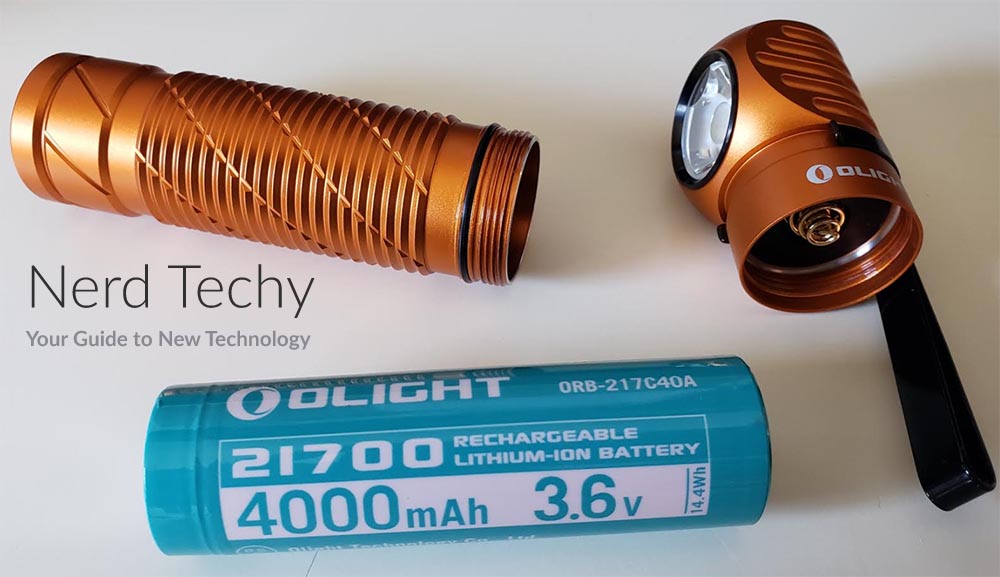 A more useful measurement is to look at the three middle settings. At 30 lumens, you get just under 48 hours of performance. That's more than enough for a weekend camping trip. Battery performance remains good at 120 lumens, with 15 hours of battery life. That will get you through a weekend power outage around the house. At 500 lumens, your battery life drops to four hours. That's still not bad, since 500 lumens shouldn't often be needed. If you need even longer performance, you can buy an additional 5,000mAh 21700 replacement batteries on Amazon.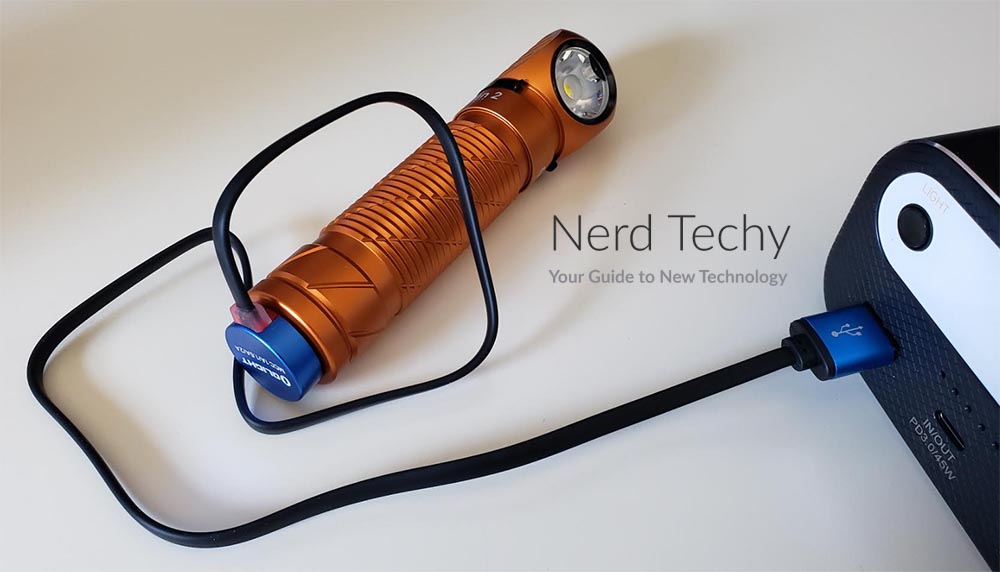 The internal battery charges very quickly, in about 90 minutes. A charging cable is included, and can be plugged into any USB port. However, the flashlight end of the cable has a proprietary tip. This was disappointing, since most rechargeable flashlights use Micro USB or USB Type-C. The Perun 2's proprietary cord means you'll need to buy from Olight if you ever need a replacement.
Extra Features
When you think of flashlights, you don't often think of "extra features." It's a flashlight, not some advanced technological gadget. That said, some flashlights do have excellent extra. On it, we've discussed the optional headlamp mount and the magnetic base. But there are other flashlights that take extra features to the next level. For instance, we recently reviewed the Tacklife KP200, which is a jump starter/flashlight combo unit. Admittedly, this is an unusual design. But it goes to show you that a flashlight doesn't have to be just a flashlight.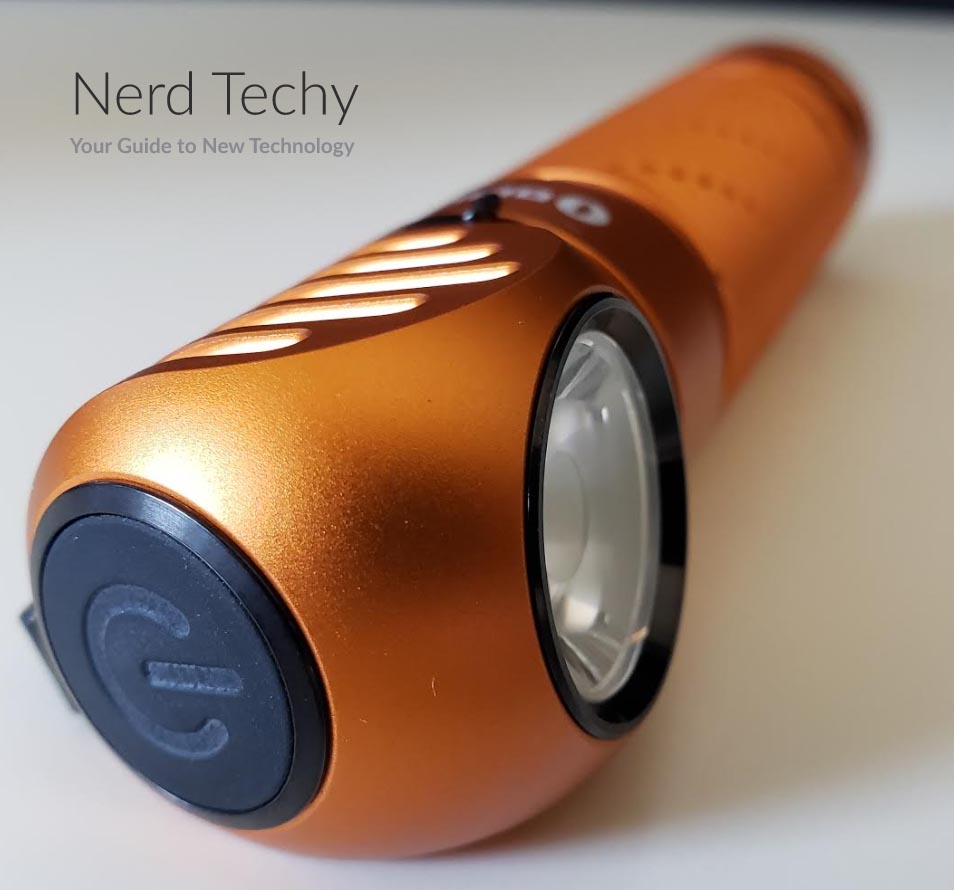 In point of fact, the Perun 2 is no slouch. It has a built-in infrared distance sensor that detects nearby objects. When it sees something, the brightness will automatically be reduced to the minimum. If there's no movement, it will then shut off after one minute. The point of this feature is to save batteries. If you stick your light in a bag, it's going to see nearby surfaces and dim, then shut off. If the light has dimmed accidentally, you can simply correct it. This is true even if you've dropped the light in the dark. You can still see it, because it doesn't immediately turn off all the way. This is a well thought-out safety feature that we much appreciated.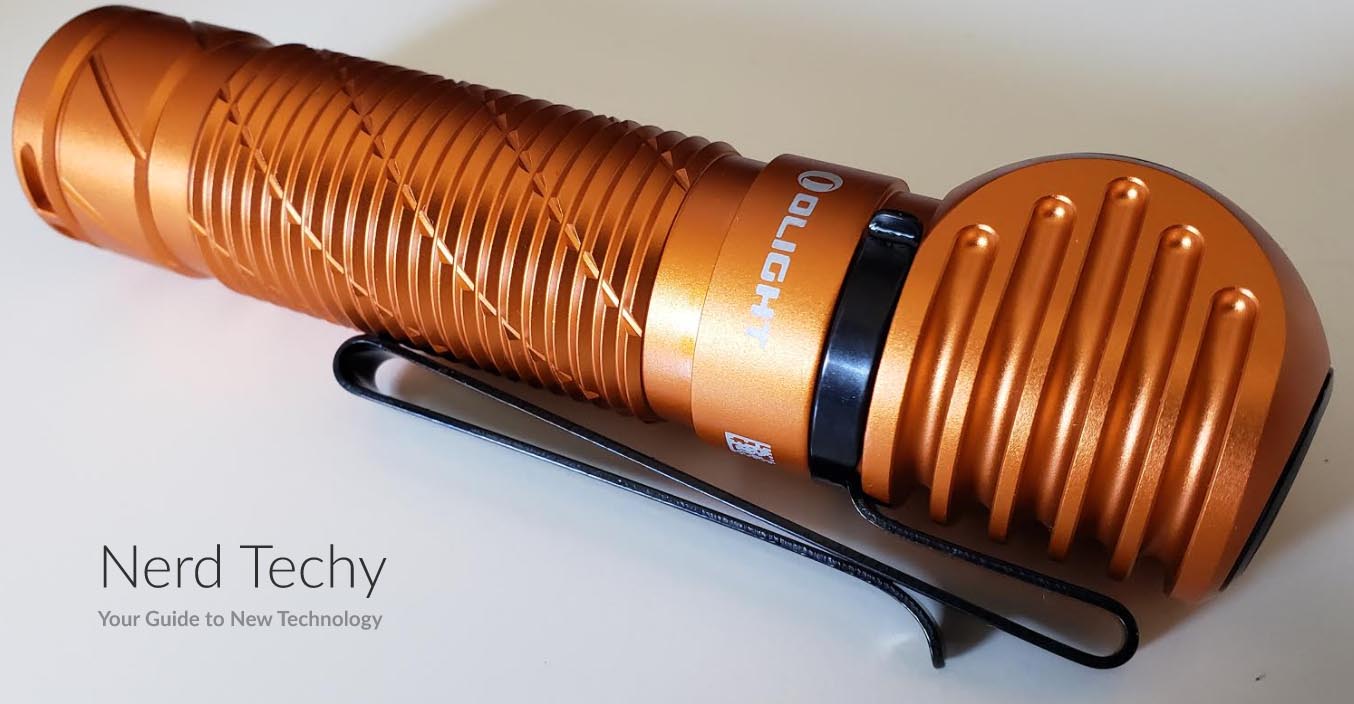 Final Verdict
So, is the Olight Perun 2 Multi-Functional Illumination Tool worth your time and money? For most purposes, yes! Let's start with the physical construction. It's small, but it's built like a brick, with a sturdy aluminum case and a well-textured grip. It's also waterproof, so you don't have to worry about using it in the rain or dropping it in a puddle. Not only that, but the design is versatile. With a magnet mount, clip, and optional headlamp mount, you can use the Perun 2 any way you like.
To be fair, we weren't big fans of the proprietary charging cable. But it does its job well and the battery life is reasonably long. Not only that, but the five brightness settings give you plenty of versatility. There aren't many lights this bright at this size, and we were impressed to see it. The auto-off safety feature is just the icing on an already-delicious cake.
Please consider sharing:
Note: At no extra cost to you, we may earn a commission for purchases using our links. Learn more.