Whether you're an active individual who enjoys venturing into the rugged side of mother nature, or just an everyday adventurer who enjoys the great outdoors, investing in a heavy duty, waterproof, shockproof, and crush-proof digital camera is a great idea. Standard digital cameras aren't built to withstand abuse, so it's important to find a rugged camera that's built with both durability and on-the-go functionality that can excel in the elements, but also deliver high quality photography.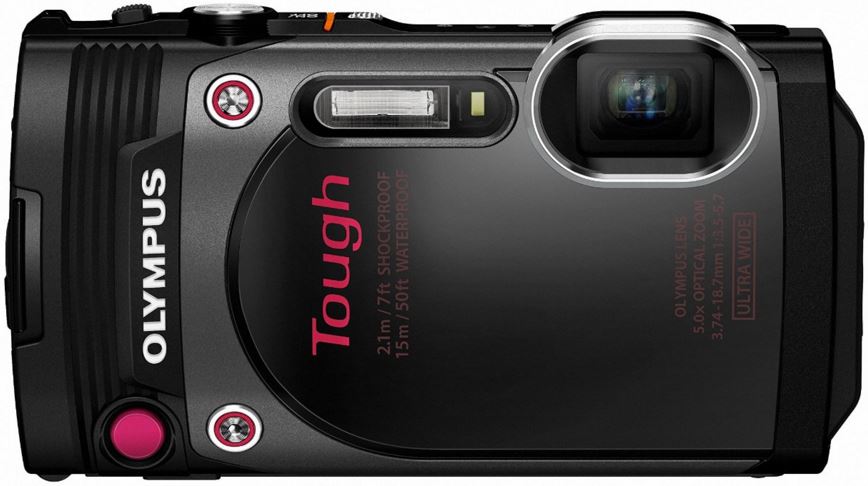 Recently announced and set to release in March 2016, the Olympus TG-870 Tough Waterproof Digital Camera is designed from the ground up to handle well in the outdoors, while delivering fantastic quality photos and videos.
Durability
You don't have to be a professional adventurer to see the benefit of having a tough digital camera. Electronics are often fragile, weak, and built in ways that just won't stand up to whatever you put them through. The Olympus TG-870 was designed to cater the active lifestyle through it's long lasting durability. Being completely dust-proof, waterproof up to 50 feet, crush-proof to 220 lbf, freeze-proof to 14 degrees Fahrenheit, and shockproof from a 7 foot fall, it's obvious that Olympus put a ton of thought into it's rugged design. As the perfect choice for surfers, bikers, hikers, climbers, or general outdoor enthusiasts, the tough design is a huge upgrade for those who are used to using a standard digital camera. You won't have to worry about it being fragile, or needing to "baby it" throughout the day so that it doesn't get wet, muddy, frozen, etc.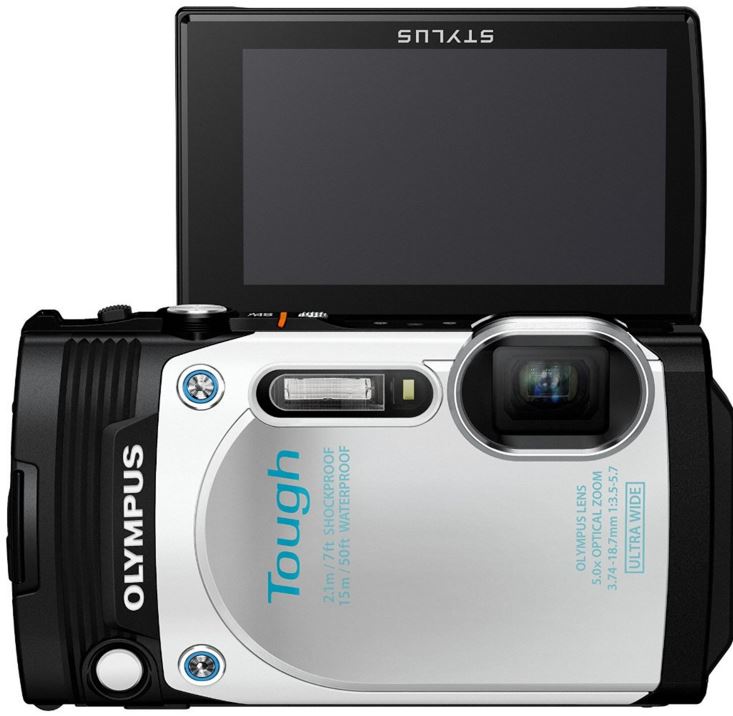 Sportcam Video Modes
With four different 1080p high definition video modes built in, you can record incredibly high quality footage that's specifically designed for fast paced environments. We all know how fast paced some action sports can be, Olympus did a great job incorporating these video modes so the footage is never blurry or grainy. These modes include:
60p Movie Mode – Ideal for smooth-motion in full high definition.
High Speed Movie Mode – Shoots slow motion movies at 120 or 240 frames per second.
Time Lapse Movie Mode – Compresses hours of footage into a short, viewable scene.
Sport Burst Mode – Shoots at custom time intervals.
Live Composite Mode
When you're out camping or enjoying mother nature at it's finest, you may encounter beautiful scenery that you don't want to miss out on. The stars in the night sky, city scapes, galaxies, and star trails are all fun and exciting to capture, but most cameras don't have the ability to capture exactly how it appears to the human eye. However, the live composite mode excels in this by extracting the bright areas from a sequence and compiling it into a beautiful image with perfect exposure.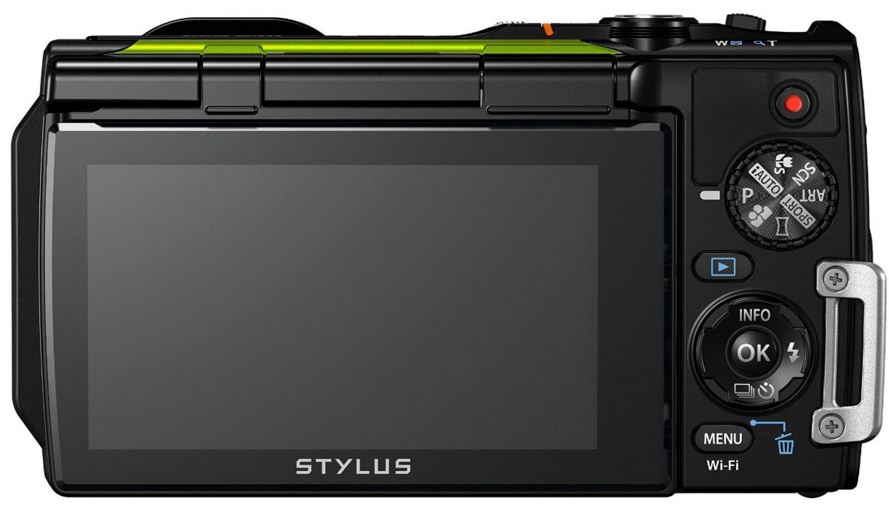 Ultra Wide Lens
With a 21 millimeter ultra wide angle lens, the Olympus TG-870 offers more viewing than the standard 28 millimeter lens that you'd find on other rugged digital cameras. This wide angle gives you the ability to capture more into your shot than before to bring back impressive panoramas from your adventures, or have enough viewing power to capture everyone in the scene of a group shot.
Flip LCD Monitor
Viewing the current frame or your photos and videos from the 3 inch LCD monitor is quite enjoyable and realistic since it's bright and easy to see. What's most unique is the screen's ability to flip 180 degrees so you can achieve the best viewing angle possible. It's the perfect solution for outdoor and underwater scenes where you may not have the best positioning available. Also, the flip LCD monitor makes capturing the perfect selfie.

Programmable Button
Located on the front side near the Olympus logo is a small round button that can be programmed to carry out whatever function you'd like. You can turn this button to trip the shutter or begin a video recording. You can even configure this button to turn on different modes (for macros or low light environments), brighten the screen, or even to turn on the flash to use as an emergency light.
Integrated WiFi
With WiFi built-in, the Olympus TG-870 can sync with the free Olympus Image Share app on your smartphone or tablet so you can control the camera without even touching it. Think of it as a way to turn your smartphone or tablet into a remote control that gives you full flexibility for wireless uploading, sharing, changing settings, or shooting remotely. Compatible with both iOS and Android devices, the app is easy to configure and setup, even with no prior experience. Simply search for it in the app store and install. Open it up and scan the QR code on your camera and you're connected, ready to go.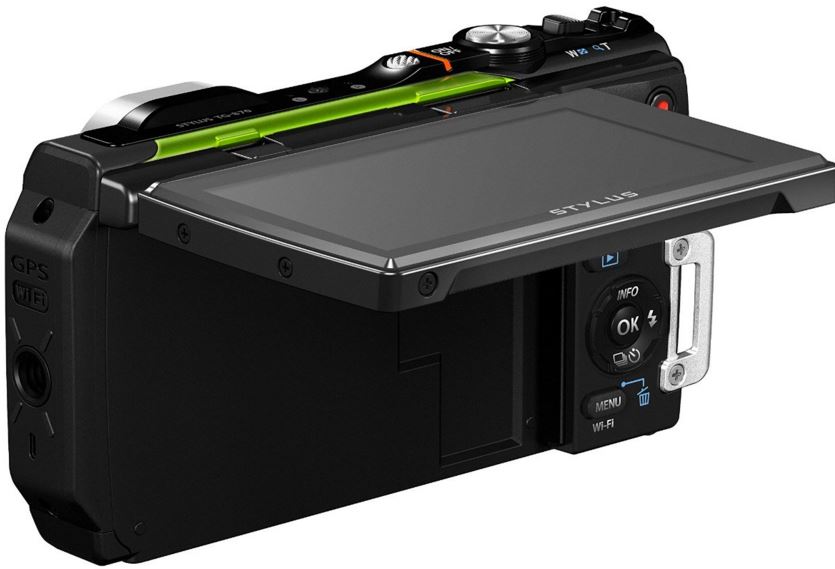 GPS
When you're outdoors on any adventure, you're often in places that may be obscure or really far out there. The integrated GPS feature will automatically establish your position in under ten seconds so you always know where you're located. Using the Olympus Image Share app, you can even view a live map of the area and pinpoint your exact location with the help of satellites in the sky. Additionally, you can set the camera to automatically tag each of your photos with the GPS coordinates. This way, when you look back on your photos and videos, you'll be able to see right where each one was shot.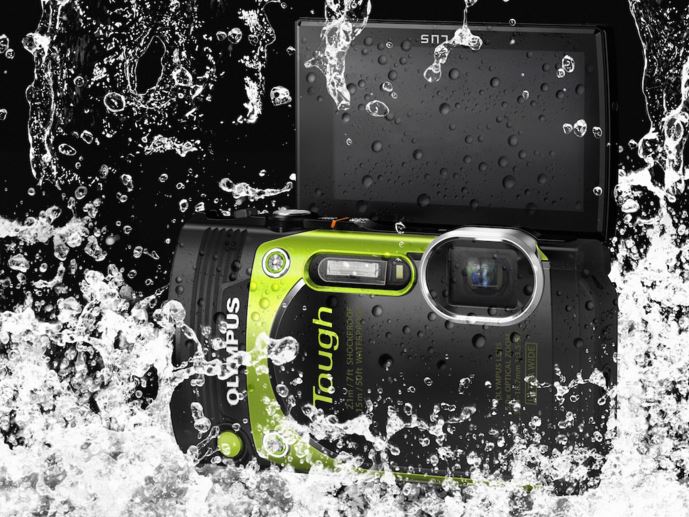 Final Thoughts
Even if you aren't the most adventurous person, the durability and ruggedness of the Olympus TG-870 Tough Waterproof Digital Camera can be appreciated by all. With the ability to withstand depths of 50 feet, temperatures down to 14 degrees Fahrenheit, and being able to withstand shock, dust, and all-around abuse, we feel that it's a great investment for anyone who wants to capture all of their adventures.
The wide angle 21 millimeter lens and multitude of shooting modes provide a wide range of abilities that most rugged cameras simply can't touch. Additionally, the integrated GPS and WiFi feature give it a fun advantage for capturing all of your favorite times in the great outdoors. Overall, we wouldn't hesitate to recommend the TG-870 to anyone looking for a leading, top of the line rugged digital camera from a reputable brand that's known for both quality and performance.