You may have a fast internet connection, but if you aren't equipped with a high quality WiFi router, you won't be able to experience true high speed wireless internet in your home or office. As one of the latest standards, AC2600 WiFi Routers provide exceptional features that make it possible for lag-free wireless high speed internet access that pairs well with gaming, HD video streaming, large file transfers, and quick downloads and uploads. Whether you're upgrading your current router or adding one to a new network, we highly recommend the AC2600 standard.
In the last few weeks we have taken it upon ourselves to research, test, and review the top rated AC2600 Wireless Routers for 2017-2018 that provide exceedingly fast speeds, easy setup, long range, and a slew of the latest technologies that pair well with those who have large homes, heavy traffic, or just a lot of network usage. Through our review, we've uncovered the best of the best that make a great investment for those who require or desire the latest wireless speeds and networking standards.
NETGEAR Nighthawk X4S – AC2600 Smart Wi-Fi Router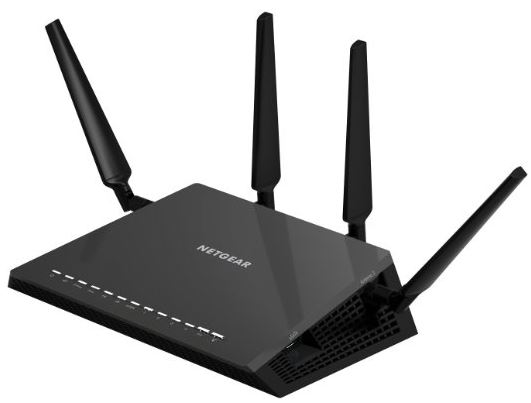 As one of the newest releases from NETGEAR, the Nighthawk X4S AC2600 Smart Wi-Fi Router is built with a vast assortment of high end features to keep your wireless internet connection fast, reliable, and secure at all times.
Powered by a super-fast 1.7 GHz dual core processor, you can achieve wireless transfer speeds up to 2.53 Gbps while utilizing the latest 160 MHz bandwidth to enjoy all of your favorite online activities without experiencing lag. Smoother video streaming, faster online gaming, and effortless file downloads can all be achieved.
Using the latest Quad Stream Wave2 WiFi paired with Multi-User MIMO, the wireless range excels where most routers may have a hard time keeping up. Ideal for multi-story large home or office work spaces, this router is built to handle a lot of connected devices at once. The four eternal antennas are also equipped with Beamforming+ in order to achieve a fantastic signal from a further distance with obstructions in the way.
Using the integrated Dynamic QoS feature, the NETGEAR Nighthawk X4S is constantly working to prioritize bandwidth to the processes and tasks that need it most. This way, when you're playing an intense online video game, the download in the background, or your wife in the other room watching 4k HD Netflix won't create any lag for you.
Download the free NETGEAR Genie App and you gain access to a user-friendly backend where you can control just about anything from your smartphone or computer. This enables you to configure settings, check network status, or closely monitor any activity from anywhere you may be.
Located on the back panel of the router are four Gigabit Ethernet ports for connecting wired devices. On the left side are two USB 3.0 ports, and on the right side is an eSATA port. These provide a great way to attach an external hard drive to create a network attached storage that's always ready for backups or transfers.
Compatible with both Mac, PC, and Linux.
Linksys AC2600 4 x 4 MU-MIMO Dual-Band Gigabit Router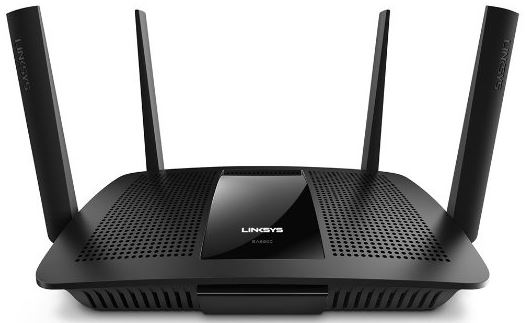 Built with a wealth of features that showcase high speeds and insane range, the Linksys AC2600 4 x 4 MU-MIMO Dual-Band Gigabit Router provides all that you'd ever want in a wireless router. With data speeds up to 2.53 Gbps, you'll likely never experience slow speeds while browsing the web, playing your favorite online game, or downloading large files.
With the integrated 4×4 Multi-User MIMO feature, there's plenty of bandwidth to go around for every device on your network. It's ideal for networks who constantly have multiple devices connected at the same time and are always demanding data. Unlike a traditional router, MU-MIMO gives each of your devices a dedicated signal so everyone in the house can obtain fast speeds without any hassle. In fact, it lets you play games, stream videos, and download large files at speeds that are up to 4.6 times faster than traditional WiFi.
Inside is a powerful 1.4 Ghz Qualcomm dual core processor that's always working to process and control a steady stream of data without any latency or lag issues.
Located on the back of the router are four Gigabit Ethernet ports, one USB 3.0 port, and one eSATA/USB 2.0 port that gives you the option to connect and share peripherals like printers, scanners, or fax machines over the network. Also, you can easily attach a hard drive to one of these ports and give your network a centralized storage or backup location.
Paired with powerful Beamforming technology that improves the wireless range substantially. Rather than sending out a strong WiFi signal in every single direction, the router will find the best, most appropriate path for the signal to be sent. It's an ideal feature for large homes or areas with a lot of walls or obstructions in the way that would otherwise become problematic.
Use the free Linksys Smart WiFi app on your smartphone or computer to remotely monitor, configure, and maintain your network, even if you aren't connected to it. Ideal for accessing your router from work or while on vacation.
Compatible with both Mac, PC, and Linux.
TP-LINK AC2600 Archer C2600 Wireless Gigabit Router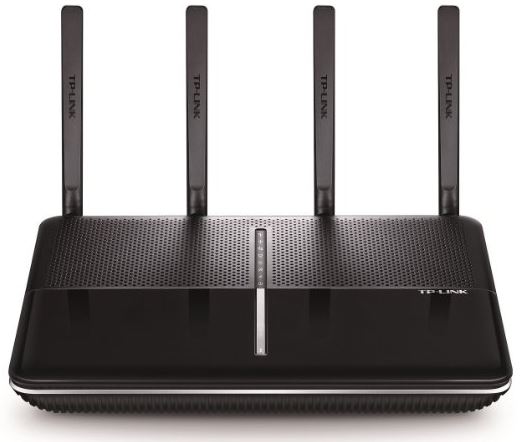 As a less expensive option than the other two routers we've mentioned, the TP-LINK AC2600 Archer C2600 Wireless Gigabit Router is a great choice who want exceptional speeds and total reliability without compromising on quality.
Paired with the latest 4-stream technology, you'll achieve wireless speeds up to 2.54 Gbps through dual channels for less wait time and more on-demand enjoyment. It's built to excel with 4k high definition streaming, online multiplayer gaming, large downloads, and heavy network traffic.
Inside is a powerful 1.4 GHz dual-core processor that's always working hard to make sure the status of your wireless network is available and sufficient for all devices in your household at once.
Ideal for larger homes with a lot of walls or multiple stories, there are four external antennas that are paired with high powered internal amplifiers to transmit and receive strong signals without interruption. This router also is equipped with Multi-User MIMO technology to give the best experience to every user on the network, no matter what they're doing.
Download the free Tether App by TP-LINK on your mobile device and you're given access to the backend of your network where you can adjust and configure settings to your liking.
With one of the most impressive warranties on the market, TP-LINK includes a 24 month (2 year) warranty period and unlimited 24/7 customer support if needed.
On the back side of the router are four Gigabit Ethernet ports along with dual USB 3.0 ports that make for a great way to attach an external hard drive, printer, all in one, etc.
Final Thoughts
As we become more connected to the digital world, the need for reliable high speed internet increases each day. The popular AC2600 standard is a great choice for those who want blazing fast speeds and don't want to compromise in quality. Capable of achieving speeds up to 2.53 Gbps, they're ideal for 4k video streaming, online gaming, and massive file downloads, the WiFi routers we've reviewed above all make great choices from an investment standpoint. If 2.53 Gbps isn't going to cut it and you're looking for a bit more, be sure to checkout our other review of the 5 Best AC3200 Routers for 2016-2017.
Overall, we feel that NETGEAR, Linksys, and TP-LINK have done a great job in harnessing the latest and greatest wireless networking technologies with these top of the line routers. Each one is paired with MU-MIMO, Beamforming, and packed with the latest security encryption right out of the box. Setup and configuration is easy too, since each one has a free mobile App that gives you full range on the controls and functionality when it's hooked up to your modem.