Choosing a good projector can be tricky. When you're picking a TV, you can basically grind the decision down to the resolution of the screen, and the size of the display. There are other important considerations as well, but you can end up with a great screen by following those simple guidelines.
When you're choosing a projector, there are far more significant variables involved. Are you hanging it from the ceiling? How far is it going to be from the wall? Will it always be in that position, or will you frequently move the projector? What's the right resolution relative to the most common screen sizes you're going to use, and to your viewing distance?
These are all basic questions, without getting into any of the gritty technical details. Suffice to say, the whole process can get complicated rather quickly. That potential for complexity is why some people turn to A/V experts to setup their projectors for them. Though projectors are almost inherently complicated devices, there are many that can simplify things for you.
Optoma LH150
The Optoma LH150 can be setup as a rear projector, front projector, ceiling mounted projector, or tabletop projector. And it certainly has the hardware to prove its worth. At the heart of its design is impressive Texas Instruments DLP technology, with a rich-color chip capable of tackling content in full HD 1080p.

The inclusion of large rechargeable battery adds an element of portability to the LH150. Virtually all projectors that include a similar battery are almost solely designed around that battery, as though it was their primary feature. By contrast, the LH150 is more like a stationary projector that incidentally has a battery inside.
Wireless smart features aren't missing, either. Optoma's HDCast Pro service allows you to mirror content from Windows, Mac, and Android devices into the LH150 across a wireless connection. You can load and share a presentation or movie from your smartphone with about two clicks of a button.
Build & Design
Though it's a full-sized projector, the Optoma LH150 is actually quite compact. It measures 11 x 7.5 x 2.25-inches, which is a lengthy but slim design. Unlike a television, you generally don't spend much time looking at the body of the projector itself. Consequently, many manufacturers make excellent projectors which just happen to be extremely ugly.

The LH150 is not one of those projectors. The matte black casing has an exceptionally distinctive style, clearly giving off the impression you're dealing with a high quality device. And keeping its lengthy body just under 5lbs allows the LH150 to live up to its claims of portability.
The backside of the projector has a large ventilation area, as well as a number of connection ports. Among them, two HDMI ports, one USB port intended for an optional Wi-Fi adapter, one USB port for the display, and a Bluetooth audio-out port.
Subtle venting hides away a pair of onboard speakers, and allows for the LH150 to blow fresh air at rates sufficient to cool down its powerful components. Along the topside, you'll also find some media control buttons. These buttons are neatly tucked along the right edge of the Optoma LH150. There's a total of six buttons and four arrow directional keys. Fairly standard stuff.
No Extra LEDs
One feature you won't find? LED indicators. Most projectors make use of small LED indicators to let you know if their bulb needs replacement, if there are any heating issues, and so forth. The Optoma LH150 is ready to assume that you're not totally incompetent.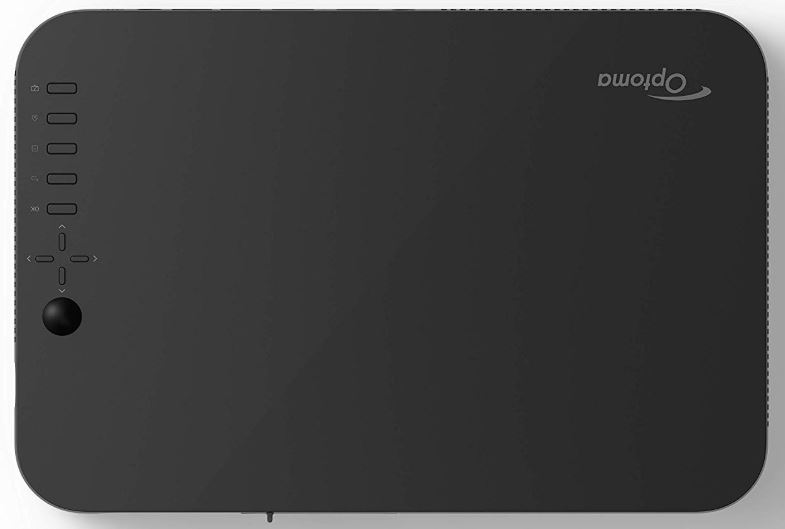 If you're thinking about using a powerful projector like the Optoma LH150, you probably place high value on video quality. You're probably already prepared to change the bulb after a few years, just because bulbs tend to lose brightness long before they die out.
Because those types of LEDs generally only go-off in doomsday scenarios, or after thousands of hours, they typically serve little purpose besides littering the face of a projector. If nothing else, not having those LEDs littered across its body helps add to the distinctive style of the LH150.
Lens Cover
The lens positioned along the right corner of its front face. It's adjacent to a sliding lens cover that can be manually retracted to protect the LH150 while it's not playing, and while it's being transported. The lens cover is rather discreet, and because it's a sliding cover, there's no opportunity to misplace it.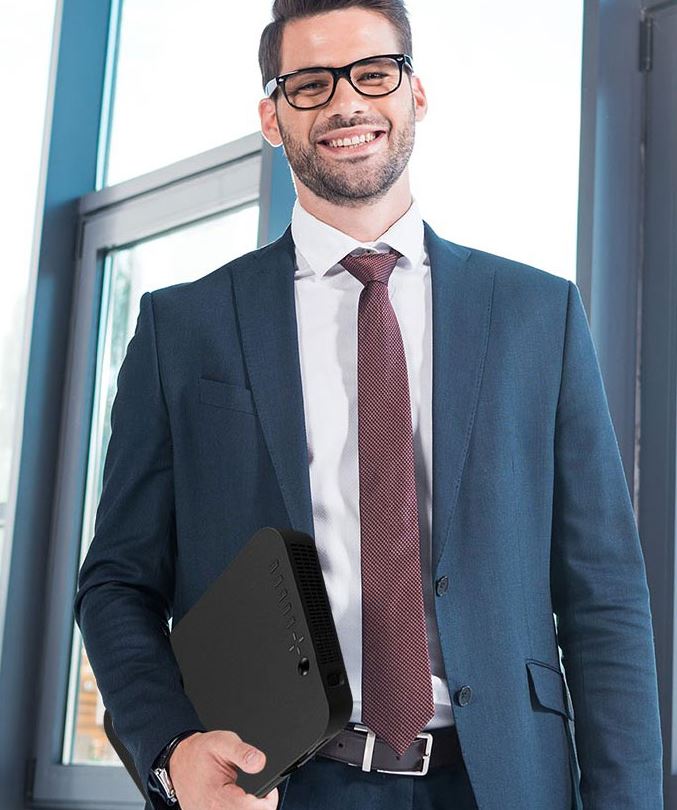 It may be worth noting that there is no locking mechanism to keep the cover in place. Though that would really only become an issue if the LH150 was poorly packed and handled, and even then, the problem would be solved with a piece of tape.
Resolution and Adaptability
A widely adjustable picture is the hallmark of any excellent projector. The LH150 can be adjusted ±30° vertically and ±20° horizontally. The supported 1.2:1 throw ratio offers an almost limitless number of options for setup. Supported screen sizes between 30" and 150" provide just as few limitations.
Though its native resolution is 1080p, the Optoma LH150 has wide compatibility with essentially any equal or lesser resolution format you can name. Most notably including VGA, SVGA, WXGA, SXGA, UXGA, HDTV, and WUXGA.
Achieving 1080p resolution on a projector is fairly impressive. But you have to keep in mind that screen resolution is only important relative to viewing distance. Enjoying 1080p is great, until you're standing 40-feet from the screen. At that point, there's essentially no difference between looking at a 1080p and 420p.
When you've taken the Optoma LH150 and adjusted the screen to 30", you'll find the optimal viewing distance for 1080p content will be about three to five feet from the image. When the LH150 is stretched to its maximum size of 150", the optimal viewing distance for 1080p content will be between 18ft and 25ft.
If you're further away than that, the image quality will be interchangeable with 720p. Conversely, if you wanted to be much closer than 18-feet at 150", you could get benefits from a 4K projector.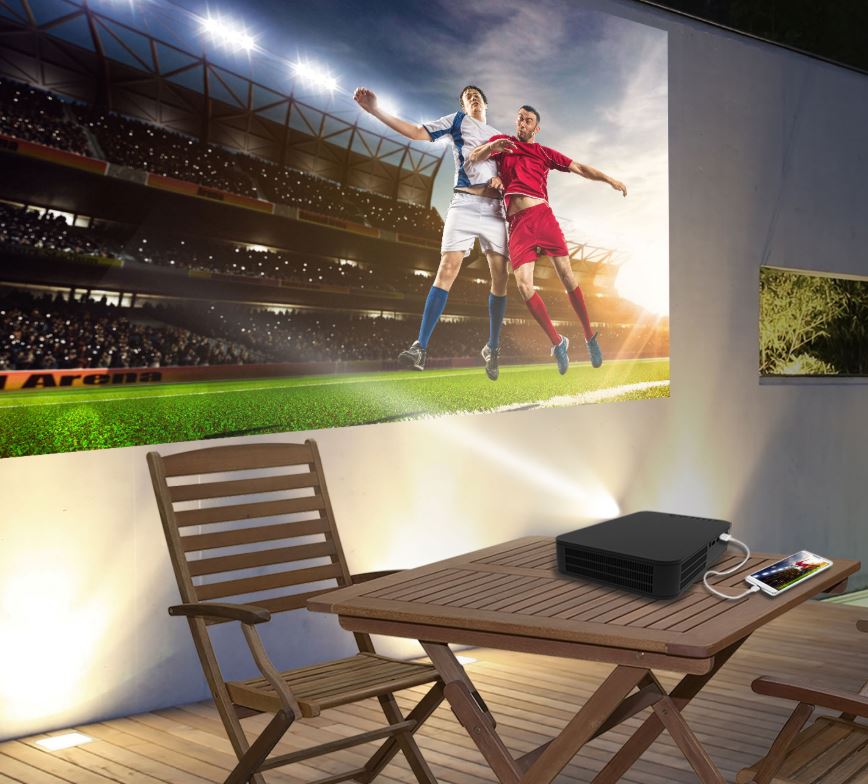 Color and Brightness
The LH150 and its LED bulb is expected to offer about 30,000 hrs. of performance in its lifetime. Its support for 16 million display colors means it closely matches the color vivacity of a computer monitor. Perhaps that's clearest in the 160,000:1 contrast ratio, making the LH150 quite is suitable for creating cinematic experiences.
The only significant limit to be aware of is the maximum brightness output. It's 1,300 lumens. As the contrast ratio will attest, that's bright enough for an enjoyable cinematic experience. But it's not bright enough to maintain those levels of excellence when the LH150 is dealing with embattled lighting conditions.
Provided that you can give this projector the darker spaces it needs to shine, then you'll almost certainly be impressed with its performance. But if you're unable to tame ambient lighting, you'll certainly suffer for it. Sub-par lighting conditions allow the presentation to remain functional, but ultimately unspectacular.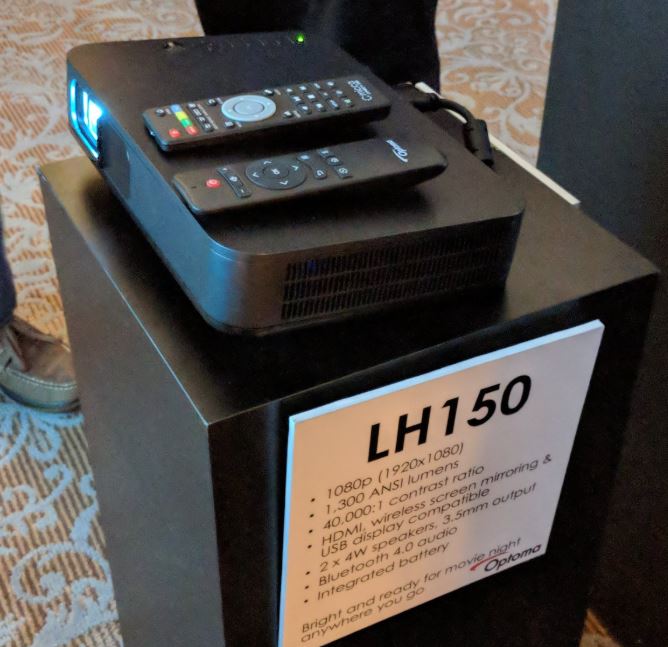 Battery Capacity
Wired operation is the primary mode of use for the Optoma LH150. Nevertheless, the LH150 is constructed with a massive 12,000mAh lithium ion battery. Its power consumption peak is roughly 75W while using its brightest display mode, or about 25W in eco-mode.
The eco-mode runs around 500 lumens, while the brightest mode allows for the full capacity of the projector to be used. In practical terms, this translates to roughly 2.5 hours of playtime for the eco-mode, and about 90-minutes of playtime for the brightest mode. And that allows you to squeeze quite a bit of life out of the battery, depending on your settings.
Audio Quality
The speakers you find within projectors have always been somewhat minimalistic. The Optoma LH150 is no exception to this rule. It uses a pair of 4-watt speakers, which allow this projector to marginally outperform the sound quality of a computer monitor.
While the onboard speakers offer a passable solution if you're in a pinch, almost anyone would be better off adding a Bluetooth speaker to this kit. Which does explain the existence of a Bluetooth speaker port on the backside of the Optoma LH150.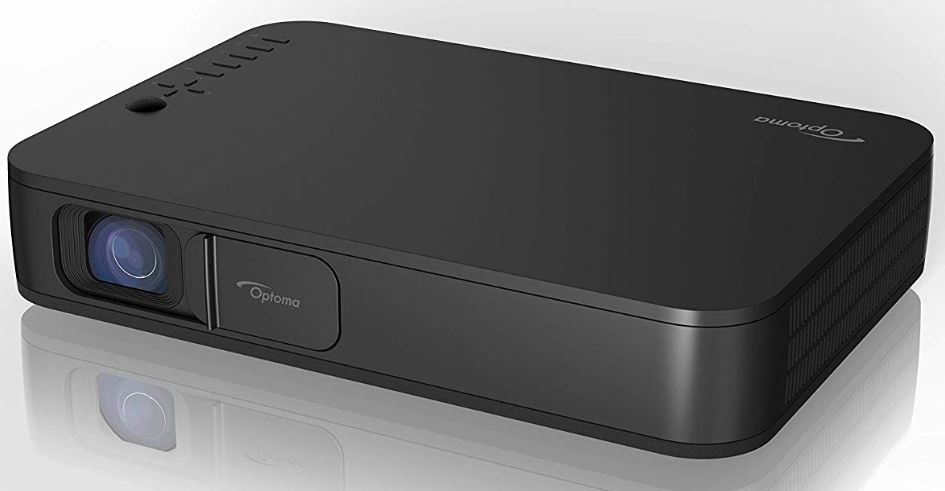 Included Remote
Optoma makes many projectors and many remotes. Sometimes their remotes are excellent, sometimes they seem carelessly designed. The LH150 uses a full-sized remote that provides extensive control options from a distance. It measures 6 x 3 x 1-inches, making it pretty close to a full-sized remote.
With respect to similar projector remotes, this remote is actually quite minimalistic. The topside offers volume and power buttons, and the bottom side gives you all the things you need to navigate on-screen menus. Because the interface isn't littered, your selection is narrowed to only the essentials. Though if you prefer a more fully-loaded remote to a simplistic one, Optoma does have several other compatible remotes that are worth a look.
Other Considerations
High portability is a great thing, but it also means higher vulnerability to theft. To counter that, the Optoma LH150 is constructed with Kensington locking port. Additionally, many projectors need breaks. Many are not intended to be run for more than a few hours in one sitting.
That can be problematic in many circumstances. But it's not an issue with LH150, which uses a low-heat design capable of lasting for 24-hours of continuous operation.
To its detriment, the Optoma LH150 puts out about 30dB of noise while under operation. Although 30dB is what you'd call faint sound, it's still audible in a quiet room.
Included Extras
The LH150 includes the necessary power supply, a remote control, batteries for the remote, a simple carrying case, and a quick start guide. The carrying case measures 12.5 x 4.5 x 9.2-inches and seals with a Velcro strap on its topside to create a pair of carrying handles.
Some optional accessories are not included. Among them, a USB Wi-Fi adapter, and an alternative power supply. But the LH150 does include a one-year warranty.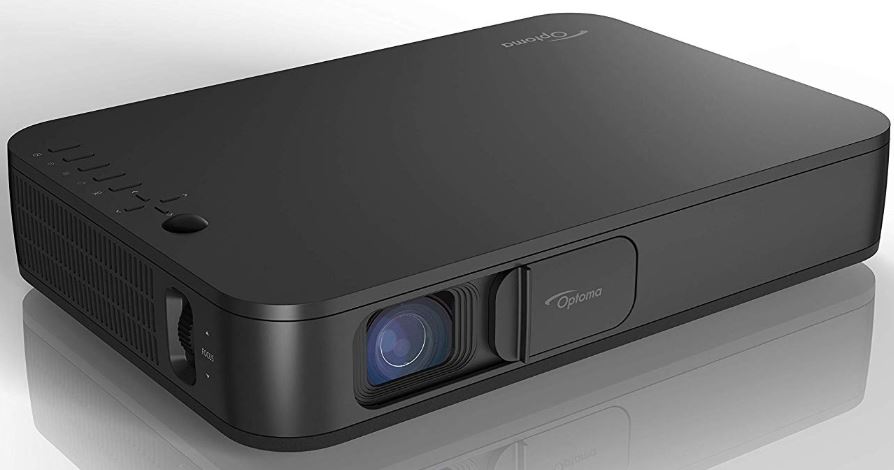 Who Should Choose the Optoma LH150?
While 1080p resolution has become trivial for desktop computers and televisions, it's a unique challenge for projectors. Among this particular category of equipment, the LH150 provides stunning performance. It's almost exactly as powerful as projectors with a fraction of the portability.
Even if you don't necessarily need portability from your projector, the Optoma LH150 doesn't rely on portability to make itself worthy of attention. It provides an extremely high quality cinematic experience that's fully capable of carefully emulating the experience of being inside a small movie theater.
If you know you'll be sitting the appropriate distance to enjoy 1080p content, and you're willing to pair it up with a pair of Bluetooth speakers, then you'll find Optoma LH150 has much to offer.