No matter what kind of music you enjoy the most, listening to it with a high-end pair of wireless headphones is one of the most desirable ways. However, one common problem is finding a top-quality pair that'll physically hold up well over time and still deliver clear, vibrant sounds while maintaining lasting comfort for hours on end. The truth of the matter is, the market is drastically overrun with cheap, gimmicky and low-quality earbuds that promise quality but simply fail to deliver.
If you're an individual who finds pure satisfaction in high-quality audio, you may have found yourself looking for an investment rather than a quick-buy at a low price point. There are plenty of headphones that are quite inexpensive, but if you're an audio-aficionado looking for lasting quality, you may have come across a specific pair that's worth looking into – the Optoma NuForce BE6i Bluetooth Headphones.
Note: At no extra cost to you, we may earn a commission for purchases using our links. Learn more.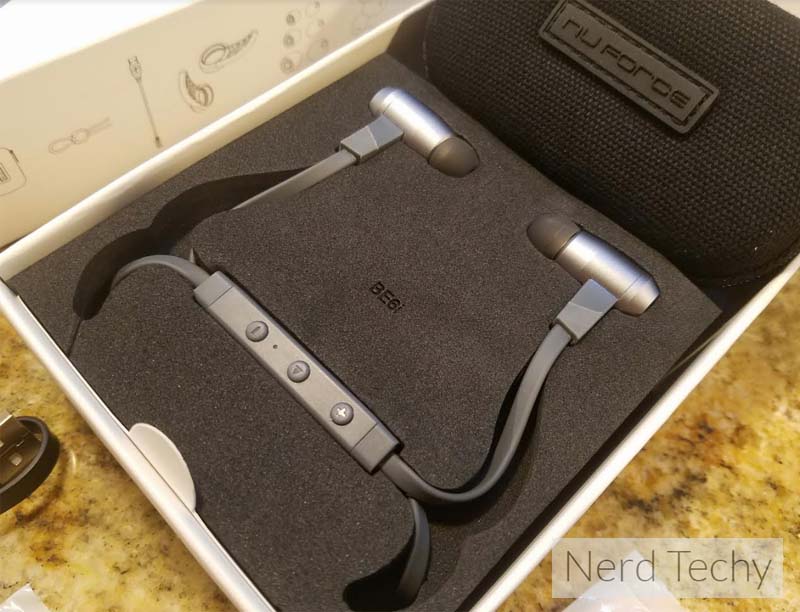 Optoma, a worldwide leader in audio, video and projection equipment for both business, professional and educational purposes, have created the NuForce sound range specifically for those that truly care about audio. Their latest release, the NuForce BE6i's are their most innovative fully-wireless earphones that utilize a wide range of impressive features to assure lasting durability and phenomenal audio quality. They offer an improved battery life, better durability, and an improved fit over their predecessor, the BE6's.
A couple of weeks ago, we were invited to test them out for ourselves and in-return we promised to write an in-depth, honest and thorough review of them. We're here to go over their features, give our true opinion, and determine whether or not they make a good investment for any high-end listener.
Unboxing
One the NuForce BE6i Earphones arrived, we were incredibly excited to unbox them and try them out for the first time. The packaging that they came in seemed to be well thought out and compact, although the box includes a few notable accessories that are worth mentioning. Along with the earphones themselves, there's a micro USB charging cable, silicon ear wings, a cord management clip, a zippered carrying case, three sizes of standard ear tips and two sizes of 'Comply' premium ear tips.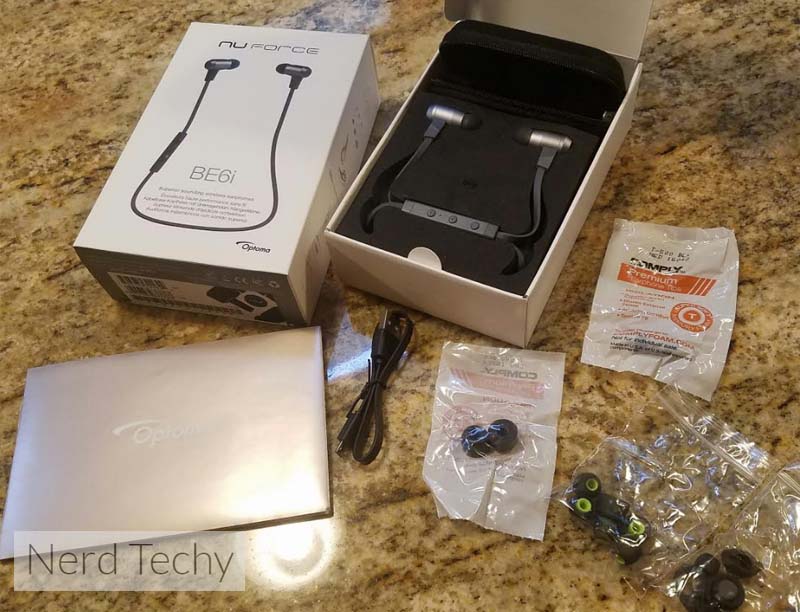 Comfort and Fit
Many manufacturers have the ability to produce high-end earphones that sound great, but if comfort is an afterthought, the proposed sound quality will drastically be affected in a negative way. If the earphones don't fit comfortably while you're wearing them, you won't get a good seal that'll naturally block out unwanted background noise.
This is why Optoma included a wide range of ear tips – so you can achieve a proper fit that'll go hand-in-hand with any high-quality listening experience. Each tip can be manually removed and replaced with a different size so that you're assured that they're not too tight or too lose. You'll want them to fit comfortably without causing any pain, but at the same time they'll need to fit snug.
Although there are three different sizes of standard ear tips, there are two sets of 'Comply' premium ear tips that we really fell in love with. They're made out of a memory-foam material that promotes true isolation and superior audio performance that blocks out external noises while assuring a secure and comfortable fit – even for several continuous hours. They seem to hold the shape of your ear canal much better than the standard silicone tips, although the standard tips are still quite sufficient. Best of all, both the 'Comply' and standard ear tips do a fantastic job at wicking away moisture and sweat that can accumulate over time.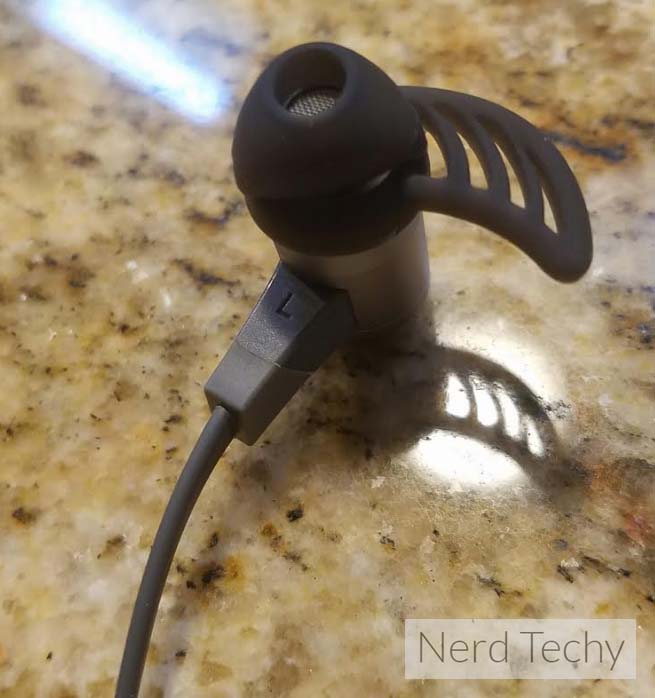 Next, you'll want to utilize the included ear wings. They attach between each ear piece and the tip you choose that fits best. The wings will naturally wedge within the crease of your inner-ear and keep them snug and in the proper position at all times.
After you achieve a proper fit, placing them around your neck and within your ears is easy to do. They should fit securely within your ear canals and lay around the backside of your neck with a small controller located on the cable that connects both ear pieces. This controller gives you the ability to control them with a few simple clicks – adjust the volume, skip tracks, pause, accept or reject calls, charge them and power them on or off. It also contains the charging input for the micro USB cable.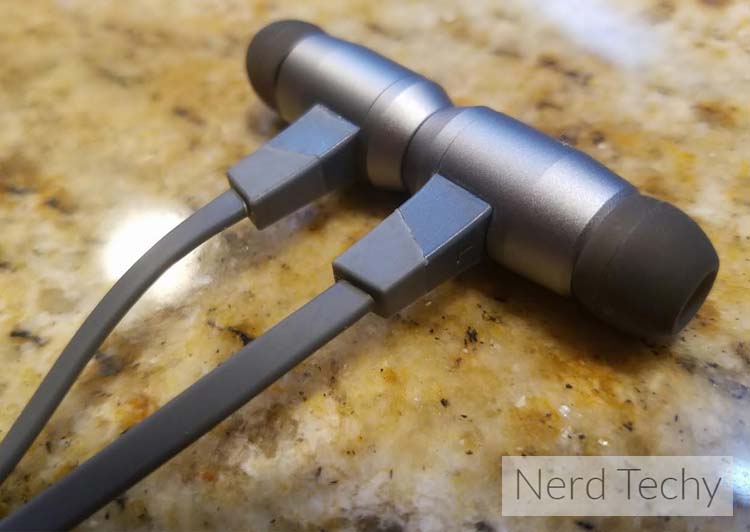 If you're taking a break from listening to music and you'd like to take them out of your ears for a while, the back-side of each ear piece has an integrated magnet. This keeps the earphones out of the way but still securely attached to you since they can be worn as a 'necklace' when not in use. This feature isn't something you'll commonly see – it's nice that Optoma went one step ahead and thought of how they'd be kept while not being used.
Design
Clearly, the Optoma NuForce BE6i's are built with a minimalistic, simple design that's ideal for anyone looking for a slim, lightweight and workout-ready pair of headphones. Each ear piece is made out of fully aluminum, solid metal casing that boasts a high-end, tough design that'll hold up incredibly well during any tough or rigorous workout. In fact, they're even rated to IPX5 standards, meaning that they're sealed to keep out moisture and dust particles that could otherwise compromise the inner-workings and render them useless if they got wet or dirty. This extra assurance goes a long way for the consumer, since most individuals will likely put them through a lot of use in outdoor environments.
Setup and Pairing
Since the NuForce BE6i's utilize Bluetooth technology to transmit fully wirelessly, the next step is to pair them to an audio source such as your iOS or Android powered smartphone or tablet. To do this, simply press the middle button on the controller for six seconds. At this time, they should blink red and blue, indicating that they're ready for pairing with the audio source. Next, go into the Bluetooth settings of your device and you should see "Optoma NuForce BE6i" on the list of available connections. Tap it and you're good to go. The earphones should now be paired and you can now enjoy listening.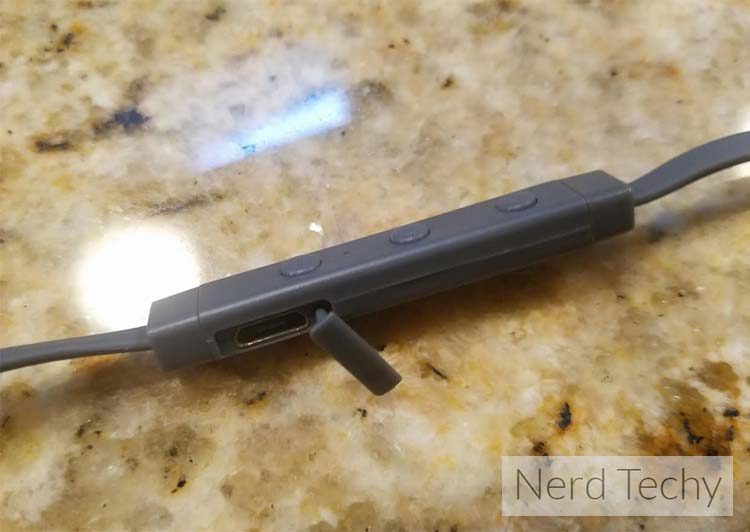 The setup and pairing process take a few minutes to complete, but once you have them paired, they should quickly automatically reconnect the next time you power them on. This is a fairly standard feature that lets you put them to use without any hassle.
Sound Quality
Arguably, the sound quality is likely the most important and crucial factor that should be taken into consideration. After all, high-end audio quality is that they're truly meant to be capable of. Before you make any presumptions or judgement about any set of headphones' quality, a proper fit needs to be achieved. We've previously discussed how to achieve a proper fit, so before fully testing them out, make sure that they fit well within your ears – snug and form fitting without any movement.
To sum it up, we were totally impressed with how the NuForce BE6i's sound. The clarity is simply amazing and we're not afraid to say that they're probably the nicest sounding set of wireless in-ear headphones that we've ever reviewed here on Nerd Techy. That's honestly not an exaggeration either.
Built with a patented 10 mm driver, they provide a wide range of volume with matching clarity that excels well with literally any genre of music. We thoroughly tested them while listening to rock, rap, country, hip hop, pop music and even classical tunes. Needless to say, they produce vibrant, true-to-life sounds with a hefty amount of realistic, deep-pumping bass. The driver is much larger and built better than most models, making them able to produce clearer sounds at higher volumes.
Thanks to the built-in aptX (digital audio data reduction technology) and AAC (advanced audio coding), the BE6i's sound exceptionally well even when there are others around. They do a great job at keeping out unwanted background noises so that you're more captivated by your music and less distracted by your surrounding environment.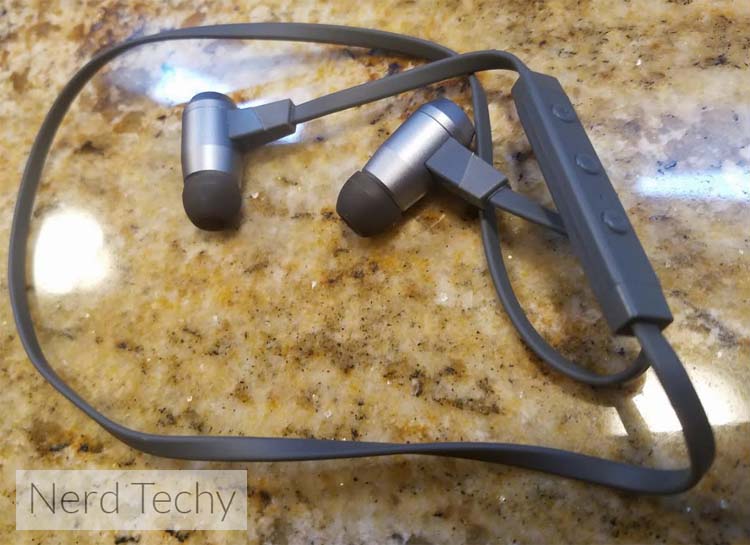 Battery Life
With any pair of wireless earphones, the battery life is a crucial component that needs to be taken into full consideration. The integrated battery is designed for all day use with up to 8 hours of playtime on a single charge. Whether you're listening to music, watching movies, making phone calls or playing video games, they're specifically designed with long lasting use in mind. The previously released NuForce BE6's held a 6 hour charge, so it's definitely nice to see that the BE6i's were given a bit more capacity for longer playtime between charges.
Wireless Range
As with battery life, the wireless range is another important factor that should always be looked at. Although most inexpensive or budget-friendly Bluetooth headphones have a standard 30 foot range, the BE6i's boast an impressive 98 foot range under ideal conditions. A wireless range of nearly 100 feet is quite extraordinary, especially considering that most individuals will likely never need to utilize this huge range for most scenarios.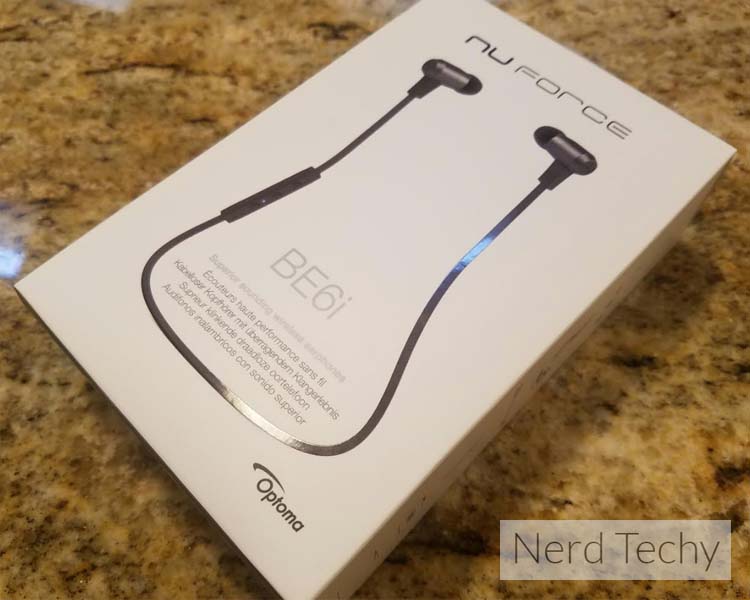 We put the range to the test and confirmed the truth. They worked just as well at 20 feet as they did at 90 feet. But this was with a 'line of sight' connection. When you begin to introduce walls, objects and other factors into the mix, the range can shorten a bit, but not too drastically. Even with two walls and a brick fireplace between the headphones and our iPhone, we experienced around 60 feet of range before any transmission issues occurred.
Final Thoughts
With high-end comfort and quality in mind, Optoma went above and beyond to make the Optoma NuForce BE6i's a 'stand-out' pair of fully wireless headphones that are worth considering. They excel with sound quality, just as well as they excel with lasting comfort. We were very impressed with how they feel, look and operate, but we were even more impressed with their improved battery life and massive wireless range.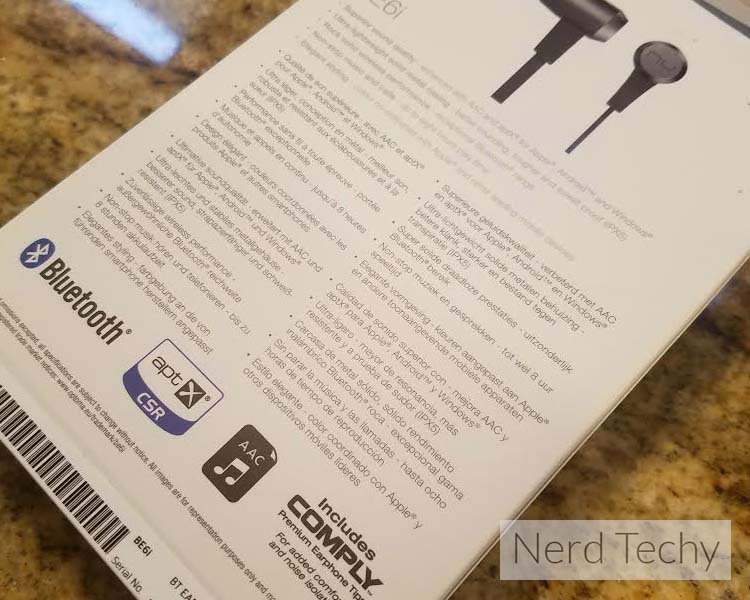 It's nice to see that Optoma includes a wide range of ear tips and wings so that listeners can achieve a proper fit without any hassles. Adjusting them to your precise requirements only takes a few minutes, as does the initial setup process. Best of all, they offer dual device connectivity that lets you simultaneously pair two devices so you can share playlists or play tracks from multiple audio sources.
They're clearly made for comfort and audio quality, but specifically designed with the active individual in mind. Their IPX5 rating gives them an upper-hand in durability and assures that they'll work well for any active lifestyle or individual that loves to listen to music while working out. It's truly difficult to find anything 'bad' or 'wrong' with them. Every feature that's been implemented into them seems to work incredibly well, making them a fabulous choice for anyone looking to improve their listening experience while remaining as minimalistic as possible.
Please consider sharing:
Note: At no extra cost to you, we may earn a commission for purchases using our links. Learn more.