If you're looking for one piece of equipment that will transform your home theater system into an audio safe haven, look no further than the newest lineup of 7.2 channel AV receivers available today. They're especially valuable in making the most out of high quality speakers and subwoofers that are quite powerful and versatile on their own. Additionally, relieving the stress on coordinating complex 3D and surround audio and amplifying sound performance.
Basing the standard of performance on the latest 5.1 stereo receivers is a tall order, as the addition of two surround channels and an extra sub channel likely isn't on the mind of most consumers today. However, this will likely become more prominent in coming years.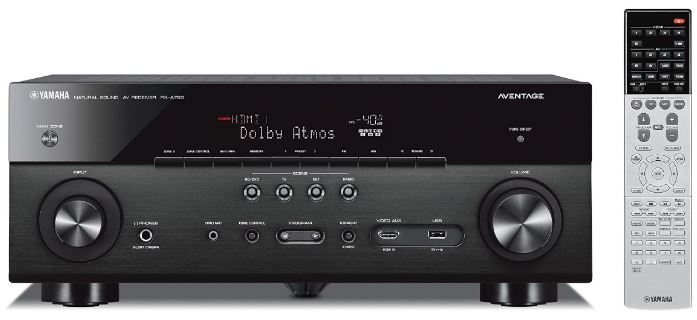 Beyond performance, any high quality receiver will also deliver ease of use. Particularly offering more opportunities to enjoy your home theater system and use of all of your favorite media with ease. As economy is a critical factor when considering any electronic device, we're also going to rate it on its overall price and total cost of ownership. Also, as well as its durability and appearance as these are both important aspects. In this review, we're going to provide you with a clear analysis on each of the Yamaha RX-A760BL's main qualities and features.
4K Ultra HD Video with High Dynamic Range
It's worth mentioning this feature first, since the latest video game consoles and Blu-ray players must be supported in order to achieve a state of the art home theater arrangement. The RX-A760BL includes 5 HDMI inputs and one output that are all HDCP 2.2 compatible, which is a legal standard for video devices which prevents illegal copying, and would otherwise limit the media that you can enjoy.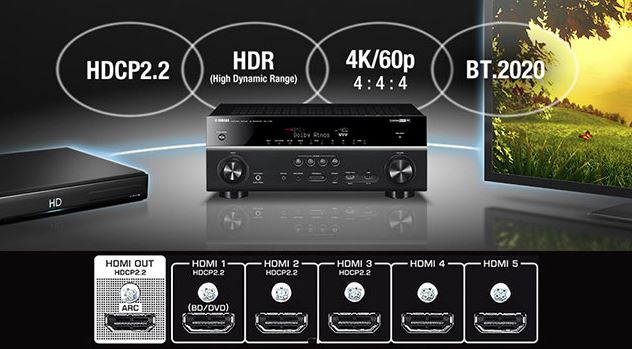 One major aspect of any new video equipment is the ability to process 4K Ultra HD video with full pass through, meaning a perfect reproduction of video. This AV receiver actually offers 4K Ultra HD upscaling. This is so that even when watching low resolution video, the image is scaled to the appropriate size of your screen and is presented accurately with the enormous amount of otherwise unused pixels.
It also supports BT.2020, which is a standard that determines the available color palette and depth, as well as frame rate required to produce true 4K Ultra HD video. Because this is just a recommendation and many AV receivers don't necessarily abide by it, this is an economic as well as performance advantage. It's ahead of the curve and ensures a longer lifespan at top of the line video quality.
Versatile Connection Options Including Bluetooth and Phonograph
Video is a fairly straightforward, hit or miss feature, but the same strict requirements apply to each audio feature as well. Before we get into the real meat in this area, we're going to lay out the audio connection capabilities of the RX-A760BL to show you the media that it supports, and how easy it is to use them.

WiFi, Bluetooth and Yamaha AV Controller App
For starters, using the built in WiFi, you have access to a wide network of streaming services including AirPlay, Pandora, Rhapsody, Spotify, Sirius XM and Internet Radio. Yamaha has developed and continues to support their own AV Controller App which you can use by connecting your smart phone or tablet to the RX-A760BL, and it provides a host of useful features.
First, you can adjust the volume and power levels very easily. You can also change between the available inputs, even switching between internet radio stations, USB devices and the integrated AM/FM radio receiver antenna frequency tuning. There's even a built in Music Play feature that allows you to stream audio directly from your smartphone or tablet over a Bluetooth connection for higher audio transmission quality.
MusicCast and Wireless Direct
Most media today utilizes only 5 channels of speaker sound. Even though this is starting to shift more toward the prevalence of 7 speaker channels, a 7.2 channel AV receiver with features like MusicCast can offer immediate benefits all around.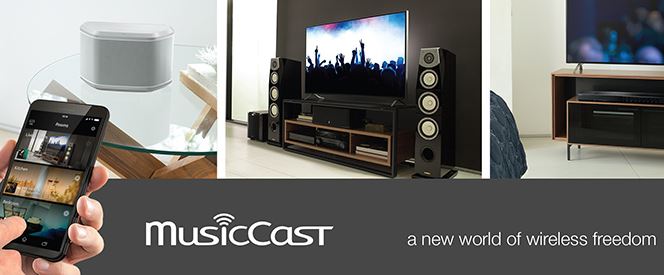 What MusicCast does is wirelessly connect speakers anywhere in your house. It's complemented by the ease of use of the AV Controller App that allows you to enjoy beautifully amplified audio with versatile speaker setup options.
With two audio zones, the RX-A760BL allows you to listen to two different audios simultaneously in different rooms, however the video input only has one channel. It also includes wireless direct, which creates a WiFi station in case you don't have a wireless router in your home, bypassing that requirement and providing seamless wireless access.
Extra Features
Using some insight and imagination, Yamaha has also included a phonograph input so that you can enjoy the natural sound of vinyl like never before in your home, by taking advantage of its amplification capabilities discussed below.
7.2 Audio Amplification Channels
Just because an AV receiver includes 7 speaker channels and two sub channels, it doesn't forego their performance quality standard for each channel. Yamaha has introduced some unique and useful technologies with their range of AVENTAGE AV receivers, including an A.R.T. wedge. This is basically a fifth support leg to support high frequencies without it altering the quality of sound output.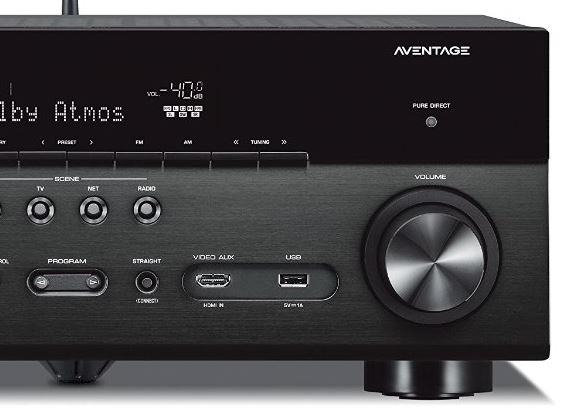 There's also an aluminum front panel that while it's designed to be aesthetically pleasing. It also blocks unseen electronic radiation from altering the performance of its internal circuitry. That being said, it's also capable of reproducing high resolution audio on all channels from any source, including USB, WiFi and Bluetooth, due to its support of the following high performance codecs:
Dolby True HD
DTS-HD Master Audio
DSD
AIFF
FLAC
WAV
Apple Lossless
Dolby Atmos and DTS:X 5.1.2 Channel Surround Sound Processing
We've discussed the inherent benefits of 7.2 channels for multi-room wireless speaker setups, but we've only scratched the surface of this AV receivers' audio capabilities. While many albeit much more expensive 7.2 channel receivers offer 3D and surround sound on all channels for a complete, single room setup, the RX-A760BL offers more flexibility yet also advanced performance for a complete home theater speaker setup.
Dolby Atmos 5.1.2 uses Dolby True HD audio data to deliver high resolution sound that's integrated into your speaker setup to create movable 3D audio objects. The result being a more realistic and exhilarating home theater experience. DTS:X is another overhead surround sound and complements Dolby Atmos to provide access to superior surround sound, depending on which codec your media uses.
These both utilize the 5.1.2 channel capability, allowing you to use five speakers and one sub, meanwhile allocating two speakers and a sub to another room, with the option of using two additional ceiling speakers for advanced 3D surround sound effects. As you'll discover below, Yamaha overcomes the limitation of one sub per room with high quality bass, as well as the option of using any two Dolby Atmos enabled, upward firing speakers for a complete 7 speaker setup.

Advanced YPAO Audio Optimization and Enhanced Bass Technology
When looking at its price, the RX-A760BL may seem to be at a disadvantage without the use of two subs in a single room. However, this is dwarfed by its superior additional sound quality enhancing technologies.
Digital Sound Processing Features
For starters, a Virtual Presence feature is included which provides digital sound processing to make it seem as though the sound coming from your front and center speakers is actually resonating from realistic places in 3D space. If you don't have access to surround speakers, especially ones facing you from behind, you can utilize the Virtual Surround Back feature. At the press of a button, it will play enhanced, surround sound-like audio from any back speaker you're using.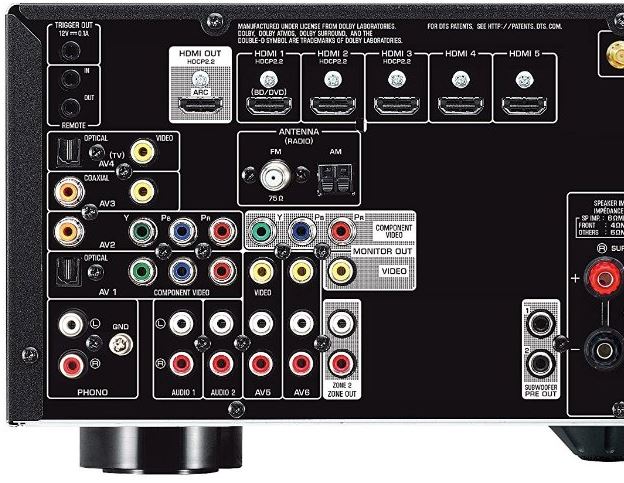 Room Audio Distortion Correction via YPAO Reflected Sound Control
The positioning of your speakers is rather obvious, but the room you're in isn't. Small things like physical objects and the characteristics of each speaker you use aren't, and can lead to distortion of sound as it reverberates through your home theater. What YPAO does is discover the areas of any room where sound resonates and reflects, as well as the audio capabilities of your speakers and subs, to create an optimized soundscape. It does this with a versatility of optimizing for 8 different listening positions in the room.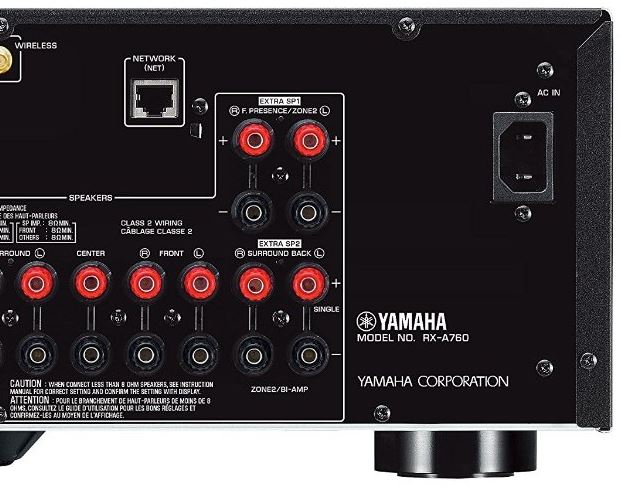 Rich Bass Reproduction
One major reason that one sub per room doesn't come at a disadvantage is that the Yamaha RX-A760BL will actually make your subs more capable of performing than they would be without it. All you do is simply switch on the 'Extra Bass' function. It will not only extend the low frequency range, volume and bass quality of your sub, but will also create a balanced demand for bass in your speakers. This not only results in extra bass from additional outputs, but also a more realistic reproduction of ambient low frequency sound throughout your entire home theater system.
Final Thoughts
Any new AV receiver should be looked at as an investment that should last for years to come. The Yamaha RX-A760BL is a great choice for those looking for state of the art performance with a wide array of advanced features that let you take full advantage of the latest in high-end video technology.