Projectors have countless advantages over TVs. For setting up a home theater, a projector allows your screen to be essentially as large as your wall. The resulting picture puts even giant TVs to shame. And size helps you see more detail. Even with standard 1080p resolution, you're not going to be able to visually capture every part of a frame while watching an ordinary TV with an ordinary viewing distance.
The reason people still head out to movie theaters is because giant screens are immersive, and you only have to see them once to understand why. Some movies are made specifically to be seen in theater-like conditions. And enjoying those movies as they were intended to be seen is tough to do without a good projector.
On the other hand, TVs are getting better than ever. Even a middle-of-the-road 4K TV is going to fully loaded with half-a-dozen modern different performance features. Projector technology has been lagging behind for some time, and leaving some consumers feeling like they had to use last-generations technology to bring the cinematic experience to their homes.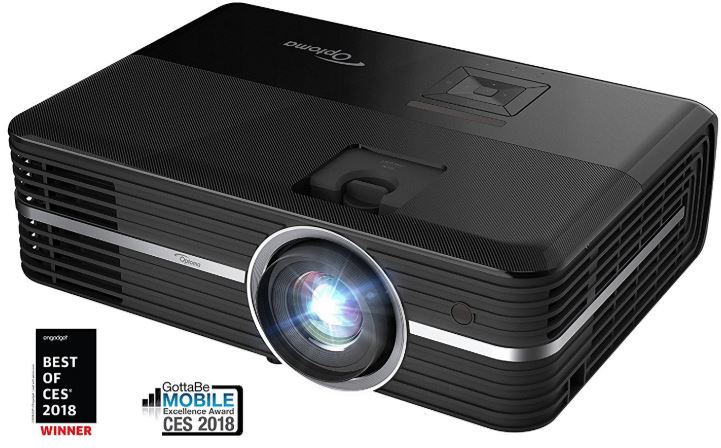 Optoma UHD51A
The Optoma UHD51A is a fully modernized projector with essentially every feature you want. What it brings to the table is essentially all of the latest and greatest improvements and technology standards to video quality. It has things that might ordinary sway you into choosing a TV over a projector, like high dynamic range (HDR), 4K UHD resolution, and a wide gamut of vivid colors. And it has the same voice-assistant and streaming power that you'd find on a modern smart TV. Combined with every advantage that you use a projector for in the first place, the Optoma UHD51A has plenty to offer.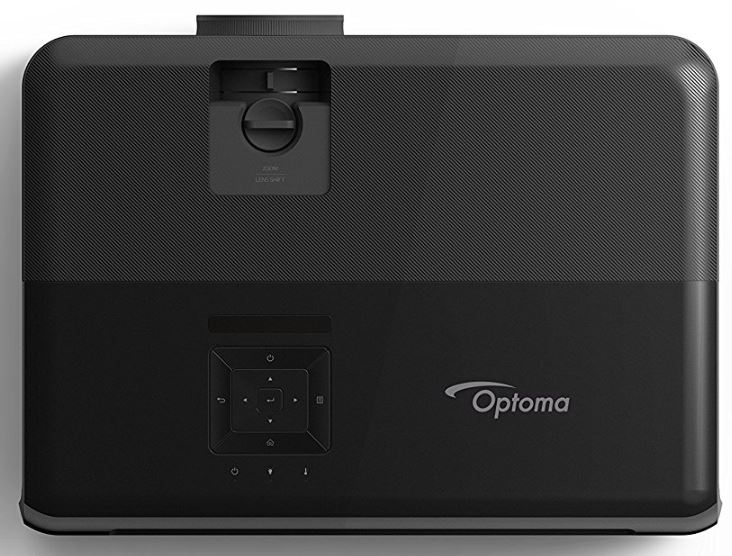 Build & Design
One of the many advantages of projectors is they're easier on the eyes. That's reflected in the 2,400 lumen rating of the UHD51A's bulb. The first thing you'll notice about the physical device is its unassuming, professional looking body. The projector itself is built to 5.1 x 15.4 x 11.1-inches, and weighs just short of 12 pounds. That makes the Optoma UHD51A much easier to mount and manage than comparable TVs, and far easier to place in a room than any comparable device.
Holding it in your hands, the build quality of the UHD51A isn't going to blow you away. The outside is a mostly an unimpressive plastic material, but fortunately the cheap of holding the UHD51A isn't reflected in the aesthetic of the device. And it's certainly not reflected in its features. Just be prepared with the knowledge that the UHD51A isn't designed to be dropped from 10 feet, slammed around in the back of a vehicle, or otherwise built to take abuse.
Internally, the UHD51A runs at 317 watts at max power. Under ordinary conditions it uses closer to half of that wattage, and still somewhat lower than the energy used by comparable televisions. For power-conscientious people, Optoma included an eco-mode, greatly reducing power consumption mostly at the expense of brightness. The eco-mode also makes the already-quiet UHD51A drop down towards 25db, which makes it virtually impossible to hear while playing.

Ports
On the back of the projector, you'll find a pair of HDMI 2.0 inputs. Both inputs supporting HDCP 2.2 for full 18Gbps speed, which makes the Optoma UHD51A well equipped for 4K throughput. You'll also find cables more suitable for 1080p content, like a VGA-in port. Standard 3.5mm audio jacks are present, as well as SDPIF for high resolution audio.
The rest of the ports are essentials. There's four USB-A ports, one intended for Alexa, one for a Wi-Fi card, one for USB streaming services, and one USB service port. There's also RS232 port, RJ-45 Ethernet port, and the standard power plug. While that mess of connections and ports makes for a visually confusing nightmare, Optoma does their best to make the location and labeling of each port as manageable as possible. Once you get things set up, everything gets easier from there.

Ease of Use
When you're not using a remote, you'll find the topside controls are easy to navigate. As you may have heard, the UHD51A operates with a built-in 4K UHD media player. That player is based on the Android OS, making it instantly recognizable and usable by anyone who's ever operated an Android phone.
But what takes ease of use over the top is full integration with Alexa Smart Home. Using the Optoma is easy because of Alexa's intuitive voice control, and the wide range of commands that you can issue without ever having to physically touch the device. You can power on and off your home theater with your voice, adjust the volume, switch sources, and even change settings in your media player. Taking control is easy once you know all the voice commands, and you'll never have to worry about losing a remote.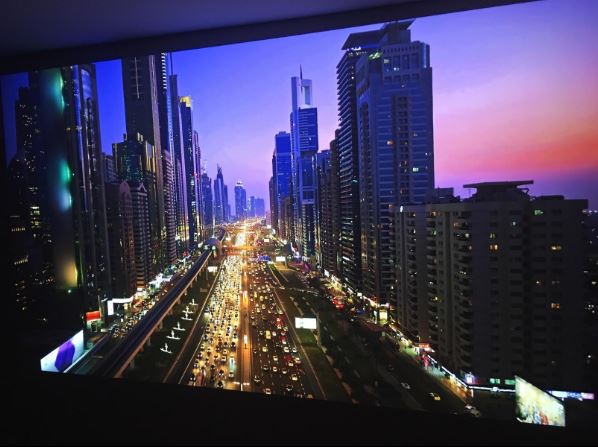 Image Quality
The UHD51A provides native 4K HDR video playback. Simply insert a flash drive with your 4K content, launch the media player, and select the file you want. It has fully backwards compatibility for older video resolutions, and is nothing short of excellent at upscaling 1080p content. Once playing, you'll find the Optoma's use of PureMotion technology smooths out the image for stutter-free videos. The 4K resolution is razor sharp, and made better with the inclusion of the DCI-P3 color gamut.
Optoma building around DCI-P3 is excellent for movie fanatics. If you're not familiar with the standard, it's the RGB color space selected for projecting digital movies by the US film industry. In other words, it allows you to see things as artists intended you to see them, and as they're supposed to appear in theaters.
And the UHD51A keeps up with modern standards by supporting HDR10. The HDR works great, especially when you're playing games. There are several competing standards to HDR10, most notably Dolby Vision. But for the time being, HDR10 has far more content available than any of its competitors. Beyond that, you'll find more cabling and gear being built for HDR10.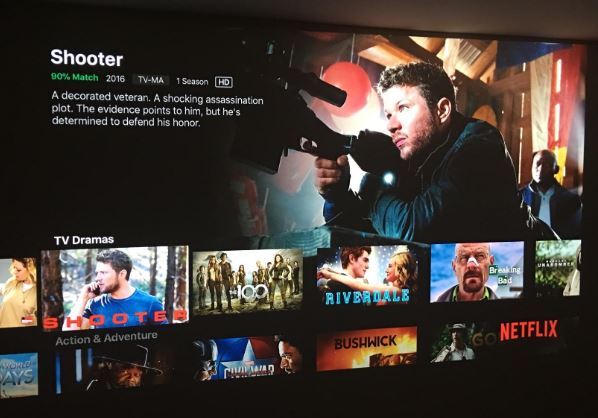 Even More Image Quality
Contrast on projectors is tough because they depend more on room being dark. A modern TV can be built with a number of individualized brightness zones. Being able to shoot up the whiteness of whites allows for darker colors to seem deeper by contrast. That's how you end up with exaggeratedly large contrast ratios, not unlike the 50,000:1 contrast ratio boasted by the Optoma UHD51A.
But to maximize image quality, you should understand that you'll need good theater conditions for optimal viewing. The 2,400 lumen output of this bulb means you're not going to get great images in a well-lit room. How much contrast you're capable of achieving is more or less determined by the brightness of your room as well.
As if the Optoma UHD51A didn't already have enough added features, it includes Blue-ray 3D support. You'll need 3D glasses, a Blue-ray 3D player, and 3D content. But once you've got it, you can experience 3D in its fullest extent in your own home. But the way projectors produce 3D content is slightly different from the way televisions and PC monitors produce 3D content. Consequently, the Optoma UHD51A provides a standard 60Hz refresh rate.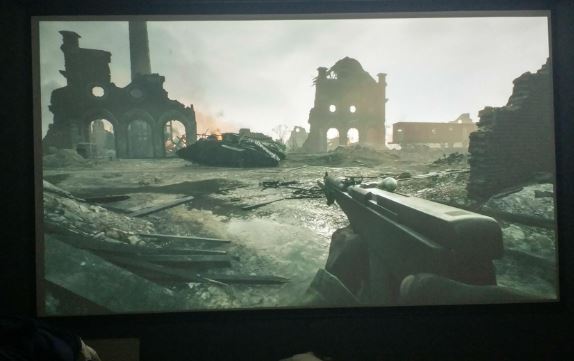 Installation
You need to be rather careful when setting up the UJD51A. The lens allows for a 15% vertical shift after installation, which means as long as it's pointed in roughly the right direction, it won't be hard to get vertical alignment between the projection and the wall. However, you won't find similar horizontal adjustability. You need to carefully align the center of the screen during setup or you're going to encounter image quality problems that take more than a few seconds to fix.
Other Considerations
One thing you might find missing is motorized zoom for image correction. The Optoma UHD51A leaves you doing manual focus instead. And one thing you probably won't care about are the onboard 5-watt speakers. Like you'd expect from such small speakers, the sound quality is minimalistic and comparable to a high quality phone. But these speakers are clearly intended to be used as a last-minute backup, and not the primary form of operation.
Lamp life is rated for about 4,000 hours when operated on full power, or closer to 15,000 on eco-mode. That's about in line with what you'd expect from similar projectors, and advantageous for people who end up using the eco-mode often. And Optoma includes a two-year warranty, which helps protect what can be a significant investment into your home theater.
Who Should Choose the Optoma UHD51A?
The UHD51A has plenty going for it. The image quality is close to what you'd get from the best televisions on the market. Projectors tend to have issues producing the same contrast ratios you'll get out of TVs, but the UHD51A does fairly well even in spots where projectors traditionally do poorly. Between HDR10 support and the DCI-P3 color gamut, it looks great whether you're doing 1080p or 4K content.
The UHD51A can be hit-or-miss for gaming. The input lag you'll find with "gaming TVs" is around 25ms, while the input lag of the UHDA51A is about 41ms. When you're playing at 40FPS, that translates into about 1.5 frames of delay. Most people will find it scarcely perceptible, making it a good choice for many times of exploratory gaming. But highly competitive players playing competitive games may disagree.
For watching your favorite shows and movies, the Optoma UHD51A has all the essential ease-of-use kind of features people want from their home theater. It's integrated with Alexa Smart Home and the onboard controls are easy to use. As long as you know where you're going to set it up, and you take your time with installation to prevent problems with horizontal alignment, it's easy to recommend the UHD51A. It's easy on the eyes, looks great, and prevents you from losing a chunk of your room to a mounted TV.
Meet Derek, "TechGuru," a 34-year-old technology enthusiast with a deep passion for tech innovations. With extensive experience, he specializes in gaming hardware and software, and has expertise in gadgets, custom PCs, and audio.
Besides writing about tech and reviewing new products, Derek enjoys traveling, hiking, and photography. Committed to keeping up with the latest industry trends, he aims to guide readers in making informed tech decisions.