When you're working with most hard drives, one drop can be fatal. That's more true with HHD technologies than SSD drives because there aren't any moving mechanical parts to be broken inside solid state machines. But even an SSD can break from one solid blow, like a book landing on top of it.
Which is why people wrap up their drives in full metallic enclosures. Assuming you want your SSD to be portable, an enclosure is really the only way to ensure you can move your data and protect it at the same time. You just have to need to know how to pick the right enclosure, and of course the right drive to use with it.
When it comes to compatibility concerns, finding a good protective enclosure usually isn't that tough, but it is critical that it's done properly. Because not all enclosures work with all drives.
ORICO Aluminum M.2 NVMe SSD Enclosure
Form factor, construction quality, compatibility, and heat dissipation are the four cornerstones of picking an SSD enclosure. Turning to the ORICO Aluminum SSD Enclosure, you'll find each of these are actually quite well established. In terms of form factor, you'll find support for four of the most common types of drives. With respect to its heat dissipation, you'll find that this enclosure has more to offer than just aluminum.
The ORICO Aluminum M.2 NVMe SSD Enclosure was built to adopt UASP and Trim standards. It's supported by a JMS583 master controller, and it uses the latest USB 3.1 infrastructure. That includes a Gen2 Type-C port. In other words, this enclosure is totally modernized and forward-facing on the technical side of things.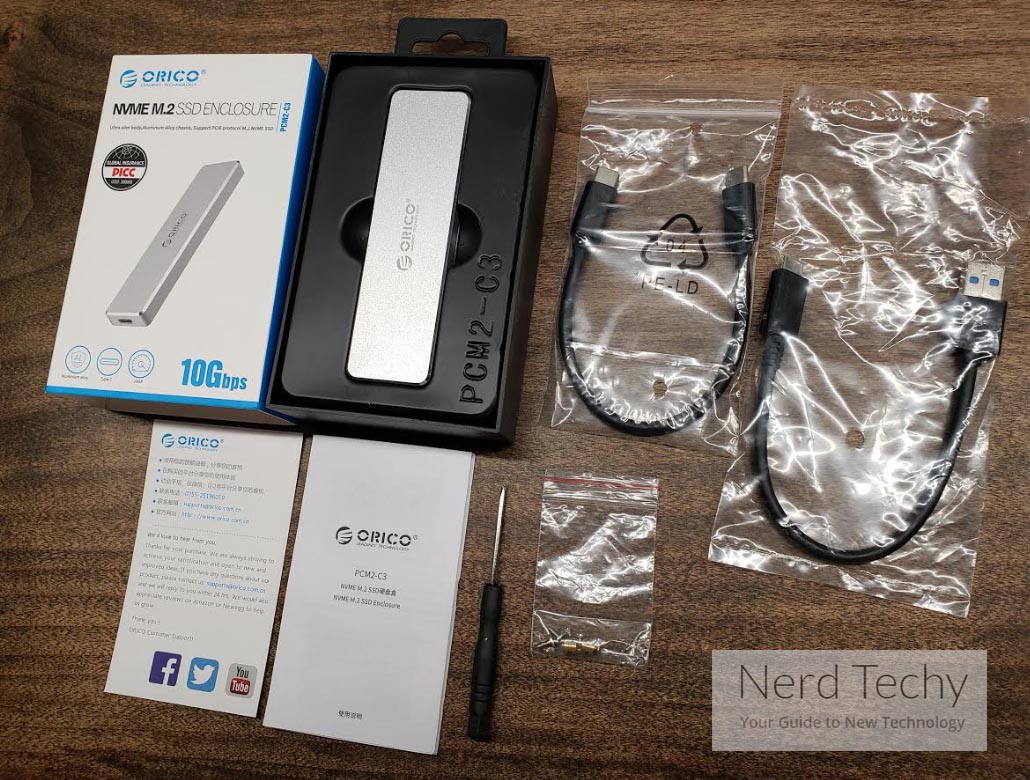 Use Discount Code "82M5CU3Y" via Amazon.com to save %10 on the ORICO M.2 NVMe SSD Enclosure
But how does its construction look up close? How well does it work in practice? Those are totally different questions that can usually only be answered with some hands-on experience using the enclosure.
Design of the Enclosure
As you can tell right from its name, the ORICO Aluminum Enclosure is mostly made from aluminum. The sand-brushed appearance of this particular aluminum feels smooth in your hands, and it looks fairly nice as well. The somewhat slim body measures about 1 x 4 x 0.4 inches, and weighs around one fifth of a pound. Crafted with aluminum alloy, it's lightweight and compact, too. As you want from basically any similar enclosure, you can shove it into a pocket or throw it into a bag without issue. It doesn't need a bunch of babysitting.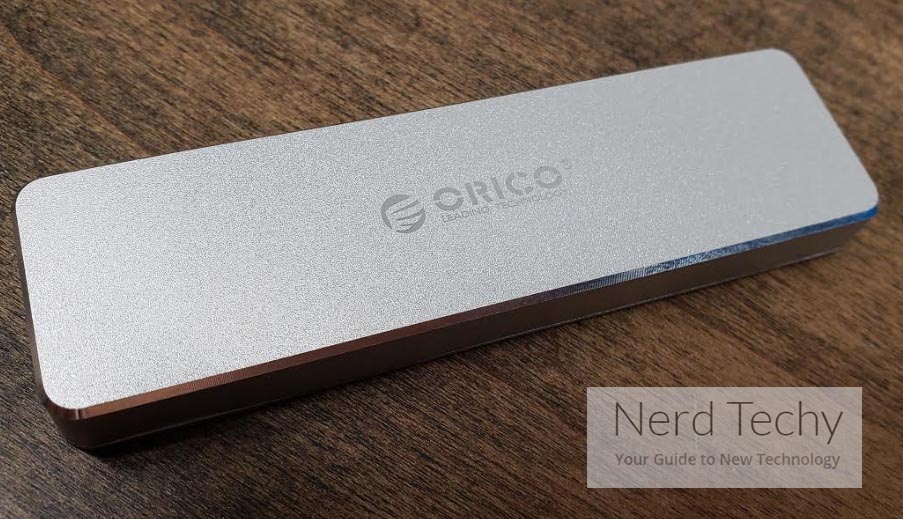 It's important to understand that the purpose of using aluminum isn't just about looking cool. It's more about being cool in a literal sense. The aluminum isn't only made for its lightweight nature, or because it's strong. It's also picked because it's fantastic at dissipating heat. Heat dissipating properly is critical to the performance of your drive, and perhaps more importantly, to its longevity. Because hot drives have been shown to suffer measurably shorter lifespans than cooler drives.
But the cooling isn't entirely done by aluminum. In addition to the aluminum design, this enclosure uses some smartly crafted and wisely positioned copper bars, complete with small holes for airflow, and connected to a pair of four conductive thermal pads which are attached to the case. This allows for a far greater dissipation of heat than you'd get from a typical hunk of aluminum. Especially after you've strapped a warmer, faster drive inside of the enclosure.
The enclosure protects your drive, but it also gives you some insight into what's going on inside. Because the outside has a blue LED indicator to let you know the drive is on and working. That means you don't have to second-guess whether or not the drive is properly connected within the enclosure, or whether the drive is receiving power from whatever it's connected with. It's easy to overlook this kind of detail until you run into a problem and have to solve it without any visual indicators.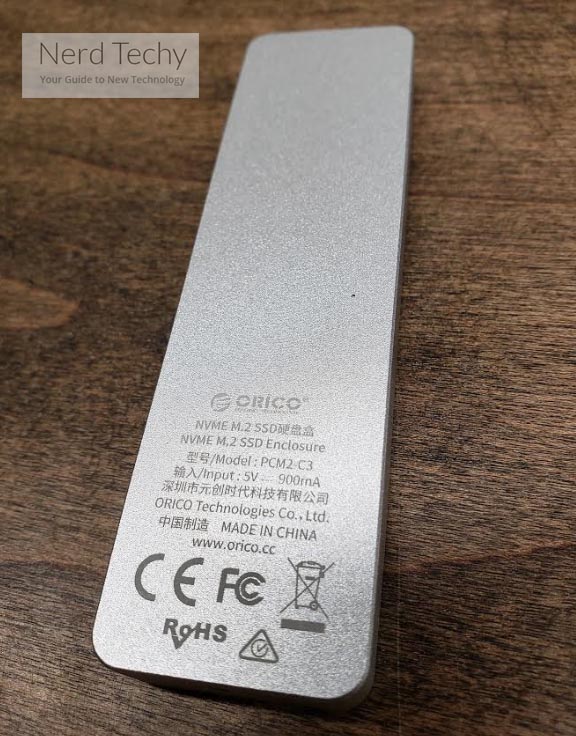 Protective Quality
Yes, aluminum is protective. It's certainly better than many types of plastics because it won't shatter when struck hard, it does much better with heat dissipation, and so forth. But aluminum isn't steel. If they'd used a steel construction for this enclosure, you'd be able to wail on it with a hammer and not worry about the drive inside. And you'd also feel an enormous weight difference when you picked it up.
But since they've gone with an aluminum, you get the lightweight design, but you don't get the immunity to brute force damage. If you expect your SSD will inevitably take heavy damage, you probably want something more protective than aluminum. This material is actually a bit delicate when you apply real force to it. But if you're only thinking about the occasional bump and bruise, like dropping the drive to the floor by accident, then this level of protection will be right up your alley.
It might also be worth noting that this enclosure isn't technically waterproof. It's lightly water resistant, such that a spill atop the enclosure wouldn't necessarily spell doom for your data. But you certainly wouldn't want to try running this thing submerged in water, or outside during a storm unprotected. Throw a little plastic baggie over the enclosure and that might be a different story, but you'll need to use your best judgement.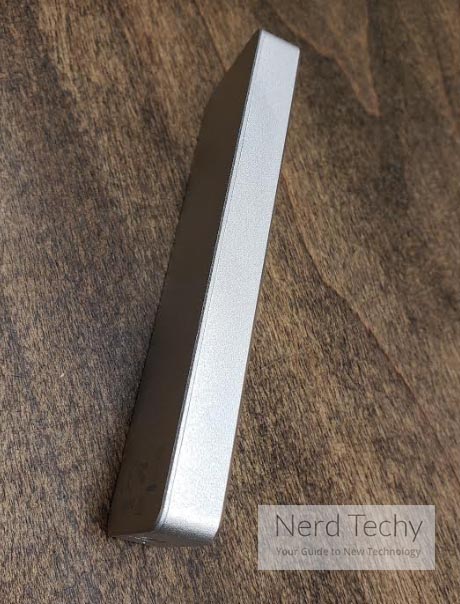 Installation of the Enclosure
Installation is pretty much a breeze. You just push the back cover with one sliding motion. You carefully use the included screwdriver to lift the PCBA board out of the enclosure. Then take your M.2 SSD and fix it against the board with the included screws. Finally, just plop the board back inside the enclosure, screw the cover back on, and connect the drive to your PC. It's about as difficult as working with child's Legos.
If you want to remove or swap your drive, that process is repeated in reverse. The whole thing can be completed in around 30 seconds after you're familiar with doing it. Which probably makes this enclosure a good pick for someone who plans on sharing the enclosure between multiple selections of SSDs. Of course, people who plan on installing their drive and leaving it in permanently won't find an issue with doing that, too.
Under normal circumstances, you'd need to screw the drive in tightly to protect it from vibration. But the external, USB-oriented nature of this kit ensures you don't have to worry about those kinds of things. At least, as long as you don't plan on running your SSD atop an active washing machine.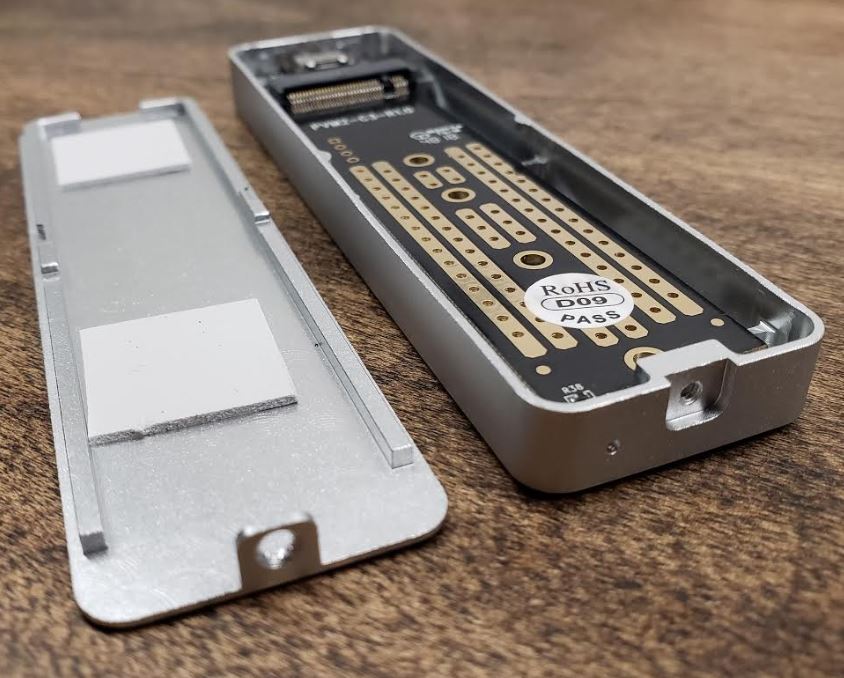 Compatibility Concerns
This enclosure was made for an NVMe M-Key M.2 SSD, one that's based on a PCI-E infrastructure. SSD sizes supported includes form factors 2230, 2260, 2242, and 2280. However, it does not support M.2 SATA based on B-Key or B+M Key. But that's still a fairly wide range of support that covers most drives that people want to shove into enclosures like this.
With respect to operating systems, you'll find no requirements in place here. You could use this enclosure with a Mac or Windows drive. You could also use it with Linux or more obscure operating systems, as necessary. One more thing to keep in mind is that based on the size of this enclosure, its maximum storage potential with current technologies is about 2TB of data. In the near future, you might be able to get drives even larger than that within this enclosure. But for now, around 2TB is roughly the limit.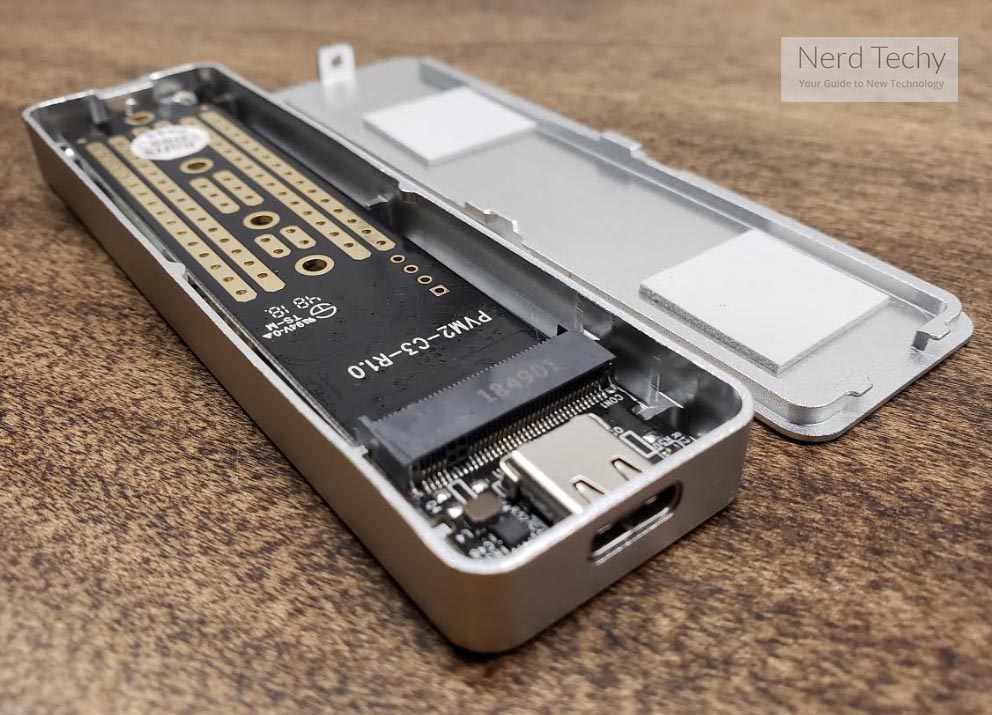 USB Format
Because the ORICO Aluminum M.2 SSD Enclosure is based around a USB-C design, it's capable of supporting a total of 10GBps data transfer. It also means that it's possible to read/write at around 950Mb/s with your SSD. For people who are really trying to take advantage of the speeds their SSDs can support, that high data ceiling is essential.
Though USB-C won't be the right choice for everyone. People who are intent on using legacy formats to make a connection will want to find an enclosure dedicated to those formats, like USB-A. Unfortunately, that means those users will also have to suffer through the slower speeds associated with those older formats.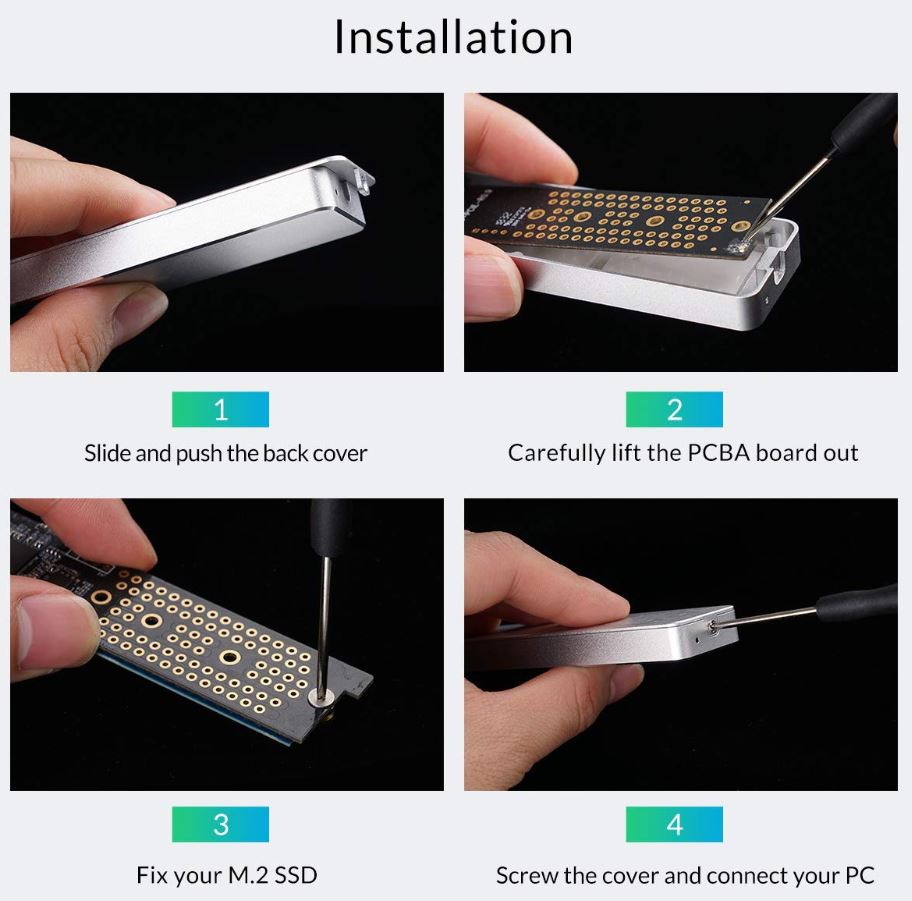 Other Considerations
Using this enclosure doesn't require you to install any special drivers or user software. You can basically consider this thing to be functionally equivalent to an extension cable. It works by extending your signal, and of course protecting your drive in the process. But because it's basically just extending the drive's signal, you don't need any special software to keep things working. That also means no firmware updates are required for this enclosure.
The ORICO Aluminum M.2 NVMe SSD Enclosure includes the enclosure itself, a Type-C to Type-C USB cable, small screwdriver, screw kit, USB-A to USB-C cable, and a user manual. Each USB cord only runs about six inches, so if you need more than that, you'll need to plan to pick up some different cables. You basically get everything you need, though it would've been nice if they had included more than three screws.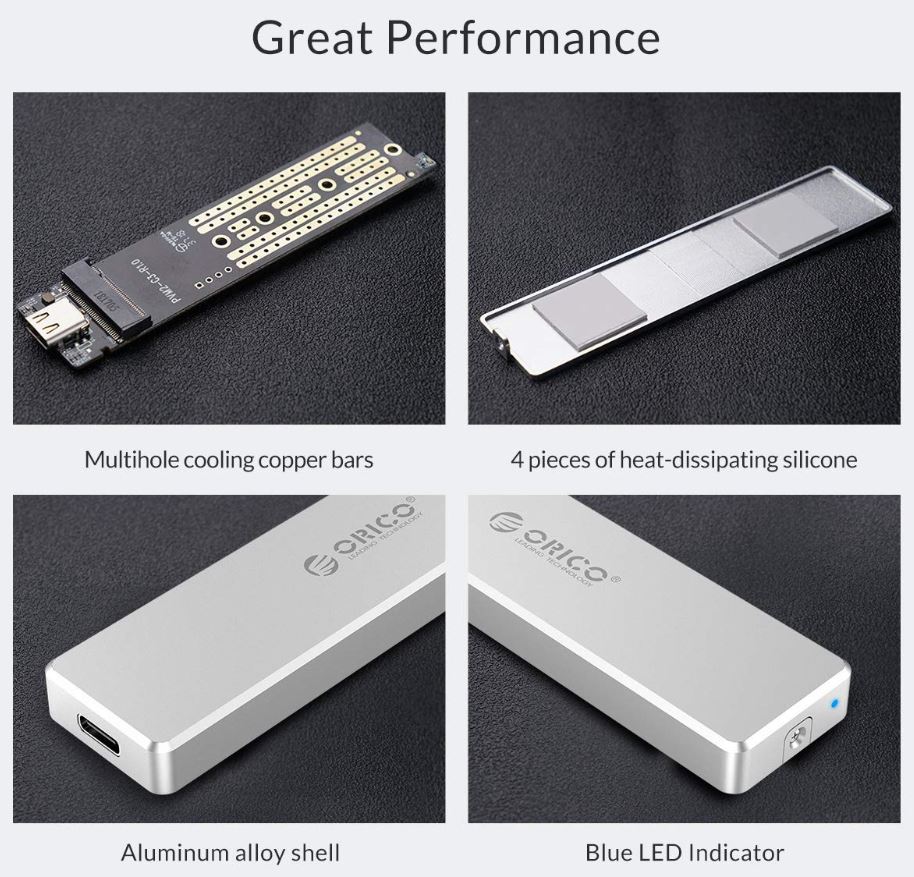 Who Should Choose the ORICO Aluminum M.2 NVMe SSD Enclosure?
The ORICO M.2 NVMe SSD Enclosure is capable of supporting most types of M.2 SSDs. It's got the capacity to move huge amounts of data. There are very few NVMe drives that will be bottlenecked by this enclosure. Of course, there are still some. If you're working with a drive capable of moving 1455Mbps of data or more, than you'll find your read/write speeds are actually stunted by this box. Which means this isn't necessarily the right choice for someone who's got an enthusiast-grade NVMe SSD.
Use Discount Code "82M5CU3Y" via Amazon.com to save %10 on the ORICO M.2 NVMe SSD Enclosure
With respect to its protective capacity, this drive provides everything you expect of aluminum. Which basically means it's highly protective, but it's not indestructible. If you smash your drive with a hammer, there's a non-zero chance your drive will die. You'll still want to treat your SSD with some degree of care, about the same care you'd give to any USB drive. Provided you're willing to do that, and you're not looking to facilitate your enthusiast-grade SSDs, then you should find the ORICO Enclosure is a pretty strong pick.