If you're trying to save some space around your home, then it's hard to do better than a soundbar. Though your average soundbar is essentially little more than a streamlined way to get speakers in your home, picking a good soundbar can still be a little tricky. The optimal size and power for your audio setup will always be relative to the rooms and positions where your equipment is placed. As a result, picking sound equipment can be pretty counter-intuitive.
WoHome S11 2.1 Channel Bluetooth Sound Bar
About ten years ago, something like a 50" TV was considered ridiculously large. But screen sizes have only been getting larger over the past few years. As screens are getting bigger, people are also being drawn to proportionally larger audio equipment. Though there are no hard and fast rules for the size of the sound equipment that you should use alongside your TV, as a rule of thumb, you want a soundbar within about 25" or 30" your TV's screen size. Since TV screens are measured diagonally, this actually gives you a bit more wiggle room than you'd think.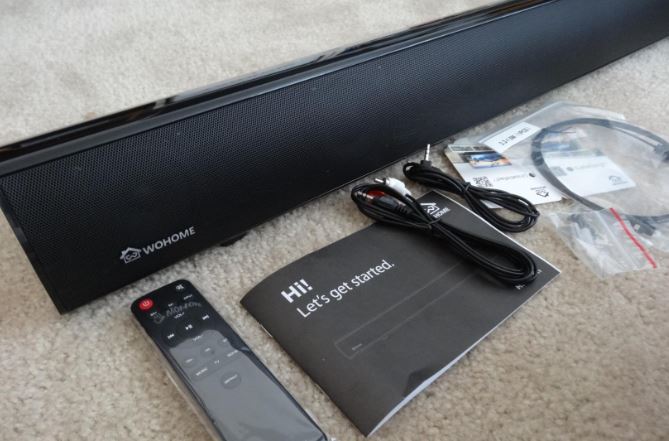 That makes the WoHome S11 pretty well-suited to screens sized anywhere between 35" and 70". That includes basically any modern Sony, Philips, LG, Samsung, TCL, or LC TV. Aside from thinking about size, when you're picking sound gear, you need to think about two different big categories. One of those categories is sound quality. The other category is added features.
Those who are interested in finding a value-based soundbar will usually have less concern for features, and more concern for audio quality. And that's actually a reasonably good description of the S11. Though it doesn't exactly have tons and tons of extra features, it does deliver when it comes to audio performance. Which isn't to say this speaker doesn't deliver on features. It does have more than a few nice things to offer to extend the capabilities of this equipment.
But fundamentally, with the S11 you're looking at equipment aimed more at being a high quality source of audio than some kind of multi-purpose device. There are multiple input options from Bluetooth to hard wired connections, which does provide a basic level of adaptability. And it allows this soundbar suitable for tablets, gaming consoles, PCs, and basically anything else you'd want to connect with. Not a bad start.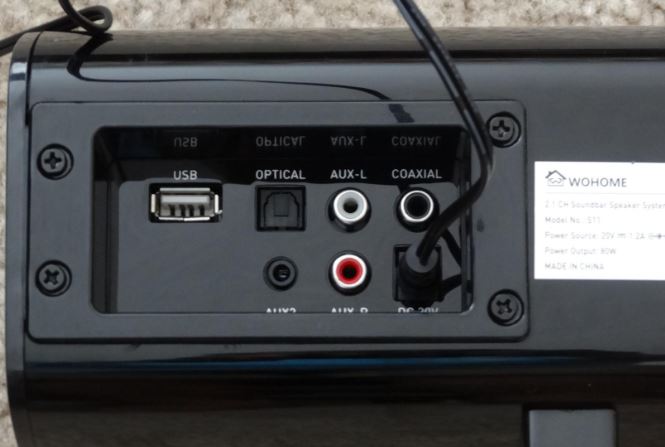 Design & Layout
The S11 measures 38 x 3 x 4 in, and weighs around 5.5lbs. With respect to its aesthetic design, this actually resembles a number of different WoHome sound bars. It also resembles a lot of more generic sound equipment. Though sometimes small details can make a world of difference. For instance, you'll notice a pair of two small rubberized feet on the bottom sides of the soundbar.
These feet have been rubberized not only in order to help them maintain a nice grip against the floor, but to help minimize the effects of vibration while the speakers are resting on the floor. Of course, should you decide you want to try mounting the S11 instead of placing them on the floor, those options are open as well.
The backside is mostly blank and empty, with the exception of a small panel of inputs all crammed together on the left side. It's there where you'll find an optical input, RCA, AUX, coaxial ports. This is also where you'll find the DC power port.
On the right hand side of the S11 that you'll find the majority of the analogue controls, at least those which aren't controlled by the included remote. Among those buttons, you'll find some volume switches, a source button and a power switch. They're all well labeled, and since you're only dealing with four buttons, you can pretty quickly learn the positioning of each without having to look.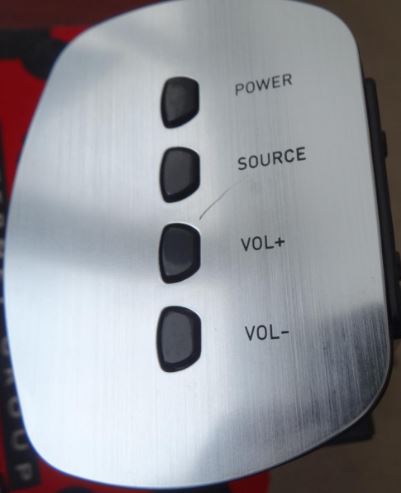 Wireless Connectivity
In addition to the previously mentioned wired connections, you've got the option of using Bluetooth connectivity. The WoHome S11 utilizes Bluetooth 4, which gets the job done when you're trying to connect within a radius of about 50ft. Though that signal strength does drop as you start to add walls between yourself and the Bluetooth, which makes the 50ft estimate sink lower when you're not connecting with a device that's in the same room.
The mixture between wired and wireless connectivity actually provides a lot of opportunities for variety and versatility. Being able to move between multiple sources without having to swap a bunch of wires is always pretty handy, especially if you want to connect a new device to the WoHome S11. For instance, if someone came over to your place and wanted to connect their smartphone to your speaker.
The Remote
A remote control is supplied, but there's an important caveat. This sound bar cannot be made to be compatible with a TV remote or a universal remote. You need to use the WoHome proprietary remote. That's a minor bummer, it wouldn't be too difficult to get a replacement for this remote from WoHome if you lost it. But not being able to use currently-existing universal remotes is pretty annoying for some people.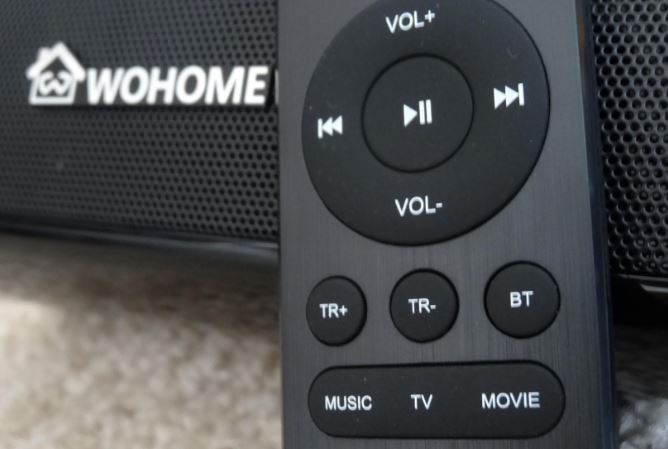 The remote is actually very well designed. It's not hard to make a remote dedicated to speakers because you're only controlling this one thing. Still, they've managed to fill it up with options. On the top, you'll find the power button and Bluetooth connecting buttons have been given a prominent position.
Just beneath that, you'll find a few buttons to let you move between different audio sources which are connected to the speaker. For instance, you could move between your television, Bluetooth stereo, and smartphone. And towards the center of the remote, you'll find a pretty standard issue control wheel. It lets you raise or lower the volume, play and pause your music, and move between tracks.
Towards the bottom of the remote, it's possible to move between different sound modes, to mute, or turn to default settings. It's a pretty intuitive layout that pays attention to which buttons get used most often, and where your thumb will be positioned while holding the remote in your hand. All in all, it gets the job done. And the charcoal gray chassis looks pretty nice, too. If nothing else, it matches the S11.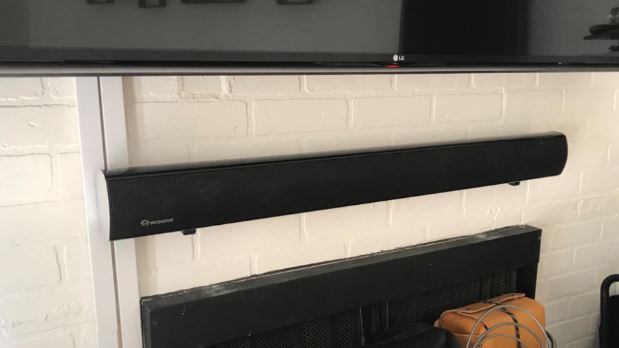 Audio Quality
With respect to its audio design, you'll find there's a lot going on here. Because the WoHome S11 are made from a number of different audio components. For starters, they're made with a pair of 3" subwoofers for deep bass. That's great for enhancing your listening experience, especially when it comes to finding immersion in films.
Apart from those dual subwoofers, there are a pair of 3" dynamic drivers, bringing the number of onboard drivers to a grand total of four. Those drivers are tasked with handling the rest of the tonal range, including the treble section. Between the subs and the dynamic drivers, this is a pretty loud soundbar. Perhaps nowhere is that clearer than the fact you're looking at an 80W unit. The sound output is around 105dB, which is probably louder than your doctor would want you listening to music.
As you may be able to discern from its name, this soundbar has 2.1 channel sound, made with DSP technologies. The resulting clarity and precision of the sound bar is great for enjoying a richer home theater experience. Additionally, the S11 actually supports a number of sound modes which can be moved between from the remote. That includes a movie, news, and music mode that each emphasize a different portion of the tonal range. For people who aren't happy with the presets, bass and treble are adjustable as well under the user default mode.
One thing to keep in mind is that the lack of tweeters means you don't get any extra definition in the treble range. But bass is generally more important to an immersive media experience, and integrating tweeters into this design would only raise the price. So if you're really on a budget, this sound design is probably the right compromise to make. Tweeters are generally going to be less significant than subwoofers, even though the subwoofers are infinitely more likely to annoy your neighbors.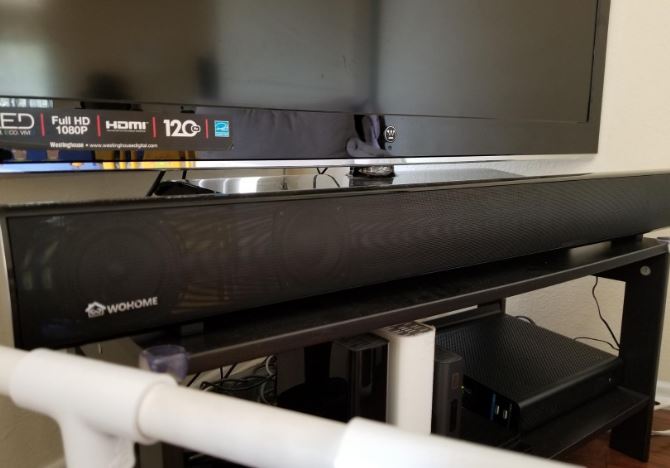 Other Considerations
There are about a thousand different features you can find in sound bars these days. The WoHome S11 doesn't have them all. Nothing conspicuous is missing from this sound bar. But it's worth pointing out it doesn't have voice interactions features, calling features, Alexa or Google Assistant features, and so forth.
The WoHome S11 includes a digital optical cable, stereo RCA to 3.5mm audio cable, a power adapter, user manual remote control, and four mount screws for the wall mount kit. They also include a one-year warranty.

Who Should Choose the WoHome S11 2.1 Channel Bluetooth Sound Bar?
Soundbars are made for people who want to save space. Even for people who have the space to do is, not everybody wants to run a bunch of speakers through their home. The WoHome S11 is compact, but it's powerful enough to fill basically any home theater with booming sound. This sound bar would make most sense paired with televisions between 35" and 70". But it would also work quite well with projectors of virtually any size.
Aided by the remote, you can move between audio sources, like streaming music services and your television, in only a couple of clicks. Though the S11 doesn't come with a bunch of extra smart-home connectivity features, or a bunch of voice control features, it does deliver when it comes to sound quality. The sound bar was allowed to be built large enough to deliver especially good bass tones, especially with the supported wattage powering the drivers.
If you're willing to spend more, you could get more from your sound bar. You could find a soundbar with integration with Alexa, or you could find a soundbar that had tweeters in addition to subwoofers. But doing so would invariably increase what you spend. Which really makes the WoHome S11 a pretty good choice for someone who's trying to find a quality soundbar with a cheap price.