Investing in the security of your home or business is of utmost importance to some. The truth of the matter is, the occurrence of theft, vandalism, burglaries, and robberies are bound to happen unexpectedly. This is why it's important to obtain a high quality surveillance camera that can do the job right, and keep both eyes and ears on your property at all times – 24 hours a day, 7 days a week. One of these that we've become profoundly impressed with is the PHYLINK Bullet HD1080 PLC-335PW Wireless IP Camera. It's a wireless surveillance and security camera that uses your secure WiFi connection to wirelessly transmit and record high definition video and incredibly clear audio. Let's take a closer look at what exactly it has to offer.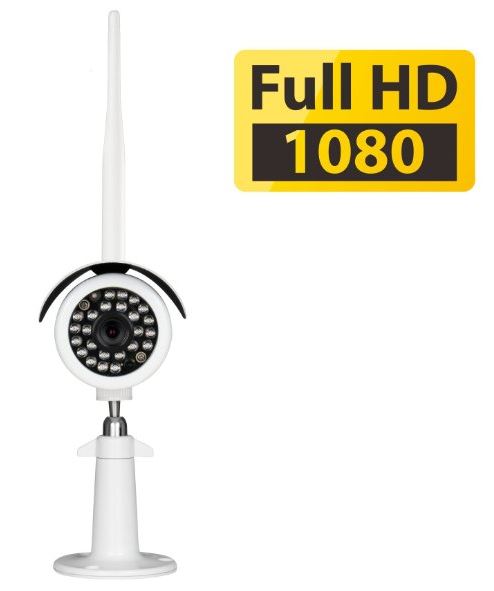 High Definition
Even just a couple of years ago, it was insanely difficult to purchase a security camera that recorded in full 1080p high definition. Many assume that all security cameras are fuzzy, blurry, or don't have the best picture. While this may hold true for IP cameras that were released years ago, the time has come where high definition is now fully possible at this price-point. The PHYLINK Bullet HD1080 produces stunning image quality, both in the middle of the day, and in the complete darkness of night.
Checkout the video quality!
Infrared Night Vision
It would be silly to have a camera that's securing your property if it wasn't able to record in the dark. Many are pleased to find out that this IP camera has the ability to record up to 8 meters in complete darkness. It uses infrared technology to capture any and everything in the night.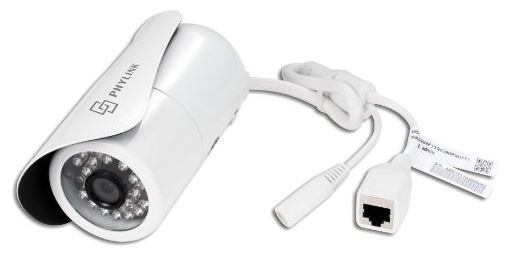 Multi-Platform, Easy Installation
Whether you have a Mac, PC, iPhone, Android, or Linux device, it's easy to setup and configure the PHYLINK PLC-335PW in just a matter of minutes. You can have it up and running by simply pressing the WPS button on your router, and then pressing the WPS button on the camera itself. This will automatically and securely pair it with your network to enable remote viewing from any of the compatible devices listed previously. There's no confusing P2P server technology, port mapping, or tricky DDNS settings to configure, so you don't need to be a tech-savvy individual to have it up and running in no time.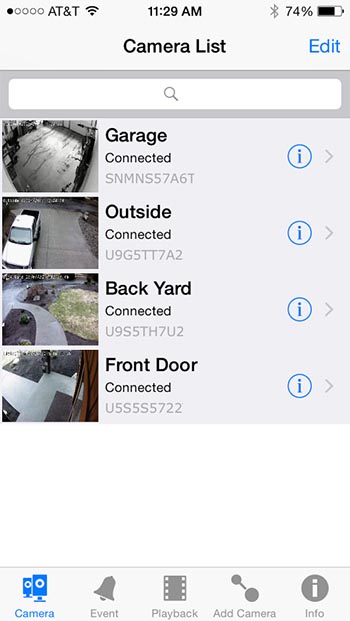 Rated for IP66
Since the PHYLINK Bullet HD1080 is rated for IP66, it's completely suitable for wet, damp, cold, and warm outdoor conditions. In fact, it can handle an environment with a temperature range from -5 to +60 °C (-4 to +140 °F), so it's clearly suitable for just about any location you can think of. Additionally, there is an internal waterproof microphone that picks up noise, talking, and other sounds from a long distance away.
Remote Viewing
One of the best features is that you can use Phylink's free app to remotely watch and listen in on what's going on. With the iPhone and Android app, you can even configure and setup additional cameras to your system for a full-fledged security solution that covers all angles and areas of your property.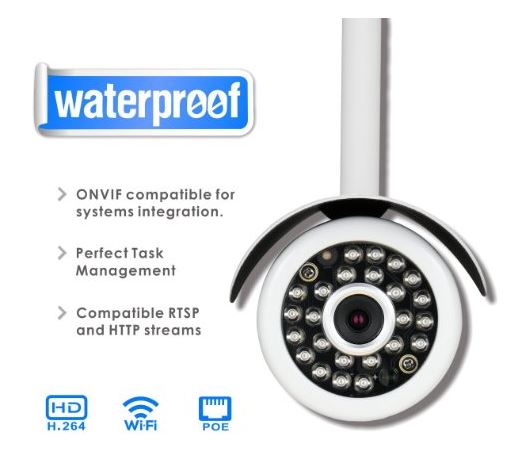 Storage Options
Internally, there is a Micro SD card slot that supports up to 128 GB of storage for several days of continuous high definition footage. If you're not a fan of having the DVR located physically on the camera itself, there's another option. Using a NAS (network attached storage) or a web server, you can record and save footage directly to it. This way, if the camera were ever to become stolen, you would still have all of the recorded footage.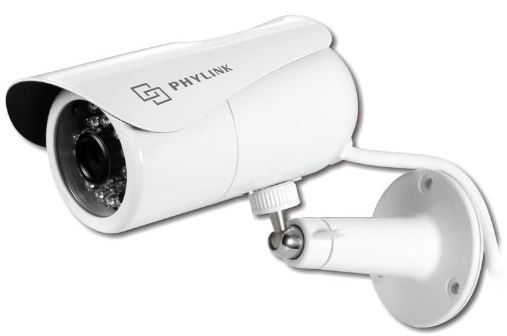 Motion and Alert Ready
With the PHYLINK Bullet HD1080, you can setup motion alerts so it will only record once it detects movement. This has the ability to drastically save storage space and only keep what's needed. This way, you can thumb through the video files with ease and locate exactly what you're looking for, rather than having the camera record 24/7 and trying to locate a specific event within the clutter. Additionally, it's ONVIF 2.0 compatible for easy systems integration if needed. Users can also setup push notifications to alert their smartphone or tablet device, and even configure it to send you an email each time motion is detected. The configuration of this is optional, and not always an appropriate choice for some – especially those who place the camera near a busy road or walkway.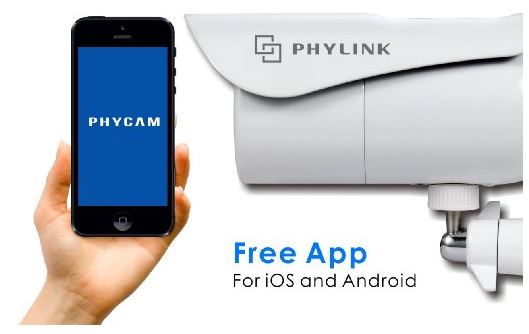 Multiple Connection Options
Many consumers have been pleased to find out that the PHYLINK Bullet HD1080 supports POE 802.3af (power over ethernet), as well as WiFi. With POE, you can have a single cable that supplies both the power and network connectivity. Alternatively, you could have it plugged into a power outlet and use the internal WiFi for wireless viewing. Either way, the recording clarity doesn't seem to be affected with either power mode you choose.
Final Thoughts
Overall, we're huge fans of the PHYLINK Bullet HD1080 Wireless IP Security Camera. We feel that its the perfect blend of quality and reliability with a wealth of advanced features that will make your life much more secure. It comes with everything you need to get started and have it up and running in a matter of minutes. You'll love the added peace of mind it will bring to your life, knowing that you can always keep an eye on whatever is important to you the most.
Meet Derek, "TechGuru," a 34-year-old technology enthusiast with a deep passion for tech innovations. With extensive experience, he specializes in gaming hardware and software, and has expertise in gadgets, custom PCs, and audio.
Besides writing about tech and reviewing new products, Derek enjoys traveling, hiking, and photography. Committed to keeping up with the latest industry trends, he aims to guide readers in making informed tech decisions.