Sound bars and voice assistants are a natural combination. When it comes to controlling your technology, it's better to be able to do it with your voice. Remotes have a time and a place, and they're almost always nice to have as an option. But there's a certain freedom to being remote-free that you can only experience through voice controls.
Combined with everything Amazon's Alexa can do, that convenience can make a sound bar magnitudes more functional than comparable audio equipment. Of course, sound bars are first and foremost a type of speaker. Superb support for voice assistants matters little if audio quality falls flat, or if connectivity can become an issue. It's only with a careful examination of the most important aspects of a sound bar that feel confident that you're choosing the right system for your unique setup.
Polk Command Sound Bar
It's not unusual for sound bars to be made to integrate voice assistants, but the Polk Command Sound Bar takes that formula one step further. Consequently, this sound bar is essentially an Amazon echo that's been reconstructed into a full bodied speaker. The "command" portion of its name pretty clearly indicates the kind of voice controls that await you. But unless you're familiar with Polk Audio, you're probably not expecting sound quality this high for a sound bar in this price range.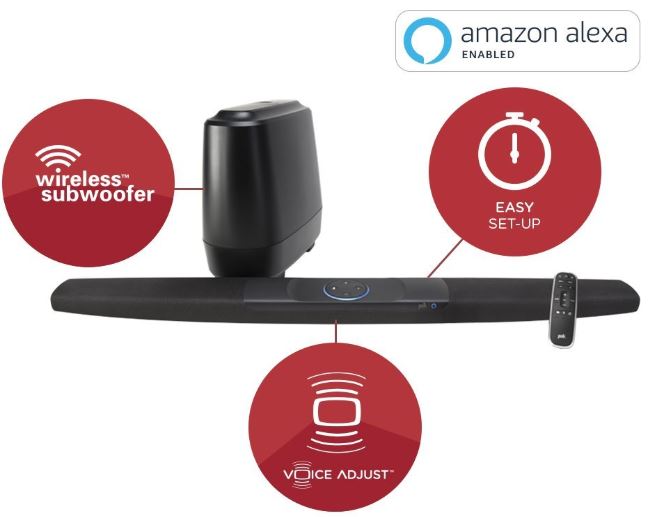 Build & Design
Polk's Command Sound Bar has an unassuming appearance that resembles essentially any other sound bar you've ever seen. That generic design helps it aesthetically match up with essentially any large television or home theater. Seated at the center of that elongated build are the control buttons, with the entire control panel highlighted by blue LEDs. The control highlighting is light enough to help you see the panel in the dark, but not so light that it becomes distracting when placed in a dark room.
From the onboard controls, you can modulate volume, mute, bass, and change source selection. You can also toggle through a number of sound modes, which provide slightly adjusted audio levels for different types of listening. For example, the movie mode is excellent for emphasizing vocal tones and providing more of an immersive soundscape. If you're not interested in physically interacting with the onboard controls, all those controls are also accessible with voice commands.
Turning to the backside of the device, you'll immediately spot the various ports and connections you can make. You'll also find two mounting holes, suitable for helping mount this sound bar along with your television. The ports include a built-in 4K HDMI pass-through, as well as a set of HDMI ARC out/in ports. That's what allows the Polk Command Sound Bar to be compatible with Amazon Fire TV. And with the help of Fire TV, you can use the Polk Command Bar to tap into the fullest extent of Amazon's services, getting access to YouTube, Hulu, Facebook, Reddit, and similar platforms.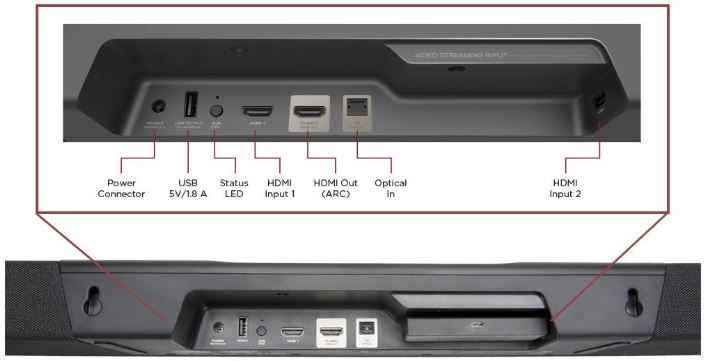 Within the sound bar itself, you'll find a number of 3-inch hybrid drivers, equipped to provide the full range of audible tones. Polk's hybrid drivers have particularly strong mid-tones, and that comes through clearly anytime you're listening to vocal tones. Apart from the 3" hybrid drivers, the sound bar contains two 1-inch tweeters. If you're not familiar, tweeters are essentially subwoofers which are made to specialize in creating high frequency tones.
Speaking of subwoofers, the Polk Command Sound Bar rounds out it soundscape with the inclusion of a 6.5-inch subwoofer. If you're looking for truly deep bass, there's no substitute for a subwoofer. Many sound bars don't include one, which places some hard limits on the kind of immersive sound that an audio system can create. That's understandable because people choose sound bars to save space. But Polk's relatively small subwoofer is fairly easy to tuck away unobtrusively.
As part of its orientation towards Amazon's Alexa, this Command Bar was designed with a number of far-field microphones along the top of the device. That multi-mic configuration helps take full advantage of Alexa's abilities to understand what you're saying. It ensures Alexa can hear you even in what could be called inhospitable conditions, like when you're trying to issue a command with loud music playing.
Sound Quality
When you're designing a sound system, the cheapest and easiest way to go is to use hybrid drivers. Hybrids are made to produce the full range of sound frequencies all on their own. If you're only capable of using one or two drivers, like with headphones, hybrids are the way to go. But specialists are better than hybrids. In the interests of optimizing sound quality and creating a deep soundscape, that means a dedicated subwoofer and tweeter.
And the Polk Command Sound Bar offers both. Its tweeters help provide a fuller and richer depth to high-tones that's uncommon among many similar sound bars. Its dedicated subwoofer is on the smaller side, to help keep within the spirit of using a sound bar, but it nevertheless produces thumping bass that's much better than anything hybrid drivers can do on their own.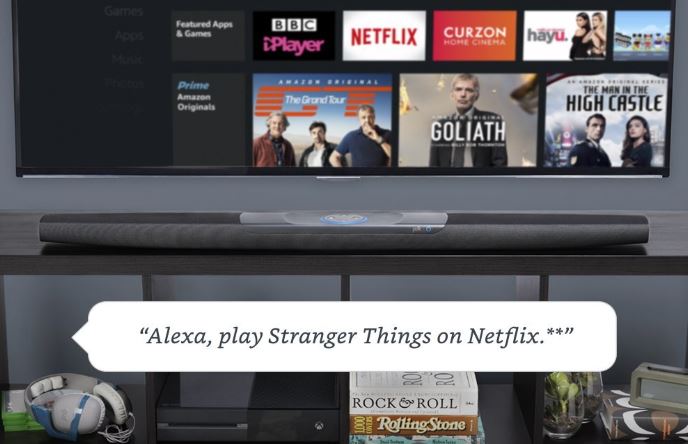 Polk's audio soundscape was designed with an emphasis on mid-tones, largely with the intent of providing clear and distinct dialogue. Part of how they've achieved that is what they called Voice Adjust technology, which can change voice levels in response to what you're playing. The result is ultimately a touch more clarity in all vocal tones. Although this sound bar provides a kind of well-rounded audio that naturally makes it excellent for playing music, its soundscape shows a clear bias towards the kind of audio you experience most in movies and television.
That bias is never more clear than through the digital decoding provided by Dolby/DTS, helping the Poke Command Sound bar provide a reasonably good simulation of surround sound. While emulated surround sound doesn't compare to the real thing, for the purpose of watching films, the addition of Dolby/DTS can be very engrossing. It doesn't sound like noises are coming directly from your left or right, but you can feel directionality within the sound, making the Poly Command Sound Bar a relatively inexpensive way to add high definition sound to a home theater.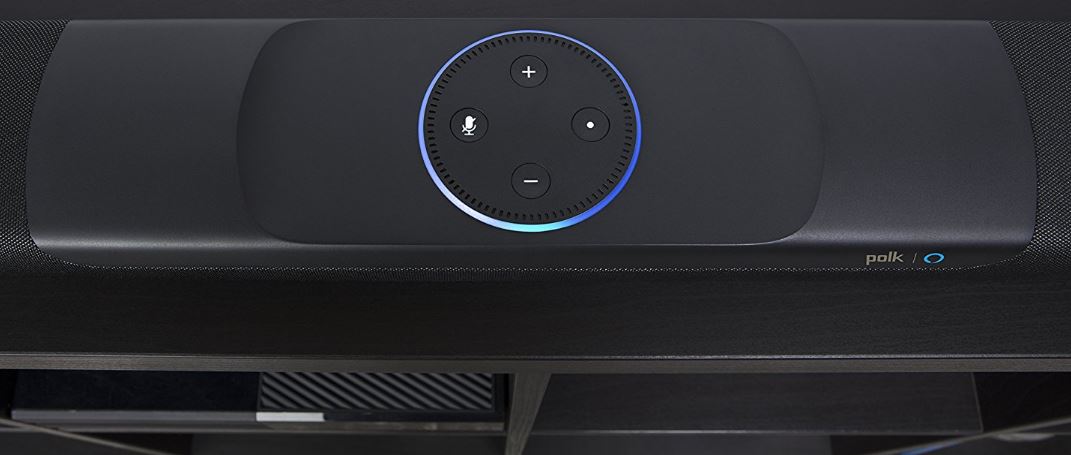 Connectivity and Features
Having fully support for Amazon Alexa is a great start, but the Polk Command Sound Bar goes one step further. It's slew of far field microphones are quite similar to those used within an Amazon Echo. That familiar design allows the Polk Command Sound Bar to be incredibly responsive to voice commands. You could think of it as highly amplified Echo. Heightened voice controls make it easy to pause, play, adjust volume, and issue similar commands from any position in the room. Even when the sound bar is playing loud music, you won't have to start shouting for the Command Sound Bar to hear you.

The Polk Command Sound Bar's ubiquitous approach to connectivity also allows you to access the same wide range of music streaming services supported by Alexa. Naturally, you also have control over smart home devices that operate through Alexa, like smart-lights. Your Polk Command Bar can be made into a center of operation for control over any Alexa-connected device in your home. And that close connection with Alexa means as Amazon continues to add new features, the Polk Command Sound Bar will automatically learn those new features as well.
Like the Amazon Echo, the Polk Command Sound Bar allows the same essential access to Amazon's services. You can search for information using Alexa, you can listen to audiobooks available through Audible, you can set timers, and do essentially everything else that Alexa can do. Because you can connect to the Polk Command Sound Bar through either Bluetooth or Wi-Fi, getting Alexa setup is incredibly easy.

Ease of Use
You might not want to access the voice controls each and every time you want to change something. That being the case, you'll end up using Polk's remote. And thankfully, their remote is exceptional in its simplicity. The largest buttons are the most commonly used, especially the volume buttons. Better still, the play, pause, and skip-track buttons are at the bottom of the remote. That makes it quick and easy to master the remote in seconds.
Moreover, you can get detailed control over the highs and lows through bass and voice controls directly on the remote. Where similar controls are even possible, many other sound bars leave you digging around in their adjoining app to make adjustments. Additionally, the remote is useful for its HDMI input buttons, mute button, and the handful of media modes you can toggle through. And it's easy to appreciate how there aren't a bunch of superfluous buttons to make things confusing.
Who Should Choose the Polk Command Bar?
If you're already using a number of Amazon's services, then the Polk Command Sound Bar is probably going to be a great choice for you. It enables many of Amazon's best services, like Amazon Fire TV. Its deep integration with Alexa-type smart-home devices makes it an obvious choice for anyone who loves their Amazon Echo.
For adding high resolution sound to a room, the Poly Command Sound Bar holds up extremely well. Its long and slim configuration was clearly intended to be placed in front of a television, but is easy enough to setup virtually anywhere. As a sound system, it's extremely well rounded. The sound bar itself has tweeters to help highlight the high tones, and an independent subwoofer to help provide deep bass.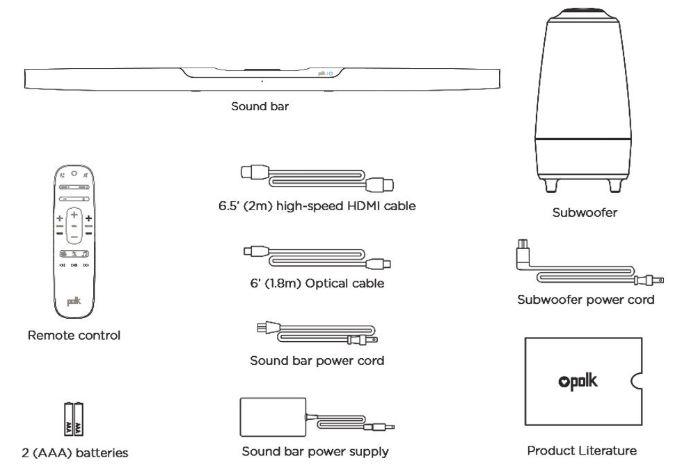 People choose sound bars because they're trying to save space. Unfortunately, choosing a sound bar tends to be a compromise. In most cases, you're giving up sound quality to get that space. But in the case of the Polk Command Sound Bar, you're compromising almost nothing. The only thing lacking from this sound bar is the same thing lacking from every other sound bar – the ability to create true surround sound. And while the addition of a separate subwoofer makes this sound bar slightly less discrete than a 2.0 channel sound system, it's existence provides bass that simply wouldn't otherwise be possible.
If you're someone who uses multiple voice assistants, you might not like that the Polk Command Sound Bar is dedicated to Amazon's Alexa. But its microphone configuration is designed to provide support for Alexa that you're not going to get from similar sound bars. In other words, the Polk Command Sound Bar will outperform similar devices when it comes to helping you access Alexa. If you like Alexa, the Poky Command Sound Bar is a safe bet.
Meet Derek, "TechGuru," a 34-year-old technology enthusiast with a deep passion for tech innovations. With extensive experience, he specializes in gaming hardware and software, and has expertise in gadgets, custom PCs, and audio.
Besides writing about tech and reviewing new products, Derek enjoys traveling, hiking, and photography. Committed to keeping up with the latest industry trends, he aims to guide readers in making informed tech decisions.