Quntis Ultra Wide LED Desk Lamp
Pros
Oversized LED with even lighting.
Sturdy mounting bracket.
Easy to adjust to any angle.
Adjustable brightness and color temperature.
Sleek appearance.
Cons
Neck can sometimes sag under the light's weight.
Touch interface tends to show fingerprints.
These days, many people think of a desk as the place where you keep your computer. And to a large extent, that's true. Your desk is the ideal place for your tower, monitor, mouse, and keyboard. That's why they call it a desktop PC! But for many of us, no amount of technology has completely eliminated the need to do paperwork. You also need your desk for that.
Here's where the problem lies. If you have a large monitor or dual-monitor setup, where do you put your lamp? The monitors are going to be in the way. And if you put your lamp in front of your displays, it's going to be blocking them. This can make it awkward to fit everything you need on your desk.
The Quntis Ultra Wide LED Desk Lamp is an effective solution to this problem. It's a large LED lamp that mounts behind your monitor and extends up over it. This way, it illuminates the area in front of your display without blocking anything. But there are many factors that go into making a good quality desk lamp. Is this one the right choice for you? Let's take a closer look, and see what we come up with!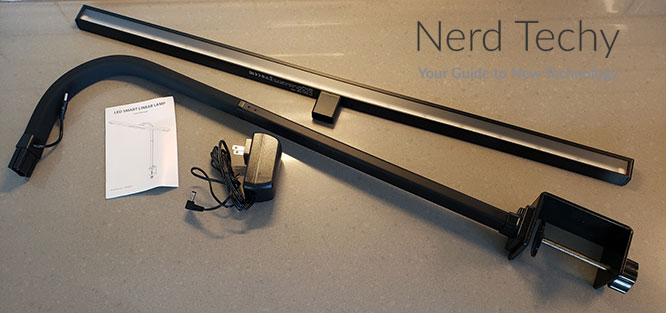 Overall Design
The Quntis Ultra Wide LED Desk Lamp is made of multiple materials. At the bottom is a durable metal clamp that attaches to the back of your desk. The bracket is very wide, and can accommodate a desk up to 3.42 inches thick. That's thicker than any reasonable desktop surface. But it can come in handy if there's extra trim or reinforcements under the surface. Either way, it's very secure, and you don't have to worry about it slipping loose or popping off easily.
At the top of the bracket is a black metal frame. It's a matte material that won't create any distracting highlights and doesn't gather dust. It's very lightweight – the whole light weighs only 4.4 pounds.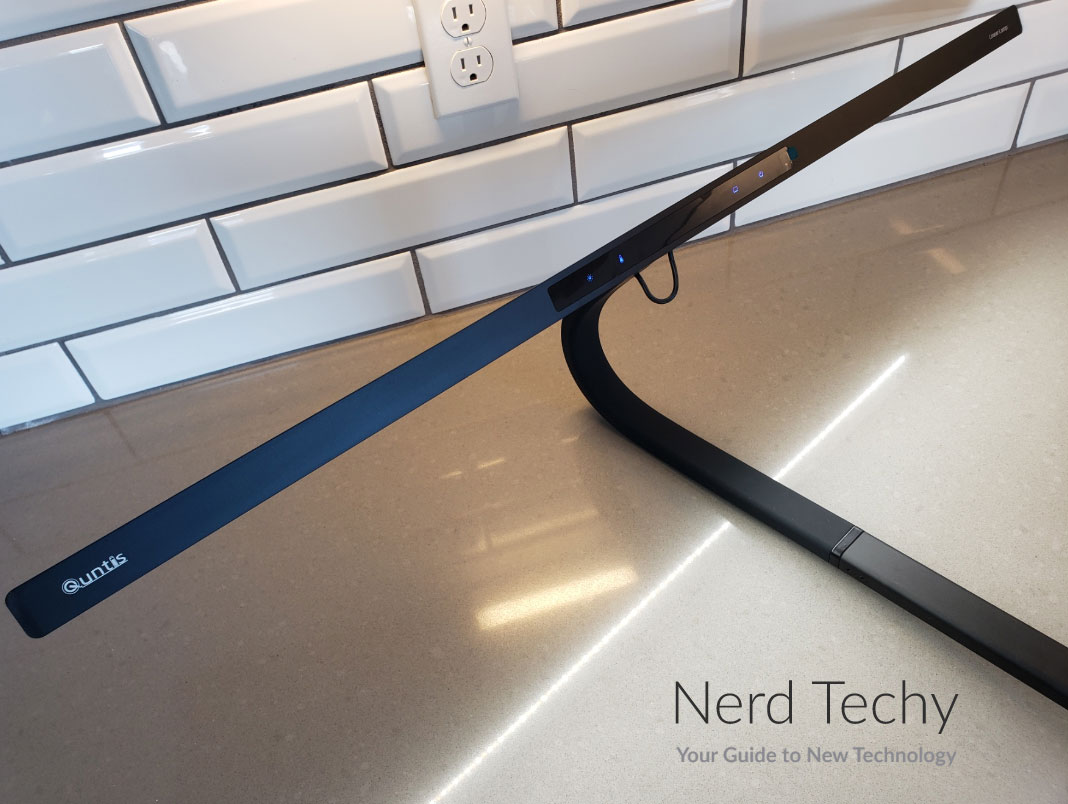 A silicone gooseneck mounts to the top of the frame, and allows you to freely adjust the lamp. The gooseneck is as fat as the frame, and is generally tough enough for the job. In certain positions, it may tend to sag a little, but that's a byproduct of the large LED size. Regardless, it's easy to adjust and point your light in any direction. Depending on how you adjust it, the lamp's working height can range from 17." to 27.5". That's big enough to peep over even the largest monitors.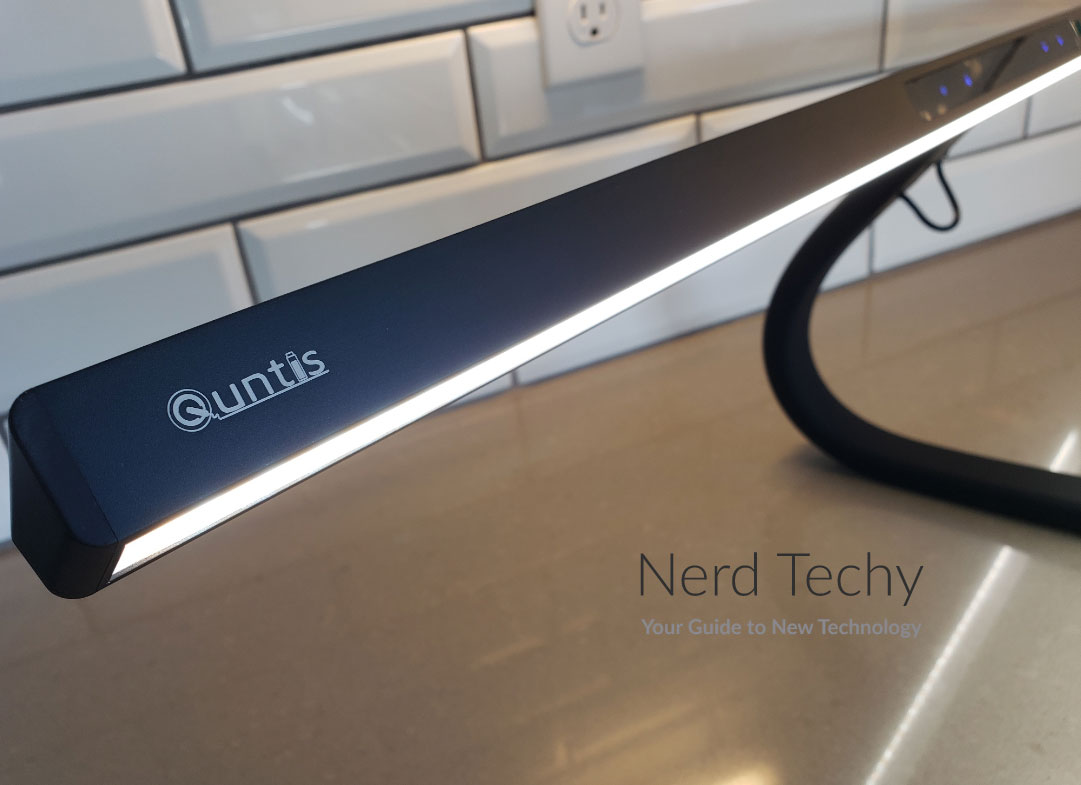 The light bar itself is impressively wide. It measures 31.5 inches from end to end, so it can light up a fairly wide area of your desk. The light housing is engineered from a similar matte black metal to the base, but that's more forgivable here. It's also attractive to look at, with minimal branding. The word "Quntis" is printed on the front left in white lettering, with the words "linear lamp" to the right.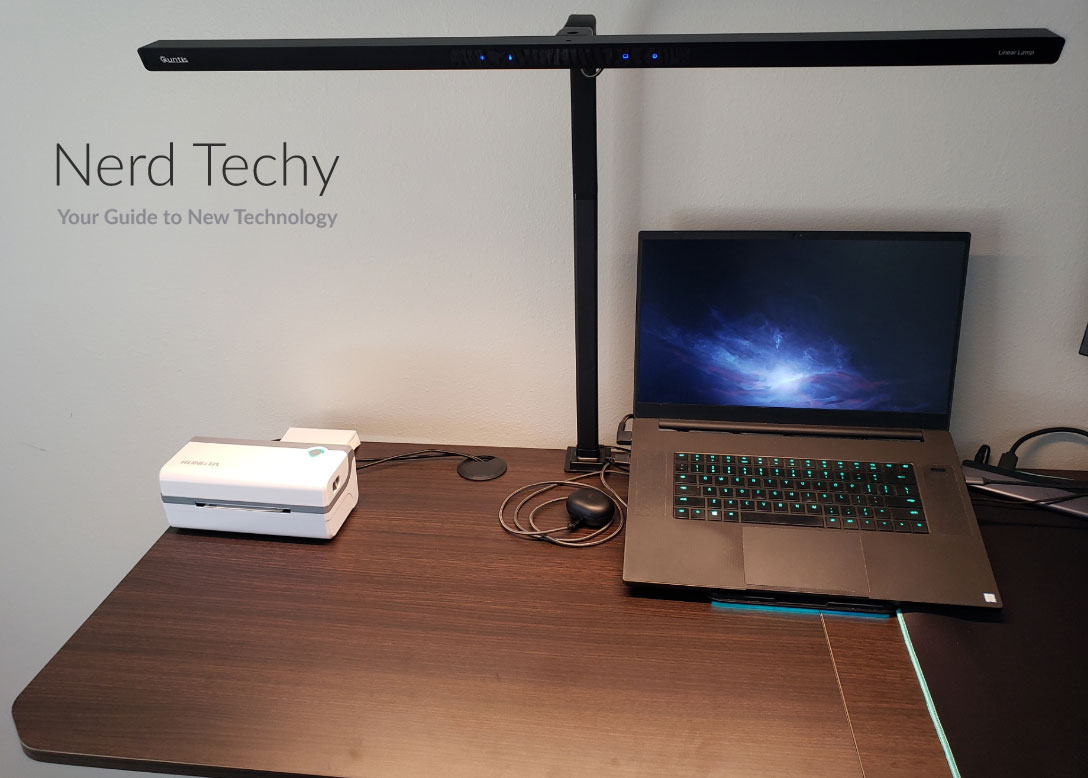 Controls
The controls are located on a small strip across the front of the light bar. There are three soft touch buttons, along with a room light sensor and some indicator lights. To the far right is the power button, which isn't just a straightforward power button. It activates a 2-hour timer, after which the light will automatically shut off. This is designed to save power, so you don't leave it on too long by accident. At the same time, it's a long enough time period that the periodic shutoff doesn't get annoying.

At the far left is a brightness adjustment button. This button can change between five brightness levels: 10%, 25%, 50%, 70%, and 100%. If none of those options suits you, you can simply press and hold the button for 3 seconds. It will then go into stepless mode, so you can set the exact brightness you like.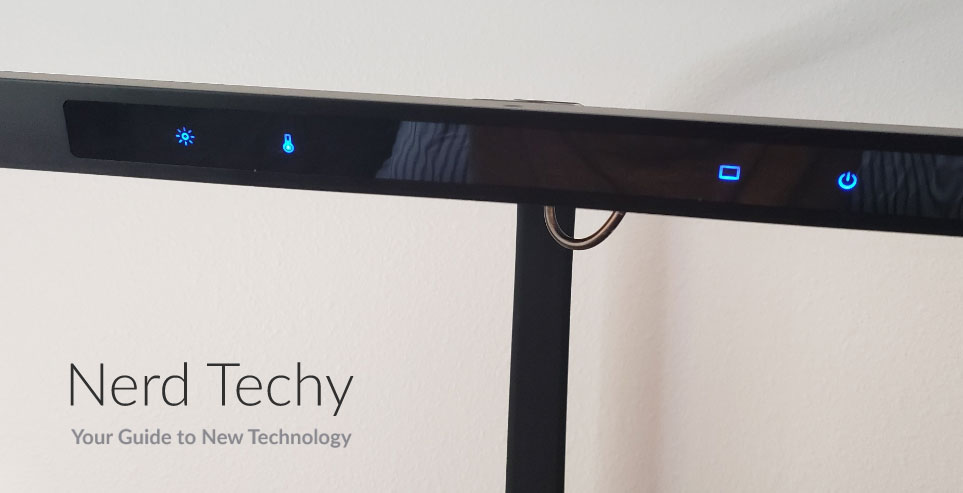 As an alternative, you can set the Quntis light into automatic mode. In this mode, the sensor will take over, and the light will automatically adjust to suit the current light level. The neat thing about this is that the sensor is actually active all the time. Let's say you set the desk light to 50%. If the light level in the room changes, the brightness will change to compensate. This is great news if you work in an office with natural daylight. Sunlight fluctuates constantly due to clouds and the changing angle of the sun. With the sensor active, you won't even notice the change at your desk.
The next button adjusts the color temperature, and it works much the same way. There are four settings, starting with a 2700K warm white. The next is a 4000K natural white, followed by a 5000K daylight white and a 6500K cool white. If you prefer stepless color temperature changing, you can press and hold the button.
In addition to all that, there's a memory function. When you turn the light off, it will remember your previous settings. That way you don't have to worry about messing with your settings every time you turn on your lamp.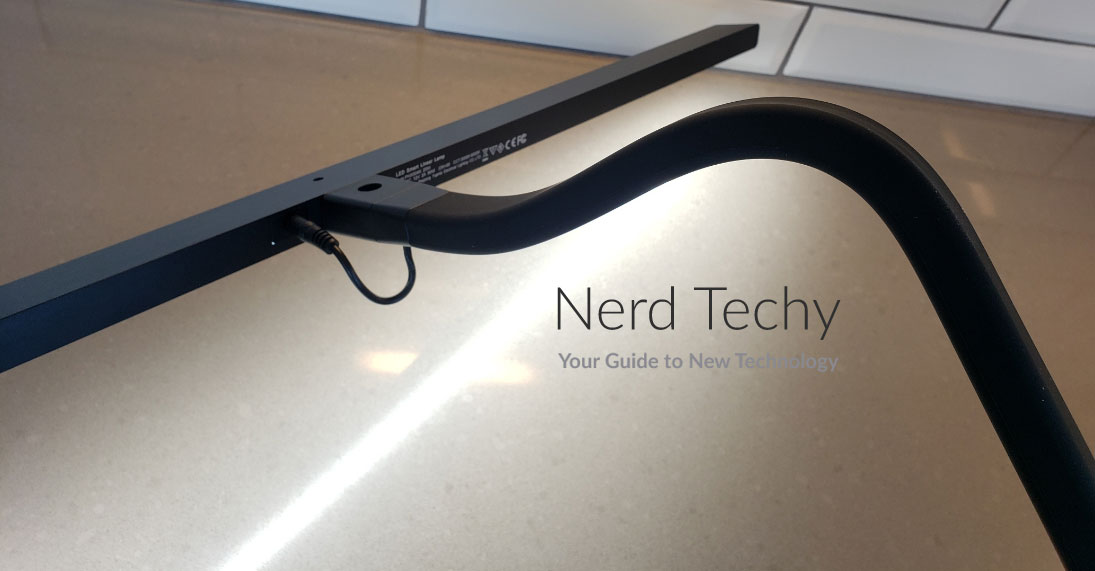 Illumination Features
The light bar itself is a 12-volt, 20-watt LED. As a rule of thumb, LED lights are 10 times as bright as an incandescent bulb of similar voltage. To put it another way, the Quntis light is a 120-volt equivalent when it's cranked up to maximum brightness. This is probably brighter than you'd ever need from a desk lamp, but that's a good thing. It's better to have extra brightness capacity and not need it than the other way around.
The color rendering index of 95 is impressive. This means colors will be almost as true to life as possible. To be fair, that's not important if you're filling out legal paperwork or doing your taxes. But if you're doing graphic design and want to look at some printed drafts, it's a valuable feature.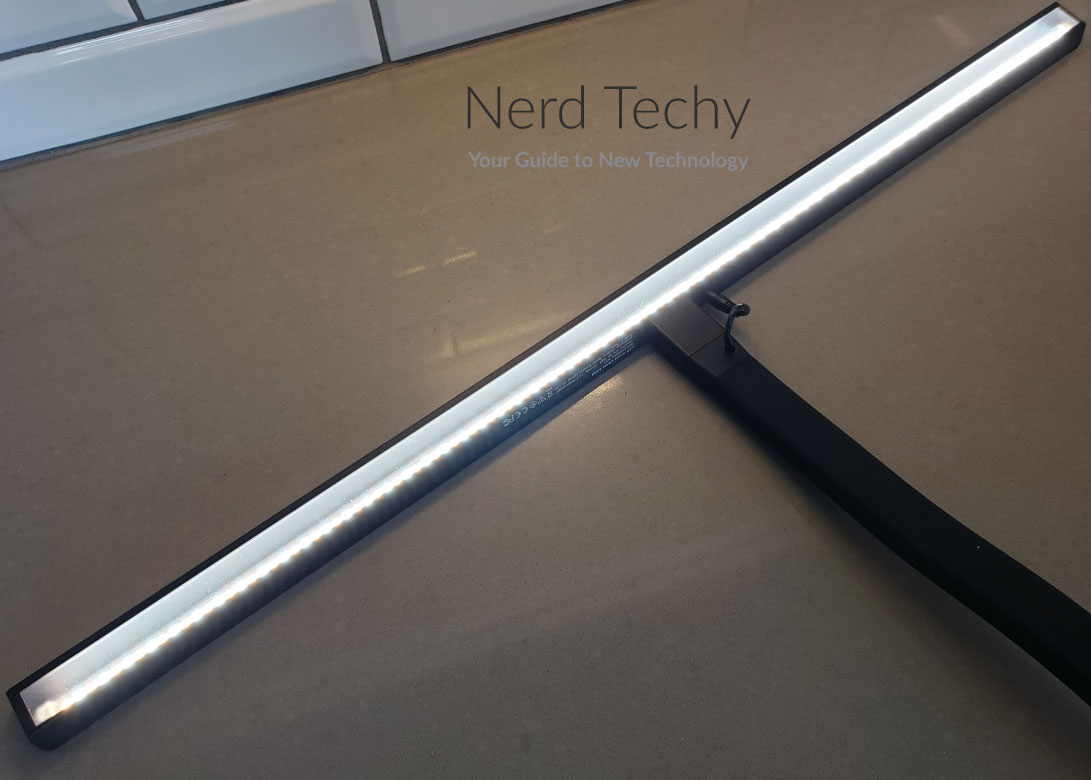 Another thing we liked was the angle at which the light is emitted. The beam has an angle of 45 degrees, but it's offset from center. The back part of the beam is meant to shine directly downwards at a 90 degree angle. The front edge is angled out at 45 degrees.
The idea is to position the light so that it's just in front of your monitor. With the beam shining directly downwards, it won't reflect off your monitor. It also won't discolor anything on your screen. Meanwhile, the area directly in front of your monitor will be well-lit. You can do paperwork or evaluate printed images without having to move your display.
One thing to note about the Quntis lamp is that it needs to be plugged in. This shouldn't be an issue on most people's desks. But if you prefer a portable, battery-powered model for travel, there are options. Check out our list of the best cordless desk lamps for ideas.
Desk Lamp Basics
Before we finish up, let's talk about what makes a good desk lamp. Why would you want to choose one over another? Here are a few important features to consider:
Brightness – This is probably the most important feature you need to consider. A good desk lamp needs to be bright enough that you can clearly see what you're doing. Otherwise, there's not much point in having one. At the same time, the lamp should also be adjustable. This is especially true when you don't have complete control over your own lighting situation. An adjustable desk lamp will at least give you some measure of control.
Physical design – There are many different types of desk lamp with different designs. If you're outfitting a smaller desk, you'll want a correspondingly smaller lamp. Conversely, a larger desk requires a larger lamp. Height is a corresponding concern. If you're working with a monitor, you want the light to sit up higher than your screen. Otherwise, it can interfere with your sight line and the brightness can distract you. Besides, with a lamp that sits up higher, the light will disperse over a larger area.
Ease of operation – Some lamps are well-designed and provide plenty of light, but are complicated to use. Look at the on/off and brightness controls. Are they easy to access, and are they straightforward to operate? If not, you need a different light.
Color rendering index – Color rendering index is a number from 1 to 100 that measures how accurate colors are under a given light. A CRI of 100 is perfect. Anything over 85 is good enough for most jobs, including jobs with high color clarity demands. Whether or not this is important depends entirely on what you're doing. But for certain tasks, it can be important.
Color temperature – This is the measure of the tone of the white light. Lights are measured on a Kelvin scale. Warmer lights with a reddish cast have a lower Kelvin number – cooler ones have a higher number. In general, a natural or daylight bulb is best for doing paperwork.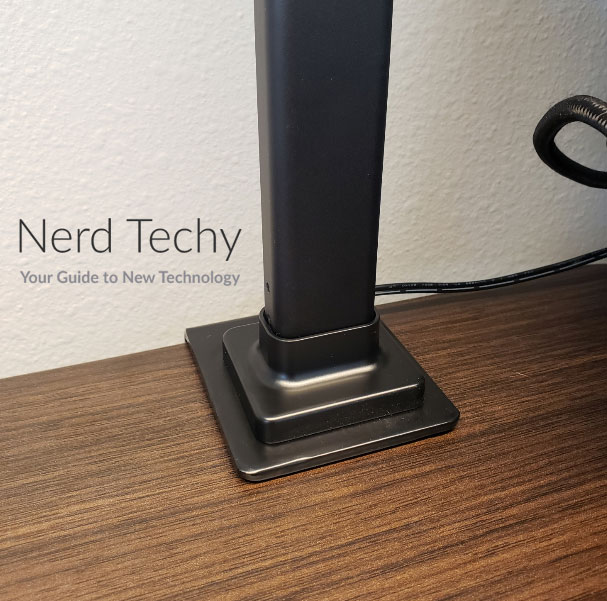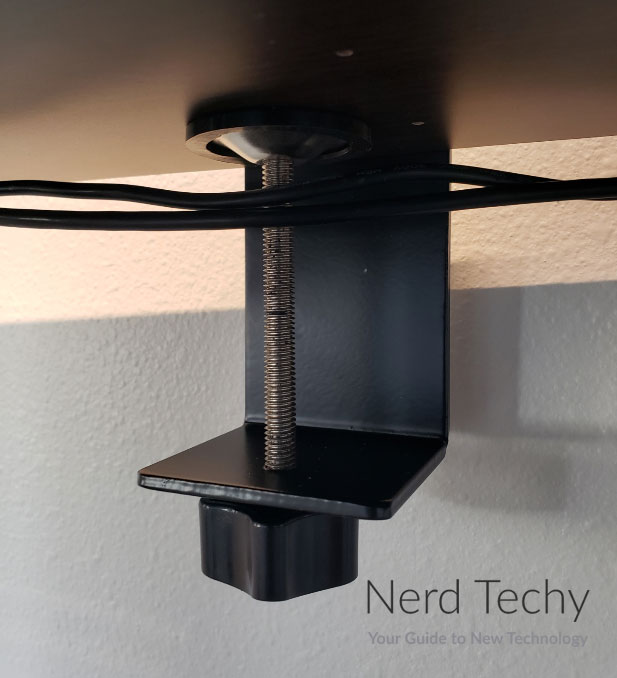 Final Verdict
The Quntis Ultra Wide LED Desk Lamp is the perfect choice for anyone who has a large monitor or a multi-monitor setup. With its large frame and flexible silicone gooseneck, it's also easy to position. That's fortunate, since monitors come in all kinds of heights.
The controls are straightforward and easy to understand. With only three buttons, there's not that much to figure out. The brightness and color temperature adjustment allow for plenty of versatility. Whether you prefer a cool, bright white or a dimmer, warmer light, you'll be able to get it. And with automatic brightness adjustment, you'll have all the visibility you need.
We also appreciated the LED's engineering. The 45-degree angle is perfect for desktop use, and won't interfere with your monitor. It's also amazingly bright when you need it to be. All things considered, this is a very well-engineered desk lamp. Be sure to use promo code "WABUQL76" for a 8% discount when you order directly from Amazon.