Fujitsu ScanSnap iX1300
Pros
Very good scan quality.
Automatically scans two-sided documents.
Full-featured software package.
Compact and portable.
Cons
Document feeder only accepts 10 pages.
Software can't read OCR documents from other scanners.
These days, we live in an ever more digital age. 20 years ago, it would have been unthinkable to do your taxes on anything other than solid, traceable paper. Nowadays, people would look at you funny if you told them you still filed paper taxes. But there are still times when you want to have information in paper format. Many legal documents, for example, need to be delivered in a hard copy. You can't serve papers via email. This is all well and good. It's not as if we don't have the technology to print and store paper documents. And eventually, all of these things will be digitized too. If anything, it's a minor annoyance.
That said, the digitization process is complicated. Think of the transition in the healthcare industry from paper to digital records. The process took years to complete, and cost the industry tens of billions of dollars. So when you're trying to convert your paper records, you want to use the most efficient method possible. What if there was a magic device that could simply create digital records from all your papers? As a matter of fact, there is. A well-designed scanner can convert your print records to digital quickly and painlessly? But you don't want to buy just any scanner. You want to buy one with the right features for you and your business.
We're about to review the Fujitsu ScanSnap iX1300. This is a compact, portable document scanner that's designed to travel with you anywhere you go. It comes with a software suite, and is optimized for documents, with features like OCR text recognition. It also does reasonably well as a photo scanner, at least for most purposes. But there's a lot more to making a good scanner than just a few features. To truly understand the iX1300, we need to dig deep into all the aspects of its design. We'll discuss the physical construction, the ways you can use it, and what it's capable of doing. After that, we'll have a complete picture, and we can render a fair verdict. Let's get started, and see how it performs!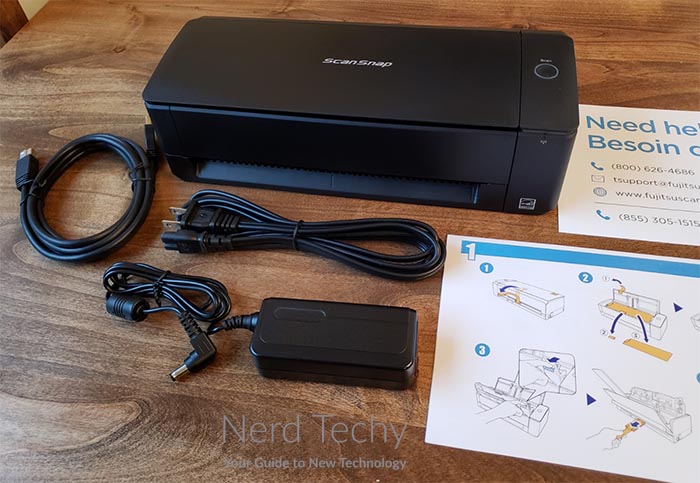 Design & Construction
The Fujitsu ScanSnap iX1300 is a small, portable scanner that's ideal for travel use. At 11.7 inches wide and 4.5 inches deep, it has a very small footprint on any desk. And at only 3.3 inches thick, it's small enough to pack in a suitcase. The housing has a matte finish, which is easy to clean and won't collect fingerprints. It's available in your choice of black or white, to match your other devices. The only decoration of any kind is a grey ScanSnap imprint on the top. Otherwise, it's completely bare. The total weight of the scanner is only 4.4 pounds. This only goes to make it even more portable.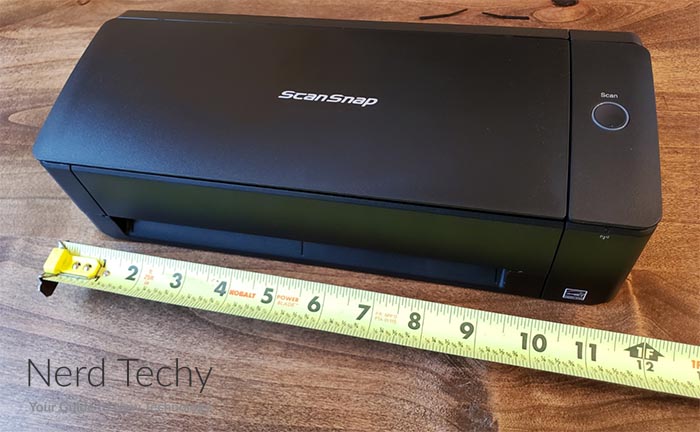 In fact, the iX1300 isn't Fujitsu's first go at making a portable scanner. It's just the latest entry in a longstanding product line. Not long ago, we reviewed an earlier variant, the ScanSnap S1300i. It's still available, and it's more affordable, but there's no front document feeding option.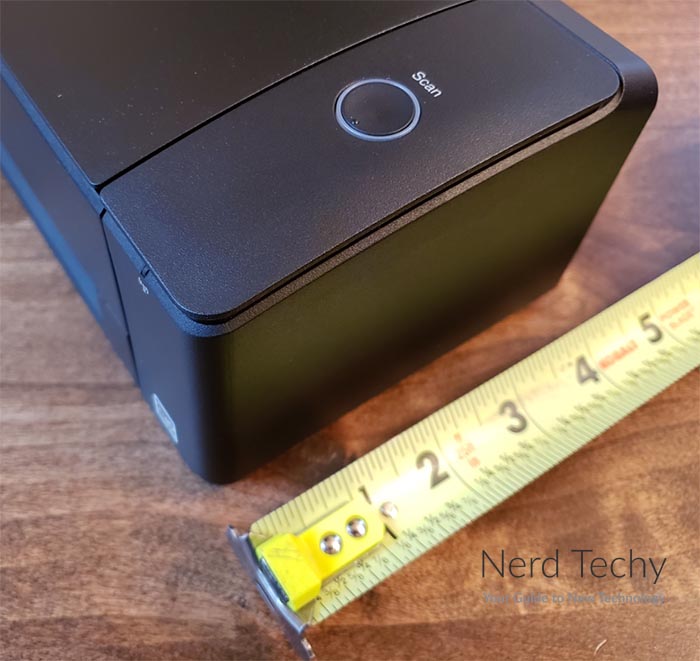 In terms of physical controls, you don't really get much. Like most modern scanners, the bulk of the work gets done in your software. The only control is a single Scan button on the right side of the top. It's large and round, and highly visible. It's also ringed with an LED light ring that changes color to tell you what the scanner is doing. Blue indicates that the scanner is ready to go. Green indicates that it's actively scanning. Red tells you that there's been a jam or some other error. It's an elegant enough system, especially considering the overall compact design of the scanner.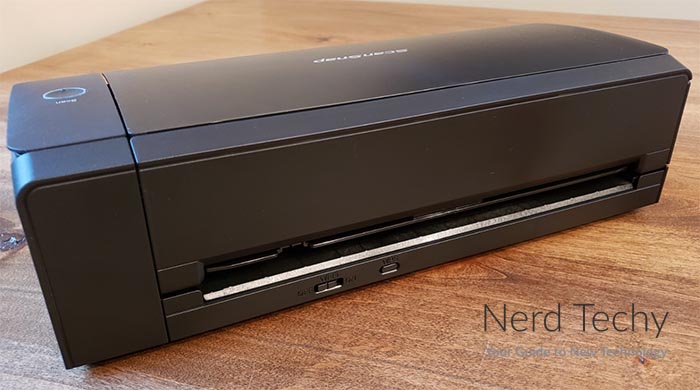 The iX1300 can accept just about any size. For standard paper sizes, it will take anywhere from 2" x 2" to 8 ½" x 14". This means you can scan anything from small business cards to legal-sized paperwork. The scanner will even automatically detect the paper size, and adjust the output document size accordingly. Not only that, but you're not limited to standard paper sizes. You can actually scan long, continuous printouts up to 118 inches in length. This is great for archiving old-school fanfold printouts. Just be aware that the 8 ½-inch width limit still applies. You won't be able to scan blueprints or anything enormous like that.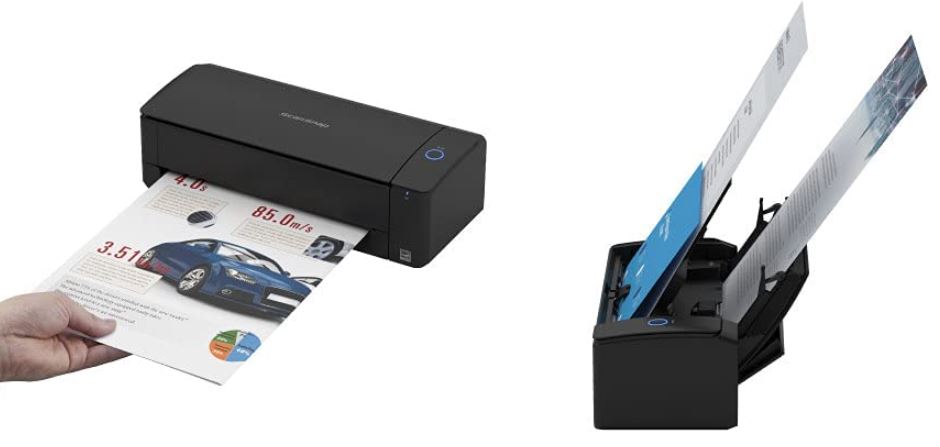 Fujitsu protects this scanner with their standard 12-month manufacturer's warranty. If there are any issues in materials or workmanship, you'll receive a replacement or a refund.
As you can see, the iX1300 is a small, portable printer. But what if you need something even smaller? In that case, consider the Fujitsu ScanSnap iX1500. It has a tiny footprint, so it can fit just about anywhere. On the downside, it's only big enough for business cards, not standard-sized documents.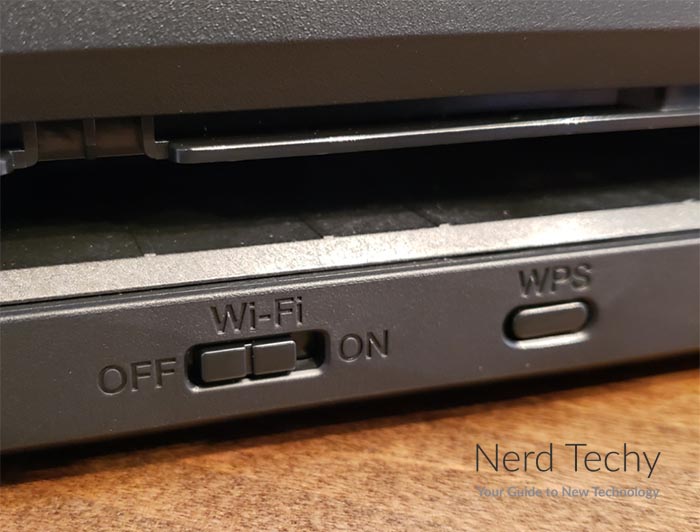 How it Works
To set up the ScanSnap iX1300, you first need to connect it to your device. The easiest and most reliable method is via USB. There's a cable included in the kit for this purpose. That said, you might not be able to use USB. Maybe you're working in one room and saving your documents to a computer in another room. In that case, you can connect via WiFi instead. Be aware that depending on your network strength, this can slow down the scanner's performance.
This scanner can connect to almost any device you'd want to use. It's compatible with PC and Mac, as well as Android and iOS smartphones and tablets. In addition, there's software available for PC and Mac that adds a lot of value. We'll talk about that more in the next section.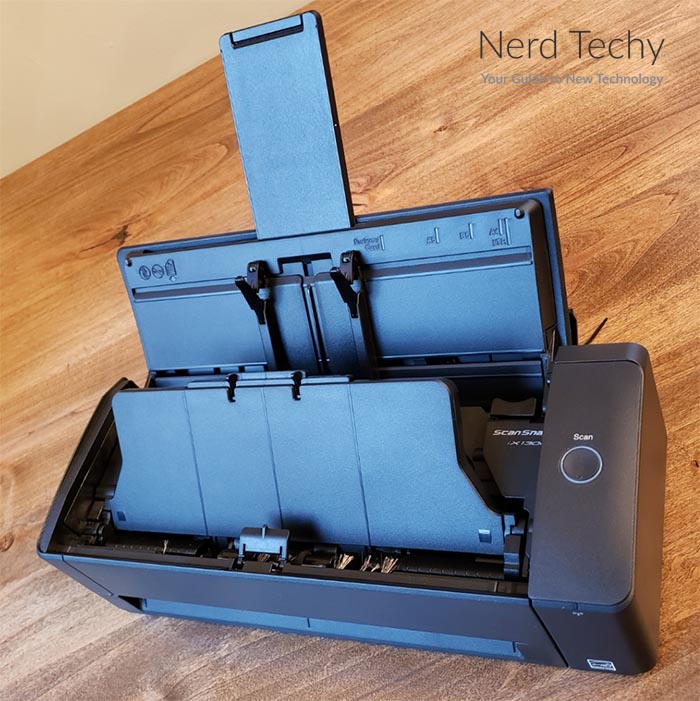 Once your printer has been set up, you're ready to start scanning. To do this, you simply insert the document, then press the scan button. From there, the iX1300 will continue scanning until the job is done. There are two ways of loading your documents. For single documents, you can simply feed them into the slot in the front of the scanner. This is very easy to do, but it doesn't make sense if you're trying to scan a lot of pages at once.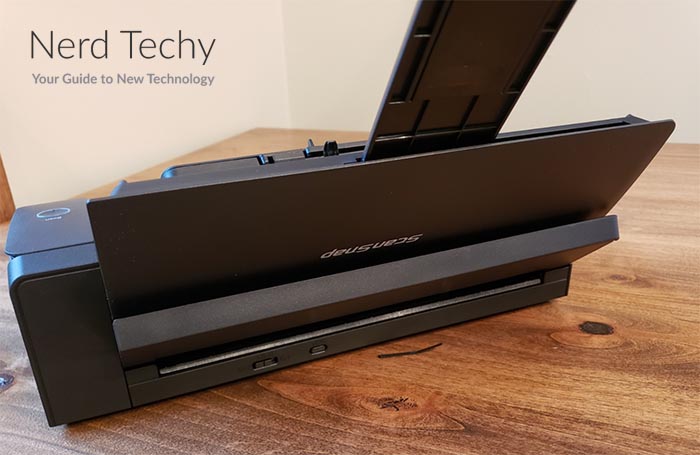 In that case, you're going to want to use the Auto Document Feeder (ADF). This is a feeding tray, similar to the ones you'll find on office printers. To use the ADF, lift up on the flap on top of the housing. It will fold open towards the back, and reveal a full-featured document feeder. Insert your paper, and adjust the guides on the sides if necessary. They should hold the paper gently in place, without causing any bends or folds. Once that's done, you're ready to start scanning.
The ADF features automatic duplexing. In plain English, this means it will automatically scan both sides of a double-sided printout. This is a great feature, since it saves you time when you're scanning. You don't have to load the same sheets twice in opposite directions. That said, the ADF tray can only support 10 sheets at a time.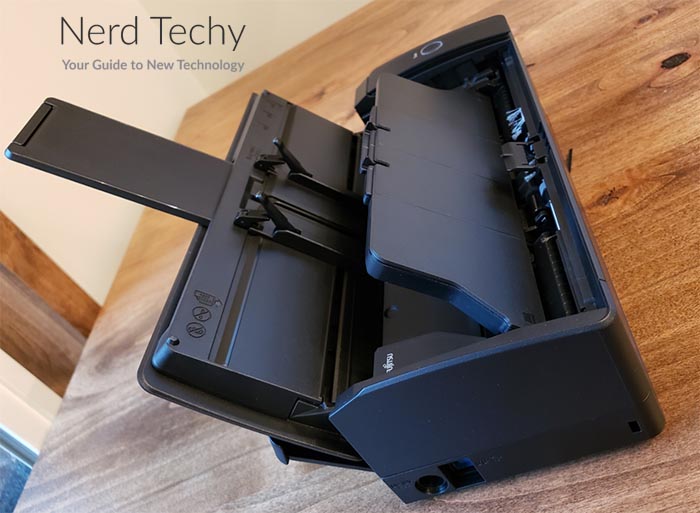 On the one hand, this is understandable. The iX1300 is a miniature scanner, and a large ADF would have taken up more space. More to the point, 10 pages takes a few minutes to scan. If you're doing a large project, you'll still have plenty of time to multitask. On the other hand, you still might get frustrated doing larger jobs. In that case, you might want to look at a higher-capacity scanner, like the Ambir ImageScan Pro 835ix. It can accept up to 50 pages at once, so you can easily bang out longer documents. On the other hand, it's larger and bulkier, and it's not suitable for travel.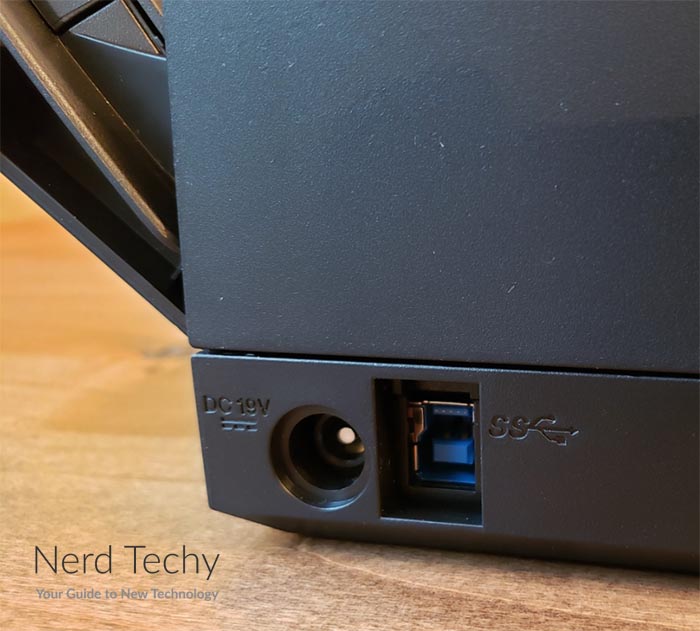 Scan Quality
The ScanSnap iX1300 scans at 600 DPI. This is a fairly high pixel density, and it's more than enough for any text document. It's also suitable for use as a photo scanner. We're not saying it's the best for that purpose. If you're a professional photographer, you should be looking for a scanner that's optimized for that purpose. That said, if your text documents include graphs, sketches, or other artwork, those elements will come out just fine.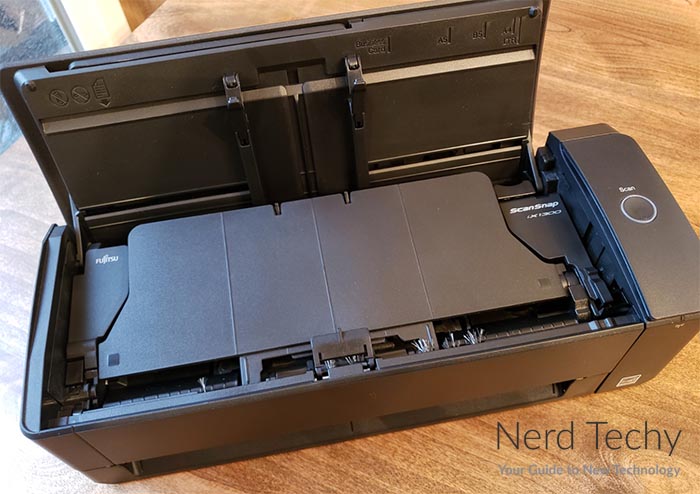 When you're scanning to any device, you have the option to scan to a PDF or JPG. PDF is better for text documents, while JPG is better when you're scanning images. However, the ScanSnap's real capabilities only come to light when you're working on a PC or Mac. On those platforms, you can install the ScanSnap Home software and the ABBYY FineReader. This software will allow you to capture editable PDFs. An editable PDF is exactly what it sounds like. It's a PDF that you can modify, copy and paste, and otherwise manipulate the way you would a Word document.
This is thanks to the magic of Optical Character Recognition (OCR) technology. OCR is a computer algorithm that searches images for any type of text. When it does, it removes that text from the background, and creates a separate layer. This layer can then be edited in your PDF editing software. That said, the ScanSnap software package has one major weakness. It can only open OCR documents that you created with ScanSnap. This is most likely a licensing issue, but it can become problematic. If you've previously used other software to create OCR documents, you'll need to edit them with third-party software.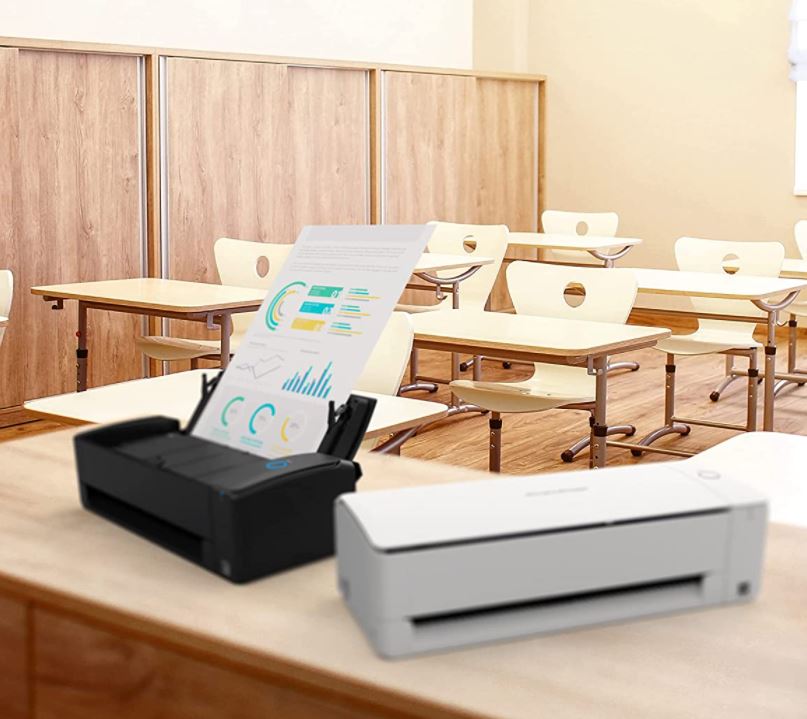 Final Verdict
The Fujitsu ScanSnap iX1300 is one of the most powerful portable scanners on the market. It's lightweight, it's compact, and it accepts some surprisingly long documents. The small ADF is forgivable, due to the small size of the unit. And even so, it will take five minutes to scan a full 10 pages. The software package is powerful, particularly the OCR technology. Not only that, but the scan quality itself is surprisingly good. This is far better than your run of the mill office scanner.