It's compact and it's wearable: Panasonic has unleashed its latest action camera in the form of the HX-A1. Most notably less quirky than last year's launch of the 4K-toting HX-A500, the new model replaces the recording unit and cable-connected screen with a self-contained cylindrical device. Everything it needs to record: Full HD point-of-view footage, is housed in the tough compact body.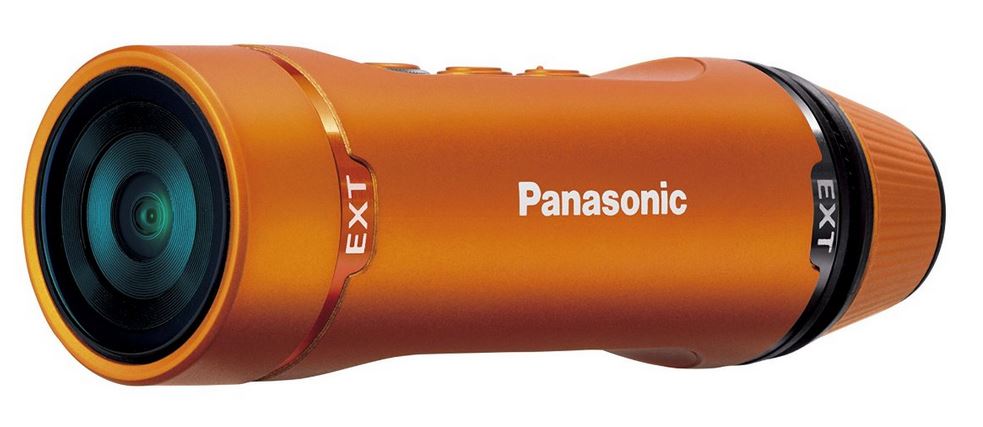 Weighing in at only 45g (1.6 oz) and measuring 83.1 mm long with a maximum 26 mm diameter (3.27 x 1.02 in), the Panasonic HX-A1 will most likely be one of the smaller action cameras out there. Arguably, the cylindrical shape (over the rectangular GoPro devices) also makes it more aerodynamic and better for mounting as well.
Excellent Features:
Shockproof from a height of 1.5 m (5 ft)
Freeze-proof down to -10°C (14°F)
Waterproof to 1.5 m (5 ft) without the need for an external housing
Dust-proof
Inside the camera is a 1/3-inch effective 2.8-megapixel MOS sensor that is paired with a 2.6-mm F2.8 lens to give a view of plus/minus 19-mm equivalent. Recording is done to a micro-SD memory card, the HX-A1 shoots Full HD 1080p video at an impressive 30 frames per second (30 fps), and HD 720p footage at 60 fps. There's a loop recording mode and slow-motion 848 x 480 footage can be recorded at 120 fps. The camera can also shoot JPEG stills at 2.7-megapixels.
Recording footage in total darkness with the new "0 Lux Night Mode" is another interesting feature of the HX-A1. So, filming wildlife in the depths of a forest, or exploring caves without lighting is going to be very exciting. What this mode does to allow users to capture video in dark sceneries, is use an IR filter (included with the HX-A1) and an external infrared (IR) light source.

The camera is controlled with three buttons on the top, but sadly lacks the sort of connected external screen we saw with the HX-A500. What's great is the built-in Wi-Fi feature which enables the users to review footage on their smartphone, or check the angle of their shots. The Panasonic Image app also allows sharing directly to platforms like Facebook, Twitter, Flickr or YouTube.
The HX-A1's Wi-Fi abilities means that it can also be used as a wireless twin camera, together with some of Panasonic's 2015 camcorder range. What this does is allows the footage of both cameras to merge easily with one displayed in a sub-window, which could be used to simultaneously show other footage at the same time as a POV shot. The HX-A1 can also be connected via USB to a computer and used as a web-cam.
A range of optional mounts are available, but for now the Panasonic HX-A1 comes packaged with Multi-use and Tripod mounts. These include the usual suction cup, handlebar and head offerings, but also an exciting twin mount that can hold two cameras, either a camera and an infrared light, or for shooting in opposite directions. Full HD recording of about 2.75 hours is allowed with the extended battery (which also makes the camera physically longer).

The Ideal Choice for Any Environment:
Weighs in at just 1.6 ounces.
Wi-Fi enabled and 4-wheel-drive tough.
Sleek, wearable, Panasonic A1 action-cam is light, versatile, 1080p, full HD video-cam.
It's rugged, all-weather, every-season body fits instantly into packs and pockets for total mobility.
A full range of features: Optional and included mounts, clips and other accessories adds to different angles, range and fun to all recordings.
Available in two adventurous colors.
The Panasonic A1 has everything you need and want to capture that rush of adventure – from shark-cage diving, snorkeling and caving, to all-season endurance events, cycling, hiking and more, including everyday imaging. The camera's built-in battery (480 mAh) recharges easily via micro USB.

Ultra-Rugged, Ultra-Compact, and when it comes to the nitty-gritty: (size and weight), no other adventure-cam matches the Panasonic A1. At a mere 3.3 inches long and 1.6 ounces light, it travels well and never interferes with action or movement. It's so lightweight, that you'll probably forget you're wearing it.
The A1 is also as durable and tough as it gets. Both the lens and the body are shockproof, waterproof and dust-proof to 5 feet and freeze-proof to 14°F.
The Detail and Color: Sheer Brilliance
On any double-diamond slope, river rapid, city street, windy peak or desert trail, the A1 3.54-megapixel delivers the action in sheer brilliant 1080p Full HD video color and detail, with crystal-clear AAC sound. This super-tough, high-end, Panasonic 2.6mm, F2.8 lens withstand the elements easily to capture it all. Add the super-compact 1/3-inch MOS image sensor to make low-light shooting a breeze.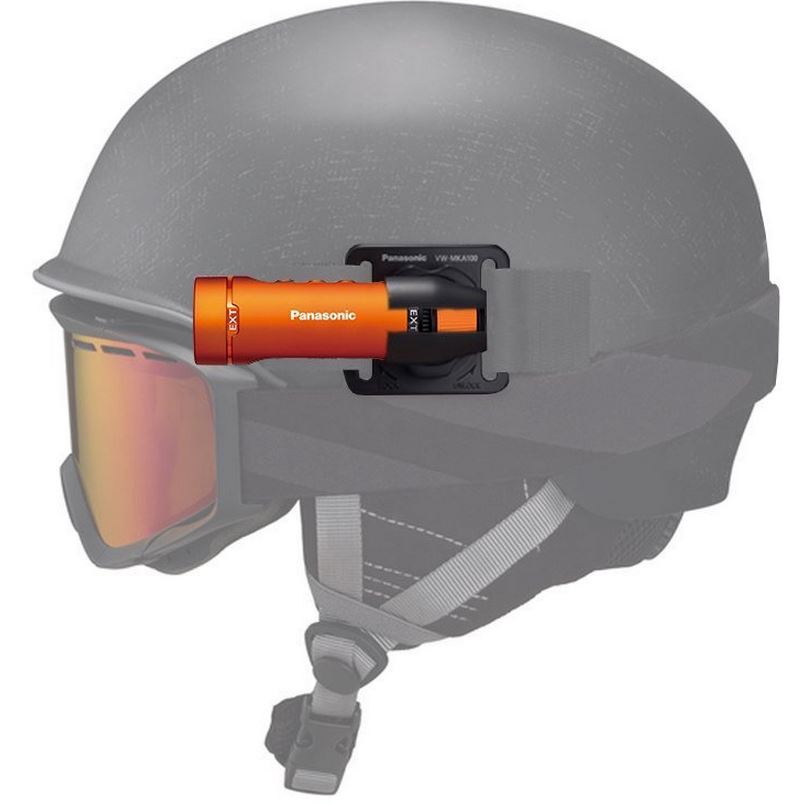 VideoYou in slow motion also records video in two modes so that you can capture fast-moving targets like motorsports and ski-ing. Choose 848 x 480 resolution at 120fps/30p or 1280 x 720 resolution at 60fps/30p.
Share the Rush through Wi-Fi
With the aid of built-in Wi-Fi, the A1 can share the action quickly and easily to social media platforms YouTube, Twitter, Facebook, and others. You can even send A1 video to a compatible video-cam for dual-angle, simultaneous picture-in-motion recording with the wireless Twin Camera function.
When you sync it to your smartphone you can use the phone's display as a remote control. Relive that rush back home with friends and family via the camera's USB, microSD, microSDXC, or microSDHC on your laptop or PC. SD cards are sold separately.
Performance
The big price cut is explained by the lack of separate control panel and 4K recording capabilities. For those wanting something different, these cuts are really worthwhile. The top of the camera now only consists of three buttons, making it far less intimidating to use – the power button, mode button, and record button. There are obviously some light indicators that display things like Wi-Fi status.

Recording of 1080p Full HD video at 30 fps or 720p to get 60 fps, Panasonic's 2.6mm F2.8 lens and 1/3-inch MOS sensor does a pretty nice job. The non-HD 480p resolution allows for slow motion video recording, and you can also have continuous 2.7-megapixel set-interval snapshots taken with the HX-A1. It relies on a microSD memory card for storage supporting up to 128 GB.
Included in the package, and undoubtedly the coolest thing about the Panasonic HX-A1, is the second lens. Swap out this second lens and the HX-A1 will bring the pitch black darkness to light.
The camera charges quickly and uses the standard micro-USB so can be charged using either solar panel or powerbank. This is fortunate because in order to make the Panasonic HX-A1 really light, they had to use a small 480 mAh battery which can only handle approximately 90 minutes of continuous HD video recording.

Other Accessories
The additionally purchased strap adapter and wind jammer accessories can make the HX-A1 even more useful. The strap adapter can be used to connect the camera to a key ring, flotation strap or neck strap so as not to lose your small and compact Panasonic HX-A1. The wind jammer comes in handy during windy conditions, helping the audio sound clearer.
Pros:
Light, rugged, efficient.
Mounting camera can be done numerous ways.
Fantastic night vision IR lens addition.
Costs a mere $200.
Cons:
Recording and slow motion modes are limited.
Average still image quality.
Short battery life.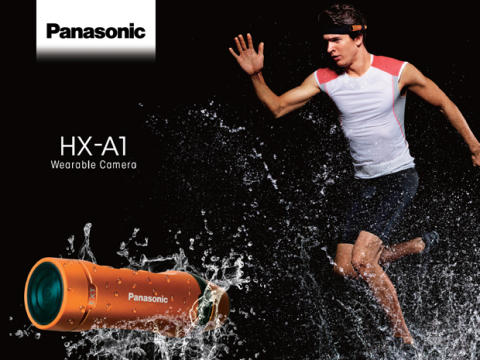 Verdict:
The slight drawbacks are completely understandable when considering both the size and price of the HX-A1. Panasonic have ingeniously created a fine budget action camera that can not only see in the dark but has plenty of ways of mounting. No matter what activity you enjoy, you can comfortably record POV video without the Panasonic HX-A1 ever getting in the way.