SoundPEATs has been a huge player in the wireless earbuds market for quite some time now. Their latest release, the Q9A Earbuds, provide a secure, comfortable, and completely wire-free experience without any hiccups. Packed with some of the most recent advancements in wireless audio, you no longer have to settle for sub-par quality when you want to listen to your favorite tunes without being tangled in wires and cords. First released in the UK, but now available in the United States, we had the opportunity to get our hands on the SoundPEATs Q9A Wireless Bluetooth Earbuds to check them out for ourselves. To say the very least, we're huge fans of them! Let's take a closer look to see exactly what they have to offer.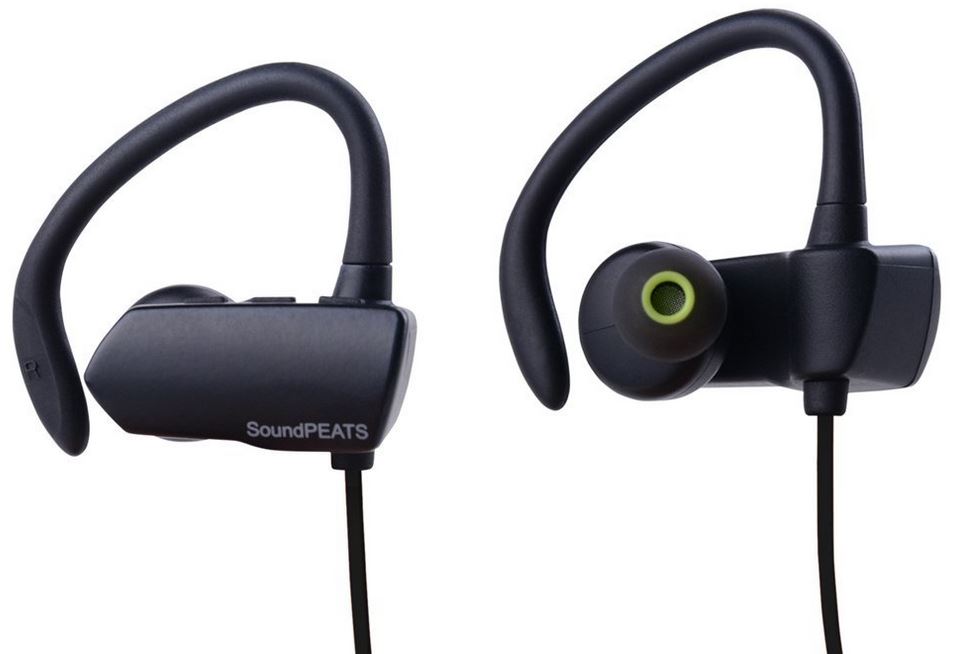 Sound Quality
When they're in your ears, you might be surprised how much sound they can emit. While the sound levels are impressive, what's more impressive is the amount of quality sound they're capable of. Thanks to the advanced APTX sound, they achieve acoustic quality sound with a healthy amount of bass that's enjoyable with all kinds of music. The rich sound is surprising considering that these earbuds are completely wire-free.
Battery
Everything that's wireless needs a battery. The integrated lithium polymer battery within the SoundPEATs Q9A Wireless Bluetooth Earbuds gives you around 4 to 5 hours of talk and listening time per full charge. This longevity is nice for the long days when you crave your music no matter where you are. Charging is easy with the included USB cable. Just plug it into the small micro USB port that's located on the left earbud, and connect it to any available USB outlet. With this cable you can expect it to take around 1 to 2 hours to charge up the internal battery all the way.
Answer Calls
Built into the earbud is a small microphone that enables you to speak into your smartphone when you have to take a call. Perfect for hands-free calling, this feature gives you the ability to keep your phone in your pocket while your earbuds are fully wirelessly connected to your phone call. And if you're into your music too much while your phone is ringing, you can choose to deny the call and continue listening at will.
Wireless Range
Everything that's wireless has it's limitations, that's just the fact of the matter when it comes to wireless technology. Range is an important factor for many since the distance between your mp3 player or smart phone and your earbuds can be a deal breaker if it's not sufficient. Luckily, the SoundPEATs Q9 Wireless Bluetooth Earbuds have a 30 foot working range even if your music device is obstructed in view.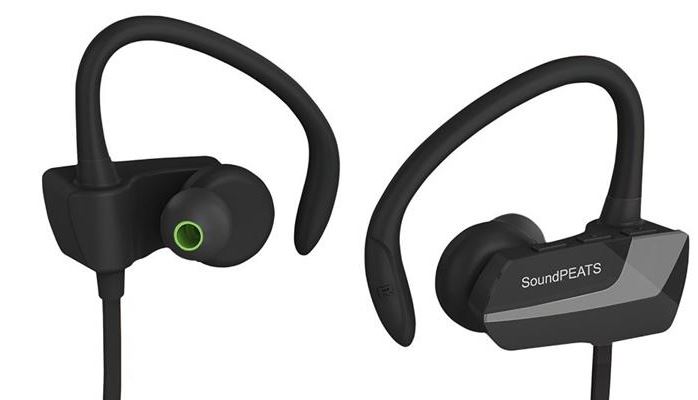 Perfect for Sports
Since the Q9 Earbuds are completely water resistant, they naturally repel any moisture or sweat that is quite common while working out. This makes them a perfect choice for sports, since we all know how sweaty you can get when you're really getting into your daily fitness. Whether you ride your bike for hours at a time or workout during gymnastics, they'll stay snug yet cozy in your ears no matter how much you perspire.
The Right Price
The price to own the SoundPEATs Q9A Wireless Bluetooth Earbuds is $49.99 from Amazon.com, which is a fair price considering the features they offer. They're comfortable, durable, and built to withstand abuse throughout your workouts. But if you're not the kind of person who really doesn't workout a lot, they're still a great choice. The wireless sound they offer is excellent for movie watching and general entertainment. Music, movies, phone calls, the Q9 Earbuds are super efficient for all uses.
What's Included?
Inside the package, the earbuds come included with a variety of additional accessories. A zippered hard case keeps them safe and secure while they're not in use. There's also a mesh drawstring storage bag that does the same thing. Additionally, a micro USB cable for charging keeps them full of battery juice for whenever your next adventure awaits. Last but not least is the instruction booklet that will cover everything you need to know about the functionality and features.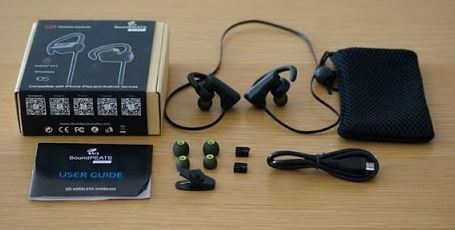 Overall Thoughts
Wireless earbuds make a great purchase for those who desire to untangle their entertainment and retire the wired headphones once and for all. The SoundPEATs Q9A Wireless Bluetooth Earbuds are an ideal choice since they don't cost you an arm and a leg, but they still offer you the superb sound quality that you'll love and cherish for several years to come. For workouts, movie watching, or just standard entertainment, they're a great choice that we wouldn't hesitate to recommend.