Twelve South has cleverly started shipping its signature HiRise dock designed for any Apple Watch model with the Apple Watch released a short time ago and still making its way to clients around the world. While the Apple Watch Magnetic Charging Cable offers up a convenient yet simple way of spicing the device even in the dark, the issues with Apple's Mag-Safe technology are still remaining including a way too easy way of removing (accidentally) the charging magnet from the watch.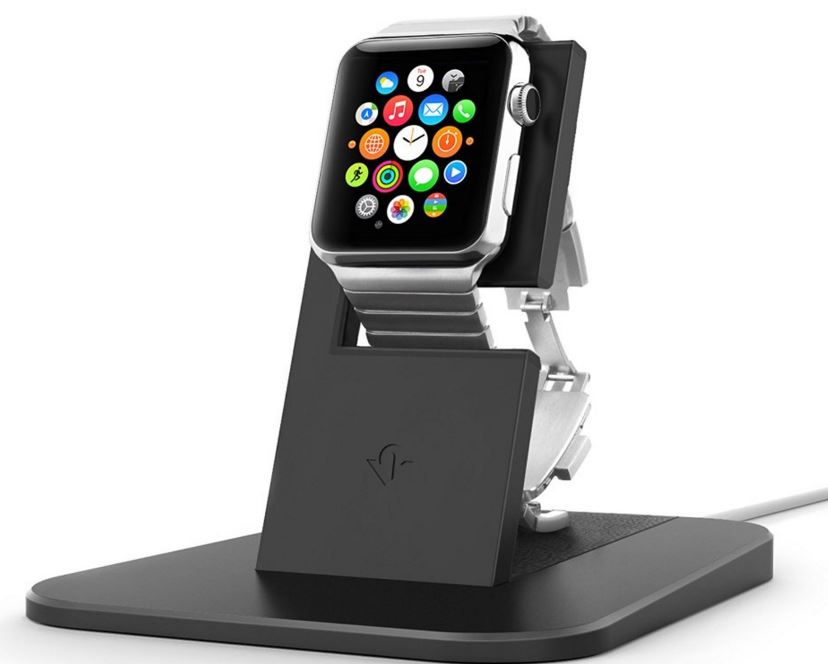 Its key factor is to help alleviate the issue of your watch separating from its power source while displaying a more attractive presentation of your Apple Watch, while Hi-Rise still uses the same charging cable. So, how does Twelve South Hi-Rise for Apple Watch rate as one of the first charging stands, with its $50 price tag?
Key Details:
Works with any Apple Watch.
Some assembly required, but quick and minimal.
Your own Apple Magnetic Charging Cable is required.
Mostly metal build with soft plastic contacts to avoid scratching Apple Watch.
Offered in colors black or silver.
How it Works
A few annoyances can be the result of charging the Apple Watch without a dock: you have to snap the MagSafe end to the watch rather than quickly dropping the watch onto a bigger target, the magnet itself isn't weighted much so it can easily slide off a bedside table, and the MagSafe end easily detaches from the watch with any amount of pull.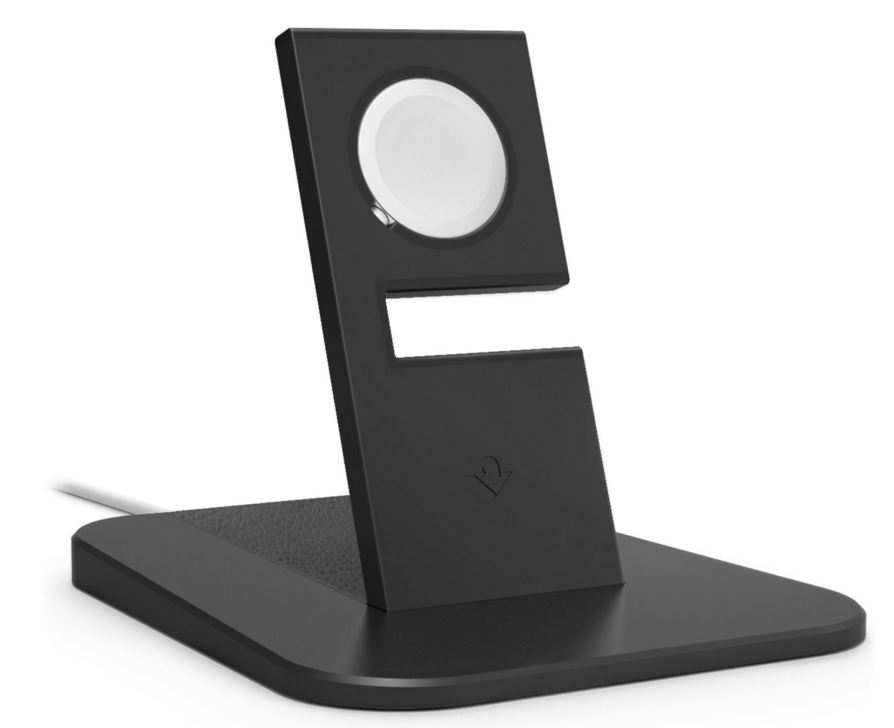 HiRise has been built sturdily to tackle the sliding issue, just over 0.41-pounds, and (supported by magnet) Apple Watch rests on the stand, offering a larger, stationary drop zone for the charge.
HiRise ships in three main pieces with an optional (and spare) tool and screw to secure the base if necessary, so it does require a slight amount of assembly. No additional tools are required aside from the optional hardware that's included, and a simple setup guide walks you through each step of assembly. Just be sure to have an Apple Watch Magnetic Charging Cable available on hand before you put HiRise together.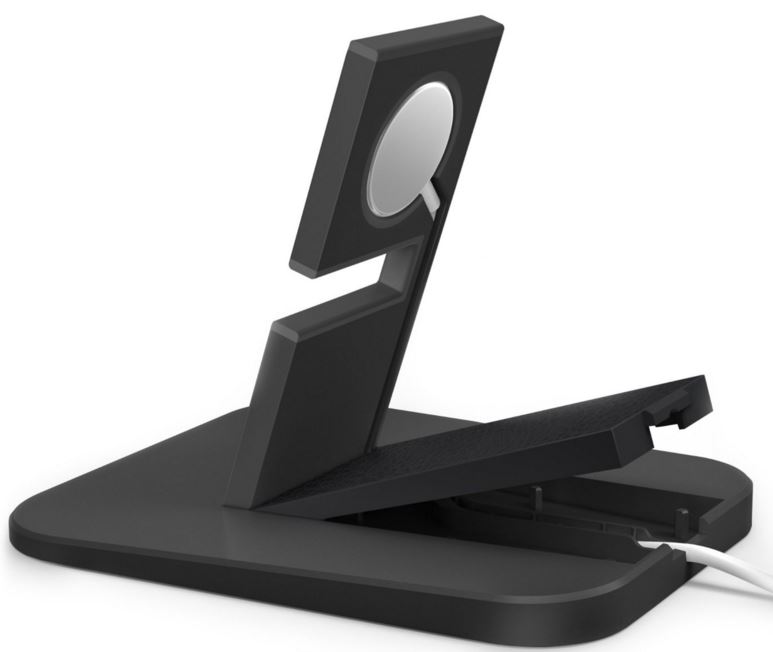 The assembly process consists of four quick and simple steps:
First, position the arm part of the charging stand to fit angled onto the base. The arm should stand on its own once positioned properly.
Second, you'll need to position the Apple Watch Magnetic Charging Cable, with the concave side facing outwards, into the coin-like slot.
Thirdly, and perhaps the most tricky as the cable resists the angles necessary for hiding it; run the cord tightly through the pre-cut groove along the base and the arm. The optional screw can be used to secure the pieces together if the cable offers too much resistance, but if you plan on removing it often, this means your charging cable is more difficult to access.
Finally, and to hide the embedded cable, the base snaps into place.
Twelve South chose to line the areas of the stand with plastic where both your watch and band will make contact, while HiRise benefits from its metal frame with added sturdiness and weight.
This addresses the following that each Apple Watch charging stand will need to consider: metal on metal sadly and easily scratches stainless steel. Twelve South highlights that HiRise can support any band material (metal, rubber, or leather) and any Apple Watch (stainless steel, aluminum, or gold).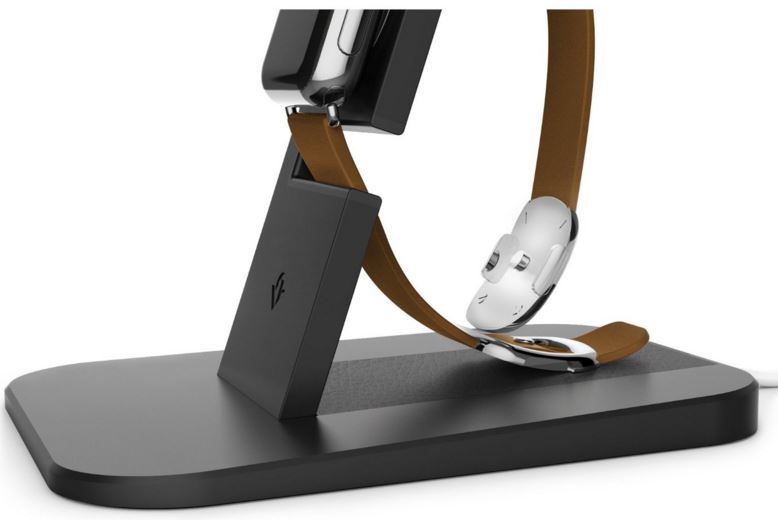 Time doesn't stand still, but HiRise does.
With a stable, metal base that lets you interact with the screen on your watch while it's charging, HiRise for Apple Watch is designed, like HiRise for iPhone. Check the time at a glance, reply to messages, or see alerts. This brushed metal stand is angled and elevated just right so you can view your Watch screen while glancing over at a countertop or lying in bed. HiRise is kept in place by a non-slip rubber base.
The HiRise for Apple Watch matches closer to the Sport version since the stainless steel Apple Watch collection differs from the iPhone-like look and the aluminum Mac-like look HiRise stands made by Twelve South. HiRise still provides a solid production and the available black option (and my personal preference) may match closer with the stainless steel watches, but I do believe an opportunity for a pricier and more premium HiRise is on the horizon.
All bands are Welcome on This Stage.
From the elastomeric Sport bands to the all-metal Link Bracelet, HiRise treats all Apple Watch bands with great care. The top band is routed gently behind the HiRise support post and over a silicone pad. Once there, your buckle and band rest softly on a leather landing pad. Routing the lower band to the back as well means the silicone lined notch below the watch is not just for fit. This keeps the front view nice and tidy.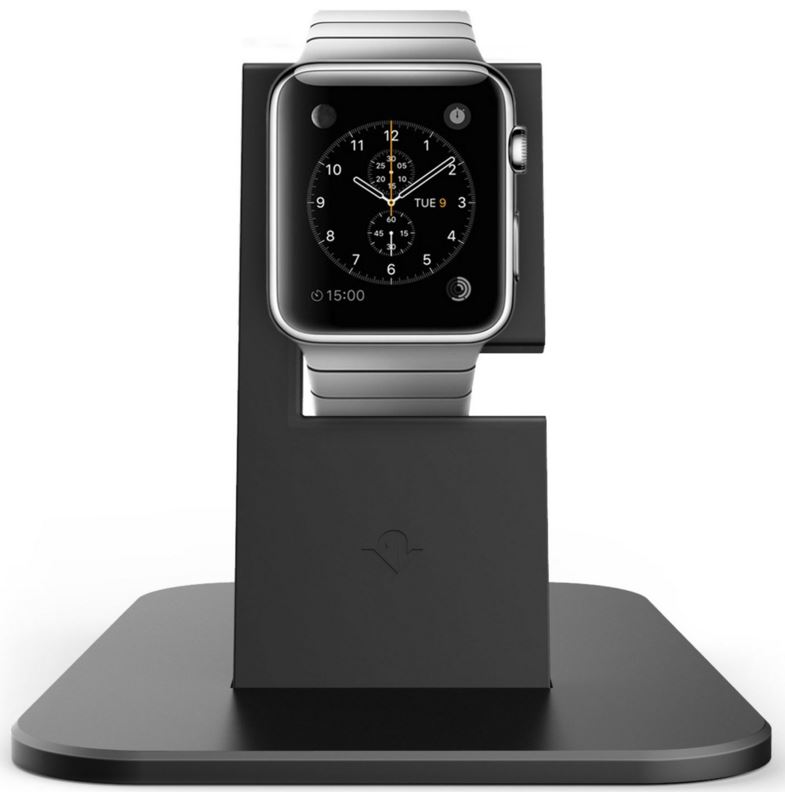 Pros
Adjustable height settings
Compatible with virtually any case
Secure fit
Portable
Solid, attractive build
Cons
Requires some assembly
Pricey
Tight fit requires both hands to remove iDevice
Portrait mode only
Not recommended for full-size iPad (4th generation)
Final Thoughts
It's a product from one of our favorite iOS and Mac accessory companies, so by default the HiRise by Twelve South is bound to be a winner. No matter what kind of case you're using, it's an attractive stand that looks at home connected to any Mac that docks iPad and iPhone alike.
Most importantly, it's future proof, meaning you'll more than likely have your HiRise until your dying day. One minor irritation: we wish that the stand itself came pre-assembled. While your mileage may vary, it's the one tarnishing experience in an otherwise pretty excellent product.