Sades is a lesser known brand when it comes to gaming accessories, but they provide a much needed solution in the budgeting gamer market. Their gaming accessories are all bargain priced while still offering an enhanced gaming experience so you can play like the pros even if you're not one (yet).
The Sades SA-807 Gaming Headset is a great addition to the Sades collection, and can be purchased for a screaming deal. The SA-807 lands somewhere in between the A55 pro and SA-708. It doesn't quite have the super-cool professional look and feel of the A55 pro and it doesn't come with any glowing lights, but it's a definite step up from the tackier looking SA-708.
The SA-807 is an awesome multi-functional headset that's compatible with your Xbox One, PS4, PC, Mac, iPad and even your iPod. It comes with all the cables you'll need for setup, which is easy and painless. However, you will need an extra adapter if you're looking to connect to an old Xbox One controller. It's geared toward the more casual gamer, or younger gamers on a budget who want to take their gaming to the next level.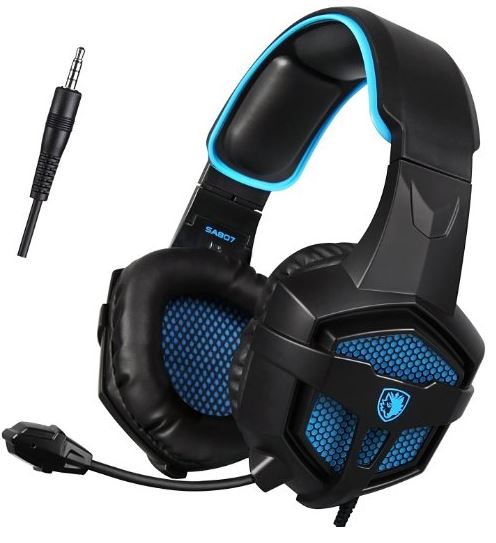 First Look
The SA-807 has an intriguing color scheme, again, somewhere in between the vibrant A55 pro and the toned down SA-708. It's bulkier than the SA-708, giving a bit more of a powerful look to it. It's definitely marketed toward the youthful gamer crowd looking to exude a certain edge in their game play.
It's an extremely flexible headset, which is great for comfort and durability. The whole headband is able to twist and bend unnaturally without cracking or stressing. The ear cups are bulky but don't have any audio controls on them. Those can be found on the mini portable control panel, so you still have easy access to the volume control and microphone switch.
The control panel can also be clipped to your shirt for even more convenient access. The mic is not detachable, but it is flexible so you can move it about depending on how you'd like it to be positioned. The headset comes with all the necessary hook ups including a plug cable and jack cable so you can take advantage of the multi-functional design without having to buy any extra cables.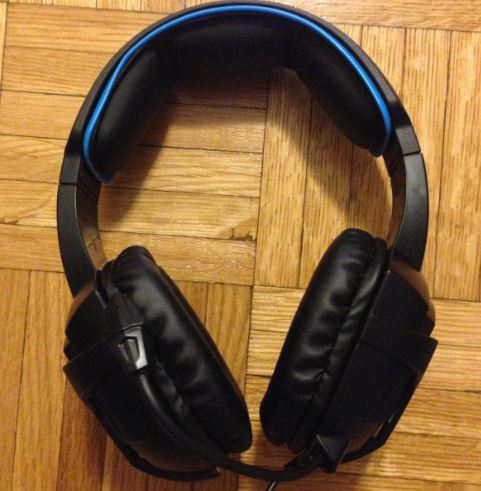 Audio Quality
The SA-807 has 40 mm loudhailer speakers that offer a respectable sound quality that won't retract from your gaming experience. The ear cups are substantial enough to keep the sound in so you can be the only one in the room hearing your game play (this is a bonus for anyone gaming with parents in the house).
The earcups are a closed design so external sound will be mostly shut off and you won't suffer from the "seashell" effect many cheap headsets cause. The SA-807s have a good distortion rate and frequency range, meaning you'll hear everything from whizzing bullets to muddy footsteps to help give you an edge in your game.
The SA-807s have game quality stereo sound, so you probably won't be awed, but you won't be disappointed either. You can find specialized audio features in astronomically more expensive headsets that will undoubtedly be better, but unless you're encroaching on the professional gaming level, you'll be throwing your money away relative to the cost of the SA-807's perfectly good audio quality.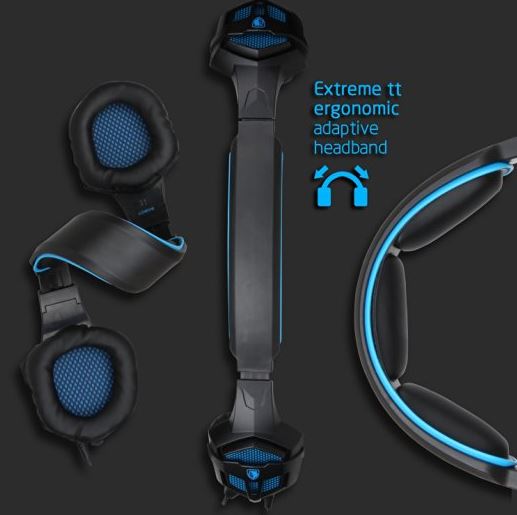 Microphone Quality
The SA-807's microphone is not detachable, but it's well positioned you'll get the right balance of hearing your voice without hearing too much breathing or disruptive background noise. Plus, having the mic on your headset at all times will help prevent it from getting lost.
It's also flexible so you can always adjust depending on your preference or physical fitting in the headset. It's an omni-directional condenser microphone with sensitive frequency response, so it picks up every detail of your voice clearly for improved communication. The downside of this is that you might occasionally pick up similar frequency background noise, but you can always adjust the mic's position to compensate for any minor disruptions.
The SA-807's mic comes with Magic Voice, which is not only fun, but also great for disguising your age when you're trying to prove yourself to some skeptical opponents online. Overall, the SA-807 has a great mic with some respectable and fun features that are the cherry on top of the exceptional price.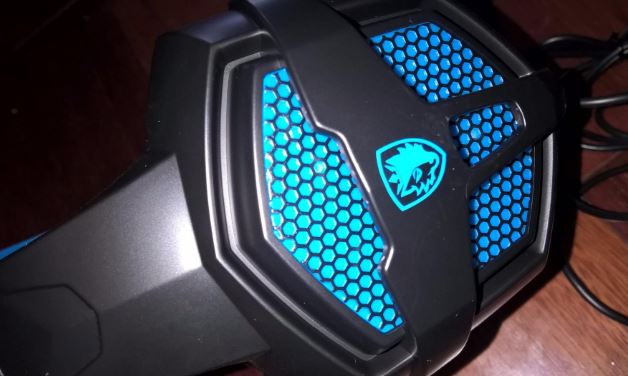 Design and Build Quality
The SA-807 has a younger, bolder color scheme than many of Sades' previous models, even though it lies on the lower end price-wise. This give it a good edge if you're on the fence about which Sades product to buy.
Looks aside, the ear cups are thick and sturdy so there doesn't appear to be any unnecessary compensation. We found the ergonomically adaptive, bendable headband to be an exceptional feature, especially given the young target market for the SA-807s. Rarely do you get a headband so flexible, which is awesome comfort wise, and you can still adjust the headband size by expanding or compressing it without any more difficulty than if the headband were solid.
The bendability also adds a lot of durability, to the point that it's almost surprising more headsets don't have this feature. From what we can tell, it seems like a great way to increase comfort without sacrificing anything in the way of durability. The ear cups and cable controls are your average plastic makeup, which is not unexpected for the price range, but if you use the headphones as intended there's no reason anything will break unexpectedly.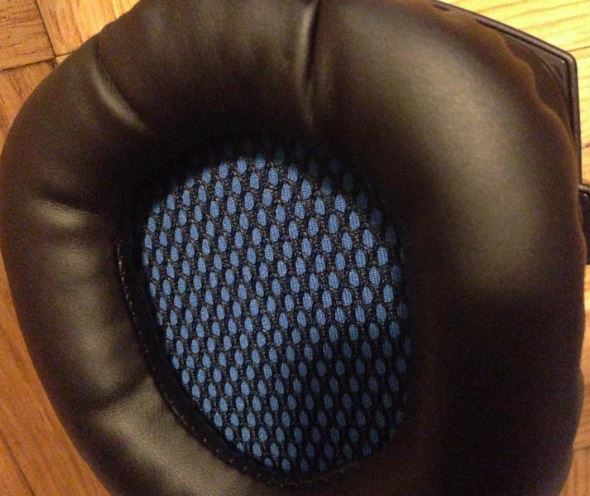 Comfort
The SA-807 comes with a unique 3-piece padded headband structure which was surprisingly noticeable. It offered all the comfort benefits of a traditional single-padded band but with an added sense of breathability and lightweight.
The cushions on the earcups are large, and the ear cup size fits well over your ears. Combined, these features are great for extended gaming sessions because your ears won't ache over a longer period of time. The flexible design is perfect for adjustability and it adds an extra component of customization for users of different sizes. The headset is also relatively lightweight, another feature that allows for extended use.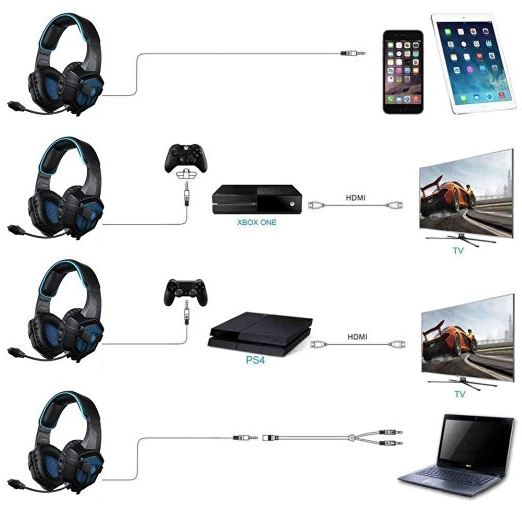 Compatibility
The SA-807's compatibility is one of the greatest features of this headset. It offers multi-platform use that includes compatibility with both the Xbox One and PS4 gaming consoles as well as your PC or Mac laptop.
This gives you the ultimate flexibility to enhance your gaming experience regardless of where you like to play most. You can even use the SA-807 with your portable electronics such as your iPad or iPod, meaning you can game on the go without limiting yourself to cheap earbuds that don't come close to competing with the advantages of a headset.
The SA-807 does not include an adapter for first generation Xbox One controllers, but the headset is compatible once the adapter is attached, and they are relatively inexpensive to purchase. Other than that, the SA-807 provides with all the cables you need to hook it up to your preferred device. This headset gives you tons of options, and is great for gamers who want to get the most out of all their devices.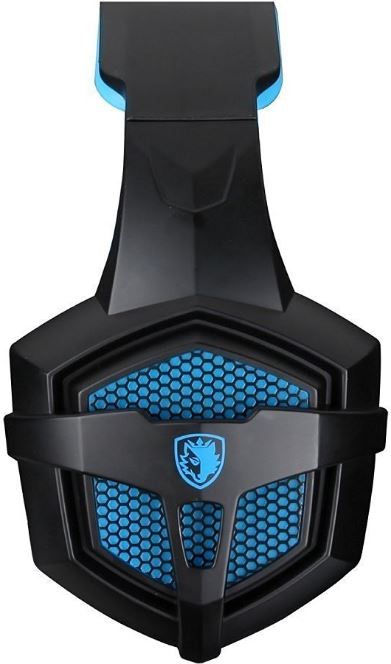 Functionality
The SA-807s have an adjustable headband and attached microphone, offering the typical layout of a standard headset. The exception is, of course, the flexible headband which provides extra comfort and durability. This headset can be used with a wide range of consoles and devices, but Sades doesn't leave you hanging for the hook ups.
It comes with a 3.5 mm jack cable and 3.5 mm plug cable so you can use the SA-807 with ease wherever you want. The mic is not detachable, so the SA-807 is not ideal for use outside of gaming, but it is multifunctional enough that most users won't find this to be a drawback.
The cables aren't incredibly long, but the headset is designed to be hooked up to a device that will inevitably be within arm's reach anyway so there shouldn't be any problems there.
The microphone and headphones function well, doing a good job of cutting out background noise while still picking your voice frequencies and providing good quality audio through the headphones. You also have easy access to audio and volume controls with the control clip and you can attach wherever you feel is the most convenient.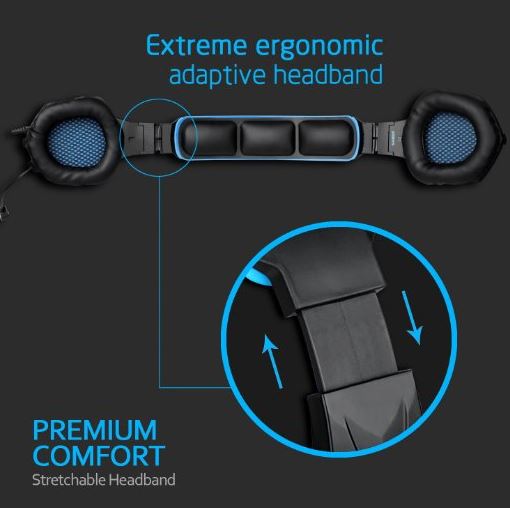 Final Verdict
If you're a professional level gamer looking for top of the line, premium equipment, the SA-807 is not for you. But this headset is great for parents who are looking for a way to keep the noise levels down at home, and even better for gamers in the making looking for something to help them get to the next level.
The Sades SA-807 Gaming Headset gives you all the basic features you want in a headset including comfort, good sound quality, a good microphone, and compatibility with all your favorite devices. Even though its price is bare minimum, the SA-807 still manages to offer a couple perks, including all cables required for hookup and cool features like Magic Voice. For a starter headset that's good quality, affordable and reliable, you can't beat the SA-807.