Upgrading your monitor is one of the biggest improvements you can make to your desktop computer. Sure, the internal components make a big difference in your performance, but every minute you spend sitting on your computer you'll be looking directly at the screen.
A good monitor is even more important for gamers. You want a high refresh rate and low latency, ensuring that you can respond to the action the moment it takes place. You want a monitor that provides a large, crisp picture. But it's important to strike a balance between the high levels of detail offered by a high-resolution monitor and the performance impact your system will take by having to crank out too many pixels.
Where display technology is concerned, there's no better known manufacturer than Samsung. From large screen televisions to mobile displays to computer monitors, Samsung seems to do it all. Their latest gaming monitor, the CFG70 series, appears to offer the best possible performance for an affordable price. We put it to the test to see if it can live up to the hype.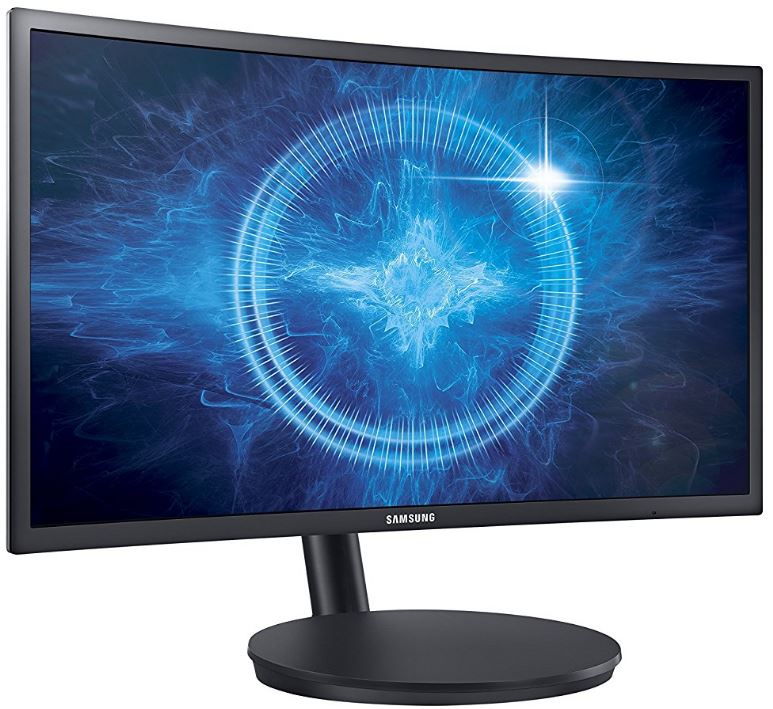 First Look
Curved monitors are becoming a hot trend, and for good reason. Such a subtle change has the incredible ability to take the synthetic feeling experience of gaming and turn it into a much more immersive experience. Of course, the gentle curve doesn't really have much of an effect on a small monitor. But with this huge 24-inch display, it certainly stands out above the competition. The case has a pretty plain design. It's got the same black plastic design as most other monitors on the market, so it will surely fit into the design of your desk. But once you set it side by side with another monitor, you'll realize just how impressive this display is.
Color Reproduction
One of the first things you'll notice when using the Samsung CFG70 is that colors just seem to be a little more present. This is thanks to a technology they call "quantum dots". To understand how this works, we first need to review how LED monitors work. Colors can be reproduced through a combination of three primary colors: red, green, and blue. Each pixel in their monitors contains LEDs that can reproduce these three colors. By varying the intensity, they are able to create millions of possible color combinations. This is called the "sRGB colorspace".
There are some monitors, generally high end ones used for photo and video editing, that are capable of producing extra colors. Samsung managed to expand the colorspace using what they call quantum dots. A quantum dot is actually a fourth nanocrystal that is included in each pixel. These are tiny semiconductors that are made from indium phosphide. They are capable of producing light in the red and yellow spectrum that simply cannot be created from LEDs alone, meaning that this monitor can produce colors you've never seen from a monitor before.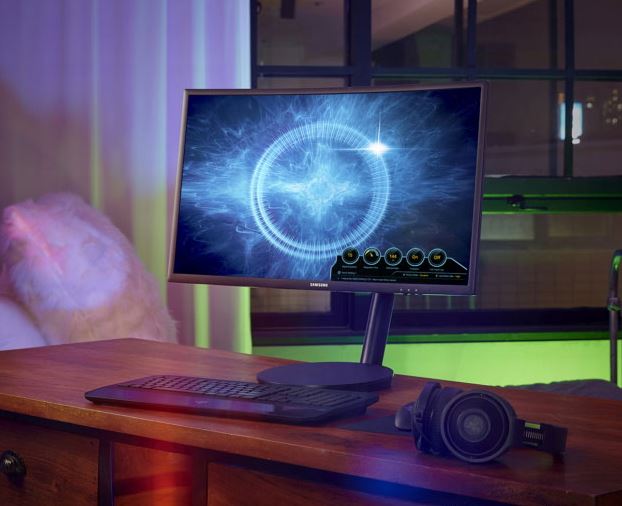 While this isn't quite at the level as the HDR 4K displays we've seen in televisions, it's still a very impressive feature. For users, this means that your digital world just seems a little brighter. It's not the accurate type of color you'd want for editing photos, but it provides a significant improvement to synthetic environments such as games and movies.
If you want the numbers, this display is capable of producing 125% of the unique colors present in the sRGB colorspace. You can easily quantify this to mean that your images will appear 25% more vibrant than what you're used to. If you're a photography buff, you might be wondering if this monitor supports extended colorspaces such as AdobeRGB or DCI-P3. Unfortunately, these are only found in high end monitors. If you're looking for something to brighten your picture beyond what you thought possible, then this is a great choice. But if you're looking for something that allows you to accurately edit HDR content, you might want to look elsewhere.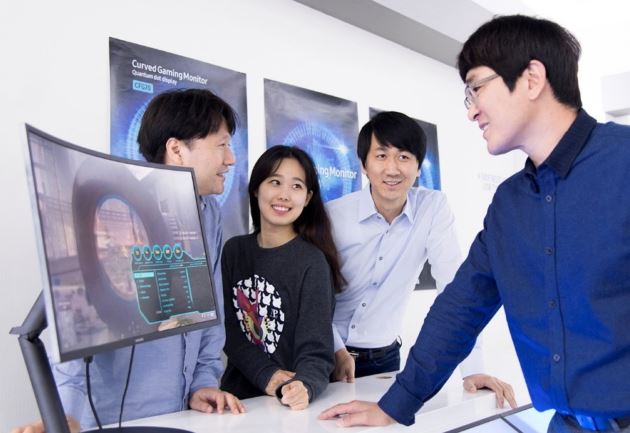 Display Curvature
When you're using a flat panel display, the image is affected by the distance from your eye to the pixel you're looking at. This means that flat displays have a little distortion. The center of the display is closer to your eye, while the corners are a little further away. You might not notice this at first, but it isn't how the world looks in real life. In fact, most games use a synthetic curvature to make their 3D environments feel a little more realistic.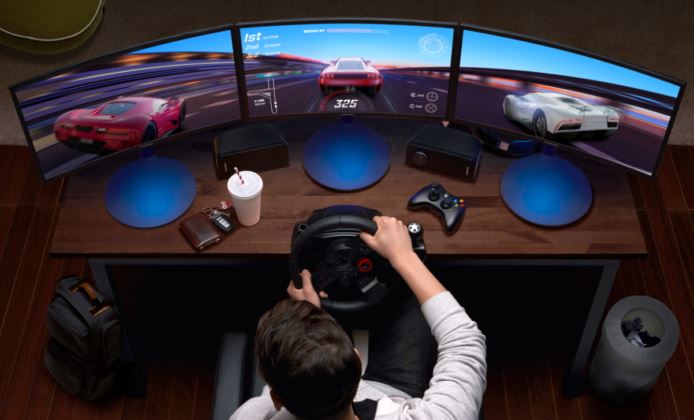 When you first take a curved display out of the box, the effect seems very subtle. But once you're using it, you'll be thankful you adopted this feature. This display has an 1800R level of curvature. This R value measures the total diameter the screens would be if you joined them to make a complete circle. While this is a subtle curve, it's the perfect length considering how close your eyes will be to the screen. We've tested a few curved displays in the past, and we can't help but appreciate how impressive they feel. We highly recommend you consider this feature for your next display.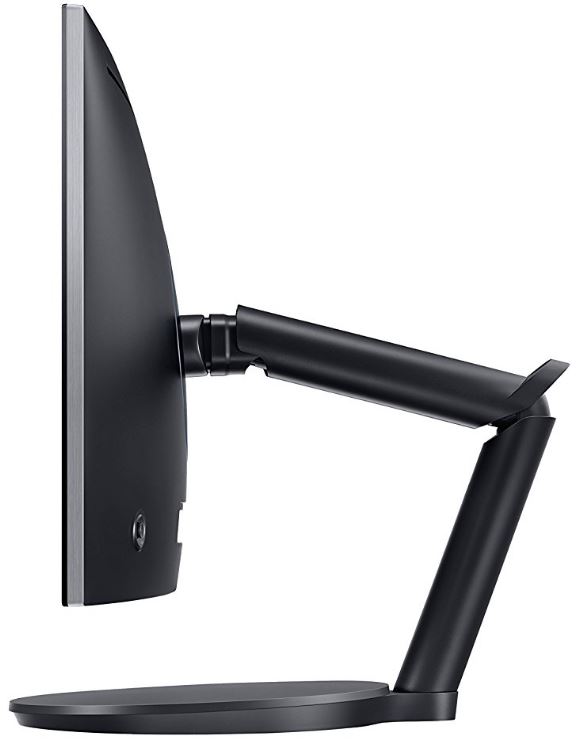 Refresh Rate
Gamers are always looking for monitors that are fast and accurate. This display supports an impressive 144Hz, ensuring that every frame is presented to you almost instantly. But there is one extra feature that makes this a lot more accurate.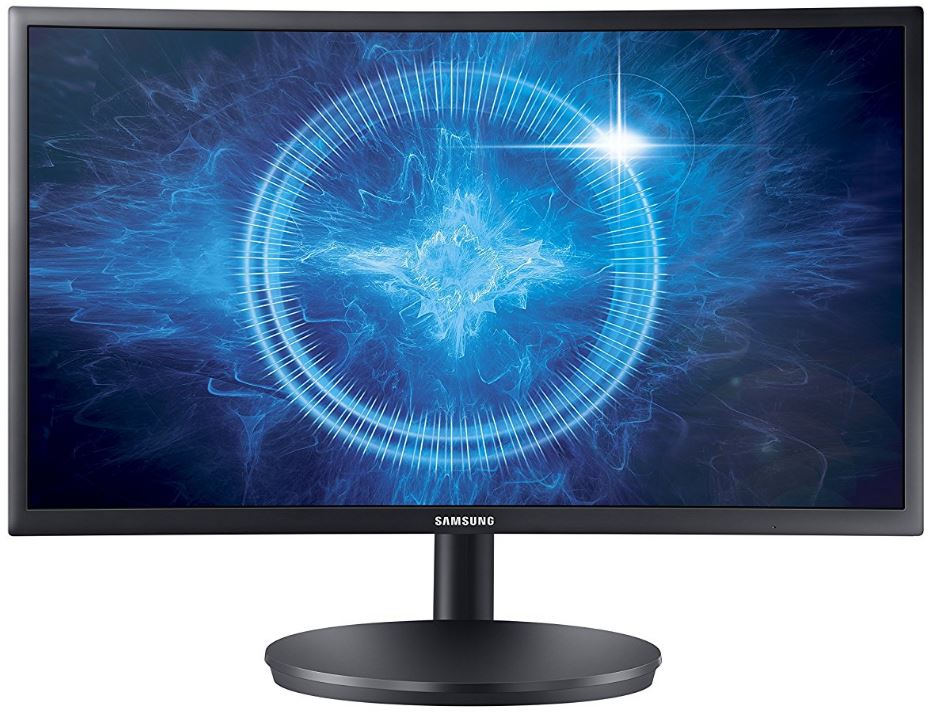 You are probably aware that your graphics card performs differently under certain conditions. Sometimes your frame rate will be upwards of 100 FPS, other times it might drop a little. The problem is that your monitor and graphics card are not completely synced up. If your graphics card is running at 80 FPS and your monitor at 144Hz, you'll encounter some lag. Your graphics card will be updated, and your monitor won't refresh the display until it's next cycle. Worst case scenario, you'll run into an environment where your monitor is updating an image that your graphics card has only half-drawn, creating the terrible "shearing" effect we all want to avoid.
Samsung has fixed this using AMDs FreeSync technology. This means that your monitor will automatically sync with your graphics card, updating only once the frame is ready. There is no point in drawing the same frame twice, so dropping the refresh rate down to match that of your card will actually improve gaming performance by a pretty large margin. To some, chasing those few milliseconds of lag may seem silly. But for gamers, you know that it's these tiny details that can give you an edge on your competition.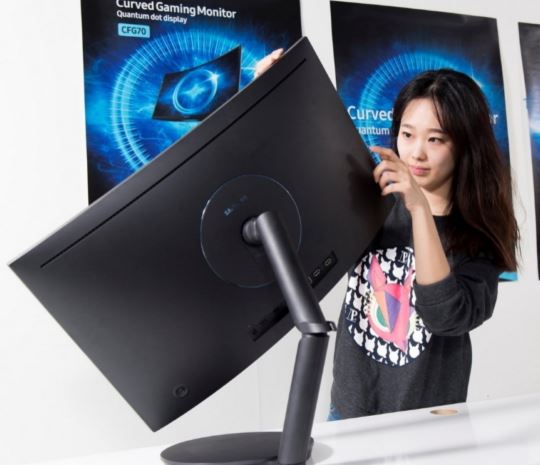 Resolution
At 1080p, this display is the perfect balance between quality and affordability. Sure, you can certainly get higher resolution displays. But the more pixels you have to push, the harder your graphics card has to work. Unless you're running a top of the line card, 4K gaming is completely out of reach. Where this monitor proves itself is in the performance department. Gamers who purchase it are looking for lightening quick response times. At 1080p, you'll be able to get the performance you demand, even if you're running your games on max settings.
Connectivity
There are three connection options with this display. You've got two HDMI 2.0 ports, both of them using AMDs FreeSync technology. If you're concerned about compatibility, there is also a display port available to you.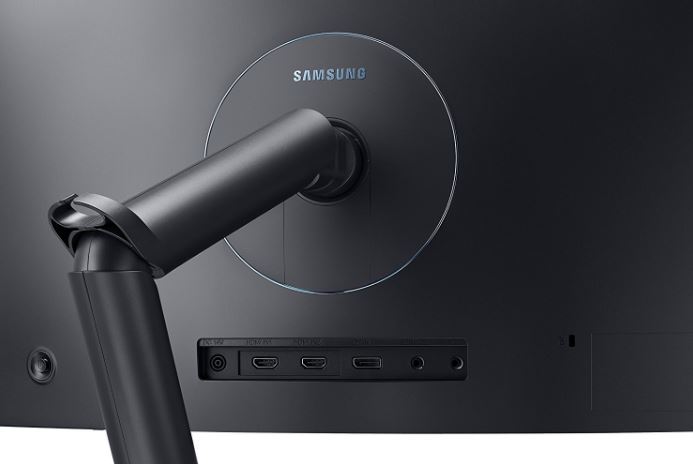 There are speakers built-in, but they're not that impressive outside of office use. Fortunately, Samsung has included both an audio input and an output. You can plug in your high end speakers or gaming headsets when you want to get in the zone, and use the built in speakers for day to day use.
Final Thoughts
At the moment, the Samsung CFG70 Series is one of the highest performing gaming displays on the market. It boasts a lightening quick refresh rate, and FreeSync technology that can reduce your lag to under 1ms. The curved screen is the perfect way to create an immersive gaming experience, and the vibrant colors produced by the expanded colorspace are simply something that has to be seen to be believed.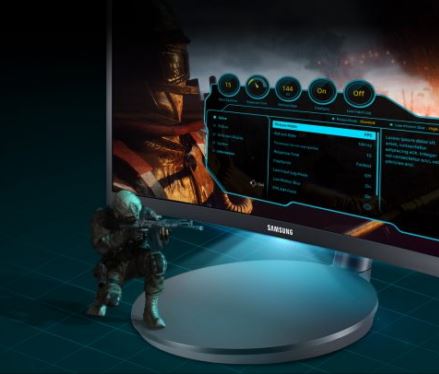 If you're looking for a cheap monitor to edit spreadsheets with, this might not be the best option. But for games and movies, we can't recommend it enough. Of course, if you've used a Samsung monitor before, you probably already knew how great this monitor was going to be. Once again, they've simply hit it out of the park with the CFG70 series monitor.
Was this helpful? Please consider sharing: