All eyes are on Segway as it enters the hoverboard market this year. Okay, maybe they're not specifically making hoverboards – it's officially a personal transporter – but the company's new Ninebot by Segway miniPRO Smart Self Balancing Personal Transporter with mobile app control is all but guaranteed to make hoverboard fans take notice. (Ninebot is the parent company of Segway.)
The Segway miniPRO looks very much like the original Segway personal transporters that you may be familiar with. A self-balancing wheeled base is distinguished from other models by what looks like too-short handle bars. The Segway miniPRO offers a greater degree of rider control by adding this height-adjustable knee bar to the unit.
This is the kind of adaptation that may prove to be a generational preference. In the end, teens don't seem to have too much trouble using hoverboards without a knee bar; and the company's stated target demographic is 16-20 year olds. That said, for the asking price of a Segway miniPRO, one would expect the maneuverability of the scooter to be well above average, and it sounds like this knee bar is the way Segway is making that functionality happen.
They're also equipped with headlights and taillights that can be set to display custom colors, which makes up for the units being available in the limited colors of black and white only. The carbon fiber and specialized alloy construction make the miniPRO lightweight yet durable and weather resistant. The knee bar is removable for travel and storage. Keep in mind that the Segway miniPRO's 10.5″ tires are substantial; those tires and the 800-watt dual motor make light work of bumps and cracks in the road.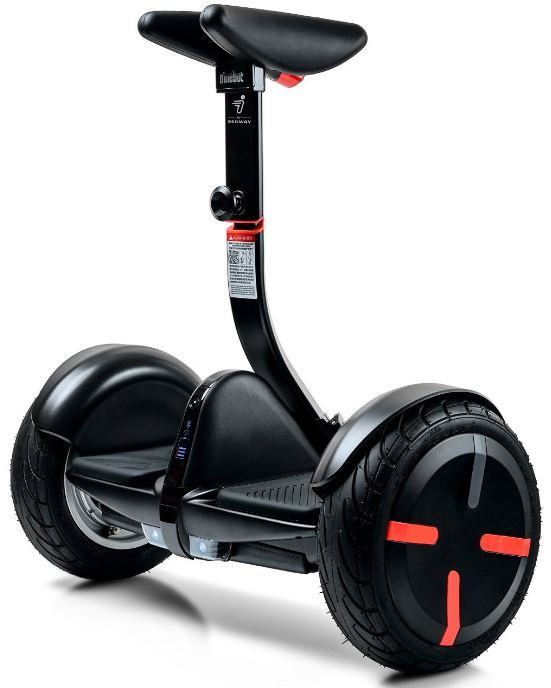 Price
The Segway miniPRO's price could be a turn-off for some consumers; with a list price of $1,299, this isn't something you'll be giving your kids to tool around town on; a basic hoverboard can be had for a few hundred dollars. On the other hand, the functionality means it's not the kind of thing that will change your morning commute either – it's hard to imagine giving up the car, bus, or subway in favor of getting to work by Segway miniPRO. Some municipalities prohibit scooters on roads and sidewalks, and while it's weather resistant, the company doesn't encourage riders to plow through puddles or snowbanks. Not to mention that this unit has a weight of nearly 30 pounds; it's not the kind of thing you scoop up and toss over your shoulder or under your arm running for the elevator to your office.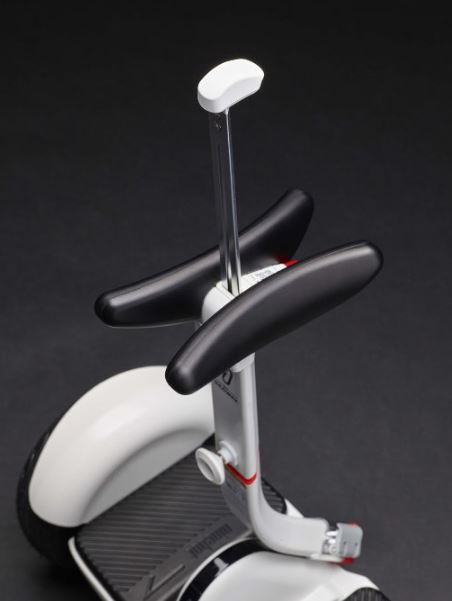 The Segway miniPRO offers maneuverability, stability, and safety features that put it a step above any competitors it has as far as hoverboards go. It's also a more affordable, entry-level option for folks interested in a professional-grade Segway but for whom the financial investment is too much.
How It Stacks Up
The Segway miniPRO is a more compact personal transporter option than the company's Ninebot PTR E+, which weighs 52 pounds and carries a full-size handlebar column, but not as compact as the Ninebot One E+, a one-wheeled scooter that looks more like a unicycle (and roughly the same weight as the miniPRO). More advanced models cater to folks looking for commuting and off-road scooters.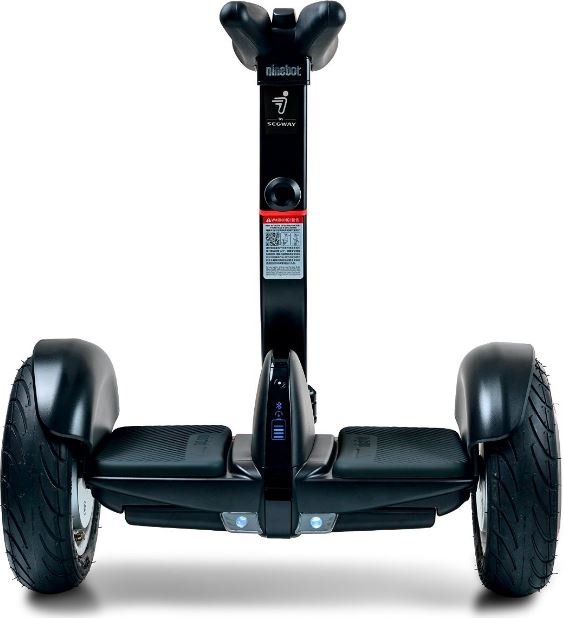 The Ninebot PTR E+ has a list price of $3,299, much higher than the Segway miniPRO; it can also carry up to 250 pounds, and hit speeds of up to 12 mph. The Ninebot One E+ has a list price of $899, less than the Segway miniPRO; it can also carry about 265 pounds, and reach speeds of up to 13 mph. The Segway i2 XE is more of a commuter model (105 pounds, and $6,499), and the Segway x2 XE can handle off-road and trail conditions (120 pounds, and $6,999).
The base of the Segway miniPRO is substantial, at 10.3 x 21.5 inches, larger than many other hoverboards' decks. The 10.5" wheels give riders better height compared with many other hoverboard brands. This model can't accommodate the incline some the other kinds of hoverboards can though – only 15 degrees, compared with 30-40 degrees that some others can tackle. But really, where are you taking this miniPRO that you'll need to handle an incline greater than 15 degrees?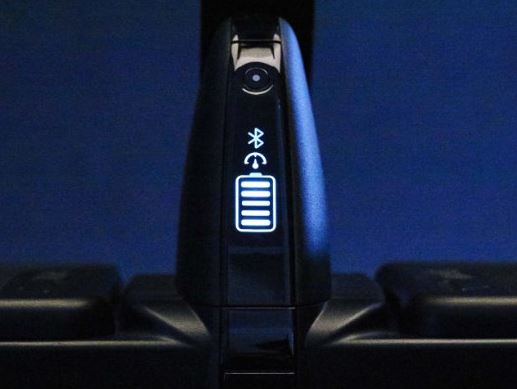 Function
The Segway miniPRO can accommodate riders up to 220 pounds. The lower recommended age/weight range is 16 years old or 85 pounds. This kind of limits the ridership a bit; some hoverboard makers advertise an upper weight limit of 250-300 pounds. It also makes one hesitate about carrying a backpack or other items while using it. Some adults are close to 220 pounds to begin with – who wants to wonder if filling a backpack with say, groceries or library books, will make them too heavy to ride home?
The Segway miniPRO can cover about 14 miles on a single charge, which is on par with similar products. It's plenty of distance for tooling around town. It's also possible to imagine a Segway miniPRO as an adaptive tool for folks with limited mobility who don't necessarily need a wheelchair. It could be much easier to move through an airport, amusement park, or even a farmers' market with a Segway miniPRO. The ability to dismantle the knee bar and stow the unit easily makes it a viable option for folks needing help getting around. Because of the battery, it is essential to check with places like airlines before planning to travel with a Segway miniPRO.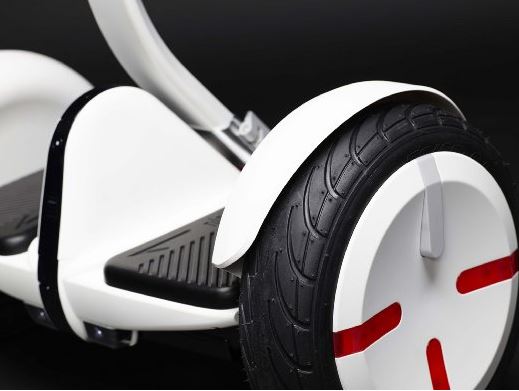 Usage
Novice users can take advantage of the unit's beginner mode; actually, it's required. New users must download the app and complete the tutorial practice on the Segway miniPRO. The tutorial speed limit is 4.3 mph, then riders can travel as fast as 6.2 mph; the speed limit has to be manually lifted through the app to hit the maximum 10 mph. Experienced hoverboard or Segway users may find this requirement frustrating; however, it's also a way to ensure that users get a feel for the particulars of this specific model. An additional key feature of the mobile app is the "black technology" algorithm that helps the miniPRO "learn" your riding style.
There's also that height-adjustable knee bar that riders can use to steer; it looks kind of awkward but is said to improve maneuverability over hoverboards where only foot pressure steers the unit. The height of the knee bar can be changed from 2 feet to 3 feet based on user comfort. As stated earlier, you can take the knee bar off but the Segway miniPRO won't operate without it; it's really only intended to come off for the purpose of storage or carrying the unit. This seems like a flaw; kids who learned on a hoverboard without a kneebar probably aren't going to actively want one. They may change their minds though, after trying it out and seeing how responsive it is in maneuvering.
Safety
One of the key complaints about hoverboards is the possibility that they can catch fire; it's happened several times over the past year, according to news reports, and up until now, there's been no option other than taking your chances and being really careful. The Consumer Product Safety Commission is investigating, and it's speculated that the battery or the charger are often a likely culprit. But Segway's game-changing electronics meet UL's new UL 2272 safety certifications for self-balancing scooters' electrical systems – a first in the industry, and quite possibly a deal-breaker for prospective consumers who might be interested in purchasing a hoverboard and concerned about the potential physical risks.
It's easy to feel comfortable with Segway's version of a personal transporter because this is an established company; the first Segways were sold in 2002. This isn't a company that's here to make a quick buck on a trendy item. This is a company that has consistently continued research and product development for consumer and professional markets. Pursuing and obtaining UL-certification is also a significant step in earning the trust of consumers.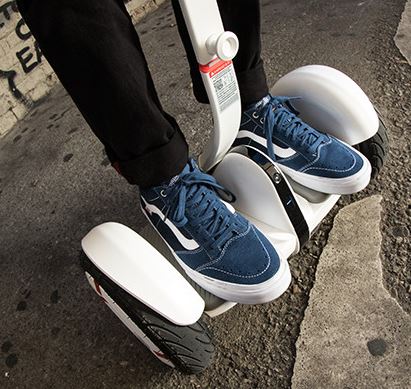 The level of customization that's available via the app is pretty cool, too. Set an anti-theft alarm, run diagnostics if the Segway miniPRO is acting weird, or change the colors on the head lights and tail lights with your phone; company materials also indicate remote control options are available – which is strange; you wouldn't need it if you're riding it, and you wouldn't remotely control it with someone else on it, would you? In fact, the remote control function can't be used with a rider, so it's hard to say who or what this is a selling point for.
Segway's miniPRO is also equipped with bright head lights and tail lights that are visible up to about 15 feet away. While consumers need to check their local laws to see whether or not personal transportation vehicles are permitted on streets and sidewalks, it's nice to know that at a basic minimum, bright lights are there to increase the chances that riders are noticed by others on dark or dreary days.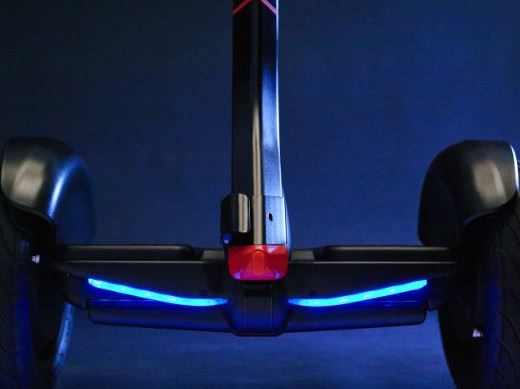 Assembling the Segway miniPRO appears pretty straightforward after reviewing the owner's manual, but you won't get to ride off right away. It takes four hours to get a fully charged battery. It's recommended that consumers re-charge the battery after every use of the Segway miniPRO. Information about how long a battery will last before it needs to be replaced isn't readily available. It's important to be aware that this is not a battery you can change out yourself, so that's a cost-of-ownership factor that needs to be considered. There are also a few other quirky things that Segway miniPRO owners need to know, like don't ride it when the temp is below 23 degrees Fahrenheit; the cold affects operation.
Support
Segway offers an array of customer support materials online. Contact information is easy to find. Lose your manual? Want to check out safety videos? You can find them all online, along with user guides and details about warranties, recalls (when they happen), and safety studies. The company's customer service team can be reached by phone, fax or online form. Depending on where you live, you may also be able to check the company's list of dealers online to try a Segway miniPRO before you buy one.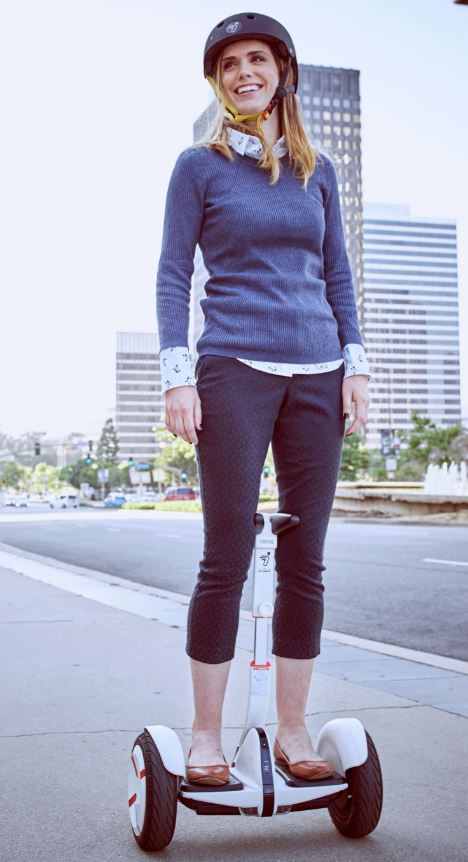 Wrap-up
In the end, it's hard to rationalize some key elements of the Segway miniPRO, its form, and functionality. For example, company materials recommend that users be between 16 and 20 years of age; what about the rest of us? Granted, none of us will be as adept at it as an 18-year-old, but still. It's unlikely that a lot of young adults age 16-20 are going to drop more than $1,000 on a personal transporter. And what about the unit being non-functional without the knee bar? One would almost think the knee bar as a hazard; what kind of internal injuries could be suffered by falling and impaling yourself on it? And finally, the remote control function just seems silly. Why would you need to remotely control a miniPRO with no one on it?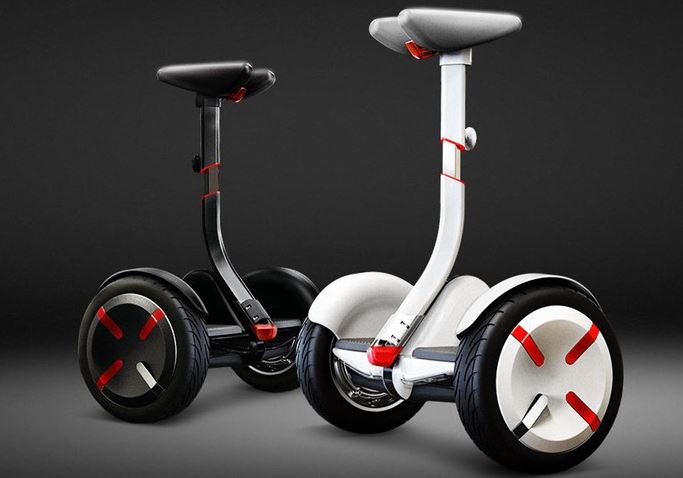 That being said, the Segway miniPRO stacks up well against similar toys and technologies. It has key safety advantages over the typical hoverboard; the fact that the maker pursued UL-certification for the electronic system signifies a commitment to consumers and their safety. Head lights and tail lights also add to the safety features likely to appeal to adult users.
The physical construction of the Segway miniPRO has important pros and cons – while it can't handle the weight of some other similar products, and it can't accommodate steep inclines and it's relatively heavy, it can meet typical mile-per-hour expectations, and it's got state-of-the-art construction, coupled with advanced customization options through a specialized app. The purchase of a Segway miniPRO isn't a passing fancy but an investment in recreation, one that can provide many years of enjoyment, long after the hoverboard fad has passed.
Depending on your budget and expectations for use, the Segway miniPRO could be exactly the personal transport technology you've been waiting for.