As multimedia technology progresses beyond what we ever thought possible, our music becomes more enjoyable than ever before. We can access playlists, music streaming apps, radio and podcasts all from our tablet or smartphone no matter where we are. Because music is such an important part of our daily lives, the market for headphones has greatly expanded. Now that we can take our music on hikes, runs and even to the gym, hefty headphones simply don't cut it in some situations.
The more portable we want our music to be, the more compact and durable we need our headphones to be. Earbuds are the ideal solution for high energy, on the go users, and the market for functional earbuds is huge. Not that long ago, wireless headphones were clunky, distorted affairs. Today, wireless earbuds offer a much greater degree of functionality and durability. Anyone who's made the switch from wired to wireless earbuds can testify to the immense difference.
In this competitive wireless earbud market, it can be tough to nail down a solid pair of earbuds that you'll love. That's why we take it upon ourselves to track down the good ones for you. The SENSO S-250 ActivBuds are the perfect solution for any earbud user looking for a good quality, highly functional wireless earbud that can keep up with their daily lives. With raving reviews from users, the SENSO ActivBuds Bluetooth Headphones boast a ton of features that make them a great choice for any user.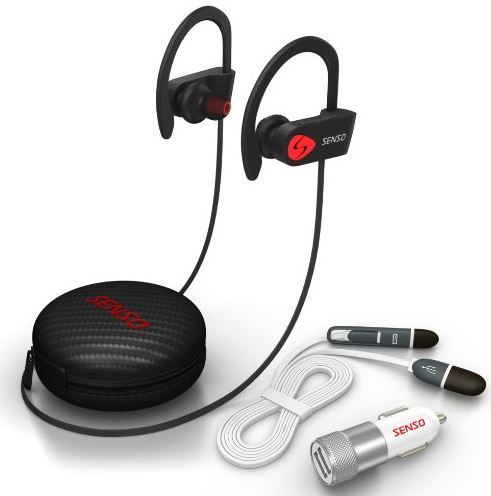 First Look
A lot of earbud brands on the market are made with flashy designs that you can't help but assume are used as compensation for a lack of performance. The reality is that some of us care more about quality more than looks, and SENSO is one of the few companies who understand that. The earbuds have a simple yet stylish design. The plain black buds, over-the-ear hooks and single connective cord are complemented by the red SENSO logo on the side of each ear bud.
The over-the-ear hooks are not bulky like some brands, giving them an honest, comfort-driven appeal to the earbuds. Similarly, the earbud casings are big enough to suggest SENSO added some useful technology to the headphones without sacrificing the comfort and functionality of a compact sized earbud. The result is a basic design that's not too flashy, but good looking enough that you know there is effort behind the it.
In the box, you also get a black carrying case, also sporting the red SENSO logo. There is also a charging cable, 3 differently sized ear tips, a cable management clip, and a handy user manual. The design and contents alone hint at a product that offers legitimate bang-for-your buck.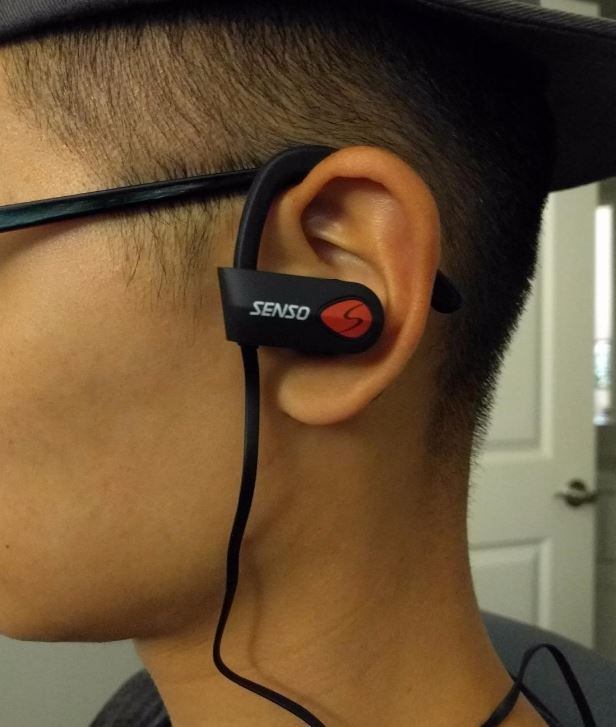 Build Quality
As with any piece of audio equipment, the last thing users want is a product that's all looks and no substance. Dirt cheap price tags make bargain-bin products tempting, but are almost never worth it when you consider how often they need to be replaced. Audio quality aside, cheap products always sacrifice durability for a small price tag. While the SENSO ActivBuds are still very affordable, thankfully they are a far cry from a useless bargain-bin plastic product. These are earbuds that are designed to keep up with you, and refuse to let their build quality stand in the way of you and your music.
For starters, the packaging and high quality accessories are the first indication that SENSO took quality seriously when designing the ActivBuds. Nothing feels cheap or flimsy. The cables are soft and flexible, the metal on the car charger is solid and the case is thick and sturdy. However, the star of the show is the earbuds themselves. With IPX7 waterproofing, the ActivBuds are fully sweatproof and can even be briefly immersed in water. That allows them to hold up to the elements, as well as your own physical exertions during use. The silicon ear tips are designed for comfort and durability, so they won't wear out or crack over time, regardless of how often you use them. Finally, as wireless earbuds, the hassle of earbud cords is completely averted. They won't tangle or snare, meaning both the durability and longevity of the product is greatly increased.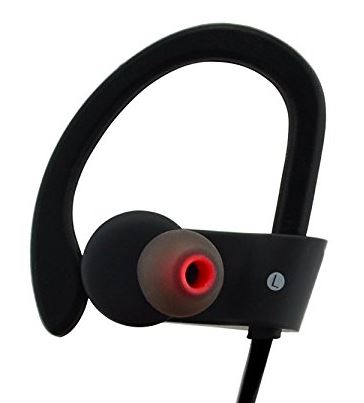 Audio Quality
It's widely accepted that you won't get the same sound quality from a pair of earbuds as you will from a set of speakers a premium pair of headphones. Unfortunately, that means a lot of earbud brands seem to completely negate the need for anything resembling sound quality. Even Apple, a brand that users hold to a high standard, seem to undervalue the audio quality of earbuds. Users of Apple earbuds are rather appalled when they get a taste of the choppy, tinny sound that sputters from Apple earbuds. In that context, what really sets the SENSO ActivBuds apart is their sound quality.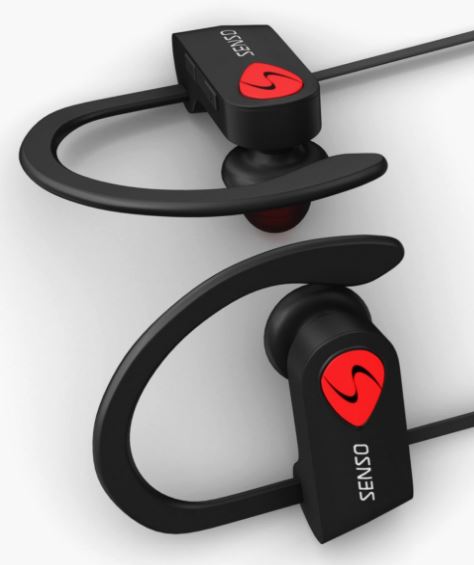 With a frequency response of 20-22 kHz, the ActivBuds are capable of delivering true Hi-Fi sound. Boosted with the latest Bluetooth CSR technology, even wireless transmissions are seamless and instant. The CSR technology gives you the instant connectivity of a wired connection, but without the tangled wires. The ActivBuds are also built with state of the art acoustic components that deliver crisp, clear treble with smooth, booming bass.
Furthermore, the ActivBuds come with Bluetooth V4.1 wireless technology and CVC 6.0 noise suppression. Not only does this optimize your wireless audio transmission for the clearest, most well rounded soundscape, but it also delivers a more immersive experience by providing passive sound canceling technology. You can enjoy astonishing earbud audio quality without the distraction of external noises, but still remain aware of traffic or other important outside noise. All this technology combines to produce an exceptional wireless sound.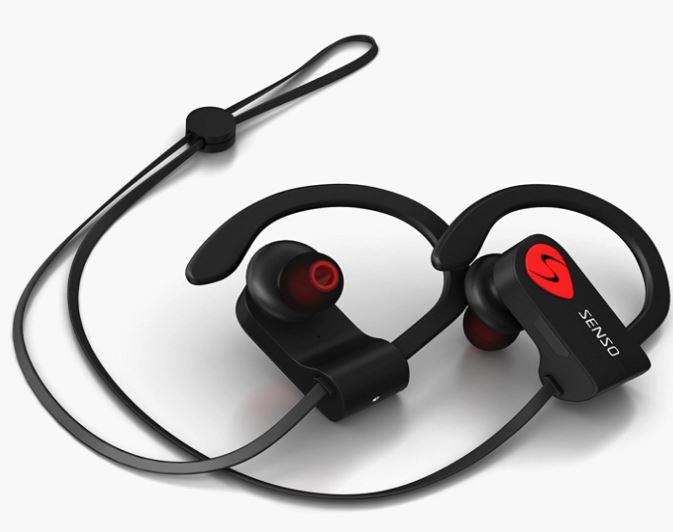 Comfort
If you're an active earbud user, there is no doubt that comfort is a top priority. Since the SENSO ActivBuds are optimized for the active user, they need to deliver a high level of comfort to live up to their name. Luckily for you, they do just that. The SENSO ActivBuds are built with quality materials that are both durable and comfortable. Their ergonomic design allows users to take full advantage of the earbuds' audio quality and functionality without having to worry about discomfort.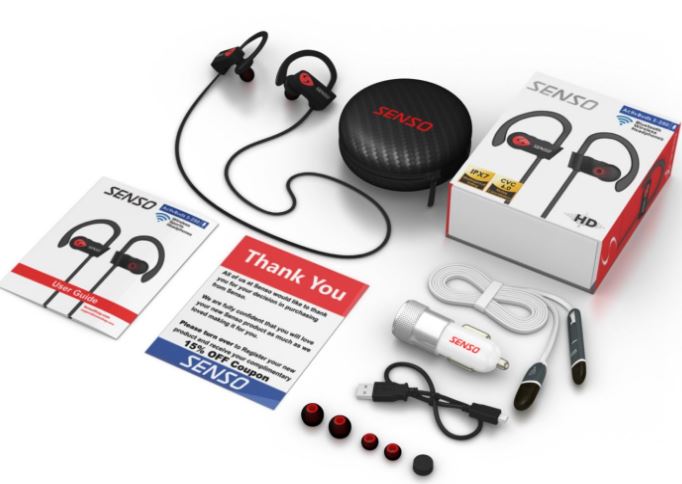 The SENSO ActivBuds come with 3 different sizes of silicon ear tips, so you can customize their fit to your needs exactly. The flex silicon allows the tips to sit securely in your ear without causing strain or fatigue. The ergonomically designed ear hooks provide much needed security without weighing your ears down or causing uncomfortable pressure points. They are designed to stay in place without you even noticing they're there.
The tangle free cable is not only convenient, but also adds a level of comfort but eliminating the need for particular cord placement or readjustment. It negates the need for de-tangling and allows you to focus on what's important: your exercise and your music.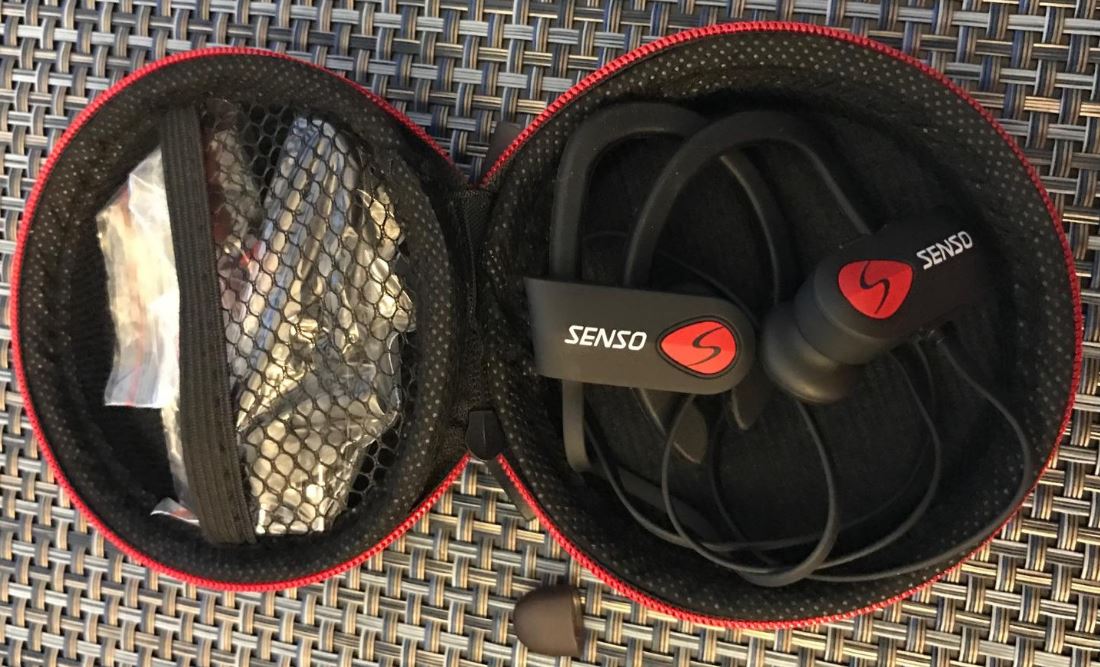 Functionality
The wireless component of these headphones is a given in terms of functionality, but don't think SENSO stopped there. The SENSO ActivBuds also offer up to 8 hours of playback on a single charge. That gives you a full day's use without ever having to plug in. This feature is perfect for users who want to take their music on day hikes, long bike rides, or simply have the convenience of using them at any time throughout the day.
They also come with an integrated mic that allows you to easily switch back and forth between music and phone calls at the press of a button. The built-in CSR technology makes the transition seamless, so you can go from music to phone call and back without missing a single word of conversation or note of music. These earbuds give you some of the most seamless hands free calling any wireless earbud has to offer. The ActivBuds also allow you to connect to any Bluetooth device from up to 30 ft away. So if you're at the gym and want to keep your phone in your backpack, the earbuds will easily connect to your device from where you stand.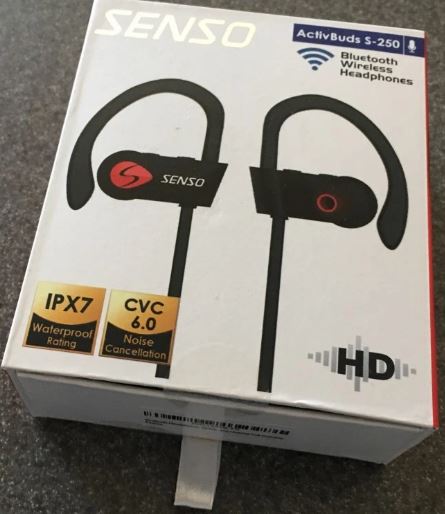 Value
A product with good value is one that doesn't sacrifice any important feature but remains affordable to users. The SENSO ActivBuds are an affordable, functional, high quality product that you'll love the moment you try. As much the ActivBuds speak for themselves, SENSO has added a one year warranty, so even the most cautious user will find them hard to pass up. Plus, they even included bonus items that make their price all the more surprising. The bonus items include a dual port USB car charger and a 3ft charging cable for apple or android devices. The ActiveBud is not only an excellent product, it is also a highly valuable one that comes with all the bells and whistles – and then some.
Should I Own the SENSO ActivBuds?
For active users that need a high-quality earbud to keep up with their energy while not breaking the bank, it may be hard to find a better option than the SENSO S-250 ActivBuds. They deliver in every area that matter most, including sound quality, build quality, and comfort. On top of that, they are packed with functional technology and even a 1 year warranty and bonus items that will leave you shocked at their affordability. The ActivBuds are optimized for on-the-go users, but can easily be enjoyed by anyone who wants the convenience of an earbud without sacrificing what's important.