Portable audio equipment is on the rise in popularity, with no decline in sight. Portable speakers allow you to enjoy and share your favorite music anywhere, anytime. Whether you're looking for some musical entertainment during your morning shower or taking your tunes camping, a portable speaker is a must have for any music-loving go-getter. With popularity comes diversity, and the portable speaker market is indeed diverse.
First Look
With so many options, it can be difficult to know which portable speakers can deliver on both sound quality and durability. The Skullcandy Barricade Mini is the perfect place to start. Since their beginning in 2003, Skullcandy has become a household name in mid-range audio equipment. Their mantra is "live life at full volume," and their new Barricade portable speakers encompass that mantra. The Barricade line comes in three different sizes, with the Mini being the smallest, most portable speaker of the trio. Inside and out, this is a speaker built for on-the-go adventuring.
The best part of the Barricade line is that they are water resistant. This is a feature that greatly expands the locations to which you can take your music, from the bath to the beach. Yet surprisingly, it is a feature rarely found in portable speakers. So for anyone who wants a compact, portable speaker that isn't self-limiting to dry locations, the Barricade Mini is definitely worth considering.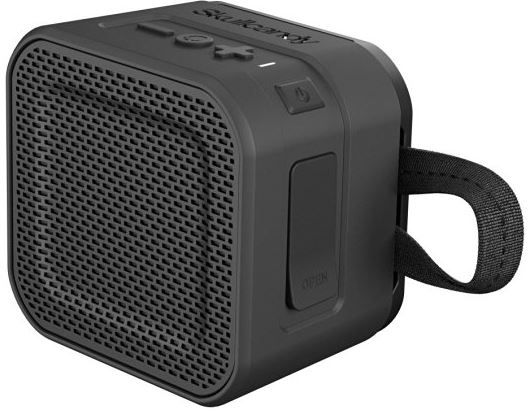 Design
When it comes to portable speakers, looks aren't usually the bottom line. That's not to say that a good looking speaker doesn't help! The Skullcandy Barricade Mini is a classically designed speaker so you can feel good about using it anywhere, including your home. It even comes in three bold colors including Black, Red/Black and Gray/Hot Lime Green so you can match it with your own unique style. It's a very compact unit at only 3.6 x 3.8 x 2.6 inches, smaller than both its siblings the Barricade and the Barricade XL. This size makes it ideal for easy transportation around the house so you can enjoy your music in rooms where your home stereos can't go.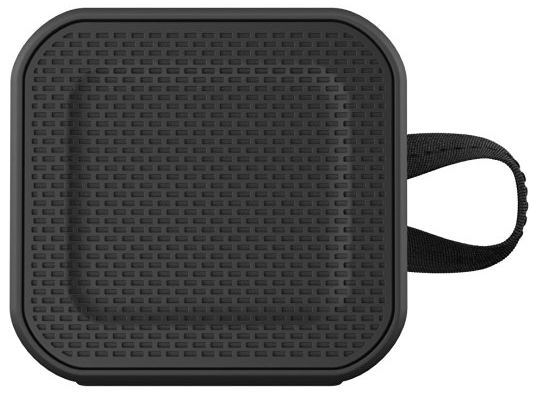 However, the best way to enjoy the Barricade Mini is on the road. It comes with a handy fabric loop-strap so you can clip it to your beach bag for security and easy transport. Better yet, you can carabiner it to your hiking backpack for music in the mountains. It's an extremely lightweight speaker at only 1.8 ounces, so you'll have no concerns about it weighing you down on your journey.
The Barricade Mini is also super easy to use. You can connect it to your phone or iPod with a traditional cable, or opt for the wireless Bluetooth feature. Even while connected wirelessly, you can easily control settings like volume and skip right from the speaker. That means when you're on the go or lying in the sun, there's no fumbling around with screen controls. You can get the music you want at the volume you want with the press of a button.
Finally, the Barricade Mini has a rugged construction that is impact resistant so even the fiercest adventurer can rest easy knowing their portable speaker can face every daily challenge. At first glance, this is a speaker you'll want to take with you on any journey.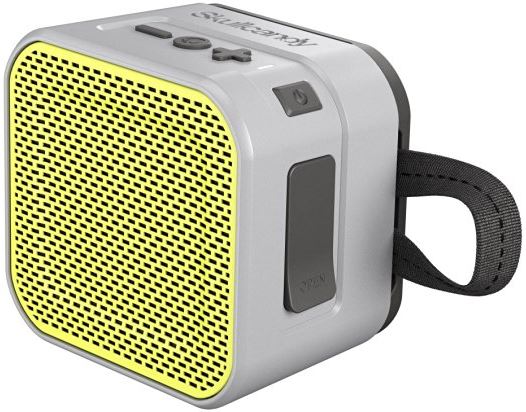 Build Quality
Durability is one of the most important factors to consider when choosing a portable speaker. Built for adventure, the Barricade Mini is no delicate species of portable speaker. It has a classic design so there are no fancy shapes or obscurities sticking out or making the speaker vulnerable. Its design is a simple reinforced square shape that can be tossed in the back of your jeep without so much as a small gasp.
It's built to take a hit so your adventures aren't limited by the fragility of your audio equipment. At only 1.8 ounces, even a good drop won't cause irreparable damage. It also has soft pads on the bottom corners so you can set the speaker up on conveniently on whatever shelving nature has to offer, from tree branches to rigid rocks. The last thing you want is for your speaker to slow you down, which is why the Barricade Mini was built to survive the bumps on the road of any journey.
The Barricade Mini's most durable feature is the IPX5 water resistance. This feature means there are no worries about blasting your music at the lake, in the rain, or even in the shower. While you wouldn't want to submerge it into the water, the Barricade Mini can handle splashes of water that would make most portable speakers splutter on first contact. Don't hesitate to take the Barricade Mini to any location your wanderlust drives you, because this is a travel companion that can hold their own.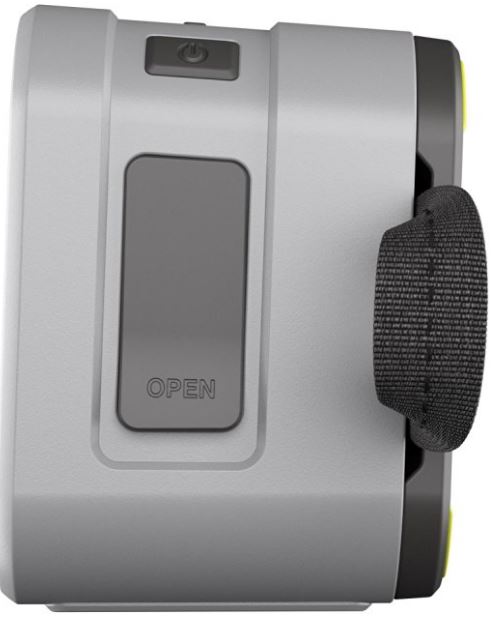 Sound Quality
Whenever you're talking compact audio equipment, the sound quality will inevitably suffer a bit. This is simply because there is not enough space for some of the parts that make premium home stereo systems so exceptional. Audio technology has come a long way, however, and sound quality in portable or compact audio equipment is always improving. Skullcandy has optimized the Barricade Mini's sound quality in a few ways.
The first way is through its strategic size. There are a lot of portable speakers out there much smaller than the Barricade Mini, but what these speakers gain in compatibility they lose in sound quality.  The Barricade Mini is strategically larger than most "mini" speakers so it retains bigger, bolder sound for your listening pleasure while still offering all the benefits of an ultra-small portable speaker.
They have also included a passive radiator which mean the Barricade Mini is capable of producing the same sound as a larger speaker, while remaining compact. In a nutshell, the Barricade Mini has better low frequency performance than many compact speaker models. This means enhanced bass sounds without the need for a massive subwoofer. With all this technology combined, the Barricade Mini provides a dynamic sound quality for whatever type of music you want on your expedition.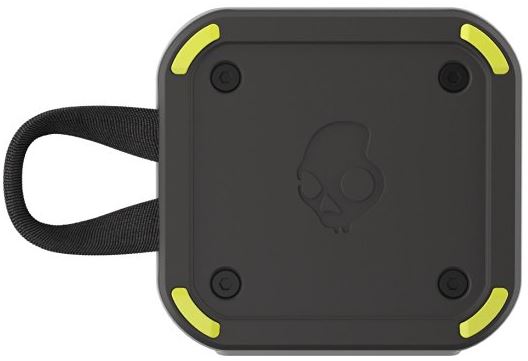 Functionality
When you're buying a portable speaker, you have to keep in mind what the most important functions are. If you're an on-the-go adventurer who wants their music to follow them up mountains and through rivers, then durability and compatibility are of the utmost importance. These features are what the Barricade Mini was designed to embody.
Starting with the sturdy classic design, this speaker can be hauled and hucked around without incurring any serious damage. The fabric strap makes it easy to carry around. Then there is the water resistance. This is a hugely important feature because many portable speakers lack in this area. Why buy a mini portable speaker if you can't take it to the lake, or have to hide it away if the rain clouds roll in? Water resistance is an obvious selling feature for any serious portable speaker. This feature opens the doors for music-filled adventures that some speakers simply can't offer.
The Barricade Mini is also very easy to set up, so you can give more of your valuable time to figuring out your tent. It comes with an awesome Bluetooth feature compatible with any Bluetooth device. This gives you 30 feet of wireless freedom to enjoy the music you want without attaching your Barricade Mini to your much more vulnerable phone or iPod. The speaker has built in remote buttons, so you can play, pause and skip up to 30 feet from your phone.
Finally, the Barricade Mini has a full 6 hours of battery life when fully charged, so you can take full advantage of the wireless features until the sun sets.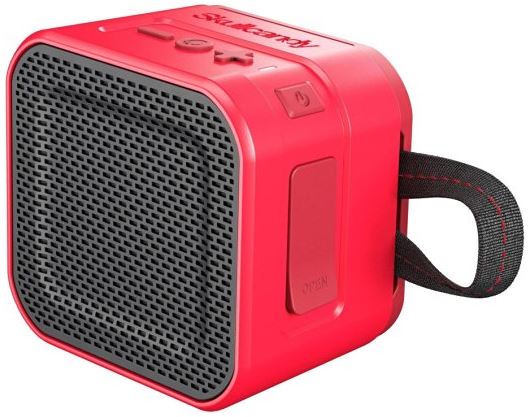 Value
The Skullcandy Barricade Mini is sure to give you a lot of bang for your buck. The fact that you get large speaker sound in a small speaker package means that it can be used in a variety of scenarios. You're not going to have to purchase separate speakers for both work and play, as you can simply pick up the Skullcandy and be done with it. With water resistance and a highly durable case, this speaker will last longer than most, saving you money on replacements.
At the end of the day, it's really the versatility of this unassuming speaker that allows it to offer such good consumer value. Many all in one speakers we've looked at appear to be a jack of all trades, but a master of none. But when it comes to the Skullcandy Barricade Mini, we've found a portable speaker that is truly excellent all-around.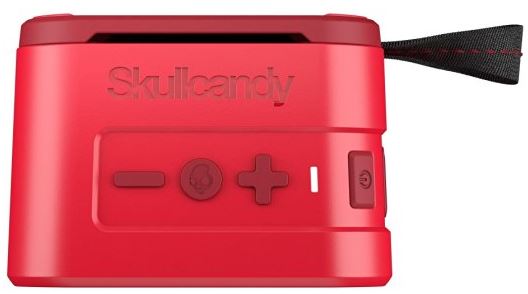 Verdict
There are a lot of portable speakers on the market, all designed for different purposes. That means it's important to know what you want out of your portable speaker before you commit to one. There are lots of larger portable speakers on the market that can provide better sound quality than the Barricade Mini, but most of these are only designed to be transported within your home. For some people, that's just not enough. If you're looking for something you can truly transport to the wild outdoors, the Barricade Mini is a great option. It has all the features you want in a mini portable speaker and then some, which is why we highly recommend it for your next trip on the road.