Leaves, seeds, and other debris can clutter up your lawn and leave it looking drab. A good rake or a leaf blower goes a long way towards solving the problem. But raking leaves is hard work, and will leave you sore at the end of the day. Not only that, but it's inefficient when compared to using a blower. With a good blower, you can do in minutes what would take you hours to do with a rake. But most blowers are heavy and bulky. You have to mix gas and oil, and the engine needs to be tuned up annually. This can be a major headache.
The obvious solution is to use an electric blower, but this can run you into other issues. For instance, do you really want to be hauling an extension cord around with you? Not only that, but extension cords can be dangerous if the connection gets dragged through wet grass. Until recently, this has been the only alternative to gas blowers. The most power you could expect to get from a battery-powered motor was a keyboard vacuum or something similarly small. But in the last few years, cordless leaf blowers have started to grow in popularity. This is due to improvements in battery technology, which allow for more powerful motors and longer working times.
We're about to review two of the most affordable cordless leaf blowers available today. We'll start with the KIMO Cordless Leaf Blower. This is a compact, handheld blower that's designed for small, everyday projects. We'll follow up by comparing it with the SnapFresh Cordless Leaf Blower. This is a similarly-sized blower that's designed for pure simplicity. Which one is the better choice? Let's dig a little deeper, and see how these two blowers stack up. Then we'll be able to provide a fair verdict.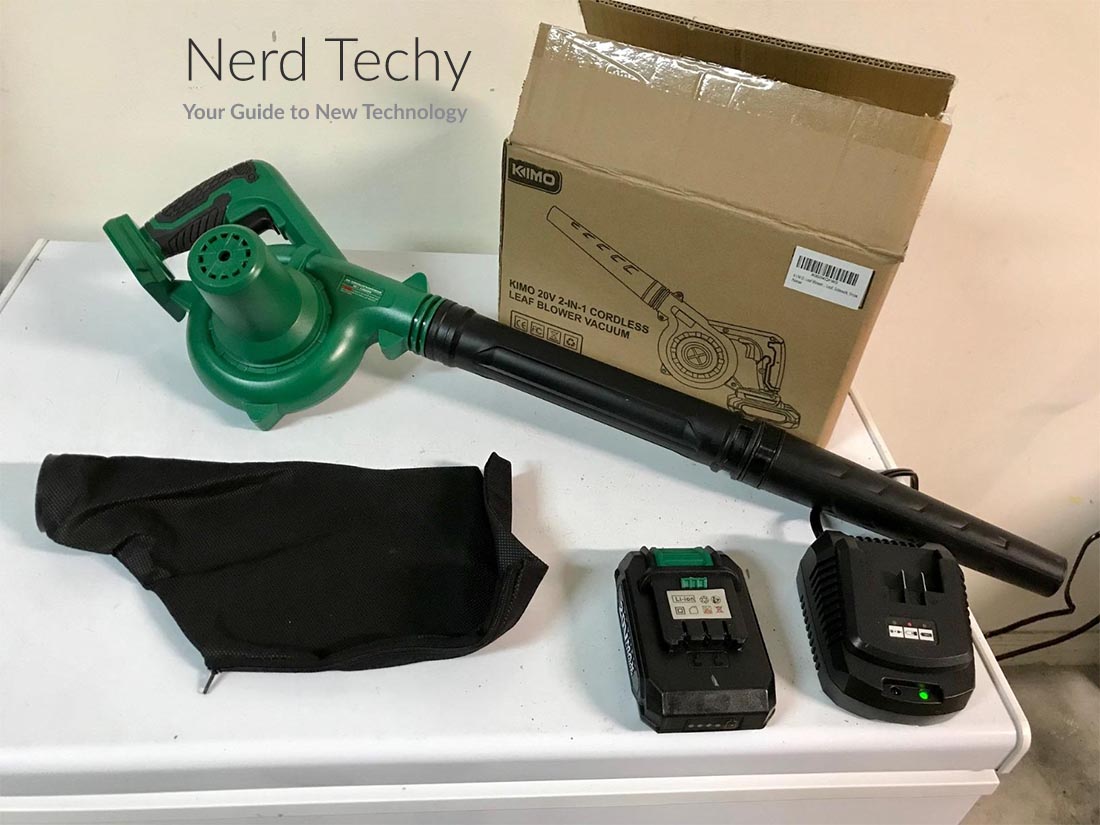 KIMO Cordless Leaf Blower
The KIMO Cordless Leaf Blower is similar in size to the SnapFresh blower, but with a different form factor. The air intake is located on the side rather than the bottom, so it can occasionally catch your clothing. On the other hand, it's essential for the vacuum function, which we'll discuss more in a second. The housing is green plastic, with a black textured grip at the rear. Similarly to the SnapFresh blower, the battery is located at the bottom back for better weight balance. The total weight is only 2.2 pounds, so it should be easily manageable for just about everybody.

Instead of a switch, the KIMO blower is operated by a variable-speed trigger. This provides more versatility, but it means you have to hold the trigger down the entire time. Whether or not the tradeoff is worthwhile depends on your own personal needs. Like the SnapFresh blower, the tube has a two-part design for easier storage and more versatility. The kit also includes a collector bag for the vacuum option. This bag attaches to the front of the unit, while a single tube attaches to the side as an intake.
Battery and Charging
The KIMO cordless blower has a 2,000mAh battery, the same as the SnapFresh blower. However, the motor isn't quite as efficient, so the battery life is correspondingly shorter. It will last for between 15 and 20 minutes, depending on use. In theory, it could last longer. However, that would require running the blower at speeds that are less than useful. It would also require you to maintain a constant, low pressure on the trigger, which is harder than it sounds. Even so, you're looking at more than enough battery life for a mini blower. You can clear your driveway or dry your car without running out of battery. And much like the SnapFresh battery, you can recharge in a little over an hour.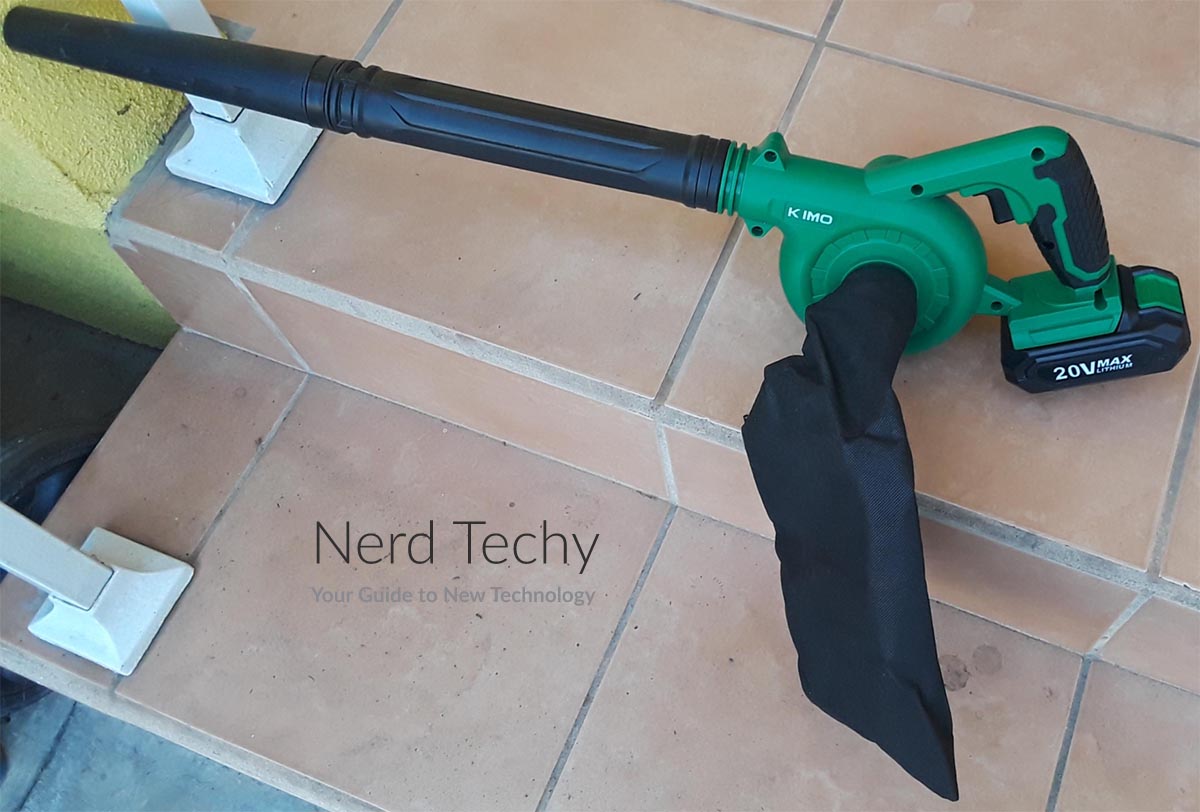 Blower Performance
The KIMO blower's main advantages are in its motor performance. When you fully depress the trigger, it can move air at up to 150 miles per hour. To be fair, the stream is more directed than the SnapFresh's, and doesn't cover as much area. That said, you can clean heavier wet leaves and about half an inch of dry snow. That's a lot of power for such a small machine. Even so, the motor is still reasonably quiet. It's loud, but not "wake up the entire neighborhood" loud.
Not only that, but the vacuum function adds a lot of value. Instead of just moving dead leaves around, you can suck them up and bag them easily. Once again, it's important to keep reasonable expectations. This is a small, handheld blower, and it's not well-suited for clearing large areas. But if you need to vacuum out a flower bed or a few planters, it's the ideal tool for the task.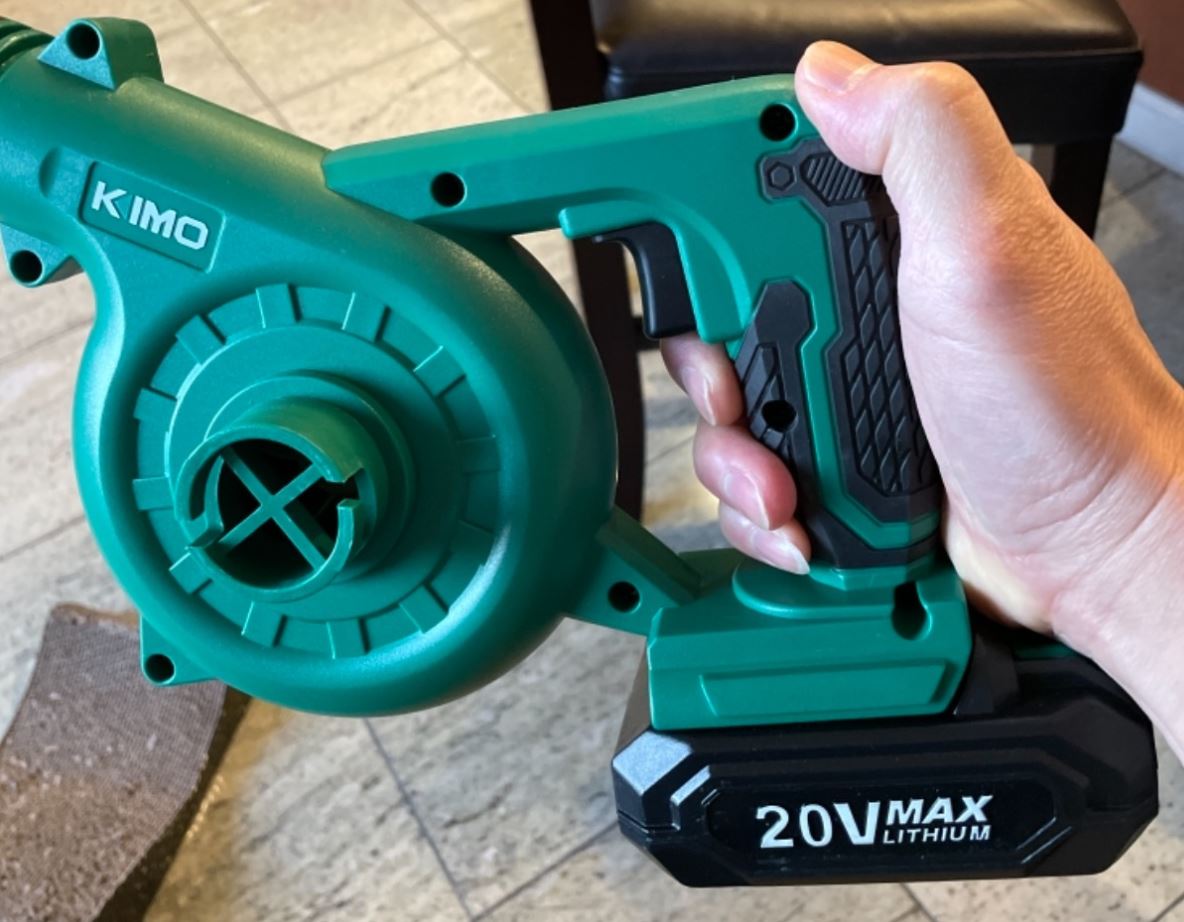 One thing the KIMO blower vacuum won't do is clean carpets or upholstery. For those functions, you're better off using a more traditional vacuum, like the Onson EV696. It's small enough for cleaning your car, and it can also take care of the whole house.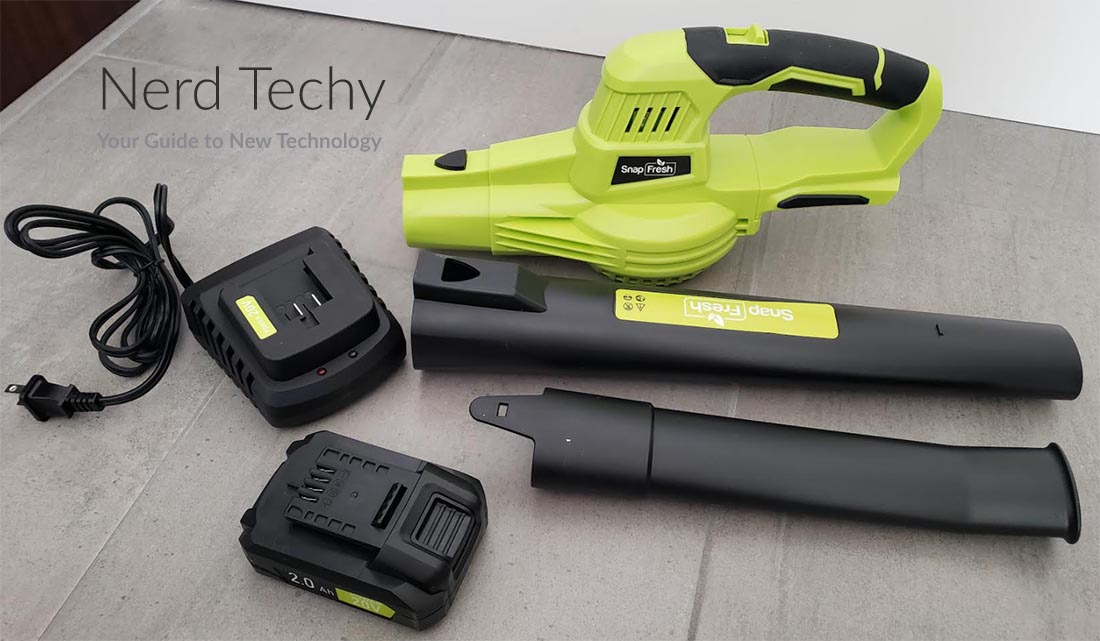 SnapFresh Cordless Leaf Blower
The SnapFresh Cordless Leaf Blower is a handheld, battery-powered leaf blower that weighs only 2.7 pounds. This makes it very easy to curry and handle, even if you have arthritis or other difficulties with your grip. The housing is a neon yellow-green, with a black handle and battery. It's shaped like a dust-buster, with a slim design and vented sides. The fan is located on the bottom, where it sucks air in from the bottom, rather than from the side. Because of this location, the intake vents are less likely to suck in your clothes and get blocked.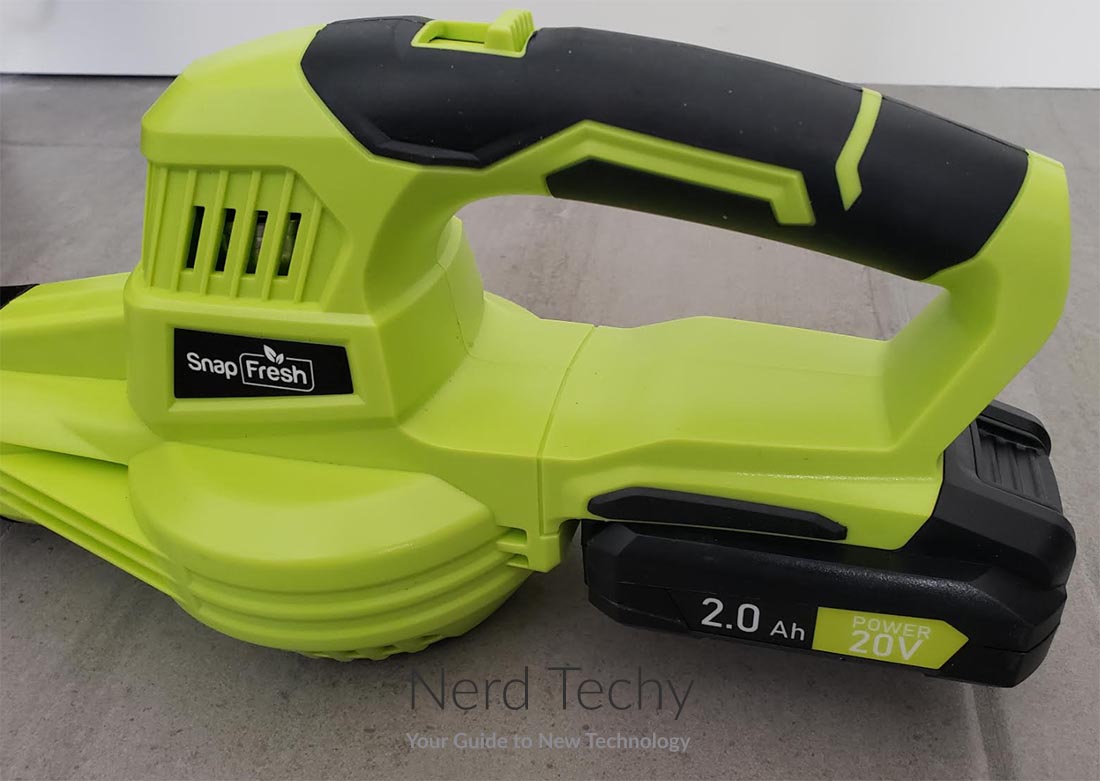 The SnapFresh blower is controlled by a single switch, which has three positions: on, low, and high. This makes operation simple, since you don't have to worry about a bunch of controls. The battery looks and feels like a power drill battery, and locks into place the same way. Its position at the back of the blower helps to balance out the blower tube, which would otherwise be front-heavy. The tube itself is constructed from black plastic, with a twist and lock design. It comes in two pieces, so it's easy to store when the blower is not in use. Not only that, but you can use it with a single tube, in locations where two tubes would be too long.
Battery and Charging
The SnapFresh Cordless Leaf Blower's battery has a capacity of 2,000mAh. This is sufficient for up to 30 minutes of operation. We should point out that it makes a big difference what setting you're on. The blower will work for a full 30 minutes on low. However, when you switch it to high, this drops to only 15 minutes. As a result, you'll want to use the lower setting whenever possible.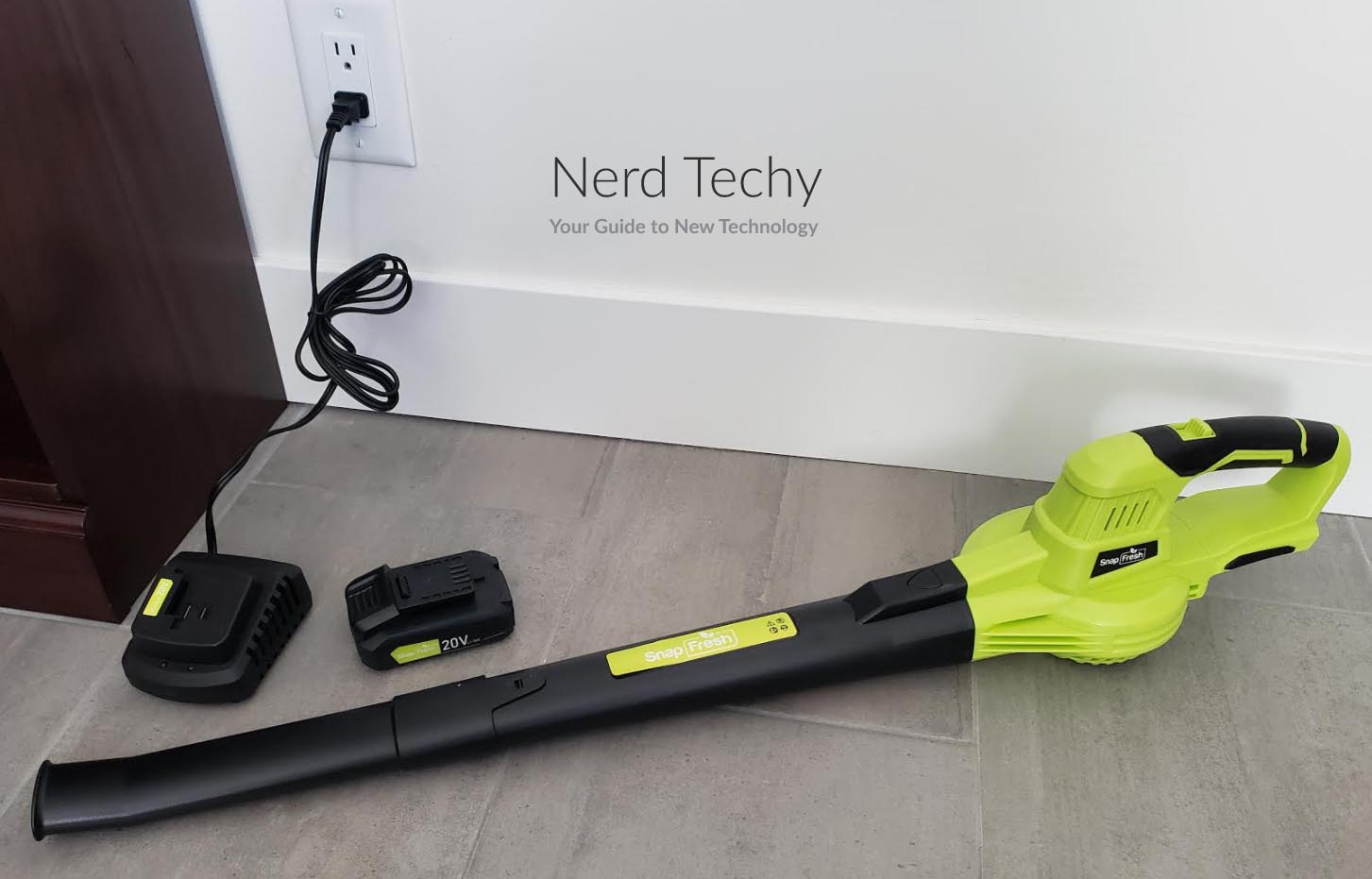 Needless to say, this time period does limit what you can do with the blower. For instance, you're not going to clear a whole acre lot in a single go. But you've got more than enough battery life to clear your driveway, or even a small front yard. And if you're drying your car after washing it, you'll never even notice the time limit.
Moreover, the battery recharges in only an hour, even if it's been run fully dead. If you have a larger project to do, you can always manage in stages. Of course, that's not what the SnapFresh blower is designed for. Battery capacity has come a long way in recent years. But it's going to be a few more years before we see a cordless blower that can run for hours on end.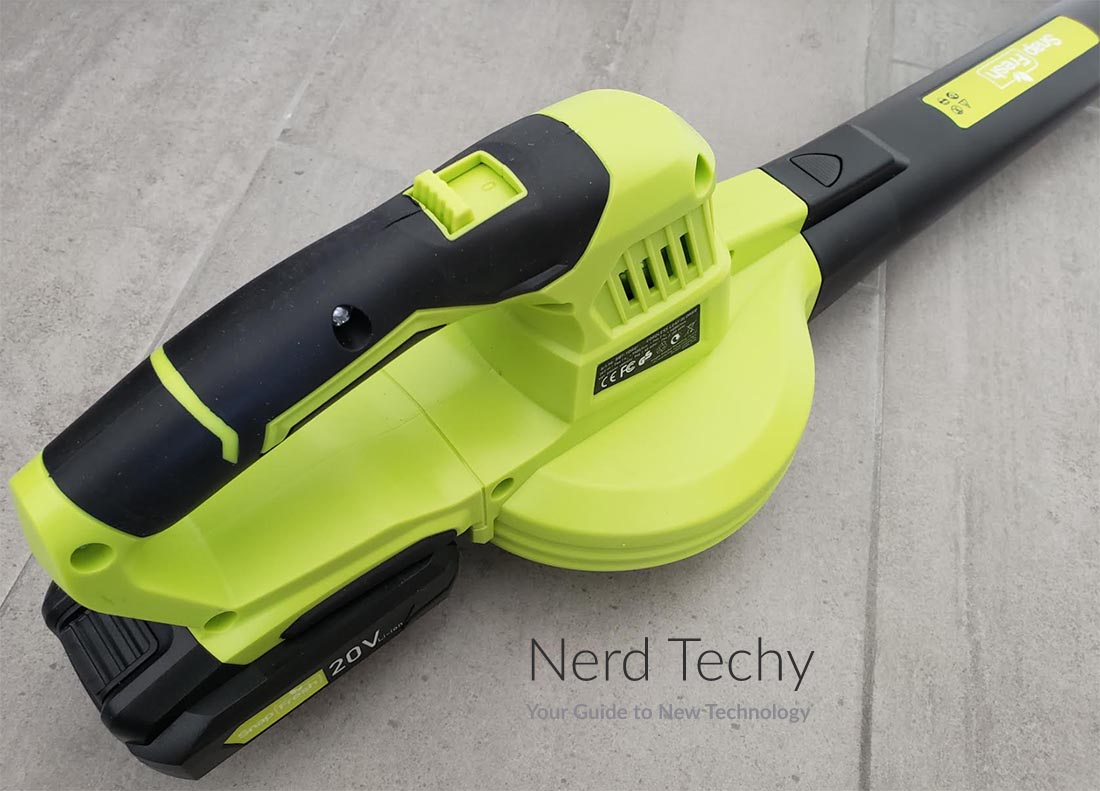 Blower Performance
The two blower settings on the SnapFresh equate to 60 and 150 miles per hour respectively. Which setting is right depends on your needs. With a 60 mile per hour breeze, you can clean up dry leaves and other lightweight debris. With a 130 mile per hour rush of air, you can handle tougher debris like wet leaves and even light snow. The higher setting is also better for drying cars, since it will remove the water before it has a chance to evaporate and leave spots.
Keep in mind that there are reasonable limits to what you can expect from any blower. This is not for removing heavy snow, gravel, or other large or heavy debris. It's a lightweight leaf blower for performing basic, everyday jobs. For that purpose, it performs admirably well. Moreover, operation is reasonably quiet. It sounds like a hair dryer, not like a heavy-duty gas machine.
Final Verdict
So, which of these leaf blowers is the best of the pair? As is so often the case, it depends on what you're looking for. We started out by reviewing the KIMO Cordless Leaf Blower. This is a similarly-sized unit, but with a noticeably different design. The variable-speed trigger is neither better nor worse than the SnapFresh blower's switch. It all depends on what you want. However, the motor is more powerful with a maximum speed of 150 miles per hour. This allows it to move heavier debris, albeit on a smaller scale than the SnapFresh blower. The battery life is shorter, with a maximum of 20 minutes, and normal performance at around 15 minutes. On the other hand, you get the benefit of a vacuum mode, which isn't available on the SnapFresh.
Next, we looked at the SnapFresh Cordless Leaf Blower. This is a compact blower with two different settings. It can be used for clearing lightweight to medium debris without the need to use a heavier machine. Operation is simple, with a single switch that chooses the power level. Not only that, but the battery can last for up to 30 minutes. Not half bad for a battery-operated blower!
At the end of the day, the KIMO blower offers more versatility at a significantly lower price. The only real advantage of the SnapFresh blower is its 30-minute battery. If you need longer life, this is a valid concern, but keep in mind that you'll pay extra for the privilege. For most people, the KIMO blower is going to be the better choice.