There are many different kinds of parties. You might prefer the outdoor fun of a backyard barbecue, the quiet sophistication of an evening cocktail party, or drinking and dancing the night away. Regardless of how you choose to live it up, there is one element that every party needs. In addition to food and drinks, every party needs good music.
Music helps set the tone for any social gathering. You can pump up a crowd with loud dance music or just help avoid uncomfortable silence at a more subdued gathering. Either way, a party isn't a party without the right soundtrack.
Certain events would do just fine with small speakers sending subtle music wafting through the air for ambiance. The Sony MHC-V90W High Power Audio System MUTEKI is definitely not the speaker system for that setting. In fact, there's nothing "background" about the MHC-V90W at all.
The word MUTEKI, as Sony describes it, conveys the idea of "Ultimate Powerful, soul shaking sound and 'Massive Design.'" The MHC-V90W fits the bill perfectly. With physically impressive size, club style lighting, enormous sound, and a host of fun party features, you're not just bringing some music to the party, you're bringing the entire party.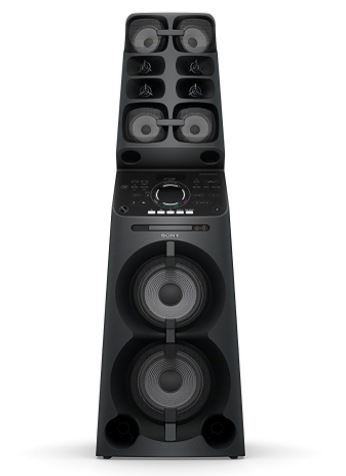 Design and Specifications
The Sony MHC-V90W is truly a party on wheels. This massive speaker stack stands 5 feet and 7 inches tall, around the height of an average adult. Given the large size and weighing in at over 50 pounds, this isn't just a speaker you can pick up and toss in your trunk. Sony thoughtfully placed a convenient carry handle on the back and strong casters on the bottom. This allows you to tilt and roll the MHC-V90W to wherever you need it located.
Though the large size would make it hard for the MHC-V90W to blend in regardless, Sony clearly designed this speaker stack to stand out. The bold, aggressive styling prominently displays the 10 total speakers, 4 tweeters, 4 mid-range, and two subwoofers, leaving no doubt that this is a powerful audio behemoth. With a wide base to house the two subwoofers, the MHC-V90W tapers slightly toward the top as the speakers are smaller. This has the added effect of improving stability. Even with the height, we felt confident it would stand up to average bumps as long as no one completely tackled it.
To complete the "portable club" atmosphere, Sony illuminated the speaker drivers and also added brightly colored party lights to the rear of the speaker. These rear facing lights project patterns onto the wall behind the speaker to fill the room with dance club style lighting effects without shining directly into anyone's eyes.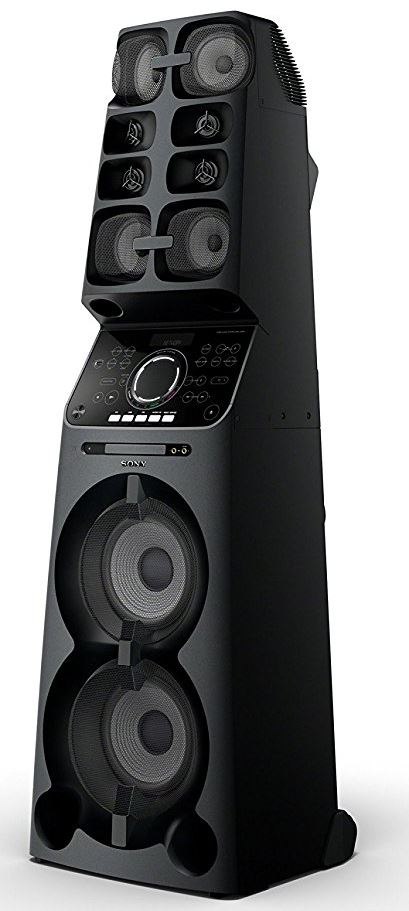 Connectivity Options
Sony's wide range of connection options show they had the modern user in mind when designing the MHC-V90W. First and foremost, Bluetooth tends to win as the king of modern connectivity. Despite its weaknesses, Bluetooth universally works from all mobile devices and most new computers without the need to remember any special cords or adapters. If your device has NFC capabilities, Sony has enabled One-Touch NFC for an instant Bluetooth connection.
One of Bluetooth's limitations is the 30-foot range. Depending on the size of your party, this could feel like a very short leash. With Wi-Fi support, you can connect the MHC-V90W to your preferred internet streaming services and still control the playlist wherever you have Wi-Fi signal.
Bluetooth connections also drain your phone battery and place limits on the quality of music you can stream. Though the convenience of cordless has some advantages, if you can plug in your device via USB you can play a huge range of audio formats including MP3, AAC, WAV/AIF, FLAC, ALAC, and DSD. As a bonus, instead of draining your phone battery, the USB connection will charge it so you can keep the party going all night.
In addition to the new, modern connection options, Sony hasn't completely left out some older formats. The MHC-V90W features a built-in single disc CD player in case you happen to still have a binder full of CDs. There's even an FM tuner for the radio, although the omission of an AM tuner seems unfortunate. While AM music stations are virtually non-existent, many live sporting events are still broadcast on AM frequencies. Granted, most people will watch an important game on TV, but it should have been simple enough to add.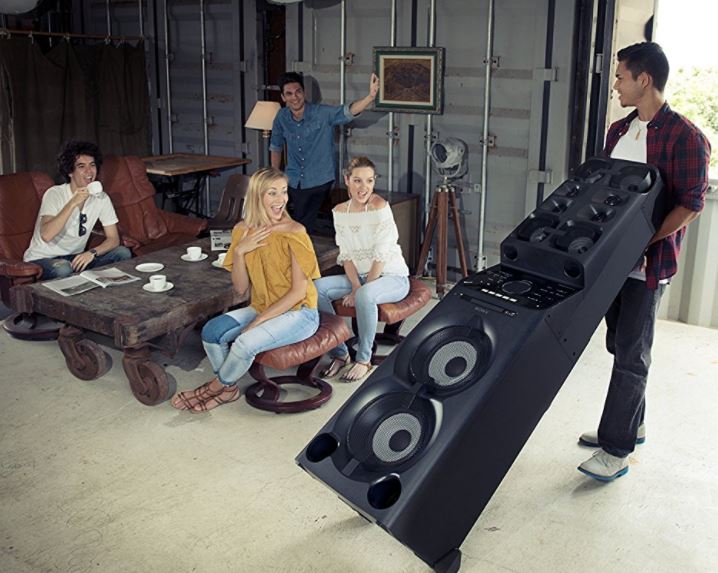 Audio Performance
When a speaker makes this much of a visual statement, it had better back that up with strong audio performance as well. Fortunately, the Sony MHC-V90W doesn't disappoint.
A total of 10 speakers will blast your music to every corner of the party. 4x 2-inch tweeters, 4x 5-inch mid-range, and 2 large 10-inch subwoofers combine to produce tremendous sound across the full spectrum. In our indoor testing, the MHC-V90W easily filled the space far louder than we'd ever need it to be with no signs of distortion or clipping. You'd need a very large hall or outdoor area before this speaker stack proved inadequate.
Beyond pure volume, Sony includes many features to enhance the listening experience in the intended environment. Utilizing a horn-shaped speaker design, your audio will project better over longer distances, perfect for larger outdoor gatherings. Additionally, the open-backed cabinet, angled top speakers, and "spread sound generator" improve musical clarity from all angles. If you've been to live events with standard PA speakers, you know many loudspeakers are highly directional. This means if you're standing directly in front, you may be blasted with painfully loud audio while stepping to the side results in muffled and unclear audio. The MHC-V90W will fill your party with balanced, even music across the whole space.
Outdoor music can prove challenging without any walls to hold the sound in. The MHC-V90W certainly held its own. While it can't match a professional speaker stack and the omni-directional design prevents it from projecting to a large crowd, you'd have no problem handling a backyard barbeque, beach party, or other small to mid-sized gathering.
Audio quality was quite good as well, although music did seem a bit bass heavy. That's understandable given Sony's marketing focus on dance music and the party scene.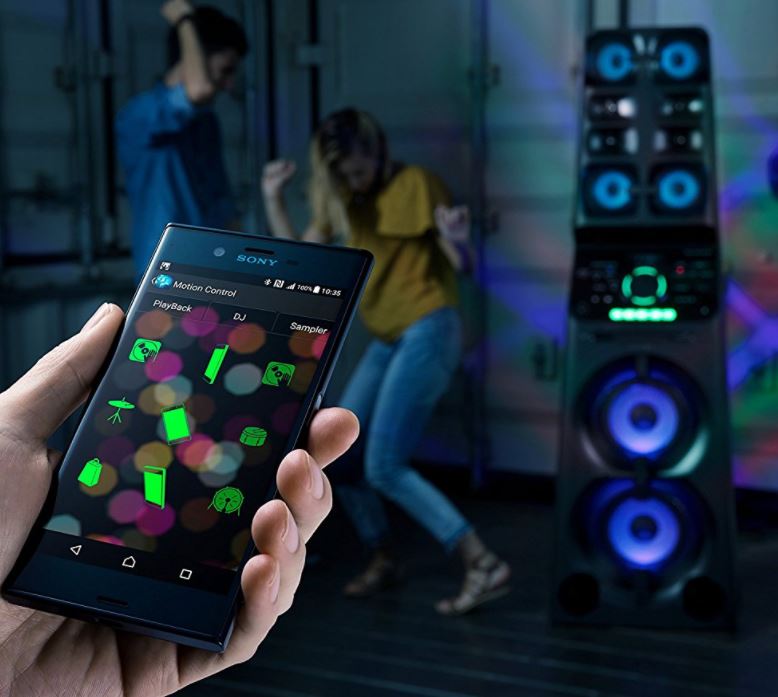 Operation and DJ Controls
Sony utilizes some unique control features to enhance the experience. It isn't easy to find small buttons or use complex controls in an often-darkened party setting. The MHC-V90W has illuminated touch sensitive keys and includes built-in Gesture Control.
You can use these gestures to skip tracks, adjust volume and access a variety of fun club effects. It may seem a little odd and drive your guests crazy, but yes, you can add simulated record scratching and other effects to your music.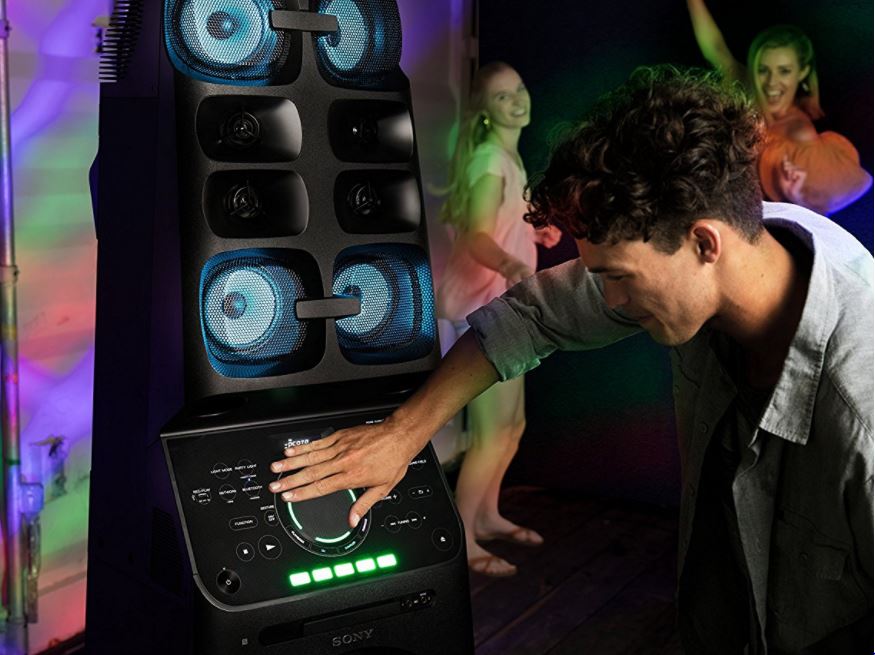 To fully unlock the MHC-V90W's features, you'll need to download two mobile apps, each available in the Apple App Store and on Google Play. First, the Sony Music Center app allows you to control music and sound settings directly from your phone. This helpful feature is far better than needing to physically touch the unit to make changes which could present a bit of a challenge at a crowded party.
Finally, the Fiestable Android plugin allows you to take control of the lighting effects, EQ settings, or activate DJ and karaoke modes. There's something fun and unexpected about taking charge of the lighting and really setting the tone of the party. Sony also supports gesture control for the Fiestable app meaning you can make changes with a simple, intuitive flick of the wrist.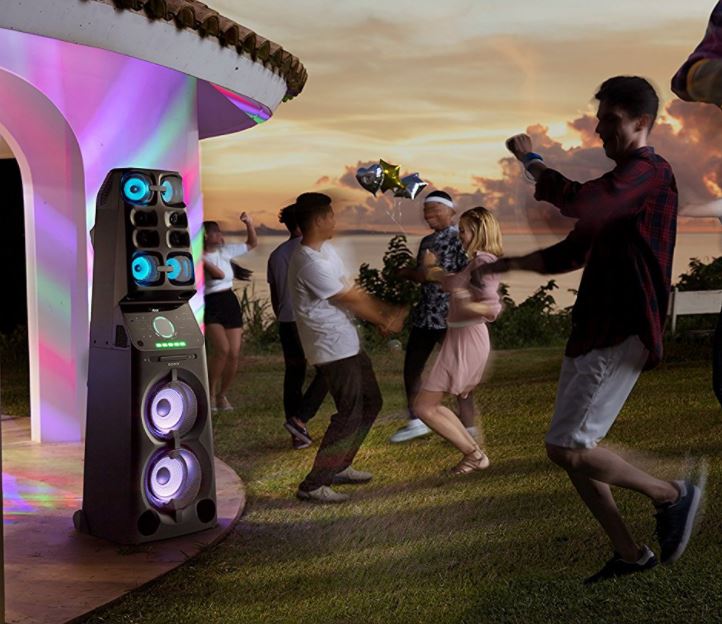 Party Features
While great sound and solid controls certainly remain at the top of the list of crucial features, Sony's addition of extra party-focused features bring the MHC-V90W to the next level.
Everyone loves singing along to their favorite songs, so the integrated karaoke features will certainly be a crowd pleaser. A dedicated microphone input allows you to instantly join the action, but the MHC-V90W packs far more than a simple sing along.
First, a vocal fader allows you to fade out the audio tracks in your music to emphasize the karaoke singer's voice. Key control allows you to make minor adjustments in the pitch of the song without significantly slowing up or speeding down. This lets you bring your favorite songs into a more comfortable range so you don't need to strain and struggle to hit the high notes.
The scoring feature tracks how closely the notes you sing match up to the original pitch of the song. While this is an addictive and fun way to turn karaoke into a game, we're not about to let you know our score. Also, if singing along isn't fun enough, an additional audio input jack lets you plug in a guitar to play along as well.
Though a single MHC-V90W brings plenty of power, if you're expecting a massive gathering Sony has a solution. Using Wireless Party Chain you can connect up to 10 additional compatible Sony speakers. Even better, this connection happens over Wi-Fi so you can create some enormous audio output without the need to run additional cables.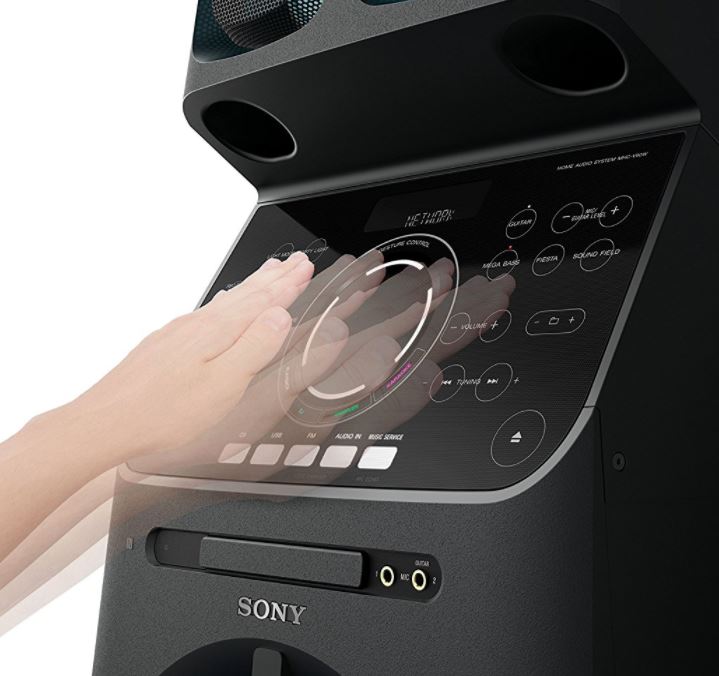 Conclusion
While the MHC-V90W isn't a must-have speaker for everyone, there's no denying it's a cool piece of technology. The idea of rolling into a party and raising a huge, monolithic speaker stack almost demands you play the theme song from "2001: A Space Odyssey."
The MHC-V90W is large and relatively expensive. Though this could prevent some from making the purchase, in reality it's precisely what this speaker was designed to be. It's large and expensive but designed to be significantly less large, expensive, and complicated than any alternative that could accomplish the same goal.
Rather than stacking multiple speakers, receivers, or other equipment, the MHC-V90W is a fully functional standalone unit. You can run sound, lighting, and karaoke entertainment with just this speaker and a mobile phone. The amount of equipment you'd need to accomplish that separately makes this unit look small and inexpensive. The added versatility of a microphone means you can switch from professional or formal situations requiring a PA system to full-fledged dance club or karaoke mode.
Whether indoors or outdoors, formal or casual, large or small, If you enjoy hosting parties and events, the Sony MHC-V90W speaker system can be your single, versatile party on wheels. Just don't forget the snacks and drinks!
Meet Derek, "TechGuru," a 34-year-old technology enthusiast with a deep passion for tech innovations. With extensive experience, he specializes in gaming hardware and software, and has expertise in gadgets, custom PCs, and audio.
Besides writing about tech and reviewing new products, Derek enjoys traveling, hiking, and photography. Committed to keeping up with the latest industry trends, he aims to guide readers in making informed tech decisions.