Wi-Fi has come a long way in 20 years. The first 802.11 protocol formalizing wireless communication specifications was released in 1997. At the time, it only provided a maximum 2 megabit per second link speeds, glacially slow by modern standards. Over many years and many revisions, Wi-Fi grew from a slow, unreliable networking option of last resort into a blazing fast protocol essential to most of our electronics.
Unlike the past when Wi-Fi required special adapters or software, today smartphones, laptops, many desktop computers, and a plethora of smart devices have Wi-Fi embedded right out of the box. Many younger users have never even seen an Ethernet cable.
As much as Wi-Fi adds tremendous convenience to our devices and lives, it can cause tremendous frustration when it doesn't work or has poor signal strength. Even as modern Wi-Fi equipment adds new features and technology, there's no avoiding some simple facts. Consumer Wi-Fi devices have a mandated limited passed down by the government via the Federal Communications Commission, or FCC. These limits mean that although some routers certainly function better than others, a hard cap exists on all regardless of price.
In a small home or apartment, a single quality router may work well enough to achieve full coverage in every room. However, depending on home size, configuration, and building materials, you may find that your single router leaves numerous dead zones or slow connection speeds that prevent you from doing what you want to do. We're far from the days of just checking email and chatting online. Today users expect to stream full HD video content from multiple devices in any room of the house.
Solutions involving multiple wireless access points have traditionally been complicated to configure with the potential for dropping devices or causing slow performance. The Nova MW6 True-Mesh Whole Home Wi-Fi System looks to solve this problem.

Mesh Wi-Fi
In an older, traditional Wi-Fi network, devices connect to a single wireless access point. If you needed to improve your coverage area, you simply expanded the number of access points or extended their reach through the use of devices known as repeaters or signal boosters.
This solution, while functional, has flaws. While repeaters can indeed spread the signal farther, your connection speed drops since your data must hop between multiple devices. Additional access points aren't a bad solution for static devices, but with the popularity of laptops and especially smartphones and tablets, users today are constantly on the move. As you move in and out of coverage areas for different access points, your device can get confused and drop connections.
Mesh Wi-Fi looks to solve this problem with smart access points that work together instead of functioning as independent units. Instead of separate points requiring a "handoff" of moving devices, a mesh network can seamlessly route network traffic to the optimal connection path even as you move between access points.
Configuring a mesh network in the past was more complex and often required a server to manage the shifting connections. Now, with increasing processing power and more sophisticated software, it's possible for manufacturers to create smart Wi-Fi equipment to manage all the complexities straight out of the box.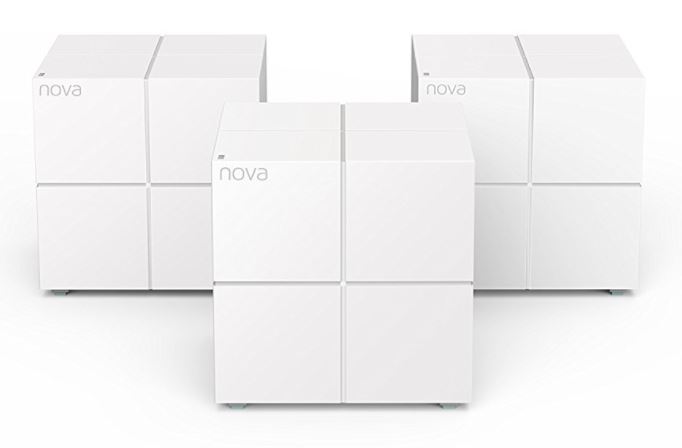 Nova MW6 Overview and Specifications
Tenda's MW6 Nova Wave 2 True Mesh Whole Home Wi-Fi System consists of three pre-configured wireless access points. Each unit is a tiny cube measuring just 3.1 inches on each side and only weighs 0.9 pounds.
Aesthetically, the Nova cubes are clean, plain white with a grid pattern on each side creating the look of four smaller squares on each cube face. The two gigabit ports, power port, and reset button are located underneath the cube in an indentation with a notch for cables to pass through. Four rubber feet keep the cube slightly elevated and allow airflow to pass through the vent holes on the underside. A small LED on top shines blue for a strong connection, yellow for a fair connection, and magenta for a poor connection.
While some people may wonder and ask what they are, the Nova's small size and clean look certainly appear less obtrusive with more elegant styling than the black boxes with flashing lights and antennas from other manufacturers. This focus on design in addition to technology is a nice touch from Tenda and shows understand that people will need to place access points at different locations in their homes.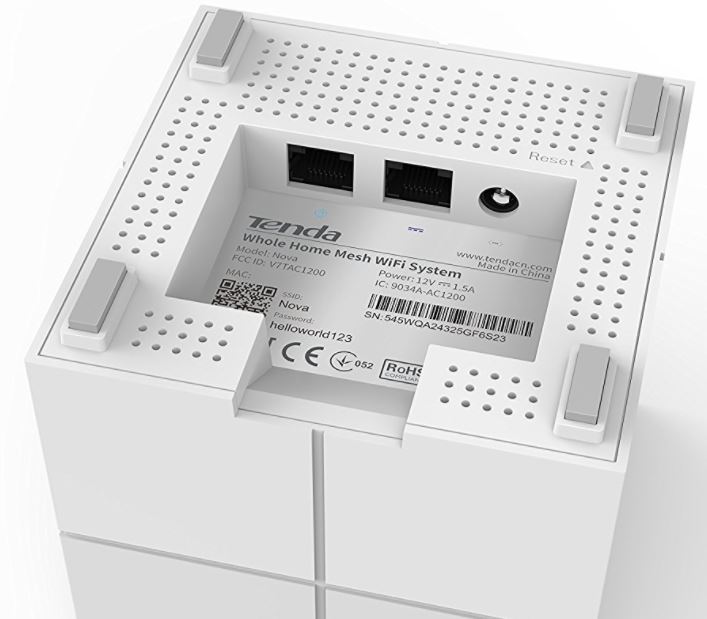 Networking Specifications
Each MW6 Nova cube has two Ethernet ports. On the primary port, these function as WAN and LAN while on the additional mesh points both function as LAN. This can prove helpful to plug in a remote device that has Ethernet capabilities, like a smart TV or gaming console, for improved signal strength.
The Nova's each have 2 3dBi external dual band antennas and support 802.11 ac/a/n on the 5 Gigahertz band and 802.11 b/g/n on the 2.4 Gigahertz band. 2.4 GHz enables a theoretical maximum transfer of 300 Megabits per second while 5 GHz increases that to 867 Megabits per second. It is rare if not impossible to actually achieve theses speeds, but it's what the protocols are capable of in a theoretically perfect situation.
Additionally, the Nova devices support simultaneous dual band transmission, beamforming, and 802.11 v/r. Even if you're familiar with Wi-Fi, you may not have come across some of these specifications. 802.11r utilizes a feature known as Fast Basic Service Set Transition, or FT, to allow devices to authenticate more quickly between access points on the same network. 802.11v allows a network to influence your device's roaming behavior by passing information about the current load placed on network access points. This allows your device to choose the optimal access point based on traffic, since a nearby access point may have the strongest signal but be severely bogged down with existing connections.
From a security standpoint, the Nova uses strong WPA2-PSK security by default. It supports PPPoE, Dynamic IP, Static IP, and Bridge Mode internet connections and can function as a DHCP server. In includes a virtual server with port forwarding and UPnP, and VPN support with IPsec, PPTP, and L2TP pass through. Tenda allows users to activate parental controls and configure a guest network.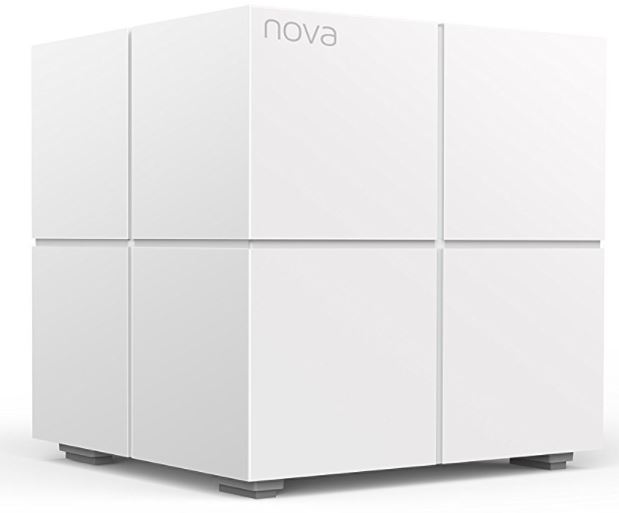 802.11ac Wave 2 vs Wave 1
While the 802.11ac standard brought huge improvements to Wi-Fi devices, many people are unsure about the changes between the newly names 802.11ac Wave 2 or Gen 2. Rather than changing the name completely, the newer standard builds off of previous Wave 1 technologies to make small but significant changes reflecting the needs of modern users.
First, while MIMO (multiple input, multiple output) technology has been used for years, the Wave 2 standard improves this to MU-MIMO, or multiuser, multiple input, multiple output. Aside from being a mouthful, MU-MIMO better supports improved connection speeds to a larger number of connected devices. A decade ago, the average home may have had only one or two Wi-Fi connected laptops. Today, between laptops, tablets, smartphones, smart TVs, game consoles, and a host of other devices, it wouldn't be surprising for a family of four to have 15-20 devices.
Also, by adding 160 MHz channels and upgrading to 4 data streams from 3, Wave 2 further supports wider range and improved throughput to the multitude of devices that you may connect in your home. Utilizing this newest 802.11ac Wave 2 protocol, Tenda claims reliable whole-home coverage for up to a 6,000 square foot home with just three Nova mesh access points.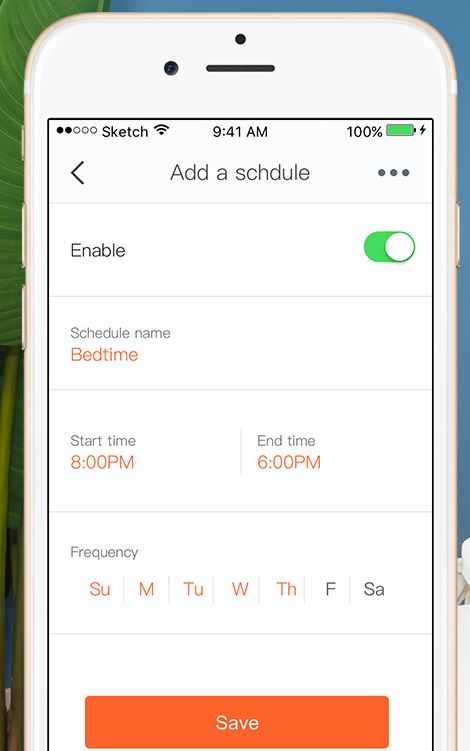 Installation and Usage
Though you can directly connect to the Nova for advanced configuration, this type of setup is usually best left to IT professionals. Tenda knows you may not have advanced IT experience and has designed the Tenda Wi-Fi app, available for Android and iOS, to get you networking like a pro.
First, all three units in the package come pre-configured to work together. Once we unpacked the box and plugged each device in, we were able to configure everything else right from the smartphone app. Honestly, though we usually prefer the manual configuration route, this worked so well we saw little reason to do it the hard way.
After adding all three mesh hot spots we could monitor total network upload and download rates, view all connected devices, and set user access and parental controls. As an added bonus, the app works even when you're away from your home network.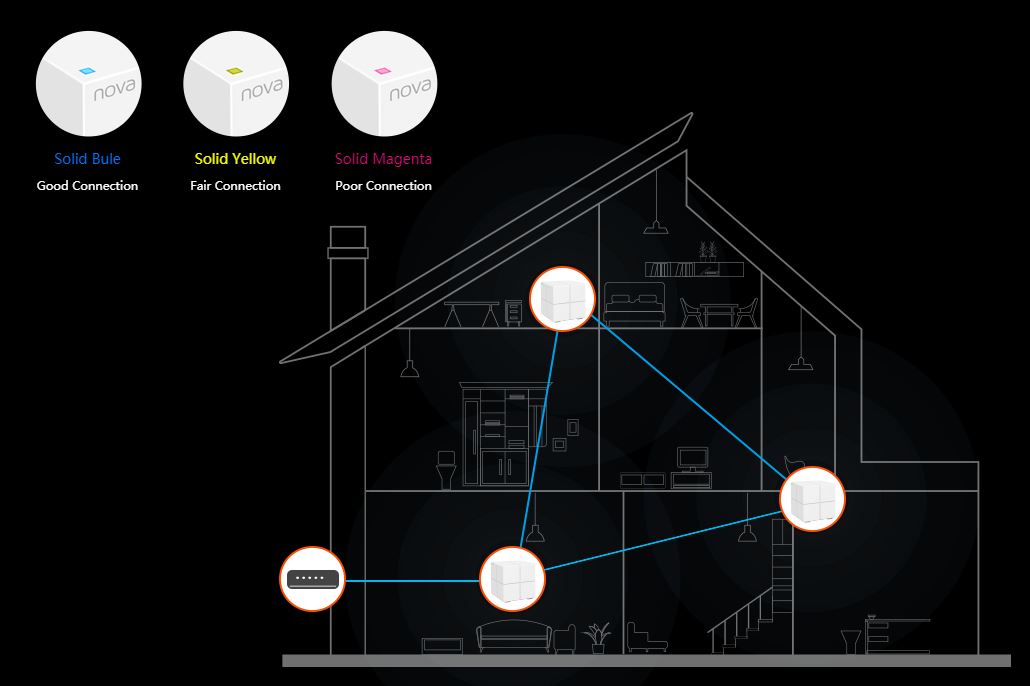 While the technology certainly impresses, we needed to test to ensure the actual performance lined up with expectations. Fortunately, performance was very strong. While our test environment definitely doesn't match Tenda's 6000 square foot estimate, we do have trouble getting signal to all ends of the home with a single router.
Once the three MW6 Nova mesh points were configured, we tested by streaming HD content and running bandwidth tests on multiple floors and even in the backyard. Throughput stayed at high levels throughout the entire home even while walking between areas. Streaming video never stopped even changing floors or going outside. It wasn't until we moved a significant distance outdoors that the connection finally struggled.
Conclusion
In the past, Wi-Fi configuration and security was best left to those with more IT experience. Logging into a router interface to adjust settings and security policies is enough to scare most average users. This hesitation only gets magnified with more complex configurations involving multiple pieces of network hardware.
Tenda's MW6 Nova system demystifies the WI-Fi experience and ensures simple coverage even for larger homes. By pre-pairing the Nova units and utilizing an intuitive app for setup, Tenda makes advanced home networking something even a child or novice user could easily accomplish.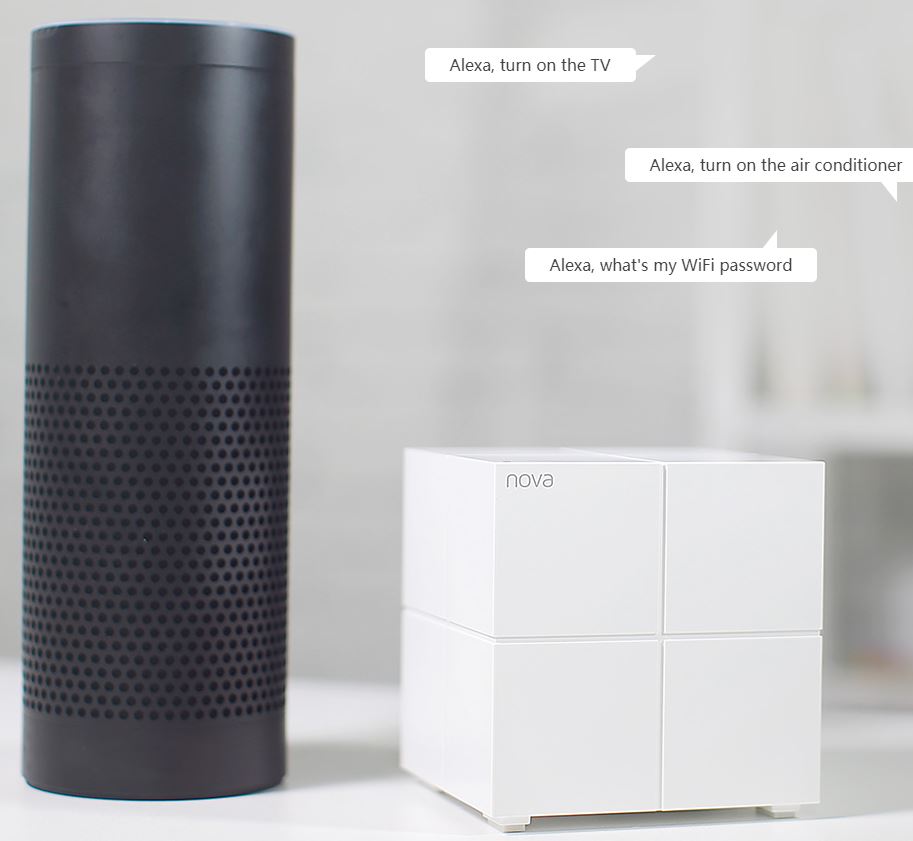 Beyond the simplicity of setup, the advanced tech loaded into these tiny cubes really makes the Nova a fantastic system. With the additional speed and better support for multiple devices, Nova leverages 802.11ac Wave 2 to deliver easy, high speed Wi-Fi to your entire home.
Whether you connect a couple devices at a time or have a house full of streaming, browsing, and gaming in every room, Tenda's MW6 Nova True Mesh Wi-Fi system delivers exceptional performance. Best of all, even without much experience, it's easy to do yourself. No nerds required.