Wireless sound can be good, or it can be great. What's the difference? It depends on what you're trying to listen to, and on where you're trying to listen to it. For example, with people who are gravely concerned about noise isolation or calling features, you'll want a different headset from people who only consider those features as a bit of an afterthought behind sound quality and comfort.
SOUNDPEATS TrueCapsule True Wireless Bluetooth Earphones
SoundPEATS doesn't have the name recognition of a brand like Bose. But they do have a fair number of compelling earbuds on the market, especially around the mid-level price range. Those earbuds are usually designed to emphasize substance over style, and that's more or less the case with TrueCapsule.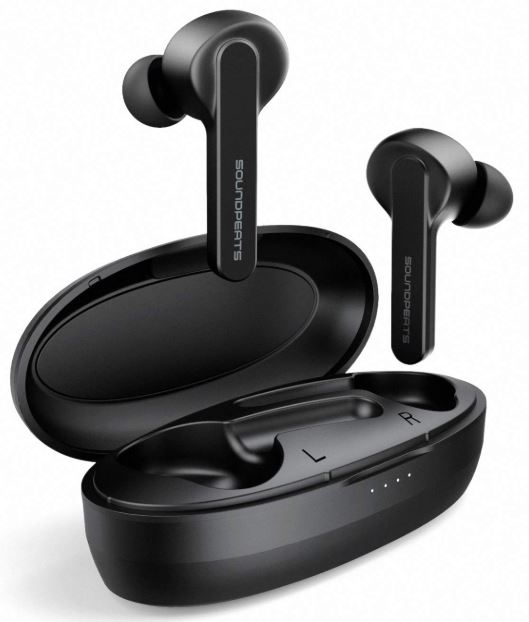 True to their name, the TrueCapsule Bluetooth Earphones are made with a charging case that loosely resembles a capsule. Of course, every pair of headphones has strengths and weaknesses, and TrueCapsule are no exception. Here you'll find their waterproofing is a little minimalistic, and they don't provide any notable noise-blocking features. Where does that leave them with active, athletic users? It's tough to say.
But they do have a couple of cool calling features, and a generally strong battery that's certain to win them a lot of fans. That makes these headphones have a more generalist design, rather than a specialist design aimed at one set of niche circumstances. So how do they perform in practice?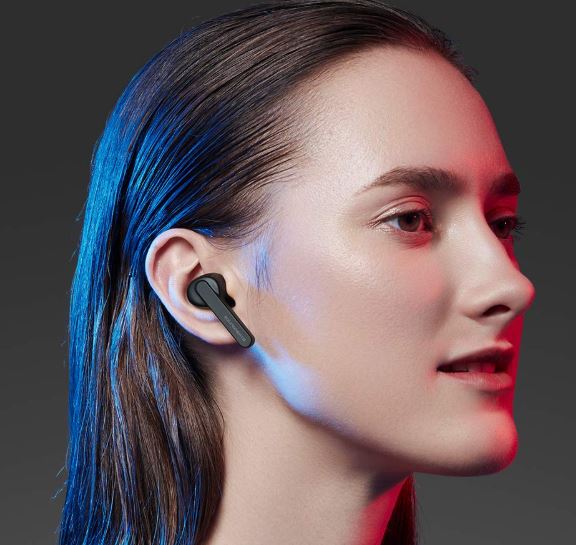 Design & Layout
Aesthetically speaking, these earbuds roughly resemble Apple's Ear Pods, except they're colored black instead of white. There's also the SoundPEATS logo running down the elongated stem of each bud, which helps to differentiate them a bit more, though the text is not very prominent. And these extended antennas aren't only stylistically distinct, they're quite useful for the antennas inside each earbud.
The outside of each earbud uses a touch control surface, which you can tap in order to move between various control options. Trying to lower the volume, skip between tracks, or answer a call? A couple of taps can help you out. Unlike the touch controls on larger portable headphones, you can't use swipes, you're reliant entirely on taps because of the relatively small size of the touch interface. That means you'll need to remember a couple of touch patterns in order to properly navigate them.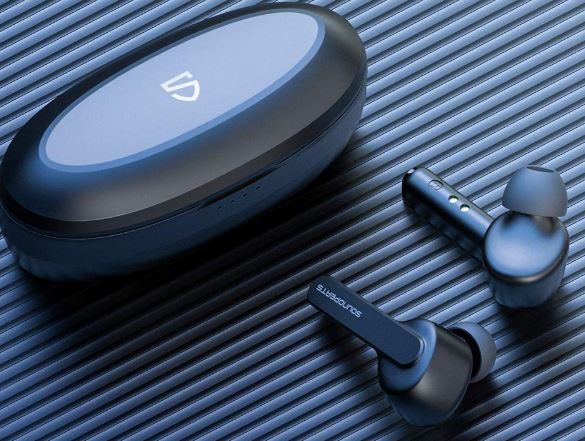 In any case, the charging case matches the earbuds quite nicely. It weighs around 5 grams in total, making it rather lightweight. And for the sake of comparison, it measures 1.67 x 0.93 x 0.98 in, giving it an odd, capsule-like shape. This shape is easy to pick-up, withdraw from pockets, and store away. But admittedly, it does tend to roll when placed on a flat surface, similar to a pen or pencil. So you do have to be a little careful about where and when you set down the case.
On the charging case, the position for the left and right earbuds have been marked with the letters L and R. This seems a little bizarre considering the left earbud is placed in the left position, and the right earbud is placed in the right position. Plus, when you flip open the case, you automatically have it oriented in that direction anyway!
But apart from being potentially pointless, that labeling isn't a bother. Thankfully, they didn't design it with a bunch of LEDs to burn case power. Speaking of LEDs, they did include four pin-dot LEDs on the front of the case. These allow you to get an approximation of how much juice is left in the case. So when you've only got three dots showing, that means you're down to 75% battery or less. Since you've only got that information available in quarters, it's at best a rough approximation. But it's better than having no indicator at all, that's for certain.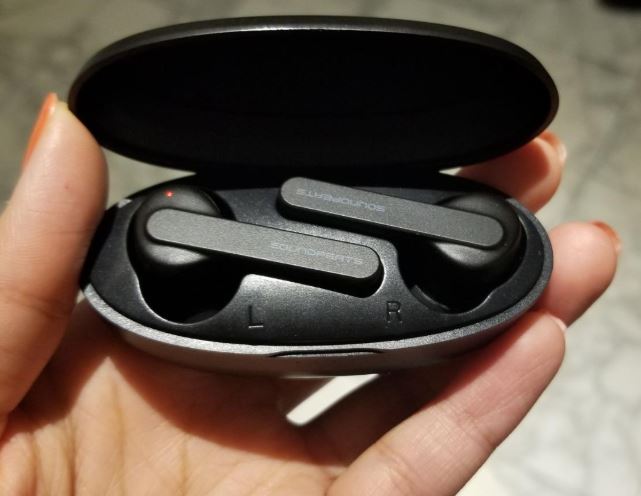 Comfort Concerns
For comfort, you're looking at a total of three included ear tips. That's a terribly standard array, including small, medium, and large tips. When you look at some really high end earbuds, its often possible to find kits with as many as seven sets of tips available.
The TrueCapsule don't go quite that far, but the reason there's only three is because that's enough to accommodate roughly 95% of all people. That's not to say there aren't real advantages of having lots of options. It's actually quite often possible to enjoy a little comfort boost when picking between several sets. But three is really enough to get the job done.
Wireless Connectivity
Since the TrueCapsule headphones are running on Bluetooth 5.0, you get all the benefits of automatic pairing and syncing between your devices and the earbuds themselves. At least, after an initial setup process. The setup process is pretty straightforward though. Another hurdle you have to overcome is that the device you're trying to connect with needs to be compatible with at least the 4th generation of Bluetooth.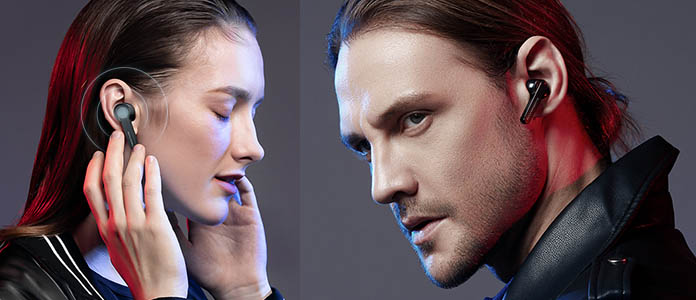 The signal distance you can run is about 30ft. Again, that's quite standard, and not especially praiseworthy. But for people who plan on connecting with televisions, smartphones, and similar devices, that 30ft range really should prove to be more than enough.
One more thing worth noting, in addition to modern Bluetooth, these earbuds are supposed to address audio quality issues during calls by adding TWS earbud support. That way you get audio in both earbuds during calls, which is still a surprisingly uncommon feature among true wireless earbuds.
Battery Lifespan
Each individual earbud can store about four hours of playtime before it needs to be recharged. Compared to other true wireless earbuds, that's marginally above the 3.5-hour average. Once you get the charging case involved, you can restore each earbud around five times each. By the end of that process, you'll have reached around 24-hours of total playtime. That's not bad!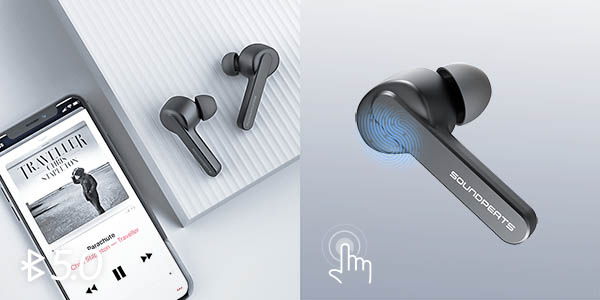 Of course, those estimates can be thrown off by any number of things. If you're someone who's always listening to their music on maxed volume settings, then you're probably going to get about an hour less. If you're making the occasional call, then you might end up with 30-minute more. But the 4-hour estimate is actually pretty close to the mark.
Notably, the right earbud can be used in a mono mode. That means you'll effectively be using half as much power, and technically could stretch your use-times out towards a total of 48-hours. You can't use the left earbud independently of the right, which makes it a little tougher to get that 48-hours without forced breaks between 4-hours of listening. But these batteries do recharge at a reasonably quick rate.
Audio Quality
The Bluetooth 5.0 capacity does a lot of the heavy lifting when it comes to audio quality. Notably, the Bluetooth is also backed with a Realtek chipset. Between them, and the stereo sound with support from TWS, you can pretty much guarantee flawless transmission of wireless signals in both ears.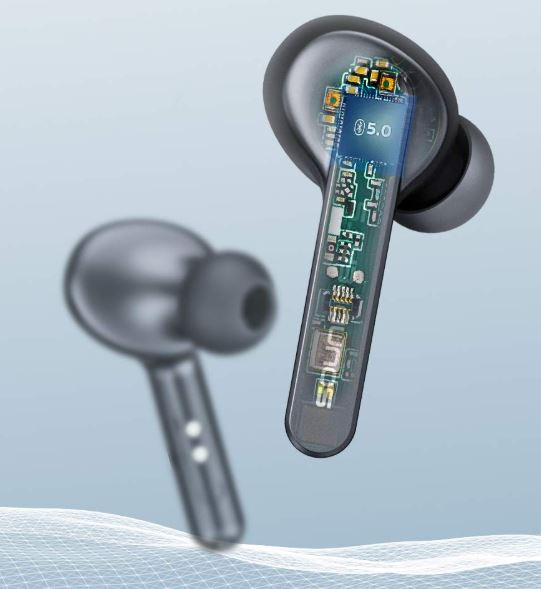 Apart from that, these earbuds make use of fairly small dynamic audio drivers. And their audio quality could be accurately characterized as average for this price range. But still, TrueCapsule do have their own semi-unique sound profile because SoundPEATS designed them with a biological diaphragm to help bolster tonal delivery. That's what helps give them their slightly distinct sound.
Unless you're choosing SoundPEATS headphones that were designed specifically for athletic activities, you usually end up with a more neutral soundscape. The TrueCapsule certainly fit that description, with a greater emphasis placed on clarity over all else. If you end up feeling as though the bass section is a little flat, you can always have made some adjustments with an equalizer. But if you're looking for a more balanced sound, that gets you closer to listening to music as the artist intended, then the TrueCapsule are designed pretty well for that.
Other Considerations
The microphone is a bright spot because the hardware itself has been marginally improved compared to previous iterations of SoundPEATS gear. Even though there aren't any extra software features working behind the scenes to help you out, like cVc noise cancelling, it does feel as though these headphones deliver extra call clarity. And it doesn't hurt that voice assistant support includes a capacity for both Google Assistant and Siri.
This kit includes a charging case, six pairs of ear-tips, a mini USB to USB-C charging cable, and a user guide. SoundPEATS also includes a one-year warranty with these earphones.
Unfortunately, there aren't any memory foam ear tips. For people who prefer to make the most of their noise isolation potential, memory foam is really the only way to go. Those kinds of ear-tips are increasingly common among athletic headsets, but still aren't that common among more everyday calling sets like the TrueCapsule.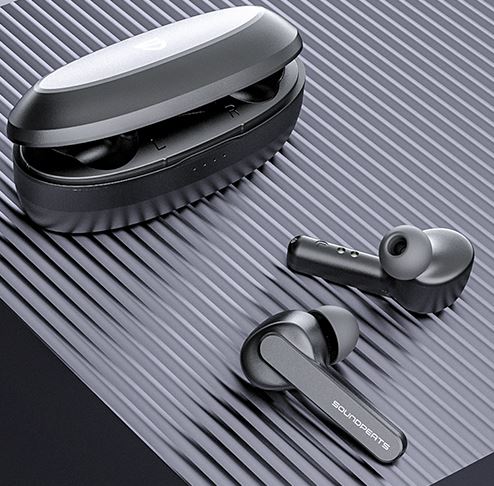 Who Should Choose SOUNDPEATS TrueCapsule Bluetooth Earphones?
You can find about half a dozen things to like about these headphones, and about half a dozen things that could use improvement. They've got a nicely streamlined charging case that's easy to take with you from place to place. They've got an equally streamlined connection process using Bluetooth 5.0, and have no problem maintaining the stability of that connection over time.
On the other hand, one thing they're lacking is active noise cancellation features. Those features still tend to add a bit to the price of your headphones, so unless you need the kind of noise protection which ANC can provide, it's not a bad idea to stick to something simple and effective like TrueCapsule earbuds. They're streamlined to the point of being highly accessible for virtually anyone who wants to use them.
While their battery lifespan isn't going to knock your socks off, it is technically a little above average. Which really means the TrueCapsule Bluetooth Earphones end up delivering a nice value, if only because they marginally outperform similar competitors consistently. That over-performance is often only by narrow margins, so while these earbuds may not be a super obvious winner, they are unlikely to let you down.