These days, it can be tough to find a good set of affordable earbuds. To be clear, there are plenty of affordable earbuds out there – literally thousands of options. But we're talking about a good set, something that you'll actually enjoy wearing and listening to. Suddenly, you're looking for a needle in a haystack, and who has time for that? Thankfully, we're here to help you find what you're looking for.
A good affordable earbud doesn't need to deliver beautiful, studio-quality sound. But you should still be able to hear your music clearly without it sounding muddy or cluttered. The earbuds should also be reliable. You want them to stay connected to your phone or other device, as well as to stay attached to your ears. It also doesn't hurt if you get several hours of battery life.
We're about to review the STADOR Wireless Earbuds and the RIZIZI Wireless Earbuds. Both of these sets of earbuds are very affordable, and both have an over-ear design with a rubber hook. But there are also some significant differences between the two.
To truly understand how they work, we're going to have to dig a lot deeper. We'll talk about their physical design, charging cases, battery life, and other features. After we've given them a thorough once-over, we'll know enough to deliver our verdict. Let's get started, and see how they stack up!
STADOR Wireless Earbuds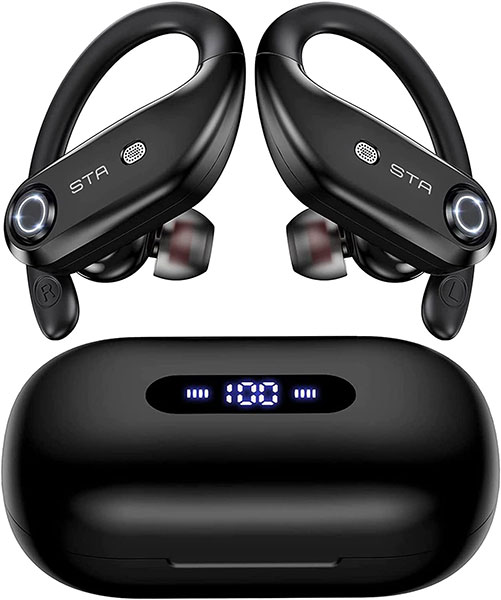 Key features:
Ear hook design available in 3 colors.
8 hours per charge with 12.5 recharges from case.
4-mic design for clear calling.
Supports USB Type-C and wireless charging.
Charging case doubles as a power bank.
The STADOR Wireless Earbuds have a broad shell with an ear hook design. There's a silicone ear tip that goes inside your ear, which sits inside of a broad face plate. At the front of the plate is a rubbery hook that protrudes upwards, then loops back over the top of your ear. This provides a little bit of added security if the ear tip should pop out while you're moving around. You can choose from three different colors: black, blue, or purple. All have a matte finish that's easy to keep clear of dust and fingerprints.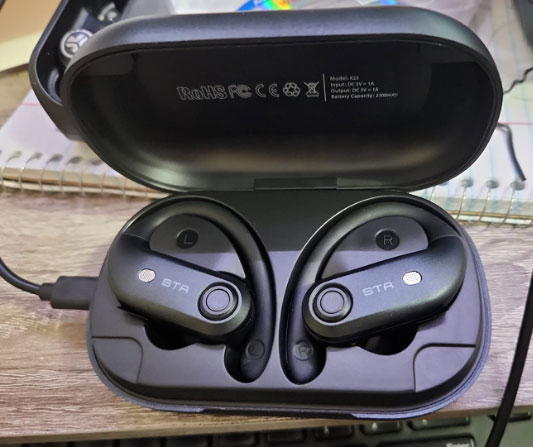 When the earbuds arrive, you'll notice three extra sets of ear tips in the package. These are three different sizes, ranging from large to small. Take your time to try them out and see which one gives the best fit. A well-fitted set of ear tips won't just make your buds more comfortable and secure. They'll create a seal inside of your ear, which will help to block out unwanted background noise.
On both the left and right earbuds, there's a large multi-function button on the face plate. These can be used to skip tracks back and forth and adjust your listening volume. You can also use them to answer and end phone calls. And if you activate your phone's voice assistant, you can unlock a whole slew of additional functions.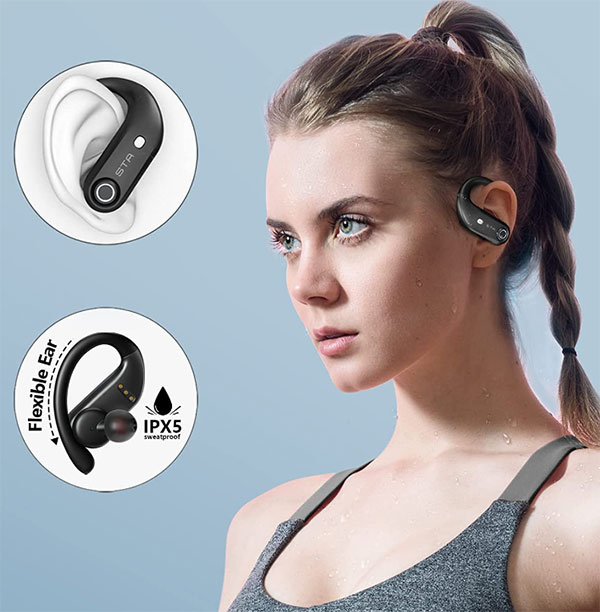 These earbuds have a water-resistance rating of IPX5. This means they're splash-proof and sweat-proof, and you can wear them when you're jogging in the rain. That said, they're not submersion-proof, and can't withstand a stream of water. You can wash them with a damp cloth when they're dirty, but don't wear them in the shower.
The charging case is a flat oval with a clamshell design and molded wells on the inside for your earbuds. On the top is an attractive LCD display that shows your total battery percentage in the center. To both sides are smaller bar-style meters for the individual earbuds.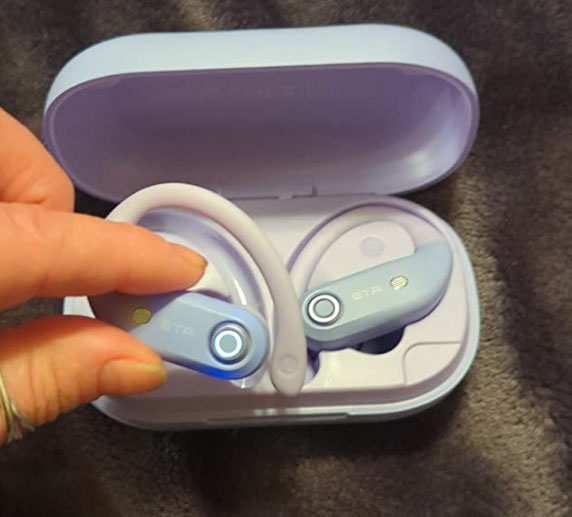 Battery, Connectivity, and Audio Quality
The battery life on the STADOR earbuds is out of this world. To begin with, the individual buds each hold enough charge for eight hours of playback at medium volume. At full volume, that's more like six hours. Okay, that's actually only slightly better than average. But what really impressed us was the charging case, which holds 2,200mAh. That's enough to recharge the batteries 12 ½ times each, enough for 100 hours of listening time.
It charges via USB Type-C as well as wireless, which makes it very versatile. Just keep in mind that wireless charging is slow and the capacity is large. If your charging case is fully drained, it will take all night to charge via wireless.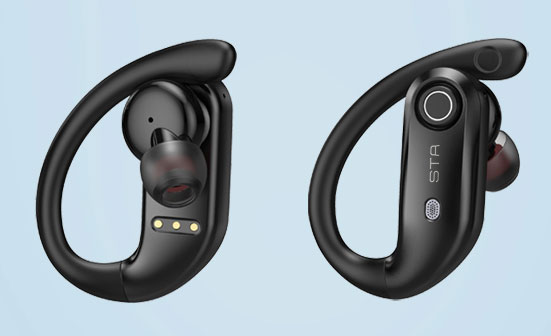 There's also a USB Type-A port in the left side of the case. This port allows you to plug in your smartphone device and use the charger as a power bank. At 2,200mAh, it will only provide a little more than a half-charge on a modern smartphone. But if you're in a pinch and have to make a call, it's good to have options.
These earbuds use the Bluetooth 5.0 wireless protocol. This is the current standard, and provides some distinct benefits over the earlier Bluetooth 4.2 format. It has a higher bitrate, so you can enjoy higher-quality audio files. The signal is more stable, so there are fewer dropped calls and random disconnects. And with low latency, it's suitable for gaming and watching movies.
In addition, you can use the STADOR buds in both stereo and mono modes. If you want to listen to a podcast in one ear while listening for your kids with the other, you can. This also effectively doubles your battery life, since you're only using one bud at a time.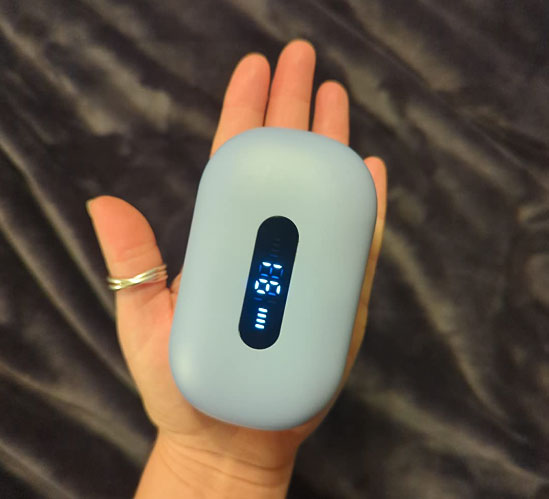 The audio quality is reasonably good, and you get a sense of separation between different instruments. It's treble-heavy, which won't please people who prefer a strong, booming bass, but the bass is still present. The volume is also somewhat limited, which is a bit of a disappointment.
Call quality is far better. There's a set of four external mics which focus on your voice and help to filter out background noise. If you're trying to have a phone conversation in a loud environment, you'll be pleased with the results.
If you want a more compact set of earbuds, consider the SoundPEATS Opera. These little in-ear buds are very compact, and provide rich audio along with a powerful ANC function. Then again, they cost more, and the glossy gold shells tend to collect fingerprints.
Pros:
Comfortable over-ear design.
Supports mono or stereo connections.
Excellent call quality.
Case doubles as a power bank.
Cons:
Treble-heavy EQ with weak bass.
Limited volume.
Large charging case.
RIZIZI Wireless Earbuds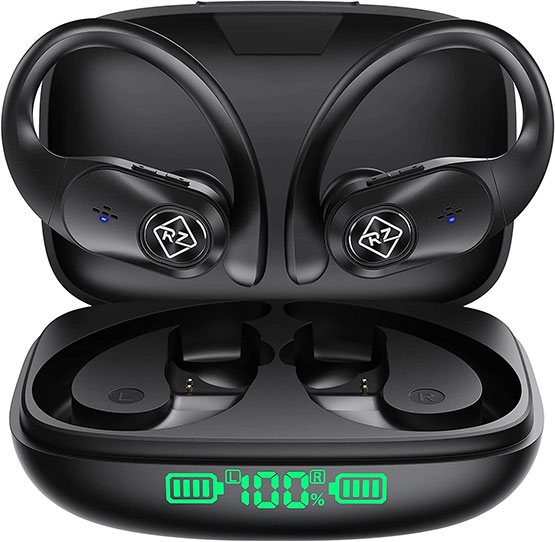 Key features:
Ear hook design available in black.
8 hours per charge with 4 recharges from case.
Supports USB Type-C and wireless charging.
Bluetooth 5.1 connectivity.
The RIZIZI Wireless Earbuds have an ear hook design that's superficially very similar. Indeed, many of the physical features are more or less identical. They have ear tips on the insides, with face plates on the outside and rubber hooks that run up over your ears.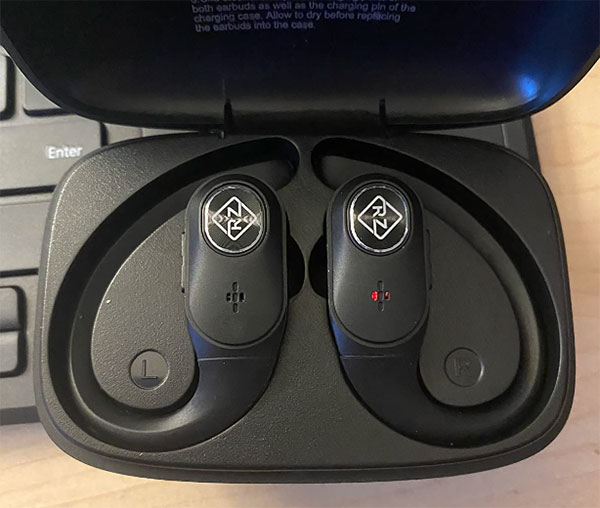 The plates are a bit shorter and fatter, but have the same functions. There's even a set of multi-function buttons, both of which are decorated with a large RIZIZI logo. On the top of each face plate is an additional rocker button, which is used for volume and skipping tracks.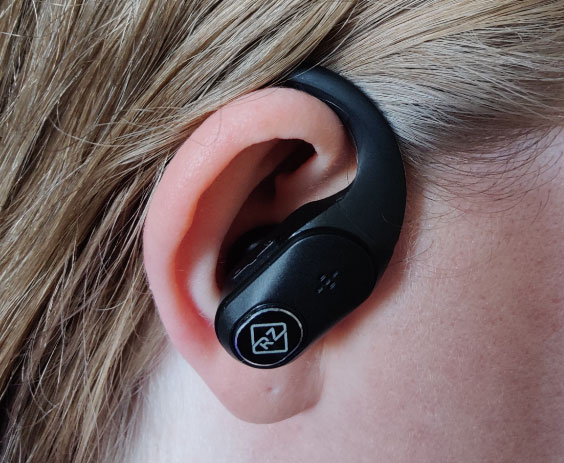 You get only one choice of color: black. However, the shell has a smooth matte finish that easily wipes clean. You also get three sets of ear tips in different sizes. That way, you can ensure a comfortable, secure fit that also provides good passive noise isolation.
These earbuds have a weather-resistance rating of IPX5. They're suitable for sweaty workouts and you can wear them in the rain. Just don't take them in the shower with you or drop them in water, and they should last for a long time.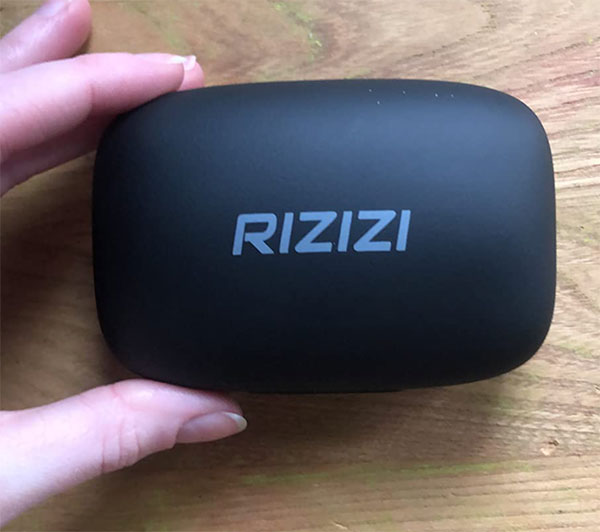 The charging case is broad and pillow-shaped. It's attractive, with a bright LCD display on the front under the clamshell-style lid. However, it's also fairly large, and you may have trouble carrying it around in your pocket. The display itself shows your total battery percentage in large green numbers. Smaller bar graphs to the side will show you the charge for each earbud. The earbuds sit inside in a set of molded wells, where they snap securely into place with little magnets.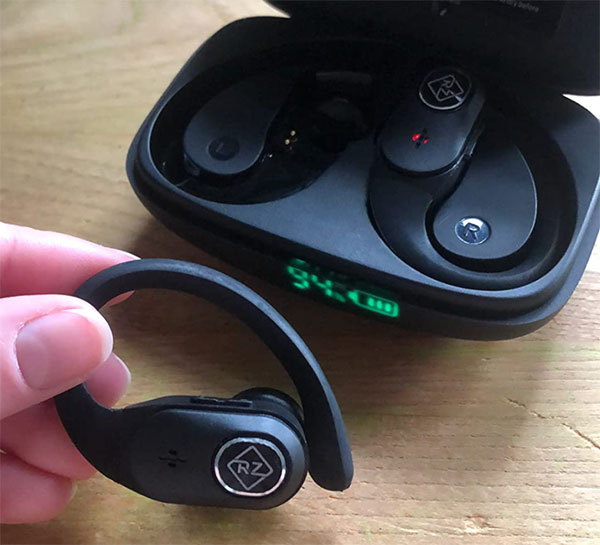 Battery, Connectivity, and Audio Quality
Each RIZIZI earbud will last for six to eight hours when it's fully charged. Exactly how long depends on volume, but it's still enough to get you through an entire day. The case provides an additional four charges per earbud, for a total of 30 to 40 hours of total playtime. Charging via USB Type-C takes a little over two hours. Charging via a wireless pad takes longer.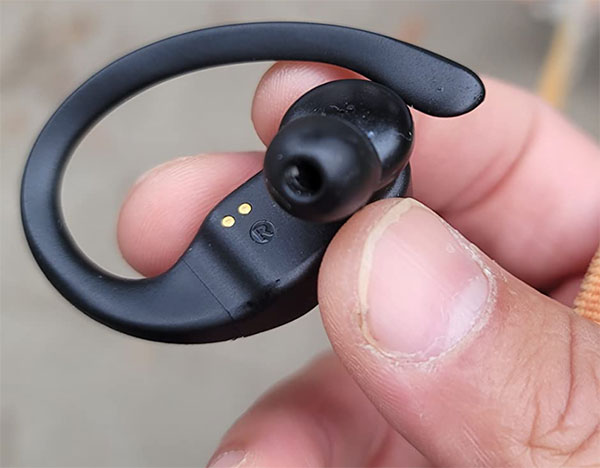 These earbuds connect to your phone via Bluetooth 5.1. This is an upgraded version of Bluetooth 5.0 with even lower latency, which is perfect for gaming. It also supports using the earbuds in mono or stereo mode, so they're pretty versatile.
The maximum volume is a bit quiet, which was somewhat disappointing. That said, the audio quality is excellent for the price – far better than we'd expected. You also get reasonably good call quality, albeit not as good as the STADOR buds.
Pros:
Good audio quality for the price.
Supports mono and stereo connections via Bluetooth 5.1.
Comfortable, ergonomic fit.
Quick, easy pairing.
Cons:
Limited maximum volume.
Large charging case.
Final Verdict
At the end of the day, these are both good quality earbuds at a great value. But which is the ideal choice for your needs? That's a personal decision, but here are some things to keep in mind.
The STADOR Wireless Earbuds have a truly absurd battery life. With the 2,200mAh case, you can listen for up to 100 hours, which is great when you're on the road. They can connect to two devices simultaneously, which can be a huge benefit under the right circumstances. And with four built-in microphones, they provide some excellent audio quality.
The RIZIZI Wireless Earbuds perform better when it comes to audio quality. You get the option for dual connectivity, along with an ultra-low-latency Bluetooth 5.1 connectivity. We were less pleased with the limited volume and oversized charging case. But all in all, they're easy to use and operate, and they sound great for a set of budget buds.