The internet is an ever increasingly dangerous place as cybercriminals create more sophisticated ways of stealing your data or breaking into your system. When combined with the fact that people are relying on their computers for more sensitive matters such as banking, not only are you more exposed technologically but also personally.
If your data is cracked, you're no longer only risking a temporary inconvenience. The risk is now quite literally, your life. If your identity is stolen, it can impact your credit score and cause ripples of damage throughout the following years of your life. That means being denied home loans, or car loans, or perhaps just failing the credit check to land an apartment.
One way of protecting yourself is to utilize a virtual private network. There are tons of VPNs available, but even then, you take a risk because if you choose a VPN provider that's malicious, you're sending your data right to them free of charge or challenge. The best VPNs will help you secure your web traffic against hackers, man-in-the-middle café snoopers, and almost anyone else trying to get to you.
If you have ever logged into a public Wi-Fi network, you have exposed yourself to risk. If you have done the unthinkable and logged into one of your accounts while on a public network, you might have given away your login credentials. If you happen to use that email and password for any other accounts, then they have those accounts as well. If you happen to use those credentials for your email address itself, then a hacker can go to any one of your accounts by requesting a password reset or "forgotten password" which then emails you a link to log in.
The moral of the story here is that you need to secure yourself when you use an internet connection. Whether on public Wi-Fi or at home, the internet is a dangerous place. The Syfer unlimited smart VPN router with a built-in next-gen smart firewall is one of the best ways to protect yourself when browsing the web from home. This is a feature-rich router designed specifically to give you the ability to browse the internet confidently and without fear. So, let's dive into what makes this device great.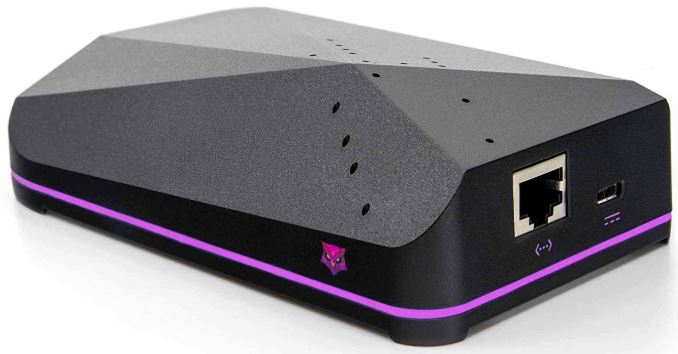 Secure VPN & Features
The Syfer VPN router includes a one-year subscription to its proprietary global VPN with up to 100Mbps+. The unlimited part of their unlimited smart VPN comes into play with the fact that they have no data caps on VPN usage. So whether you wish to stream HD video or do banking, you can log into your accounts and go about your business without worry. Syfer has documented their plans to upgrade their speed limits as improvements over 2020, meaning you get free upgrades as they improve their service.
Despite the fact that the device is called a VPN router, it's important to note that Syfer is not exactly a Wi-Fi router. It's a cybersecurity appliance that connects between your modem and Wi-Fi router to deliver privacy and security features. This was a bit of concern while reviewing the device because utilizing the term 'router' in the device's name can be confusing for those that might not read the fine print.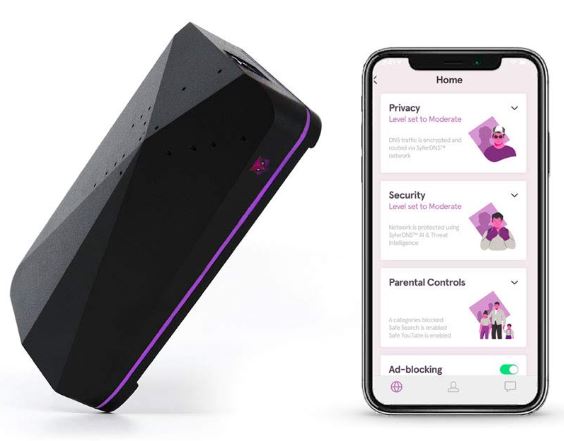 The only downside to the VPN is that it's built into the device itself, so if you plan to be mobile, you cannot take that security with you. As long as you're aware, this is a device to protect your home network, then you should not have any misconceptions about what to expect. If you want to protect your connection on the go we recommend you either get a software VPN as well or check out the Keezel 2.0 VPN portable router.
Along with the VPN connection, you get additional privacy and security tools. Syfer includes a DNS traffic encryption that's routed via the Syfer DNS network. They utilize DNS over TLS to ensure your traffic is encrypted, so even if someone were to see the traffic, they would be unable to determine what is going on or see any detailed information. Syfer uses TunnelShaper technology that leverages its global VPN network and uses a patent-pending smart VPN service to ensure your secure connection does not interfere with your streaming experiences.
The TunnelShaper has multiple security settings, and even if you choose to disable it, you will still have encrypted traffic routed via the Syfer VPN backbone. When you set it on moderate, your network is protected by the SyferDNS Artificial Intelligence, and threat intelligence feeds that increase your security drastically.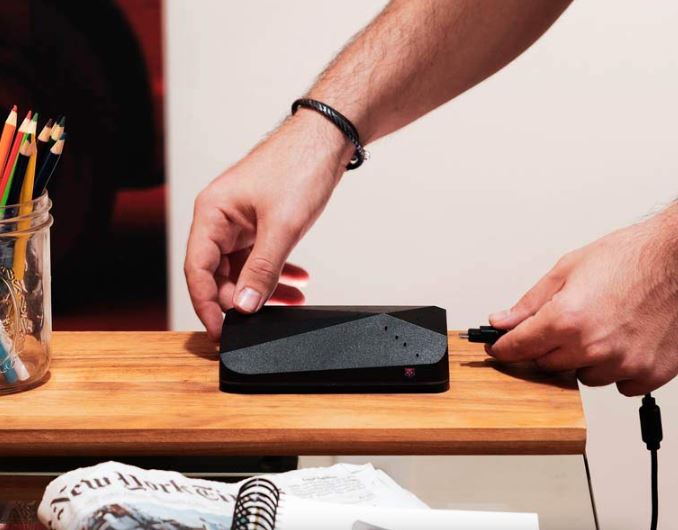 Setting it to strong takes it up even farther, where you get all of the moderate benefits with the inclusion of enabling the intrusion prevention system Suricata. With Suricata running, your signature ruleset can be curated and updated on a daily basis to prevent any attacks on your network, including viruses, trojans, ransomware, and other malware. The only downside to the maximum security setting is that it utilizes quite a bit of bandwidth and will significantly slow your connection speed.
Arguably one of the best features of this device is its built-in Ad-blocker. Syfer comes with a network-level ad and tracker blocking service that works a bit different than your traditional browser-based ad block plugins. The network ad blocker handles ads and trackers on an IP and DNS level instead of how the plugin for your browser works by blocking the javascript on the page. When you combine browser-based and network-level ad-blocking, your online experience is faster, more secure, and much less annoying.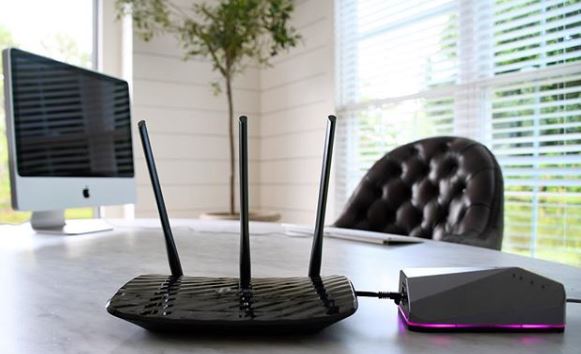 Build & Design
Syfer is a very small network device coming in at only 5.5 inches long, by 3.5 inches wide and only 1.5 inches high. With such a low impact size, you can throw it wherever your modem is without having to clear up much space on your desk or impact your network layout. In total, it only weighs 11.2 ounces. Syfer is designed to work with its mobile application so you can manage your security settings from your phone. If you plug it in and reboot your router, Syfer basically sets itself up. You simply scan the QR code using the Syfer app, and it will pair with your device automatically. After that, managing your security is a matter of simply clicking on the options that you want activated.
To physically connect Syfer, you simply plug in the Ethernet cable into one side and for the connection to your modem. Then on the other side, you connect a separate ethernet that goes to your router. The only other port on the device is for power. That means that regardless of your level of tech-savviness, you will be able to hook this up without assistance. 
Parental Control
If you happen to have a family, parental controls are incredibly important. The internet is dangerous for the knowledgeable but even more dangerous for kids that do not know not to click on dangerous links or go to shady websites. For this, Syfer has built-in Parental controls. You can choose the categories of websites you wish to block and hit save. It's as simple as that. Sites that are categorized under the blocked categories will not be accessible when connecting on your network.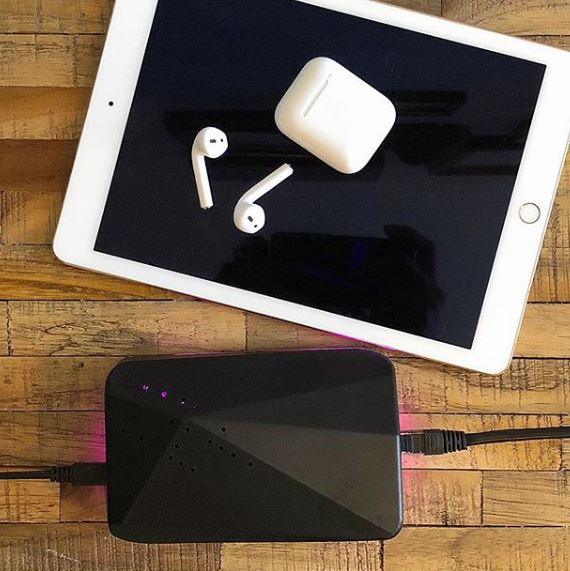 With Safe Search enabled, you're able to block unsafe search engine results, so your house doesn't even have to see the nefarious results in the list. There's also an option to enable "safe YouTube" so that you can prevent access to inappropriate YouTube content. The YouTube content filter might not be entirely accurate since it relies heavily on user tags and accurate categorization for the video in order to block it, so for this feature, we wouldn't recommend you rely on it as your only method of controlling your child's youtube access.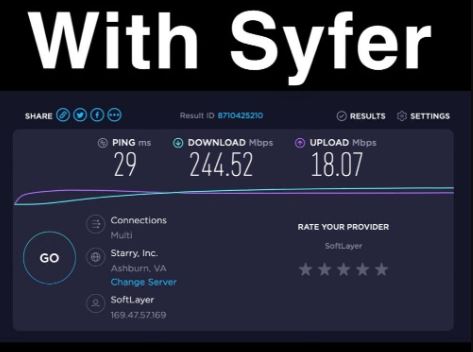 Impact on Gaming
Though not everyone is a gamer, gaming is becoming a more prevalent function of our internet usage. If you happen to play single-player games, then your internet connection doesn't really matter all that much unless the content is DRM protected. Where it does matter, however, is multiplayer competitive gaming. For competitive games, every increase in ping can impact your performance, and it's a sad reality that when you increase your security, you do have a negative impact on your network ping.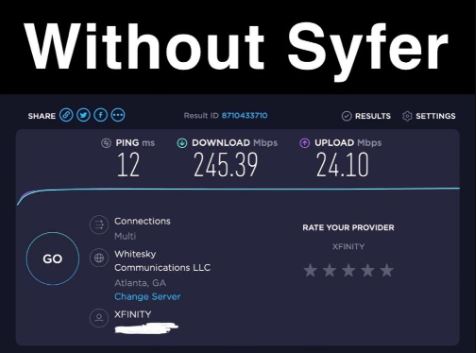 Depending on the level of your security settings, your ping will be impacted more or less significantly. During a variety of tests run, we saw increases in ping from between 10 and 30 points, which might not seem like that much at first, but it can be the difference between getting the kill in an FPS or being the kill for someone else. 
Service Charge
Though Syfer includes a one-year subscription to their VPN service, you will eventually have to pay for it. After your year is up, you will be charged $9.99 a month going forward. This is a small price to pay for the level of security you get with all of the features built into Syfer, but it's still significant enough for some to factor in on their decision.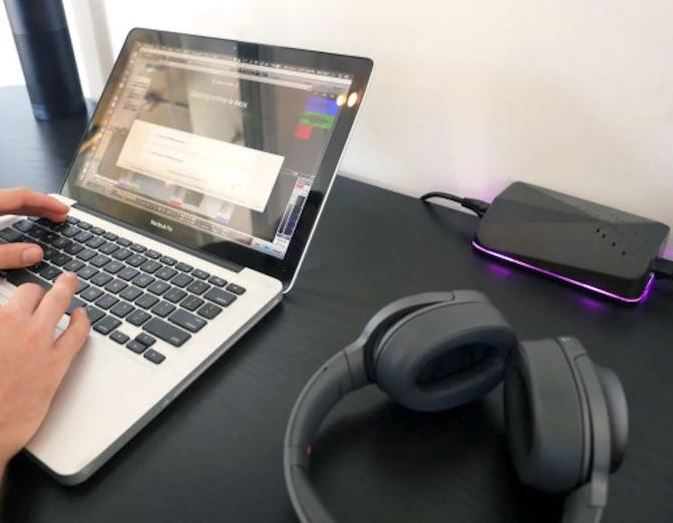 Other Considerations
Syfer needs to be set between your router and your modem, so if you happen to have a combination router modem, it will not work on your network. You will need an additional router in order to make use of this device.
Who Should Choose the Sypher Smart VPN?
Anyone that's concerned with network security would benefit from the Syfer Smart VPN "Router". By that, we mean that every single person that uses the internet at home would benefit from this device, but only those that are actually concerned about it will listen. Security is quickly becoming a requirement of internet access instead of being optional. Without some type of network security, it's not a matter of if you will be hacked or infected, it's a matter of 'when.'