Whether you're a fitness guru or someone who simply works out a couple of times a week, you likely know the importance of listening to music while you exercise. Music has been widely credited for improving mental focus, commitment, and even stamina and endurance. However, the method in which you listen to your favorite tunes is something to take into consideration. Headphones are often the most ideal choice, but the truth of the matter is – not all headphones are created equally.
Over-ear varieties are often heavy, clunky and are simply too much to deal with when you're sweating profusely or in the middle of long jog or bike ride. This is why most individuals choose in-ear headphones, also known as earbuds. They're lightweight, fit more securely and have features that are specifically designed for working out. But still, one problem remains – how do you know which pair is right for you?
If you've done some prior research or shopping around, you've likely discovered the new TaoTronics TT-BH07U Bluetooth Earbuds. Known for being inexpensive and budget-friendly, we purchased them to test them out for ourselves, to see what they're truly capable of. Today we're going to be going over their distinctive features and determine whether or not they're a worthwhile investment for those who may be interested in choosing them.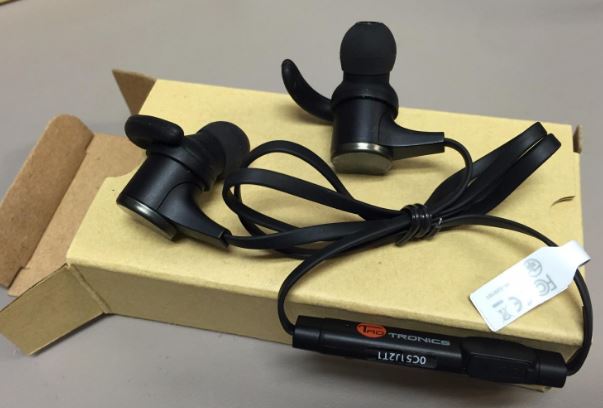 Designed for Working Out
From head to toe, it seems that the TaoTronics TT-BH07U Earbuds have been created to match well with anyone who wants a reliable, inexpensive pair that's built specifically for working out. Weighing in at just half an ounce, they're incredibly lightweight and simplistic in their design. They've been given a minimalistic feel that consists of two individual earbuds with a small cable between the two.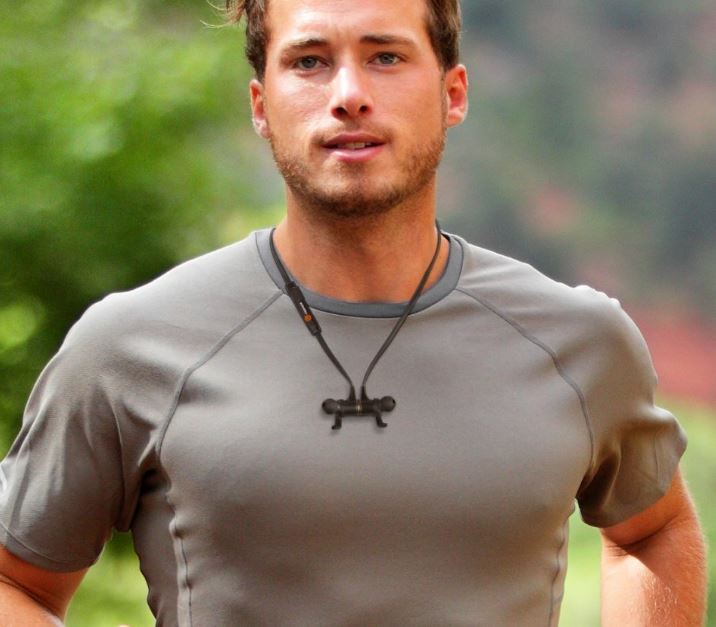 Each earbud is solid to the touch and made out of a unique metal alloy construction, giving it a high-end look and feel that you won't see in most headphones within the same price-point. Attached to each earbud is a hook that positions them within your ear canal in a comfortable manner so they don't fall out or come lose over time. One of the most important characteristics of any workout headphones is that they stay snug and firmly within your ears; all the while not creating any discomfort. What's nice is that Taotronics includes 3 different sized ear tips and 3 different sized ear hooks that can be freely interchanged; enabling you to effortlessly achieve a proper fit, no matter what size your ear canals are.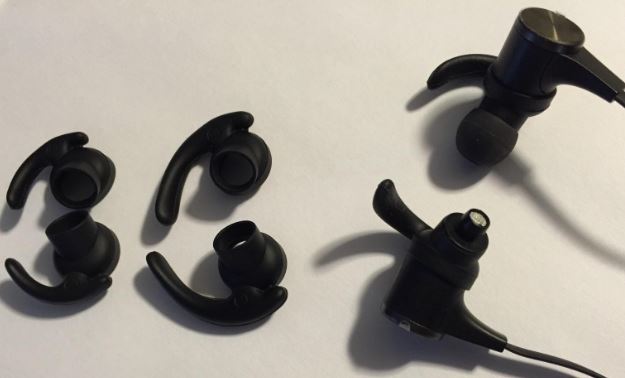 We tested them out during a few different workouts and wanted to get an idea of how well they stay securely and in the proper position. Throughout a 40 minute jog, they didn't seem to move at all. Not once did we need to take them out of our ears and re-insert them, which is quite a relief. Few things are more frustrating than having to interrupt your workout and make adjustments to your headphones. We also tested them while hiking, cycling and even skateboarding. Needless to say, they exceeded our expectations and kept comfortable during each activity.
Magnetic Design
One of the more unique features that we noticed about the TaoTronics TT-BH07U Headphones is their magnetic ability. Each earbud is equipped with a magnetic backing that allows users to clasp them together, around their neck, while not in use. This gives an easy and perfectly useful way to keep them out of the way but still within reach when you'd like to resume listening. They can be worn as a necklace and you won't need to worry about losing them or having to place them in a pocket while not in use.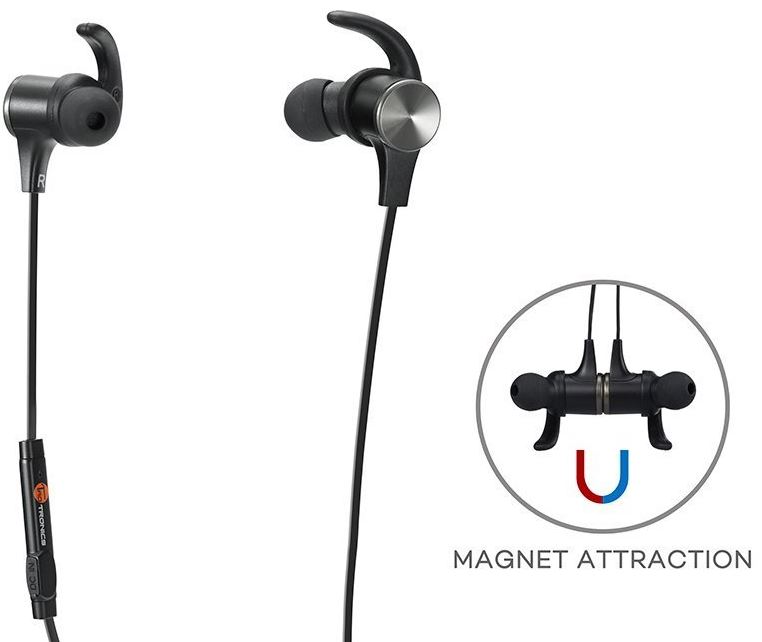 Wireless Signal
Utilizing the latest in Bluetooth 4.1 technology, the TaoTronics TT-BH07U's boast a completely wireless connection that offers true, un-tethered freedom from your device. Whether you're using an iPad, iPhone, Android or tablet, as long as Bluetooth is enabled, they should have no issues pairing to them. The pairing process is very straightforward and nearly self explanatory. All you need to do is press and hold the "play" button for roughly 5 seconds. You should then see the LED blink between red and blue. At this time, go into your device's settings and select the "TaoTronics" connection.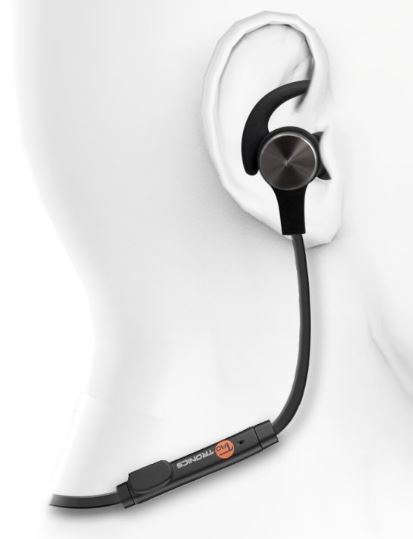 The nice thing about Bluetooth is that it's always getting faster and more efficient with each new-version release. Being that they're Bluetooth 4.1 enabled, they have a quicker response and lower frequency than previous models. Best of all, you'll only need to complete the pairing process one time per each device; no need to fumble around and manually connect them each time you'd like to use them.
We found that the wireless range was quite acceptable – around 30 feet in "line of sight" conditions. There weren't any objects or obstructions in the way between the headphones and our iPhone. However, if you begin to move out of the room or place a wall between you and your device, you can expect the wireless range to be drastically affected but still acceptable to most standards. After all, when are you going to be in a different area when your smartphone usually is always by your side?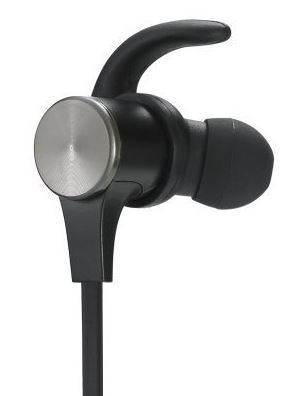 Battery Life
With the included micro USB charging cable, you can completely replenish the internal rechargeable battery within about 60 minutes. As for battery life, the advertised length is 5 hours, which we found to be quite accurate. Upon their initial arrival, we highly recommend giving them a full charge, even though they come with a bit of battery life from the factory. This'll assure that they're good to go and ready for a long workout without any interruptions.
Sound Quality
Without a doubt, sound quality is likely the most important factor for most individuals when trying to select a decent pair of headphones. While it's no secret that the TaoTronics TT-BH07U's are a budget-friendly option and are priced much lower than their competition, we were totally surprised on how phenomenal the sound quality actually is. They excelled well with all sorts of genres of music and seemed to do well with songs that contained heavy amounts of bass while still sounding well with songs that were more mellow and/or lyrically driven. Although you can't adjust the specific levels of treble or bass, TaoTronics seemed to do an excellent job with how they sound right out of the box.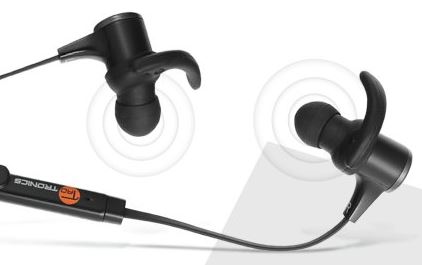 Keep in mind that the sound quality can be affected by how they fit within your ear canal. Take advantage of the additional ear hooks and tips that they include, and spend a few minutes achieving a proper fit. You don't want them to be lose within your ears, but you also don't want them to be too snug or tight. Go for a sealed fit that doesn't cause any pain or discomfort. If you shake your head and they fall out, go for a small sized tip or hook. It'll assure that you're delivered high-end sound without the unwanted background noise.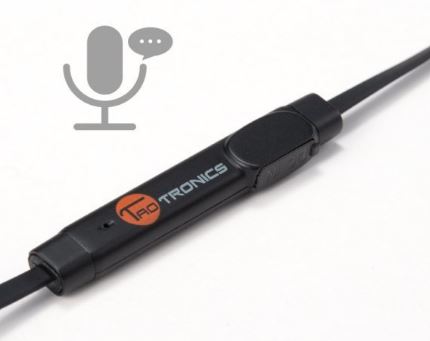 Hands-Free Calling
The inline controller located on the wire between the two earbuds has a small microphone built into it. You may not see it at first, but it's a small pinhole that lets you make phone calls without having to unpair the earbuds and manually accept a call. Once a call is coming through, your music is automatically paused and you're given the option to accept or reject it by simply pushing one of the small buttons. While this may not be a useful or worthwhile feature for everyone, it can surely come in handy if you're someone who enjoys hands-free calling on the go.
It's also worth mentioning that they're equipped with CVC 6.0 noise cancellation technology. This technology filters out surrounding noise and gives your voice a more true and natural sound that isn't easily interruptible by grey noise or common distractions. It makes for clearer phone calls and less unwanted distractions in the process.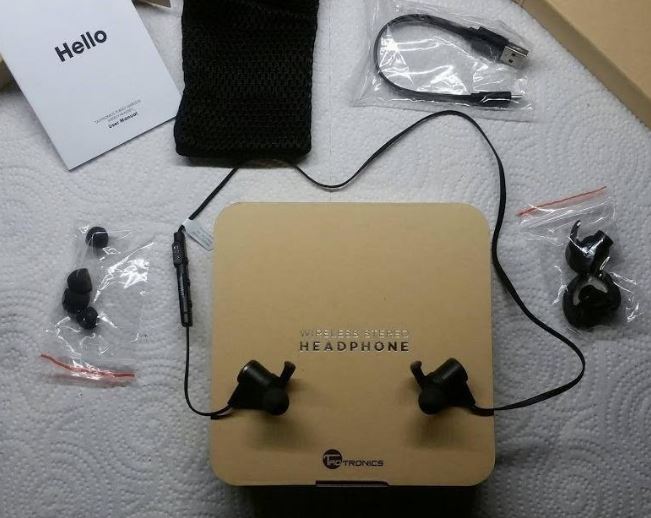 Final Thoughts
While you could spend ten times as much for a studio-quality set of earbuds, most don't have the need or the means to invest in such a pair. We whole-heartily feel that they're valued extremely well and deliver everything as promised, without the typical exorbitant price tag of a brand name.
The TaoTronics TT-BH07U Bluetooth Headphones are comfortable and built with quality in mind, although their price-point may make you think otherwise. Don't be put off by their inexpensive retail price. It doesn't necessarily prove that they're low-quality or not worthy of an investment. If that was the case, they wouldn't be as popular and widely raved about as they currently are.
We were really happy with how they feel and their overall feel. The unique magnetic design is another added benefit. Keeping them away by wearing them as a necklace is a pretty cool trait that comes in handy for those who find themselves busy, but still want to have easy access to their earbuds at all times. The magnets are strong and are a great addition to their aluminum alloy construction; giving them a high-end feel while remaining lightweight and durable.
As far as sound quality goes, we really couldn't ask for anything more; especially considering their budget-friendly retail price. The bass is excellent and never a nuisance. Even when the volume is cranked up all of the way, there isn't even a hint of distortion. Just make sure that you achieve a proper fit first!
Overall, we're really happy with our purchase of the TaoTronics TT-BH07U's and wouldn't hesitate to recommend them to anyone looking for an inexpensive, high-quality set of wireless earbuds that won't disappoint.