When looking for a Bluetooth speaker that you can use everyday, no matter where you are, it can definitely be a bit challenging. Durability and sound are two main components to look for when buying a new wireless speaker, but depending on what type of activities you plan to do is a big factor in your decision.
The Photive CYREN II is an affordably priced wireless Bluetooth speaker with powerful sound, lasting durability, and a very friendly price tag. Meant to be taken anywhere, the sturdiness over time is quite impressive, and when taken outside, or to louder environments, whatever you're listening to can be heard crystal clear without having to worry about distortion.
Note: At no extra cost to you, we may earn a commission for purchases using our links. Learn more.
Made more rugged for those of you looking for a Bluetooth speaker that can be taken with you by the swimming pool, on your next hike, camping, skate parks, climbing, or even just for those of us who are a little more clumsy around the house – this speaker shouldn't disappoint.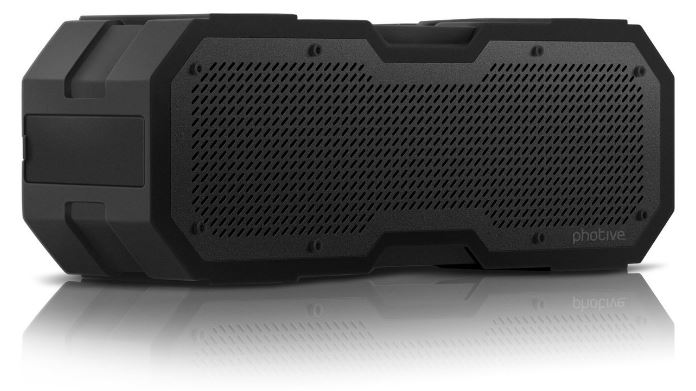 More Powerful Than Ever
The CYREN II is the second generation of its kind, following a great speaker that just needed a little bit of tweaking. The CYREN I was pretty good – average sound, slick design, but not quite as powerful or able to withstand the elements. There are a few differences between the two that made the second generation of this portable speaker superior.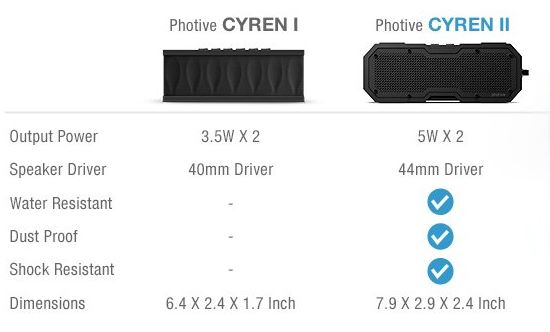 44mm drivers instead of 40mm, as well as 5W output power instead of 3.5W, gives this speaker a more impressive, compelling sound. What this means to you is that you never have to worry about if your speaker is going to be loud enough. The drivers and output power appear to be only slightly increased, but with that seemingly insignificant boost the speaker is considerably more powerful. Even in the noisiest of environments you will still be able to enjoy your music, or continue watching your movie without having to worry about missing anything because you can't hear it.
The bass is adequate enough for the speaker – it's not the most incredible, but you can definitely still hear it well. The bass may not be as good as Bose Soundlink or Beats Pill, but the sound on the CYREN II gets louder than both name brand speakers without distorting, and you will save a significant amount of money.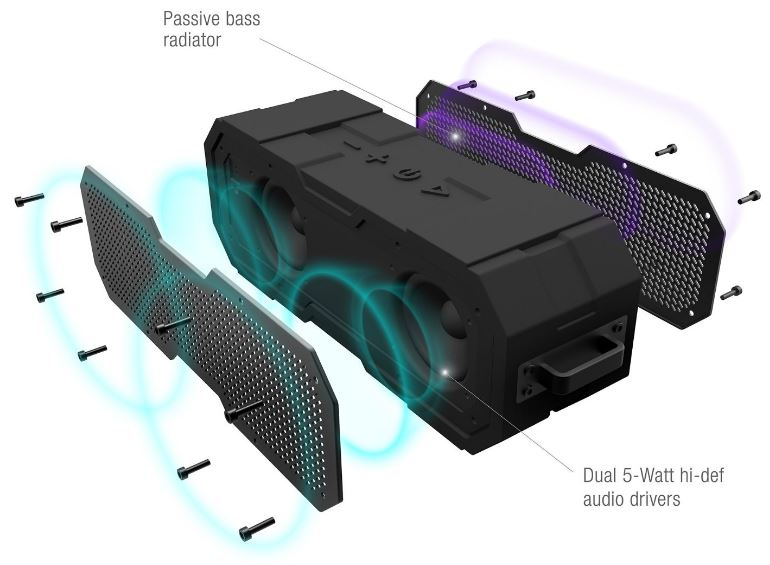 Made To Last
Compared to the first generation of its kind, the CYREN II is just a little bit larger in size and weight. There are quite a few advantages to it being a tiny bit heavier. It's waterproof and more rugged than ever, each and every CYREN II is built with the IP rating of 66. What that means is it is shock proof and can endure drops from up to 5ft without having to worry about any damage happening to your speaker. It is also waterproof and can withstand heavy seas or powerful jets of water, but just don't submerge it in water.
It's made with a treated aluminum grill, and a heavy duty rubberized exterior to bear through whatever beating you may put it through. Great for those who are a little harder on your speakers, or like to bring them places, for the fact that you the rubberized case ensures that even when dropped, the insides of the speaker stay where you want them to keeping it working through even your most weathered adventures.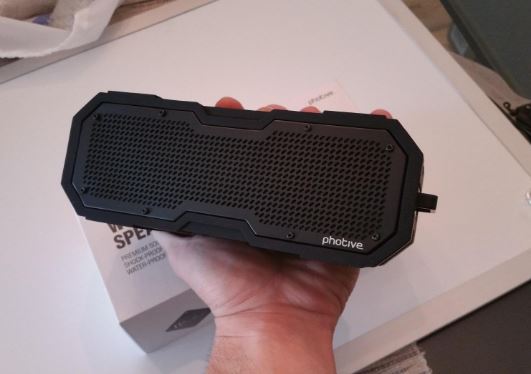 Charging
Charging is important so that you don't end up consistently having to charge it, and then taking it off the charger to find it only lasts an hour. With lithium ion batteries it is important not to overcharge them. When you first put your Photive CYREN II on the charger, keep it on there for about 6 hours or so then take it off of the charger. This is your first charge and sets the life of your battery – on full volume your speaker will last about 5-6 hours nonstop on one full charge.
Every time after your first initial charge, charge it for 3 hours or so, and take it off of the charger. It is important to take it off the charger so it doesn't start to rely on the charger. If that happens you'll end up taking it off the charger and it will only last for a couple hours before dying, and having to start charging it all over again. If this starts happening, or you just need the battery to last longer than 5-6 hours you can always look into a good power bank. This way you can charge up your speaker if it dies, no matter where you are.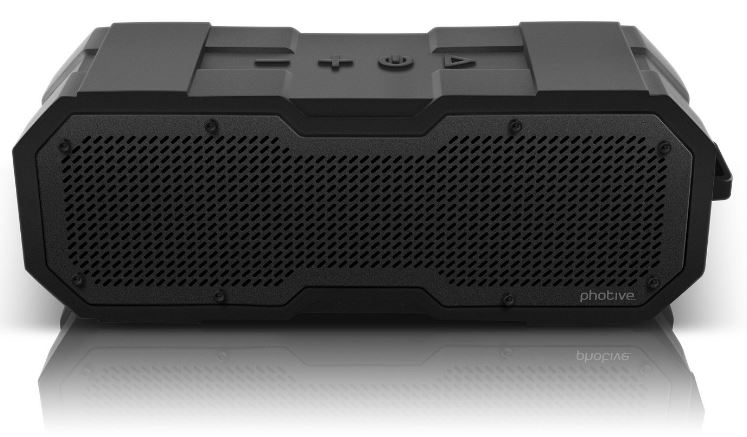 Feautures
More Powerful Than Ever – This speaker can get very loud even in the noisiest environments
Bluetooth Version 4.0 – Technology that enables you to stream music from your phone without having to worry about the wire. Quick and easy to pair, and ready in no time to get started!
Decent Bass – You can still hear it, but it's not the absolute, most powerful bass in the Bluetooth speaker market. Yet, still great for the price.
Completely Water Resistant – Can be used next to a bathtub, hot tub, or even in the shower. Its IP66 rating means that it's able to endure pressurized jets and even waves of water – there should never be a worry in your mind with this speaker.
Dust Proof & Shock Resistant – Featured with an aluminum grill and a burly rubberized exterior to withstand even the nastiest of falls gives the proper protection to ensure the Photive CYREN II is almost indestructible.
Bring Anywhere – Great speaker to bring with you to the beach, a hike, climbing, or even biking if you stick it in your backpack. Made rugged for people who love to adventure, but hate worrying about whether your Bluetooth speaker will last through back country skiing, or rock climbing at a local crag.
Easy Controls – Large control buttons on the top of the speaker make it easy to switch a track you hate, or turn up the volume on the song you love.
Built in Rechargeable Lithium Ion Battery – Never again do you have to worry about replacing batteries. Just plug it in USB to recharge and it's ready to go for up to 8 hours of use. The nice thing about having it charge USB is that it actually charges faster than a normal wall charger.
3.5 mm Audio Cable – Even if you don't have Bluetooth you can still get to enjoy this speaker by plugging your device directly with the 3.5 mm audio cable to still be able to listen to your music wherever you may go.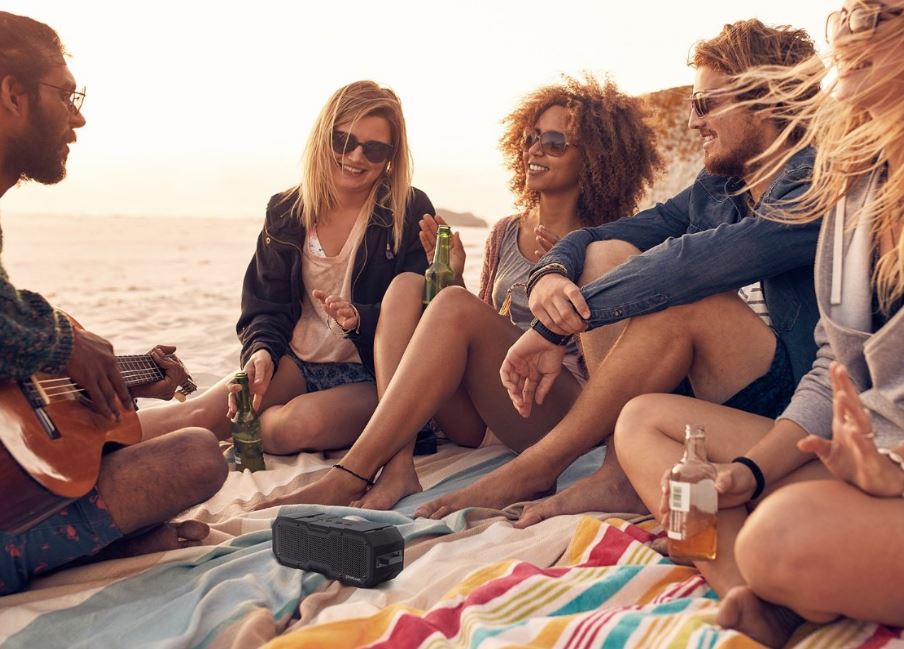 30 Day Money Back Guarantee and 1 Year Warranty.
This was a notable feature to the Photive CYREN II that we were pretty excited about. When trying out anything it is a process of trial and error, and some products just don't speak to us when we get it home and try to use it ourselves. Either that, or the product was made terribly and the manufacturers don't want to keep getting them returned so they don't offer any type of warranty.
With Photive they believe in their quality and craftsmanship in a way that if you don't like your CYREN II within 30 days you can send it back and receive a full refund. They are confident that as soon as you get this speaker home you will be impressed with it's durability and powerful sound that you will want to keep it forever. Apart from the 30 day money back guarantee they also offer a one year manufacturer's warranty. If anything happens within a year to the technology inside the speaker, or it stops working they will replace it for you. Just make sure to hold on to your receipt – it's your proof of purchase and ensures you receive your warranties.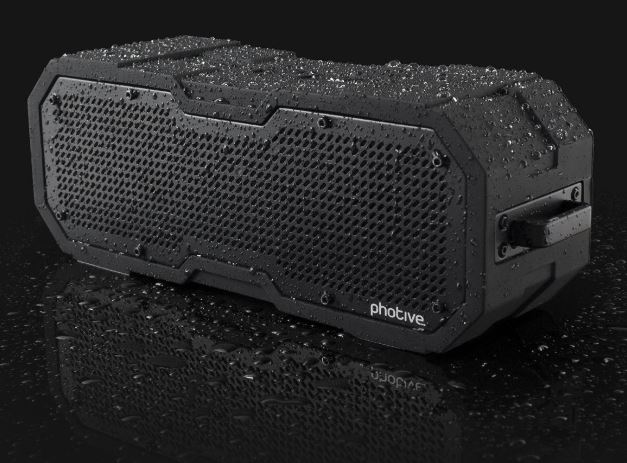 What's in The Box?
Photive CYREN II Wireless Bluetooth Speaker
Micro USB Cable
3.5 mm Audio Cable
30 Day Money Back Guarantee
1 Year Manufacturers Warranty
Final Thoughts
Scouring the market and trying to find the best Bluetooth speaker for your budget isn't always an easy task. There's an overwhelming amount of speakers that simply won't hold up to constant use, or that just flat-out fail to deliver. Photive has been in the industry for several years now, with the CYREN I being one of their most popular and well-respected models available.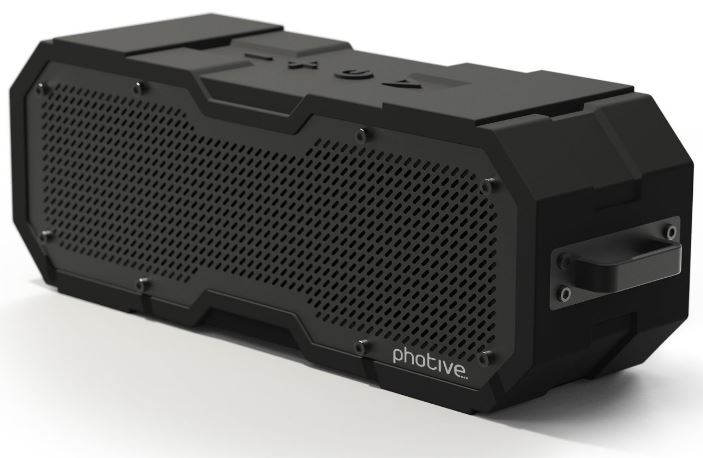 It's exciting to see a new release – their 2016 version, the CYREN II and everything that it's capable of. Although it may not be the absolute "best of the best", it's definitely one of the best rugged portable speakers that's well underpriced for its value. Overall, we recommend it for anyone looking for high-end sound on a budget. Don't pass it up!
Note: At no extra cost to you, we may earn a commission for purchases using our links. Learn more.