In this review, we're going to be taking a look at an up an coming soundbar. Consumers purchase sound bars because they are a compact, affordable way to get full-bodied sound for your home theater system. Before we look at this particular model, we have to ask ourselves a few questions. In the hierarchy of audio equipment, where to soundbars fit? What do you need to look for in a high-end sound bar? To answer this question, we're going to take a look at a different product.

This is a track light. These were the trendy thing to have in the early 90s, and they are still in use today. You're most likely to find them in museums and art galleries. Track lights are popular because they allow you to control the distribution of light. Even though you've got five separate light sources, you're able to illuminate a wall in a cohesive, uniform manner. The lighting might not be perfectly even, but you're able to draw attention to something you want.
Component home theater systems are often considered to be better than sound bars. After all, won't five separate speakers perform better than one? Not necessarily.
The track light is a single fixture that does the job of several separate light sources. Just as a track light contains several separate bulbs, a sound bar contains several separate drivers. These drivers can project sound around the room, often in a manner that is comparable to component stereo systems. The TaoTronics Soundbar is significantly cheaper than brand name models, but has received nothing but praise. Is this the deal of a lifetime, or are you compromising on quality to save a few dollars? We decided to find out.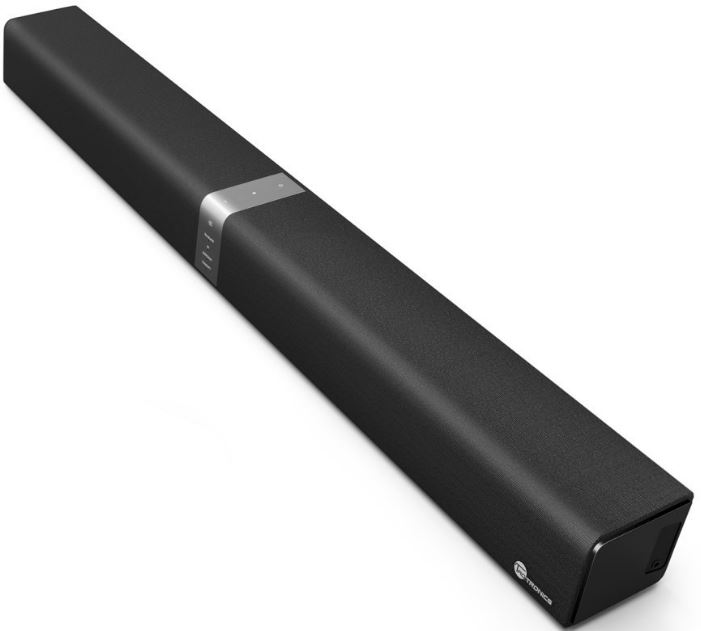 Mounting & Design
The square appearance of the TaoTronics TT-SK15 Soundbar is cohesive with the look of most high-end models on the market. The majority of the bar is covered with an acoustically transparent fabric. This material is divided down the center by a brushed aluminum strip. The top of the piece provides touch-activated controls, while the front provides several LED indicators.
Flipping it over, you'll find two things on the back. Several plastic protrusions give you the ability to wall mount it. Just place a screw on your wall, and hang the mounting points over the screw. The weight of the sound bar will hold it in place, and the plastic guides prevent it from falling. Meanwhile, the cutout on the back allows you to route cables even when it's mounted flush.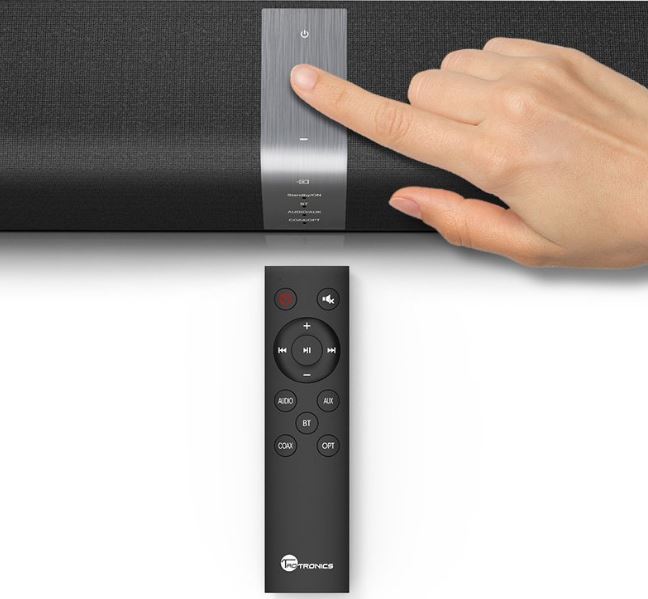 Controls
The TT-SK15 includes a wireless remote in addition to the touch controls. The remote is very similar in layout to the remote that Apple provides with their Apple TV. At the top, you've got the power and mute buttons. A circular dial provides volume and track selection controls, with a play/pause button located in the center. Below, five buttons allow you to choose from the various audio sources supported by the TT-SK15.
The touch bar gives you access to three different functions. Touching the top of the strip turns the Soundbar on or off, while the bottom can mute or unmute the sound. Sliding your finger up and down the strip changes the volume. The transition is smooth and responsive, making this a natural feeling form of control.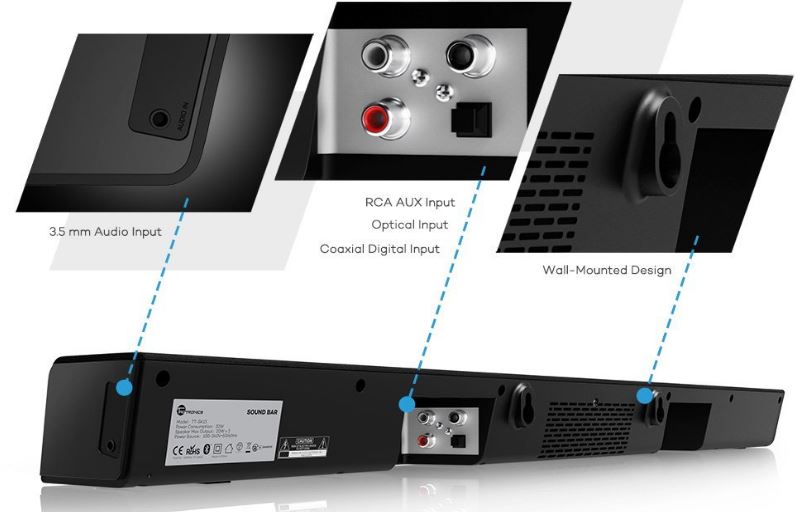 Connectivity
The easiest way to get this Soundbar up and running is through the Bluetooth connection. It's backward compatible with all versions of Bluetooth, so most audio sources are supported. We found the pairing procedure to be surprisingly efficient. When connecting to our phone, it only took a matter of seconds to get synced up. If you're already paired to another device, re-pairing with something else is a little more time-consuming. You have to hold the Bluetooth button down for five seconds, then wait for the speaker to announce that it's ready to pair. If you have multiple Bluetooth devices, this can add a bit of lag. But if you only have one, it couldn't be faster.
You can also connect analog sources through the 3.5mm input, or through the RCA jacks. For the ultimate sound quality, you can connect a digital source through the optical port. Surround sound isn't supported, but for stereo audio you've got a plethora of options to choose from.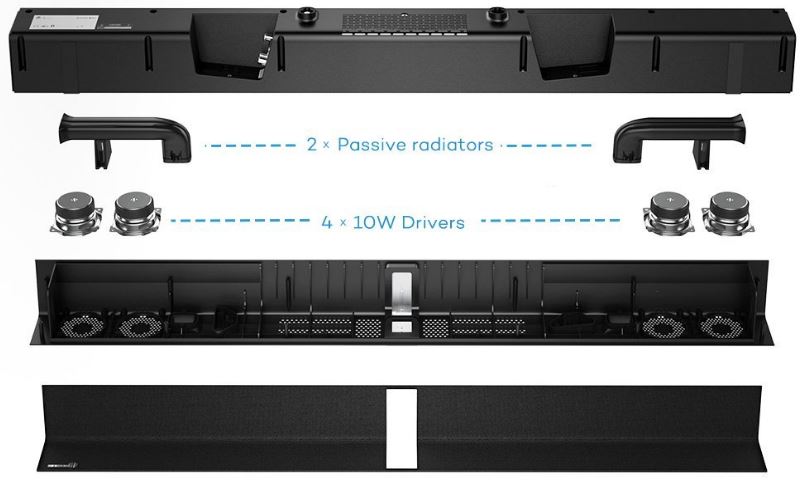 Sound Quality
The improvement from the stock speakers on our TV was drastic. This sound bar produces 40 watts of sound, which is more than enough to fill a room. We'd happily use this Soundbar to play music for a large group of people, as it's comparable in volume to a full-size sound system.
What caught our attention the most was the bass. This is a very low profile speaker, so we didn't expect a lot of bass from it. Bass requires a large inner volume to have power and presentation. TaoTronics gets around this problem by using passive radiators. They look just like regular drivers, but aren't attached to anything. The idea is that when the speakers kick, these stretch outwards to absorb some of the force, and prevent the speaker from vibrating. The end result is a low-end impact that sounds like it's coming from a speaker many times it's size, which is ideal in this form factor.
The highs and mid-range frequencies were definitely clear and enjoyable, but not quite audiophile grade. They're great for voice, movies, and music, but you shouldn't expect to hear the same subtle nuances you'd get with a high end HiFi system. That being said, they have a very smooth presentation to them. Nothing sounds overly shrill, and listening to them was very enjoyable. If you want something that you can listen to for a long period of time without any strain, this is a great choice.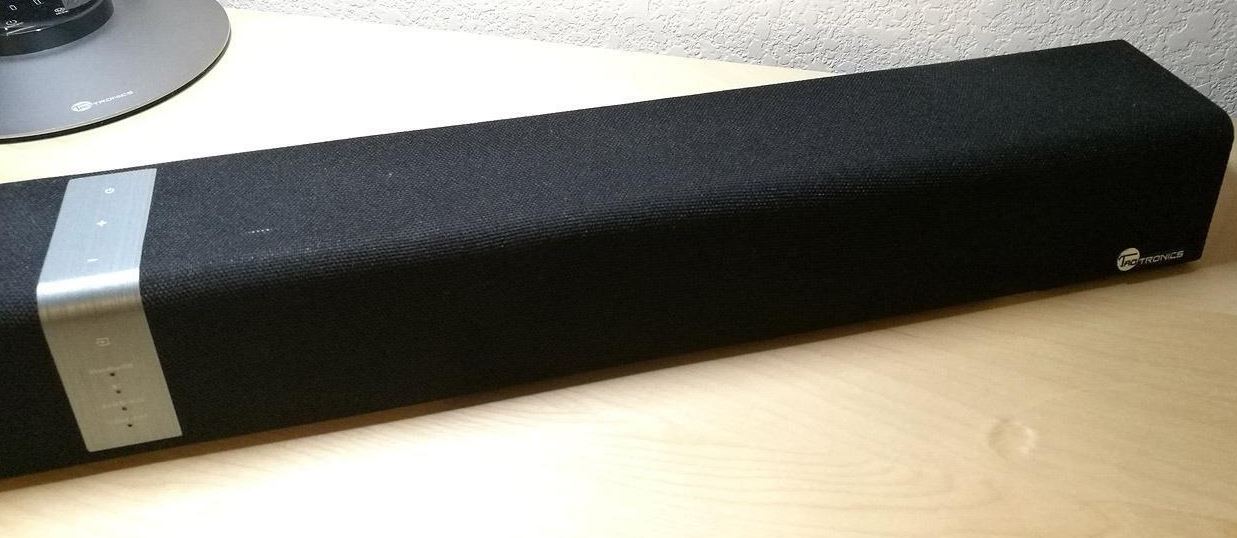 Projection
Speakers can project audio in two different ways. They can do so in a directional manner, just like the track lights covering a wall. Or, they can project sound in a unidirectional manner. Sound leaves the speaker in all directions, creating a room-filling sound.
This speaker has four drivers, all of which are Omni directional. This means that no matter where you place it, you'll fill the room with high quality stereo sound. But if you were looking for the kind of soundbar that duplicates the feeling of a 5.1 surround sound system, this might not be the thing you're looking for.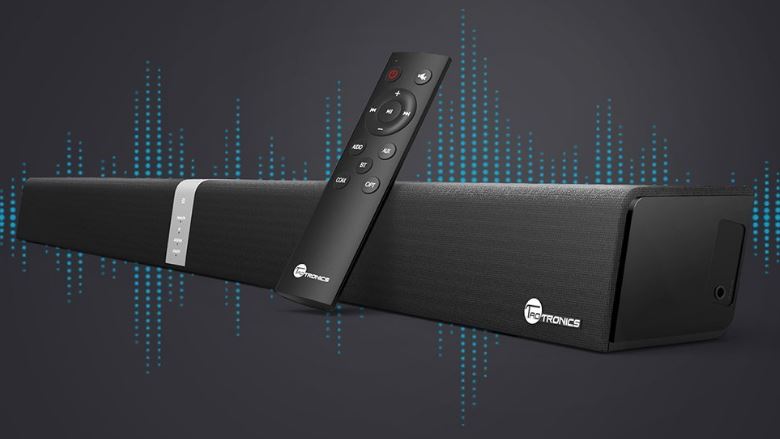 There are, however, several advantages to this system. For starters, you can place it anywhere you want. When you've got a speaker that projects sound in a precise manner, placing it in the correct location is extremely important. But when it can easily fill a room, you can install it wherever you want. The TaoTronics TT-SK15 sounds great above, below, or off to the side of your television. Combined with the highly flexible mounting system, this is something that is truly adaptable.
Disadvantages
When you head down to your local electronics store and demo the high end soundbars, a certain expectation is set. Modern sound bars use the same technology we described above. For the most part, one model is comparable with another. But this is a different beast. In functional terms, it's more like a Bluetooth speaker in the form factor of a sound bar. While this is great for some applications, it's not going to be everyone's cup of tea.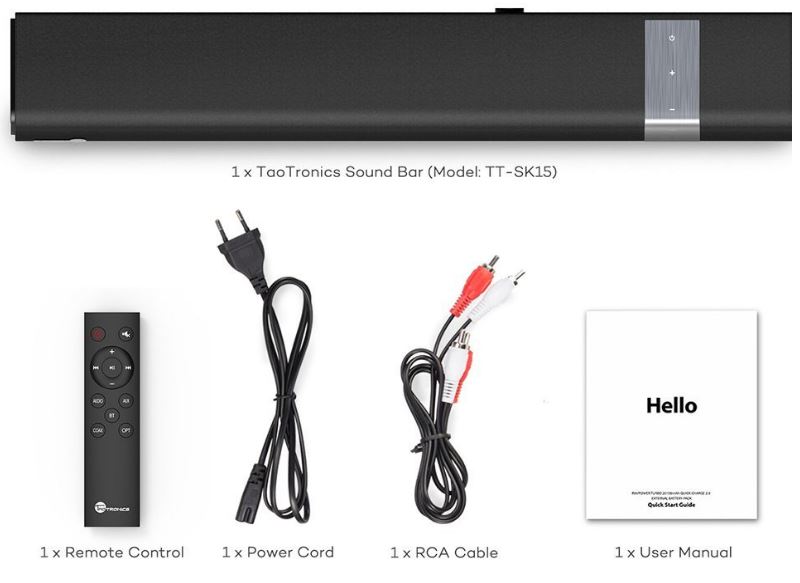 Final Verdict
Should you buy the TaoTronics TT-SK15? Well, that depends entirely on your expectations. Are you looking or a portable sound system that can fill a room, without taking up too much space? Are you looking to upgrade the disappointing speakers in your television, but don't want to spend a fortune? This soundbar is the perfect solution for either of those problems. It's our top recommendation for an entrypoint into the dedicated speaker marketplace, but it might not be for everyone.
If you really want to see what this platform can do, check out one of our all time favorite soundbars. The Bose SoundTouch is stylish and modern, and offers the full spectrum of features available on the platform.