If you're anything like us, a smart TV is a must-have. Online streaming services are inexpensive, have tons of on-demand content, and let us hand-select the types of things we want to watch. Compared to overpriced cable packages, the choice is simple.
The problem is finding a reliable budget-friendly smart TV. Companies like LG and Samsung are well established, and they can afford to spend tons of money on developing a decent smart TV platform. But when you get into the lesser-known brands, some of the software is downright poor.
Unfortunately, this has created a bit of a gap in the market. You can get an inexpensive TV that looks great, but doesn't have smart functionality built in. As soon as you try to get that extra functionality, you find that you're expected to shell out twice the money for anything good.
Roku TV's are positioned to solve that problem. Instead of each manufacturer buying their own smart TV platform, they can license the tech from Roku and build it right into their televisions. But how does the hardware perform? We decided to try out a popular TV from TCL to find out.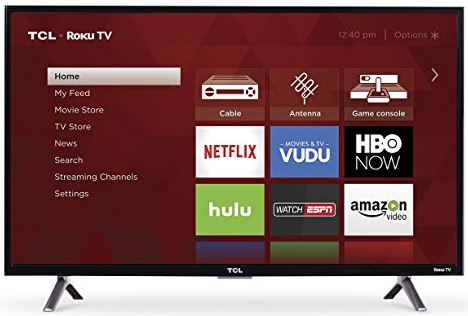 First Look
TCL is a fairly new company to the consumer marketplace, but they've actually been around for quite some time. As one of the largest manufacturers of televisions, they've sold over 20 million units last year. Many of them were destined for European markets, and others were re-branded and sold in the states. Now, they've decided to sell their TV's under their own brand and grow a name for themselves. The first product line to make a splash is their S-Series Smart TVs.
There are five different 2017 TCL S-Series Roku Smart TV models available. The 28, 32, and 40 inch models have a resolution of 720p, while the 43 and 49 inch models can display full 1080p HD. For the size, the specifications seem more than adequate.

Design
Despite their incredibly low price, all models come with a very sleek and modern appearance. The feet are similar in design to what you'd find on a high-end Samsung, and certainly look great on our TV stand. From the front, the TV also has a very slim appearance to it. The bezel is incredibly small, and even when you look at it from an angle you'll see that it's quite thin.
In reality, this is a bit of a visual trick. Slim TVs are pretty expensive, so what TCL did was place a box on the back that contains all of the larger components. In our eyes, this is a smart move. Unless you're poking your head around behind the TV, you'll never notice the extra thickness. To everyone else, the S-Series TVs are almost indistinguishable from models that cost many times the price.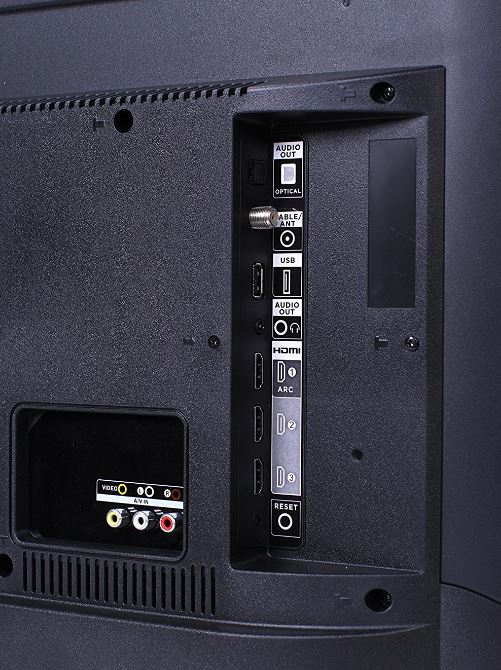 Connectivity
Because this is a smart TV, you could use it without any external video sources if you like. But there are several ports provided for those who need them. There are three HDMI ports available, which should suit most purposes. A USB port gives you the ability to load media off an external storage device, whether it's a flash drive or full size hard drive.
Standard definition video can be connected via composite or RF, and audio output is provided through an optical or 3.5mm stereo port.
You may have noticed that there is no Ethernet port – something that is commonly found on smart TVs. TCL's Roku TV transmits data completely wirelessly. It has a dual-band 802.11ac Wi-Fi adapter installed, which is pretty impressive. For 1080p video, AC wireless may be overkill. However, standard change all the time. By using the best they can get now, this TV should age quite well.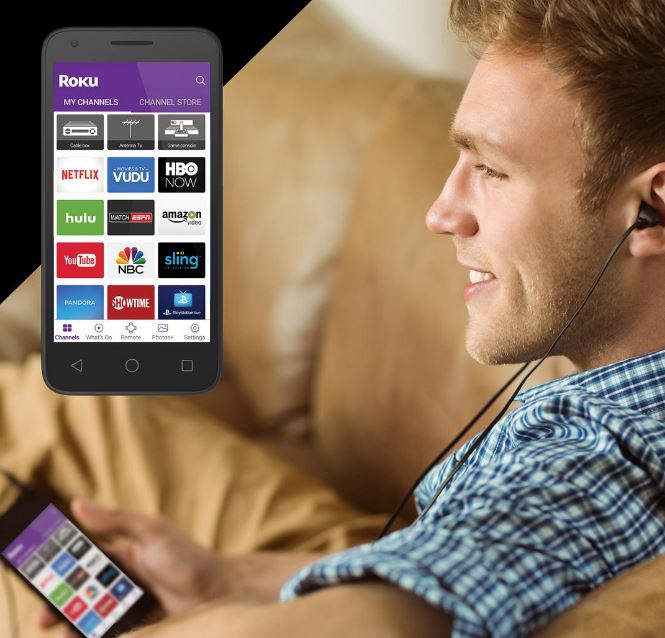 Roku
The "Smart" functionality is handled by the built-in Roku chip. If you aren't familiar with Roku, it's a popular streaming stick add on. By plugging into the HDMI port on a modern TV, is provides basic televisions with the ability to stream content over the internet. In many ways, this TV works the same. However, because Roku is integrated, it's much more powerful.
When you first turn on the TV, you're given a simple setup screen. You choose your Wi-Fi network from the list, enter your password, and eventually land on the main screen. You'll see this every time you turn on your TV, and it's a lot like the home screen on your phone. On the right, you've got a list of services available. On the left, you've got a menu with several options.
The one difference between this and a standard Roku is that you have the input selections at the top – cable, antenna, and game console. Below, you'll see a number of services you can choose from like Netflix, HBO Now, and so on.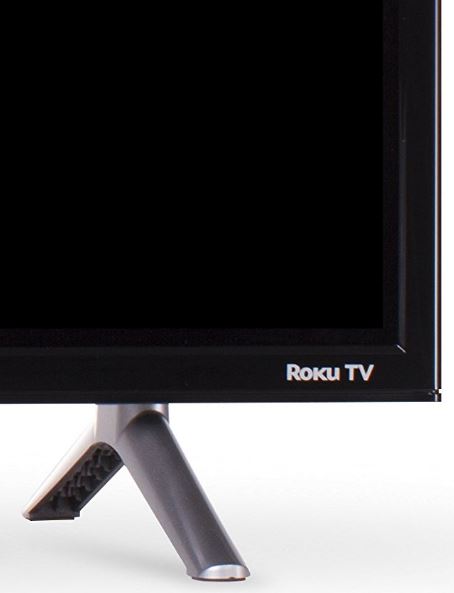 You're actually able to rearrange these tiles to suit your needs. Only plan on using one of the HDMI ports, Netflix, and YouTube? No worries! You can delete the others and make room for exactly what you need. This customizability actually makes this one of the better smart TVs we've used, as the interface is very clean.
For those of you who want access to as much media as possible, the menu on the right will come in handy. By accessing "streaming channels," you can select from hundreds of different free and paid services you'd like to add to your collection. Once you do, you can use the search feature to check all available streaming services for the content you'd like.
Another nice feature about the Roku is that it learns what kind of content you like. After a few weeks with the TV, you can go to "my feed" and find recommendations for content that it thinks you would like. Some are simply continuing your shows from where you left off, while others are recommendations for similar shows.

Video Quality
This is one of the areas where the TV really impressed us. We commonly buy TVs because of the resolution, but one 1080p TV may look much worse than another. However, this model uses very modern hardware that keeps up with displays many times it's price.
The main advantage is direct-lit LED. Each "pixel" in the screen is actually its own RGB LED. Compared to older TVs where displays were simply shutters that opened and closed in front of a backlight, the contrast and color of this technology is much better. The colors are definitely a little more on the vibrant side, but it gives your films a very bright and engaging feel to them.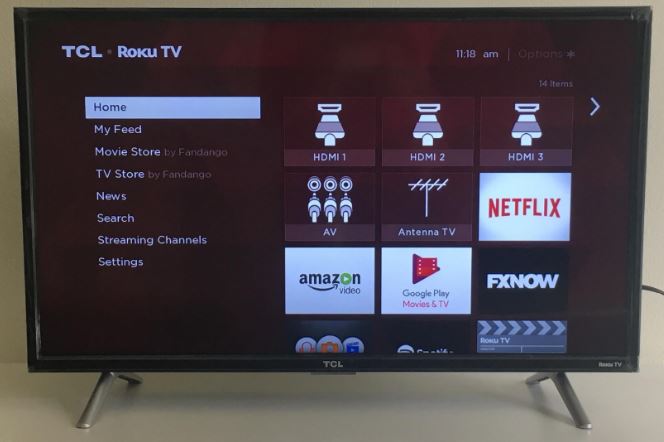 Where resolution is concerned, we're glad that we picked up the 1080p version. Most content is broadcast in 1080p today, and not having to downscale gives you the best picture quality possible. That being said, the only TVs that ship with 720p are the 38 and 32 inch models. Comparatively, these are quite small. If we were sitting a few feet back from them, we wouldn't be able to tell the difference between 720p and 1080p. We'd recommend the higher resolution primarily when you're using this as your main TV.
For all of the above reasons, these flat panels can hold their own against anything else in the price category. But there is one feature that goes over and above our expectations – the refresh rate. At 120Hz, this TV is twice as smooth as standard models. Now that Netflix streams 120Hz content, we're glad to see this feature on board.
Disadvantages
The only disadvantage to a Roku based smart TV when compared with a Samsung would be access to local media. Roku has no inherent ability to stream downloaded shows off of your phone or computer. There are apps that you can install to do so, but the process is more complicated than with other models.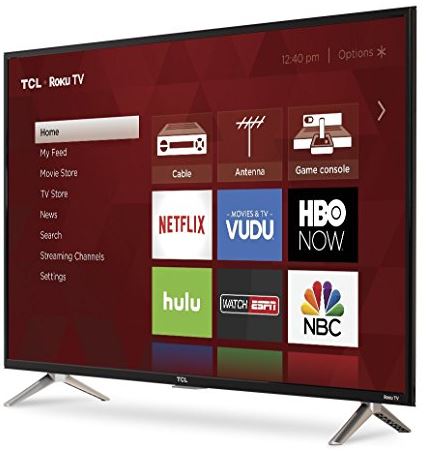 Final Verdict
If you're looking for a smart TV on a budget, you can't go wrong with the 2017 TCL S-Series. Even without Roku, this TV would be a great buy. It looks good, uses modern display technology, and is sold at an unbeatable price. Once you throw in the fact that you can stream media from any service you desire, the choice becomes obvious.
If you are upgrading an older model TV, you'll definitely see an improvement in the picture quality. But if you already have a nice TV made in the last year or two, an upgrade might not be the best choice. Alternatively, you might want to check out or review of the Roku Streaming Stick. This could add smart functionality to your existing TV, saving you money in the long run.